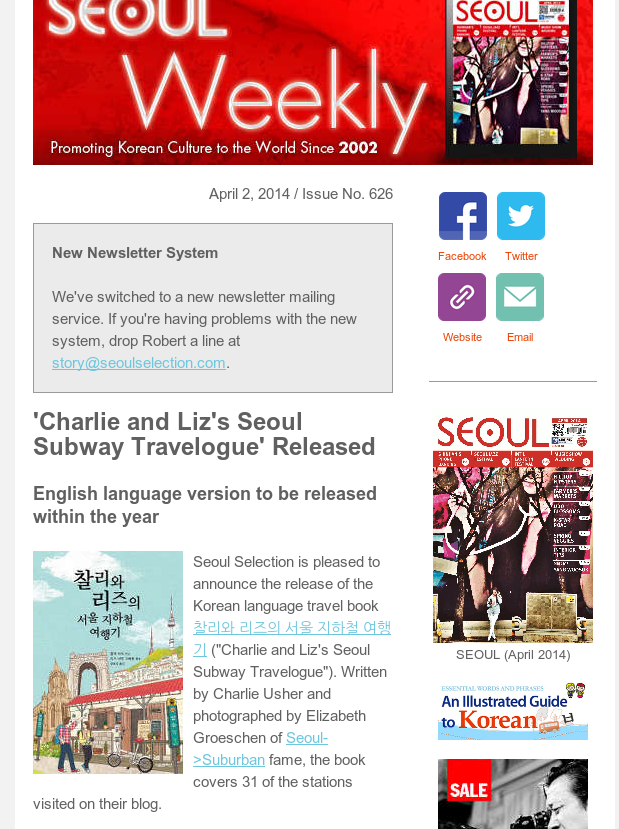 April 2, 2014 / Issue No. 626

New Newsletter System

We've switched to a new newsletter mailing service. If you're having problems with the new system, drop Robert a line at story@seoulselection.com.

'Charlie and Liz's Seoul Subway Travelogue' Released

English language version to be released within the year

Seoul Selection is pleased to announce the release of the Korean language travel book 찰리와 리즈의 서울 지하철 여행기 ("Charlie and Liz's Seoul Subway Travelogue"). Written by Charlie Usher and photographed by Elizabeth Groeschen of Seoul->Suburban fame, the book covers 31 of the stations visited on their blog.

An English edition will be released within the year.

"Charlie and Liz's Seoul Subway Travelogue" shows that opportunity awaits for writers and photographers in Korea. Charlie and Elizabeth started their blog after coming to Korea. It drew the attention of the overseas and local press, which in turn led to journalistic and publishing opportunities. Having made a name for themselves in Korea, they now stand ready to do the same overseas once the English language version is released.

EXPAT OBSERVATIONS

How to Efficiently Subway Commute

Written by Deanne Nguyen

Greetings readers, this is Deanne, your optimistically observant expat. Some of you may know me as your shopping/fashion columnist; to others–pleasure to meet you–consider me a fellow Seoulite. While I consider myself to be culturally acclimated after three years in Korea, I am still finding the littlest things to be enlightening and hope to share them with you, lest you fall into the trap of cynicism abroad.

My first year in Seoul was a flea market scramble to adjust, namely to my work commute…and everyone else's.

I quickly found my weapon-of-choice. It is the "Chihachul Manager," an all Korean app that trumps others by one function: it tells you which number cars to take for the fastest transfer points. Ever notice the "5-3" in front of the automated doors or that certain doors have a longer queue? Exactly. If you're rushed, just climb aboard, pardon your way to the right car, and finally, the right transfer staircase. You can thank me later.

A city commute might seem like a suspension, but honestly, it's a gift. I can't think of a better time to catch up on news, study a set of flashcards, or even relish in those few second crossing the Han river. As my friends and I say, if you're not having fun, you're not doing it right. That just will not do, not for this glass of half-full.

AROUND THE WEB

A miscellany of high-quality hyperlinks from the week, courtesy of SEOUL editor-in-chief Robert Koehler.

EVENTS

Bruno Mars Performs in Seoul for First Time

American pop star Bruno Mars is performing his first concert in Korea as part of his Moonshine Jungle Tour 2014. Known mostly for hits like "Just the Way You Are" and "Marry You," Mars has won two Grammy Awards, a Billboard Music Award, and an American Music Award—not to mention he was named one of Time Magazine's 100 most influential people in the world. He was also named Billboard's Artist of the Year for 2013. Raised in a musical family, Mars exhibited talent from an early age and has steadily displayed that talent to the world since. His singles have topped Billboard charts in record time, faster than any artist after Elvis Presley! He recently performed in the Superbowl Halftime Show in New York.

VENUE: Olympic Gymnastics Arena, Olympic Park
DATE: Apr. 8, 20:00
ADMISSION: KRW 99,000–165,000
MORE INFO: T. 02-3141-3488
GETTING THERE: Olympic Park Station 올림픽공원역 (Line 5), Exit 3

Banyan Tree Club & Spa Seoul's Outdoor Market 'Jang'

The Banyan Tree Club & Spa Seoul will host its first outdoor market "Jang" at its Festa Square on April 19. This is an opportunity to purchase unique products, including regional goods, health foods, children's clothing, natural cosmetics and pet supplies as well as try a variety of foods and dishes prepared by the resort's chefs.

The market will be held once a month. It is open to all Banyan Tree members and customers. Proceeds from the sales of Banyan Tree Eco Bags and Paper Bags will go to support local children's centers.

VENUE: Banyan Tree Club & Spa Seoul
DATE: April 19, 10AM to 6PM
MORE INFO: T. 02-2250-8000
GETTING THERE: Exit 6 of Dongguk University Station (Line 3).

International Piano Festival 2014 Seoul

Dulwich College Seoul will be hosting the first Dulwich International Piano Festival from April 9 to 13. The festival will take place in the College throughout the week and end with a Gala Concert in the College Gym on April 12. The week will involve a series of lunchtime recitals at the Steinway Hall in the COSMOS centre which will promote the most gifted pianists in the Dulwich network.

RSVP

If you would like to receive any more information about the festival please do not hesitate to contact the Music Department of Dulwich College Seoul at Russell.Grant@dulwich-seoul.kr and we will answer any questions you have regarding the festival.

VENUE: Dulwich College Seoul
DATE: April 9–13
MORE INFO: Russell.Grant@dulwich-seoul.kr
GETTING THERE: See this link.

L`elisir d`amore

Italian composer Gaetano Donizetti's comic opera comes to Seoul as a coproduction between Italy's Teatro Dell'Opera Di Roma and Korea's Sol'Opera. Italian director Giancarlo de Lorenzo will conduct this light-hearted story of love and quackery. Boasting of some 130 years of history, the Teatro Dell'Opera Di Roma has been the home of countless operatic premieres, including the Cavalleria rusticana by Pietro Mascagni. Always attempting new challenges even while remaining faithful to history and tradition, the troupe will show Korean operagoers a whole new side to bel canto opera.

VENUE: Seoul Arts Center
PERIOD: Apr. 3–5
ADMISSION: KRW 30,000–200,000
MORE INFO: T. 02-1544-9373
GETTING THERE: Nambu Bus Terminal Station 남부터미널역 (Line 3), Exit 5. Transfer to shuttle bus, or green bus No. 4429.

Gunhangje Festival

When Koreans think of Jinhae, they think of cherry blossoms. And sailors.

Every spring, millions of people descend on this quiet port town on the southern coast of Korea for the Gunhangje Festival (Apr. 1–10), when the town is awash in falling cherry petals and strolling couples. Be sure to bring your camera, because it just doesn't get any more picturesque than this. This festival is also a rare opportunity to visit the Republic of Korea Naval Academy, which opens to the general public for the duration of the event.

VENUE: Jinhae, Gyeongsangnam-do
PERIOD: Thru Apr. 10
MORE INFO: http://gunhang.changwon.go.kr
GETTING THERE: Buses to Jinhae depart from Seoul's Nambu Bus Terminal (travel time: 4 hours, 30 minutes).

RASKB Excursion: A walk through Yongsan: the complications of urban renewal

This excursion will be like no other, as much of what participants will visit is already demolished and gone. The excursion will meet at the top of the front steps of Yongsan Station (see picture above), where one can get an appreciation of the scale of urban renewal that has hit the area. From there, participants will walk through a tent village of street food businesses built on empty land in between Yongsan and Sinyongsan stations.

Next comes a visit to the location of the so-called "Yongsan Disaster," a highly politicised urban renewal zone that claimed the lives of five evictee protesters and one police officer on January 19, 2009. Since demolition, the area has become an empty field full of garbage and reeds, a black hole in the center of a high-price real estate area.

See the link to read the rest of the program.

VENUE: Yongsan-gu, Seoul
DATE: April 5, 3:30PM to 6:00PM
COST: KRW 20,000 for members, KRW 25,000 for non-members
MORE INFO and GETTING THERE: See this link.

EVERYDAY KOREANS

Seoul Selection's Shin Yesol takes in the cherry blossoms at Jeongdok Public Library, Bukchon, Seoul. Photo by Robert Koehler.

NOTIFICATIONS

Translators Needed (not only English) – Seoul Selection is looking for part-time translators to translate material from Korean into several languages, including French, German, Dutch, Hindi and Japanese. If you're interested, please send a resume and cover letter to atoz@seoulselection.com.

Seoul Selection Offline Bookshop Sale – One of the greatest repositories of Korea-related English-language books anywhere, Seoul Selection is offering a 10% sale on any and all books published by Seoul Selection purchased from our OFFLINE bookshop next to Gyeongbokgung Palace.

Tell Us About 'Your Korea' – If you're a longtime resident of Korea and would like to share your story in KOCIS's KOREA Magazine, shoot an email with your story idea to book@seoulselection.com.

Looking for Translators – Seoul Selection is looking for a few good translators (Korean to English) for general translation work. Those interested should send a resume and cover letter to Kyehyun at trans@seoulselection.com. Experienced translators only.

Seoul Selection eBooks – You can purchase some Seoul Selection titles in ebook format via Amazon.com (for Kindle) and Apple's iBookstore. Titles include Ask a Korean Dude, Moon Tides, Doing Business in Korea, Once Around the Sun, and seven volumes of our Korean Film Directors series: BONG Joon-ho, IM Kwon-taek, KIM Jee-woon, LEE Chang-dong, LEE Man-hee, PARK Chan-wook, and SHIN Sang-ok.

Send Your Event Info – If you would like to advertise any upcoming events you are organizing, please send us the press release material at book@seoulselection.com by the preceding Friday in order for it to appear in the following Tuesday's issue.

Freelance Contributors Wanted – SEOUL Magazine needs writers who are fluent in both Korean and English. Writers should have a strong interest in Korean culture and be able to interview Koreans. Send your resume and writing samples to book@seoulselection.com.

We Buy & Sell Used Books – Seoul Selection buys and sells used books in English. Unlike our regular selection of publications that specialize in Korea-related topics, our Used Book section carries books on all subjects. It's all part of our effort to make life easier for the English-speaking community.
https://magazine.seoulselection.com/wp-content/uploads/2014/04/스크린샷-2014-04-09-121119.png
829
619
rjkoehler
https://magazine.seoulselection.com/wp-content/uploads/2018/01/Seoul-logo.png
rjkoehler
2014-04-09 12:12:46
2014-04-09 12:12:46
SEOUL Weekly: 'Charlie and Liz's Seoul Subway Travelogue' Released