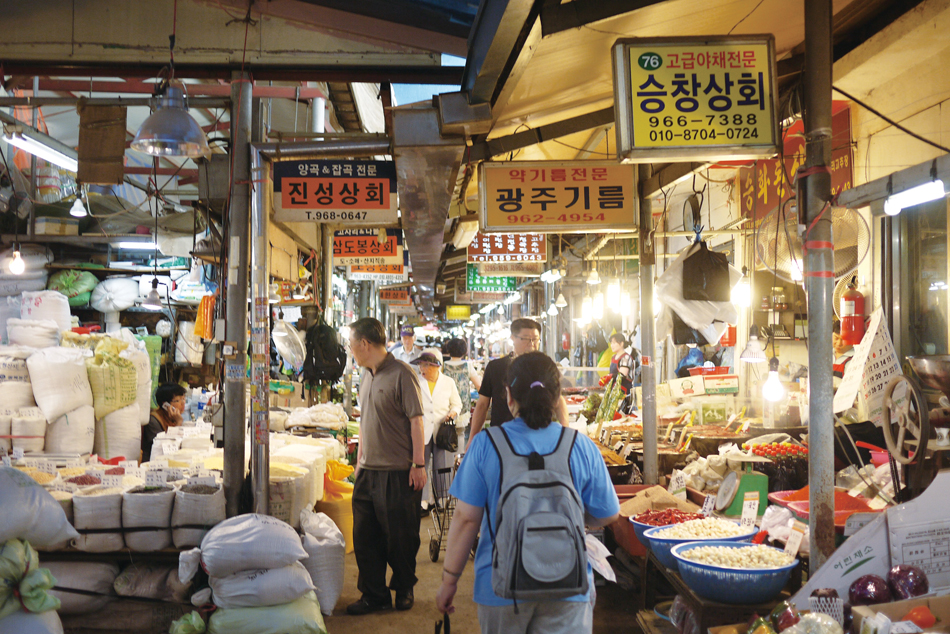 The Best Traditional Markets in Seoul
In Korea, some of the most interesting and popular things to see are the traditional markets. Every city has them and some of the country towns and cities will have a weekly or biweekly market in the city squares where you can get the freshest produce, livestock, and other things you get direct from the farmer instead of some middleman. It is as fresh as it gets. The sheer cornucopia of products Korea has to offer will amaze you. The best part is that all the markets have great food stalls where you can eat at.
Here are some of the markets you should check out if you come to Seoul.
[divider]
[box_info]Eunma Market   대치동 은마시장[/box_info]
 →Near Daechi Station
My favorite Seoul market is Eunma Market near Daechi Station. Built around the late 1970's this market supplies most of the affluent Gangnam people who live in the nearby Eunma Apartments with their food. Because many people work these days, many restaurants and food stalls make ready-made meals so busy families can buy a soup, pick out a variety of side dishes and then just make rice at home and eat. It's quick, simple, and healthy. They have some famous restaurants here, too, as well as famous kimchi dumplings, noodles, and pumpkin porridge. It has a number of the very best rice cake shops as well. I think what differentiates this market from others is that it is traditional, clean and modern. While many other markets in Korea struggle to survive, Eunma market seems to thrive. The food stalls are on the second floor. My favourite places to eat at here are Manna Tteokbokki which is famous for their assortment of tempura and spicy rice cake. There is a also a great steamed dumplings place that does tangy kimchi dumplings and black, red-bean stuffed bread. Probably the most famous place is the Eunma Calguksu restaurant that is always packed. Their menu is simple. You can get knife cut noodles (kalguksu), hand pulled dumplings (sujebi), or a mix of the two (seokkeoseo). It's a hearty bowl and cheap (KRW 5,000). There is a spicy garnish on the side and some kimchi. It's perfectly simple.
Eunma Market   대치동 은마시장
FYI> Monday-Saturday 8am–10pm
GO> Go out Daechi Station (Line 3) Exit 3
 [divider]
[box_info]Gyeongdong Oriental Medicine Market  경동시장[/box_info]
 →Cheongnyangni area
 This is the most traditional Korean market in Seoul. The place is overflowing with herbaceous smells such as cinnamon, liquorice, jujube, mugwort and ginseng. The streets are filled with shops with wonderfully bizarre oriental ingredients such as dried milkvetch root, deer antlers, turtle shells and even dried lizards. Walking through the oriental medicine market reminds me of the witch's cauldron scene in Hamlet. On the food market side, you'll find stall after stall of the freshest Korean fruits, vegetables, nuts, fermented bean pastes and sauces, dried marine products, seafood and meat. This market is dedicated to the old Korean belief that food is medicine, so you'll get a glimpse into the past. Now if you are hungry, in the basement of the food market side there are food stalls in the back. They serve simple lunches such as soups, stews and bibimbap. My favorite is Jeonju Shikdang (전주식당) because the chef makes all of her foods from scratch and she sources products from the city of Jeonju. I would recommend her bibimbap or her sundaeguk (blood sausage soup). It's not a fancy meal, but it sure is delicious.
Gyeongdong Oriental Market 경동시장
FYI> Oriental Market 9am–7pm, Traditional Food Market 4am–7pm
GO> Go out Jegi Station (Line 1), Exit 2.
[divider]
[box_info]Dondaemun's Food Alleys  동대문[/box_info]
→Dongdaemun area
The hectic fashion district of Dongdaemun needs fuel to keep everyone clothed. Luckily, there are plenty of food stalls that specialise in Korean food. Down these alleys you'll find great fare such as grilled fish, chicken soup (dakhanmari) and even a few places serving dog (no, I don't mean hot dogs). The most famous places down the alley serve grilled fish such as mackerel, flounder (gajami), knife fish (kalchi), and corvina fish (gulpi). There are a number of dakhanmari restaurants there as well. There are many "chicken-in-a-pot restaurants" but the two that are best known are Jinokkwa Halmae Dak and Wonjo Won Halmae Dakhanmari. In my opinion, I think both are very similar in taste but Wonjo Won Halmae has a slightly lighter broth and service is a tad nicer. Since Jinokkwa always has a long line out the door, Wonjo Won Halmae might not be a bad option.
Dondaemun's Food Alleys   동대문
FYI> 10am–late
GO> Go out Dongdaemun Station (Line 1), Exit 9 and walk about 200 meters. Make a left after the IBK bank. Walk about 30 meters and then make a right into the alley or use this address as a reference: Jongno-gu Jongno 5(o)-ga 265-22
https://magazine.seoulselection.com/wp-content/uploads/2013/11/P1430941.jpg
634
950
cyn
https://magazine.seoulselection.com/wp-content/uploads/2018/01/Seoul-logo.png
cyn
2013-11-28 18:34:10
2018-02-13 16:17:36
The Best Traditional Markets in Seoul