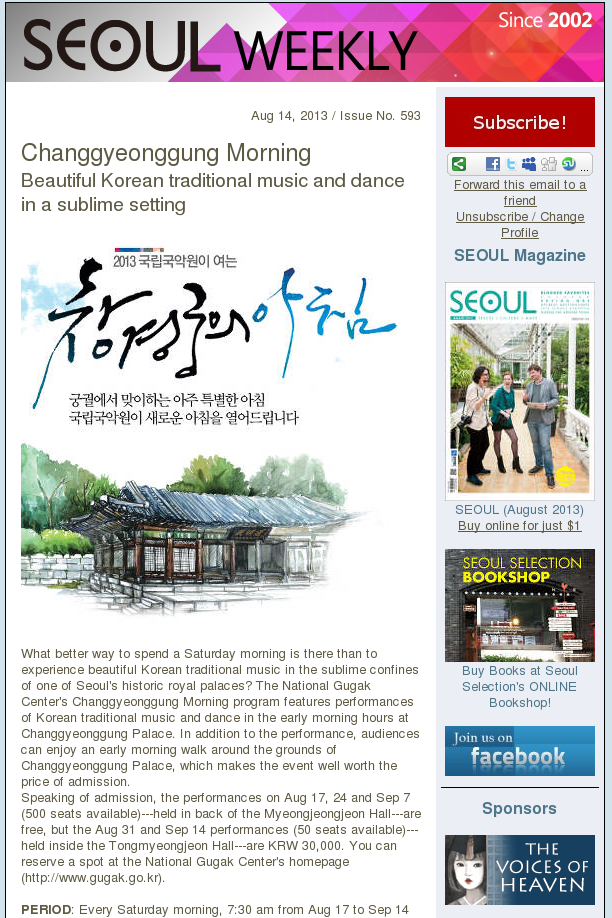 Aug 14, 2013 / Issue No. 593
Beautiful Korean traditional music and dance in a sublime setting
What better way to spend a Saturday morning is there than to experience beautiful Korean traditional music in the sublime confines of one of Seoul's historic royal palaces? The National Gugak Center's Changgyeonggung Morning program features performances of Korean traditional music and dance in the early morning hours at Changgyeonggung Palace. In addition to the performance, audiences can enjoy an early morning walk around the grounds of Changgyeonggung Palace, which makes the event well worth the price of admission.
Speaking of admission, the performances on Aug 17, 24 and Sep 7 (500 seats available)—held in back of the Myeongjeongjeon Hall—are free, but the Aug 31 and Sep 14 performances (50 seats available)—held inside the Tongmyeongjeon Hall—are KRW 30,000. You can reserve a spot at the National Gugak Center's homepage (http://www.gugak.go.kr).
PERIOD: Every Saturday morning, 7:30 am from Aug 17 to Sep 14
VENUE: Changgyeonggung Palace
ADMISSION
: See above. Click
here
for the reservation page (in Korean).
MORE INFO: T. 02-580-3043
GETTING THERE: Hyehwa Station (Line 4), Exit 3.
The Hyundai Card Super Concert 19 Citybreak
The Hyundai Card Super Concert 19 Citybreak is bringing together such legendary bands as Metallica and Muse on the same stage. Metallica's fast tempos, instrumentals, and aggressive musicianship placed them as a founder of thrash metal. The American band has won nine Grammy Awards and has had five consecutive albums debut at number one on the Billboard 200. Muse, from Britain, are known for their energetic and extravagant live performances and their fusion of many music genres, including space rock, progressive rock, alternative rock, heavy metal, classical music, and electronica. Other bands, like Iggy And The Stooges, Limp Bizkit, Rise Against, and Japandroids, will also join the show.
PERIOD: Aug 17–18, 1pm–11pm
VENUE: Jamsil Sports Complex
ADMISSION: 2-day pass: KRW 250,000, 1-day pass: KRW 165,000
—Tickets: http://ticket.interpark.com/global
MORE INFO: T. 02-2176-5717, http://citybreak.superseries.kr
GETTING THERE: Sports Complex Station 종합운동장역 (Line 2), Exit 6, 7
The Gangnam Tourist Information Center (T. 02-3445-0111) has recently opened its doors, with the aim of offering international tourists a range of services, including interpretation, consultations on medical tourism, Internet access, and currency exchange. The second floor of the center's two-story building features the K-Wave Experience Zone, dedicated to Korean pop culture. Visitors can also pick up a coupon book and gift pouch from the Seoul Hot Summer Sale 2013 (August 1–31), organized by the Seoul Metropolitan Government and the Seoul Tourism Organization.
EVENT: Seoul Summer Sale 2013
PERIOD: Thru Aug 31
MORE INFO: www.seoulsale.com
Jecheon Int'l Music & Film Festival (JIMFF)
Due for August 14 through 19, JIMFF strives to celebrate films that feature exhilarating music, enriching the local film festival scene. World Music Film Today, JIMFF's sole competition section, will present eight films from around the world this year. Other sections will introduce the various aspects of music cinema and showcase a number of musical performances outdoors against the beautiful landscape of Cheongpungho Lake.
PERIOD: Aug 14–19
VENUE: Various locations in Jecheon, Chungcheongbuk-do
ADMISSION: General screening: KRW 5,000
MORE INFO: T. 02-925-2242, www.jimff.org
GETTING THERE: Intercity buses bound for Jecheon depart from Express Bus Terminal or Dong Seoul Bus Terminal.
Performance at Unhyeongung Palace
Friday evening performance of Korean traditional music at Unhyeongung Palace, the residence of Korea's 19th century prince regent Heungseon Daewongun. Photo by Robert Koehler.
*Click the photo to see a full-size version at our website.
NOTE: If you have a photo you would like to see in our Everyday Koreans section, please sent it to story@seoulselection.com. Photos should be AT LEAST 950px wide. Send a one-line bio, too.

Tell Us About 'Your Korea': If you're a longtime resident of Korea and would like to share your story in KOCIS's KOREA Magazine, shoot an email with your story idea to book@seoulselection.com.
Looking for Translators – Seoul Selection is looking for a few good translators (Korean to English) for general translation work. Those interested should send a resume and cover letter to Kyehyun at trans@seoulselection.com. Experienced translators only.
Seoul Selection eBooks
– You can purchase some Seoul Selection titles in ebook format via
Amazon.com
(for Kindle) and Apple's
iBookstore
. Titles include
Ask a Korean Dude
,
Moon Tides
,
Doing Business in Korea
,
Once Around the Sun
, and seven volumes of our Korean Film Directors series:
BONG Joon-ho
,
IM Kwon-taek
,
KIM Jee-woon
,
LEE Chang-dong
,
LEE Man-hee
,
PARK Chan-wook
, and
SHIN Sang-ok
.
Send Your Event Info
– If you would like to advertise any upcoming events you are organizing, please send us the press release material at
book@seoulselection.com
by the preceding Friday in order for it to appear in the following Tuesday's issue.
Freelance Contributors Wanted – SEOUL Magazine needs writers who are fluent in both Korean and English. Writers should have a strong interest in Korean culture and be able to interview Koreans. Send your resume and writing samples to book@seoulselection.com.
We Buy & Sell Used Books – Seoul Selection buys and sells used books in English. Unlike our regular selection of publications that specialize in Korea-related topics, our Used Book section carries books on all subjects. It's all part of our effort to make life easier for the English-speaking community.
Buy Books at Seoul Selection's ONLINE Bookshop!
거침없이 한국어 1: 가족과 일상
6.25 Korean War
Enjoy learning Chinese characters
Korean Art: In the Freer and Sackler Galleries
DMZ Eco-Tourism Map – DMZ: Land of Life & Rebirth
New GANADA Korean for Foreigners (Intermediate 1)
Public Management: A Research Handbook
26 Years
New World
Boomerang Family
Miracle in Cell No.7
Gu Family Book
Publisher: Hank Kim / Editor: Robert Koehler
Seoul Selection reserves all intellectual property rights on information provided in this newsletter. Some event information has been provided by the Korea Foundation. The IPRs are protected by pertinent laws
https://magazine.seoulselection.com/wp-content/uploads/2013/08/export1.png
918
612
rjkoehler
https://magazine.seoulselection.com/wp-content/uploads/2018/01/Seoul-logo.png
rjkoehler
2013-08-14 19:17:52
2013-08-29 13:28:41
SEOUL Weekly: Changgyeonggung Morning