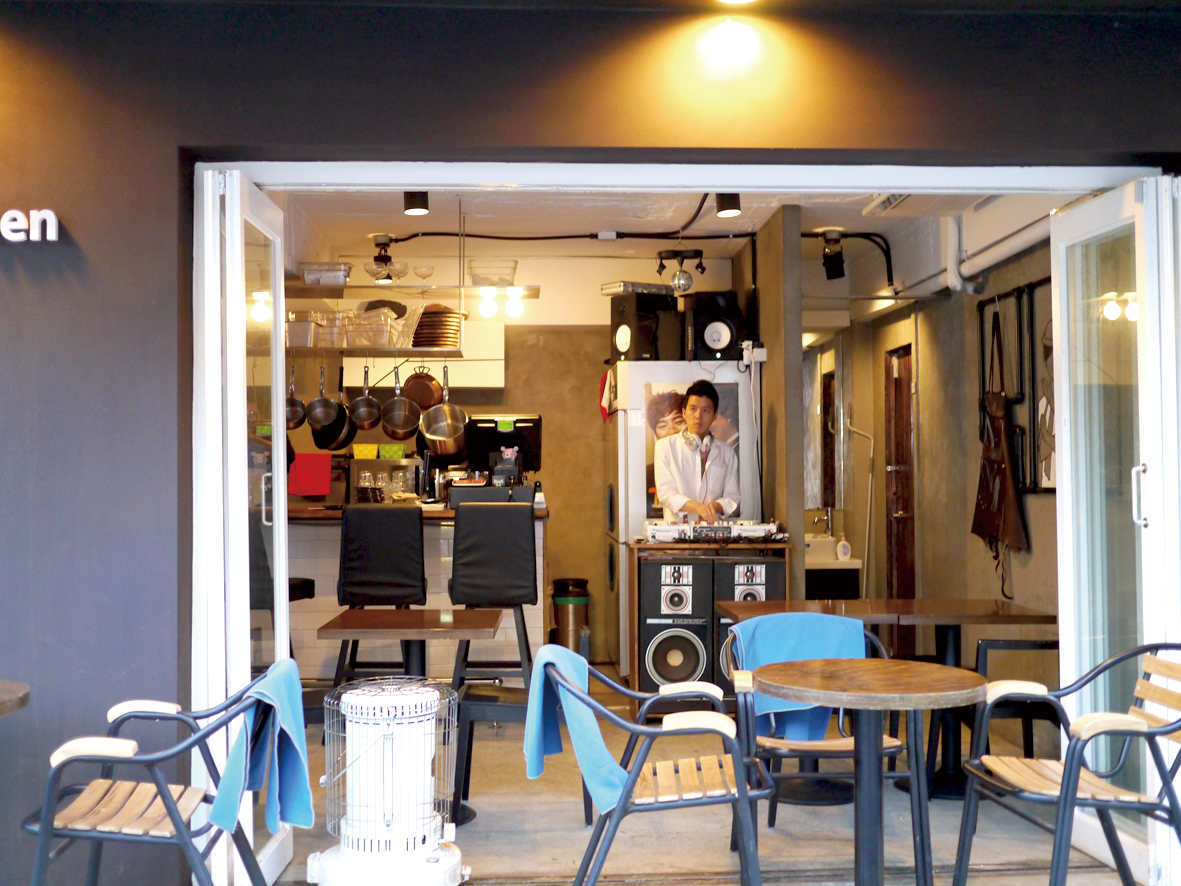 [box_dark]
Daily Delights
Here are my suggestions for a great food day in Seoul.
Written by Daniel Gray
Photographed by Daniel Gray and Ryu Seunghoo
[/box_dark]
HONGDAE is constantly growing, and it seems there are always cool new establishments to be discovered. The one problem is that nothing opens early, so it is suggested you sleep in and stay out late.
[box_light]
Breakfast  —————
Coffee Anthracite | 앤트러사이트(무연탄) 
[/box_light]
This is a roastery café that is located in a refurbished factory. It has high ceilings and broken-down cinderblock walls that hint at the industrial production that used to take place here long ago. Their coffee is rich and bold. When you are there, you can see the roasters they use to produce their robust beans. There are also some conveyor belts there as well. If you would like, you can even buy some coffee to take home with you. They have a good selections of coffees, such as cappuccinos, lattes, Americanos, as well as pastries (especially bagels) to go along with your dark brew.
FYI>
T. 02-322-0009
Hours: 10am–12am
Price: KRW 5,000–7,000 per drink
(357-6 Hapjeong-dong, Mapo-gu, Seoul | 서울시 마포구 합정동 357-6)
GO>
Sangsu Station 상수역 (Line 6), Exit 4
[box_light]
Lunch  —————
Café Following | 카페 팔로잉 
[/box_light]
Café Following is an homage to American diners. Here you can get homey fare like spaghetti and meatballs, club sandwiches, pizzas, and omelets. The place is kitschy and filled with Americana memorabilia. The food is all homemade, and I can tell that it is made from the heart. I would recommend staying away from the spaghetti since it is a bit sweet, the noodles too thick, and the meatballs flavorless. The omelets are good here, and so is the chicken caesar sandwich. This is a good place for hearty fare and, to finish, be sure to their their homemade cakes.
FYI>
T. 02-336-1328
Hours: 11am–10pm
Price: KRW 10,000–14,000 a meal
(396-3 Seogyo-dong, Mapo-gu, Seoul | 서울시 마포구 서교동 396-3)
GO>
Hapjeong Station 합정역 (Line 2, 6), Exit 3
[box_light]
Dinner  —————
Pentagon Kitchen | 오각형키친 
[/box_light]
Passing by this place, you might think it was a club instead of a gastropub. Inside you'll see a DJ thumping beats and hipsters that make excellent mojitos, pizzas, and spinach dips. Their mojitos are tall and full of flavor. The apple mojito had the right amount of mint, apple, rum, and fizz to wet the palate. Their regular and raspberry mojitos were great as well. Their spinach dip is creamy, with the right amount of spinach and garlic. It comes with plenty of toasted pita, so you can dip away until you are full. The pentagon pizza is famous here (they were sold out when I arrived). At Pentagon Kitchen, you can feel the youth, creativity, and energy that Hongdae is famous for.
FYI>
T. 02-3144-0511
Hours: 4pm–late
Price: KRW 12,000 a meal or a cocktail
(396-4 Seogyo-dong, Mapo-gu, Seoul | 서울시 마포구 서교동 396-4)
GO>
Hapjeong Station 합정역 (Line 2, 6), Exit 3

View Larger Map
[box_light]
Drinks  —————
I'm a dancing 先生 | 춤선생 
[/box_light]
This cool club/bar is one of the most unique spaces in the Hongdae area. They usually have the doors open so you can see the life on the street. Inside are high ceilings lit by chandeliers and orbs like silver balls. There is a long bar that you can sit at or tables if you would like to hang out with your friends. On the second floor is an area for dancing, or you can just dance tableside if you would like. They have a decent menu for a club; they have pizzas, salads, fried stuff, and even dessert. They have an extensive wine, cocktail, champagne, and liquor menu so you can party all night.
FYI>
T. 010-3564-3001
Hours: 6pm–late
Price: KRW 7,000–9,000 a cocktail
(367-12 Seogyo-dong, Mapo-gu, Seoul | 서울시 마포구 서교동 367-12)
GO>
Hapjeong Station 합정역 (Line 2, 6), Exit 3 or Sangsu Station 상수역 (Line 6), Exit 1
https://magazine.seoulselection.com/wp-content/uploads/2013/06/P1050762.jpg
886
1181
cyn
https://magazine.seoulselection.com/wp-content/uploads/2018/01/Seoul-logo.png
cyn
2013-06-19 17:17:41
2018-02-13 16:19:42
Daily Delights