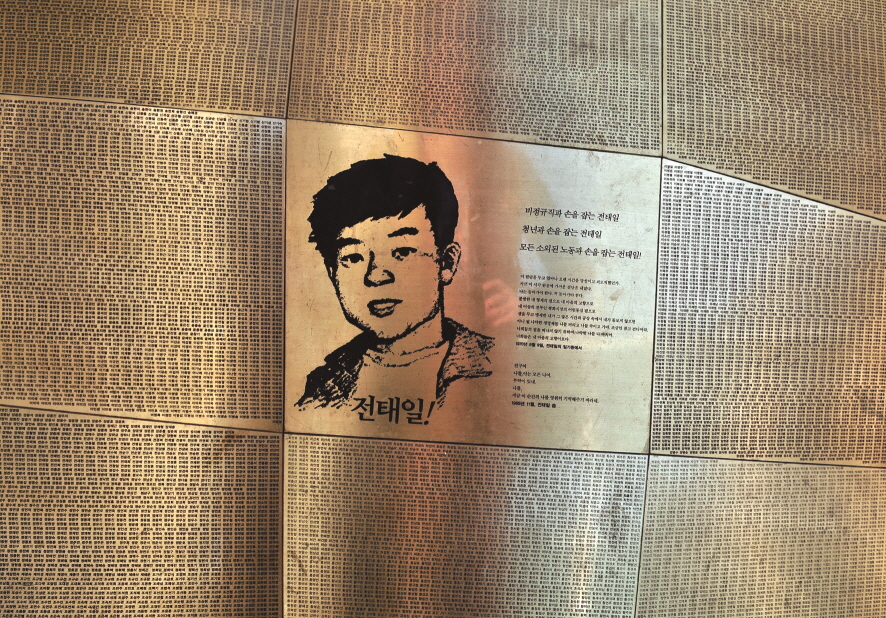 [box_dark]
JEON TAE-IL BRIDGE | 전태일다리(버들다리)
Historic site pays tribute to young man who sacrificed himself for a better future
Translated by David Carruth
[/box_dark]
Jeon Tae-il became a bridge that brings people together. His name is now being used as a second name for Beodeuldari Bridge on the Cheonggyecheon Stream. On Nov 1, 2012, Seoul Mayor Park Won-soon took part in the christening ceremony organized by the Jeon Tae-il Foundation for the Jeon Tae-il Bridge.
On the Jeon Tae-il Bridge is a bust that commemorates the martyr and his goal. In 2005, the Jeon Tae-il Foundation erected the bust in his memory. Since there are also several hundred commemorative copper plaques on the ground around the bridge, people started referring to Beodeuldari Bridge as "Jeon Tae-il Bridge." The official name of the bridge remained Beodeuldari Bridge, however. The Jeon Tae-il Foundation asked Seoul to give the bridge the additional name of "Jeon Tae-il Bridge," but the city at first did not accept that request. Finally, in August 2012, the Seoul City Geographical Naming Committee resolved to also refer to the Beodeuldari Bridge as the Jeon Tae-il Bridge.
"This event is only held once, but I believe our efforts should not stop here. Rather, we should find the meaning of the Jeon Tae-il Bridge for our own generation," said Mayor Park Wonsoon. "I will work to build a world that is worthy of the name, a world in which the dream of Jeon Tae-il lives on."
Jeon Tae-il worked in a sewing factory in Pyeonghwa Market in the 1960s. He was striving to gain recognition for the rights of workers when he set himself ablaze and died from the burns. Jeon dedicated himself to the cause of the rights of workers. He had a major influence on the development of the labor movement and democratization in South Korea. In fact, it is even said that, had it not been for Jeon, the rights of Korean workers would have not have been guaranteed for dozens of years.
Jeon's mother, Lee So-seon, made the following remarks about her son: "Tae-il was a really good person. I mean, he really loved the other workers. That's why I wish he were called a 'companion' instead of a 'patriot' or an 'activist.' Tae-il is still a companion for workers today. Please let them know I want them to call him that. Tae-il really liked me. See this clothing? I still can't get rid of it, and I pull it out every winter to wear it. This is long underwear that Tae-il made for me with his own hands using leftover cloth from the factory. Even if someone were to buy me new clothing to wear, I would still wear only this. That's the kind of person Tae-il was."
After her son's death, Lee became a second mother for workers and took care of many people. Her life came to an end on Sept 3, 2011. The work that she did made her absence at the naming ceremony for Jeon Tae-il Bridge all the more poignant.
GO>
Dongdaemun Station 동대문역 (Line 1, 4), Exit 9
(Jongno 5-ga, Jongno-gu, Seoulㅣ서울특별시 종로구 종로5가)
https://magazine.seoulselection.com/wp-content/uploads/2013/05/RYU3679.jpg
618
886
rjkoehler
https://magazine.seoulselection.com/wp-content/uploads/2018/01/Seoul-logo.png
rjkoehler
2013-05-10 14:57:11
2013-05-10 14:59:01
Jeon Tae-il Bridge