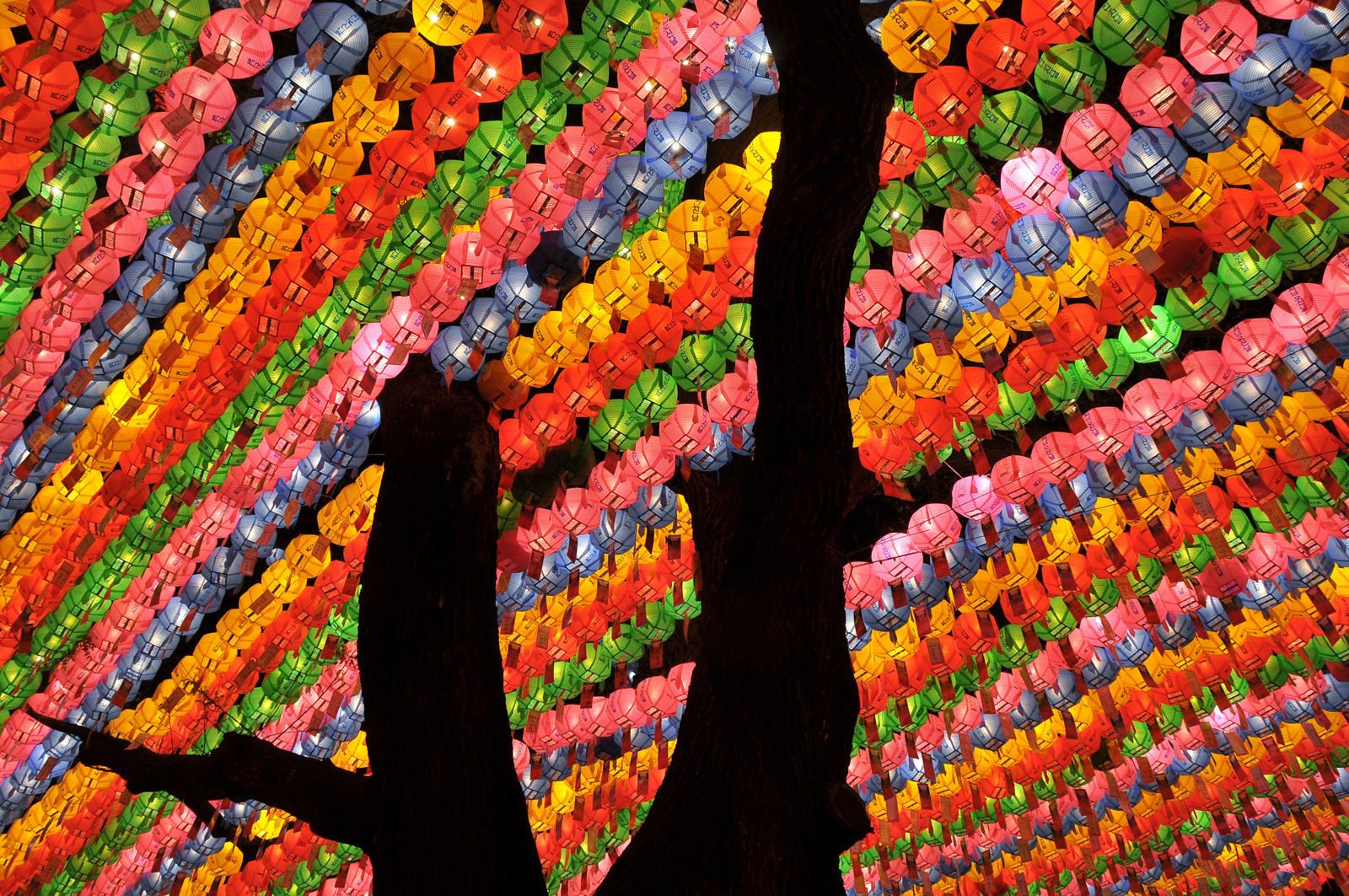 May 7, 2013 / Issue No. 579
Popular Buddhist celebration not to be missed
The Lotus Lantern Festival in Seoul is an important Korean celebration held in the lead-up to Buddha's birthday. This year it will be held the weekend of May 10–12 and feature a huge lantern parade with various traditional performances and ceremonies that you can watch or have a go at yourself.
A spectacular parade, the festival's main attraction, will take place on Jongno Street May 11, featuring a brilliant ocean of light from countless handheld lanterns and grand ornate lantern floats. Following the parade is a post-parade celebration known as Hoehyang Hanmadang. Participants and spectators come together in a spirit of dedicating one's merits to others. Buddhist entertainers put on a show, and the audience gets into the act, dancing hand in hand.
On May 12, visitors can stroll through more than 100 booths, which will be set up along the street leading to Jogyesa Temple from Jongno. This is where you'll be able to make your own lotus lanterns, create Buddhist art, try temple food, and strike up a conversation with a friendly monk. Some booths will be dedicated to introducing the Buddhist cultures of Tibet, Mongolia, and Southeast Asia.
Lantern exhibitions will be held at Jogyesa Temple and Cheonggyecheon Stream in downtown Seoul and Bongeunsa Temple in southern Seoul. On display will be a wide selection of exquisite and meticulously crafted lanterns made of hanji,Korean traditional handmade paper. Each lantern tells its own story with its warm, cheerful light.
The grand finale of the festival features a mini lantern parade around Insa-dong accompanied by the singing and dancing of the Lotus Lantern Performance Groups.
VENUE: Jogyesa area, Bongeunsa area
DATE: May 10—12
MORE INFO: T. 02-2011-1744, www.llf.or.kr
GETTING THERE: Jogyesa: Jonggak Station, Line 1; Bongwonsa: Samseong Station, Line 2
Eerie Tales from Old Korea
Korean yadam stories reveal different side of old Korea
Seoul Selection is pleased to announce the release of "
Eerie Tales from Old Korea
," compiled by Brother Anthony of Taizé.
Homer B. Hulbert and James S. Gale, two of the most famous North American missionaries to come to Korea in the 1880s, were very fond of ghost stories, but for years the Korean scholars they met swore that no such stories existed in Korea. Eventually, they discovered that Korea, too, had a plentiful supply of ghosts and spirits, celebrated in many eerie tales. However, because the stories had seemed too frivolous or were connected with shamanism and Buddhism, the scholars had been ashamed to talk about them.
A main source of these stories were collections of yadam. These were a form of short tale, especially popular in the Joseon period. Whereas Confucian classics were the gateway to officialdom, yadam offered an escape valve, dealing with things much closer to daily life. The stories told there were about individuals who were not always admirable paragons of Confucian virtue; rather, they were often artful dodgers who managed to escape from tricky situations; survive traps; deal with ghosts, spirits, and nine-tailed foxes; and even get rich in the process.
As we celebrate the one hundred-fiftieth anniversary of the birth of Hulbert and Gale, the present selection of Korean ghost stories—nostalgic for their echoes of the lost world of old Korea and its many ghosts—is offered for the pleasure of readers in the twenty-first century, one hundred years after their original publication.
Cost: KRW 9,500
Seoul Spring Festival of Chamber Music 2013—Far From Home
The Seoul Spring Festival of Chamber Music will be staged at various venues in the metropolis for two weeks beginning May 14. Under the main theme "Far From Home," each daily program differs in genres, styles, and collaborative structures as well as in their subjects. From this year, Korea Foundation participates as the main sponsor of the festival.
The opening day session, featuring Dvorak and other notable composers under the daily theme "Globetrotters," will take place at Sejong Chamber Hall. Other daily themes include "Once Upon a Time," "European Expats," "Vienna Spring" and "American Dream."
The Family Concert—East & West program on May 17 is going to be a crossover extravaganza that will bring together Western classical music and Korean performing arts representing its folk, aristocratic, and court traditions. In particular, K'Culture Company, created by a group of reform-minded young talents of traditional music, will share the limelight with farmers' percussion maestro Kim Duk-soo. The venue is the Seoul Arts Center's Concert Hall. Admission is KRW 20,000.
On May 19, an outdoor stage will be set up at Deoksugung Palace as Korean Symphony Orchestra collaborates with famed Swedish pianist Peter Jablonski and Chinese cellist Jian Wang for the Palace Concert program. Korean diva Kim Soo-jeong will render a selection of Giuseppe Verdi's aria scores. The palace program is open to the public.
The May 26 concert, titled Wanderer Odyssey, will wrap up the entire festival, presenting hallmark works by Mozart, Brahms, Carl Maria von Weber, and other composers who crisscrossed the world in search of their musical essentials. For details, visit www.seoulspring.org.
PERIOD: May 14–26
MORE INFO: T. 02-712-4879, www.seoulspring.org
Some 21 K-pop groups will be performing at Dream Concert 2013, one of the biggest K-pop events of the year. All the biggest names will be there, including SHINee, SNSD, KARA 2AM and more.
VENUE: Seoul World Cup Stadium
DATE: May 11, 6:30pm
ADMISSION: KRW 5,000
Tickets: dreamconcert.oilbankcard.com
MORE INFO: T. 02-786-7637, www.dreamconcert.kr
GETTING THERE: World Cup Stadium Station 월드컵경기장역 (Line 6), Exit 2
Gods Kitchen with Mark Ronson
British-American musician Mark Ronson is holding his first Korea concert on May 11. Ronson's second album
Version
won him a Brit Award for Best British Male Artist in 2008. He was also nominated for a 2007 Grammy Award for Producer of the Year. As a producer, Ronson has worked with Jay-Z, Lily Allen, Robbie Williams, Christina Aguilera, Amy Winehouse, Ol' Dirty Bastard, and Duran Duran. In 2010, Ronson was given a vocal track to a song titled "Lovely Way", sung by Michael Jackson, to produce for Jackson's posthumous album
Michael
.
VENUE: Walkerhill Theater
DATE: May 11, 10pm–5am
ADMISSION: KRW 55,000
MORE INFO: T. 010-3360-7846
GETTING THERE: Gwangnaru Station 광나루역 (Line 5), Exit 2
DIGITAL
PEACE 2013
Hosted by the French and German embassies, the Institut Francais and the Goethe Institute, Digital Peace is thus an artistic season oriented toward the celebration of peace and reconciliation, a series of events fitting into the historic continuity of this opening up of Korea. The program proposes a selection of Franco-German works, artists, thinkers, designers, expositions, schools, institutions, labels, and festivals—the common thread is the notion of peace expressed through the broadest variety of digital approaches, forms, and expressions. All the events are organized in collaboration, correspondence, or connection with Korean artists, galleries, institutions, schools, and labels.
VENUE: Platoon Kunsthalle
DATE: May 11
MORE INFO: www.digitalpeace2013.com
GETTING THERE: Hakdong Station 학동역 (Line 7), Exit 10 / Gangnam-gu Office Station 강남구청역 (Line 7, Bundang Line), Exit 3
AMCHAM: 60th Anniversary Hwangap Reception
Join to celebrate six decades of successful partnership between American businesses and Korean consumers and companies. AMCHAM will invite senior private and public sector leaders and VIPs from both countries to celebrate the long-standing partnership.
VENUE: Conrad Seoul
DATE: May 14, 6pm–8pm
MORE INFO: T. 02-6201-2200, www.amchamkorea.org
GETTING THERE: Yeouido Station 여의도역 (Line 5, 9), Exit 3 or 4
RASKB: Korean Pottery & Porcelain in Icheon Area
This afternoon and evening will be especially memorable. As well as helping to commemorate this special day, you will witness all the color and pageantry which the Koreans lavish on the celebration of the birth of Buddha. The lanterns, costumes, and celebratory dances are colorful and joyful. Just don't forget your camera!
In celebration of Buddha's birthday the RASKB will be visiting several different temples and shrines in Seoul. The first stop will be Gaeun Temple and Chilseongam (hermitage) to see its white Buddha, a fifteen-foot tall relief carved in rock. The tour will spend approximately one hour here. From this temple participants will continue on to Bomunsa Temple, headquarters of the Bomun Order, the only order of female monks in the world.
DATE: May 17, 2013 – 1pm to 9pm
COST
: KRW 33,000 for members and
KRW 39,600
for non-members
GETTING THERE: See link above.
Jongmyo Daeje
Korean dancers at the Jongmyo Daeje. The memorial rite for the kings of the Joseon Dynasty, the Jongmyo Daeje is performed by the Jeonju Yi clan, Korea's former royal family, on the first Saturday of May. Photo by Robert Koehler.
*Click the photo to see a full-size version at our website.
NOTE: If you have a photo you would like to see in our Everyday Koreans section, please sent it to story@seoulselection.com. Photos should be AT LEAST 950px wide. Send a one-line bio, too.

Tell Us About 'Your Korea': If you're a longtime resident of Korea and would like to share your story in KOCIS's KOREA Magazine, shoot an email with your story idea to book@seoulselection.com.
Update Your Shopping Mall ID – Seoul Selection encourages you to change your ID and password for our online bookshop and shopping mall at Seoulselection.com. The old IDs and passwords no longer work following our recent upgrade.
Looking for Translators – Seoul Selection is looking for a few good translators (Korean to English) for general translation work. Those interested should send a resume and cover letter to Kyehyun at trans@seoulselection.com.
Seoul Selection eBooks
– You can purchase some Seoul Selection titles in ebook format via
Amazon.com
(for Kindle) and Apple's
iBookstore
. Titles include
Ask a Korean Dude
,
Moon Tides
,
Doing Business in Korea
,
Once Around the Sun
, and seven volumes of our Korean Film Directors series:
BONG Joon-ho
,
IM Kwon-taek
,
KIM Jee-woon
,
LEE Chang-dong
,
LEE Man-hee
,
PARK Chan-wook
, and
SHIN Sang-ok
.
Seoul Selection via
Ingram
– Seoul Selection now has a direct wholesale distribution agreement with
Ingram Book Group
, the world's largest wholesale distributor of publisher content. By choosing to allow Ingram to represent our material, we have opened our titles to a wider audience. Our titles will be available for order through Ingram at more than 35,000 distribution channels worldwide. Ask your local bookstore to have Seoul Selection titles available!
Send Your Event Info
– If you would like to advertise any upcoming events you are organizing, please send us the press release material at
book@seoulselection.com
by the preceding Friday in order for it to appear in the following Tuesday's issue.
Freelance Contributors Wanted – SEOUL Magazine needs writers who are fluent in both Korean and English. Writers should have a strong interest in Korean culture and be able to interview Koreans. Send your resume and writing samples to book@seoulselection.com.
We Buy & Sell Used Books – Seoul Selection buys and sells used books in English. Unlike our regular selection of publications that specialize in Korea-related topics, our Used Book section carries books on all subjects. It's all part of our effort to make life easier for the English-speaking community.
SEOUL
(May 2013)
Dictionary of Korean Idioms
One Fine Spring Day
The Kite Fighters
Panmunjeom: Facts about the Korean DMZ
Easy Learning Korean: Reading/Writing (Beginning level)
Korea Strait
Art of Korea
The Man From Nowhere
The Horse Doctor Vol. 2 of 2
Love 911
I Am Father
Helpless
Publisher: Hank Kim / Editor: Robert Koehler
Seoul Selection reserves all intellectual property rights on information provided in this newsletter. Some event information has been provided by the Korea Foundation. The IPRs are protected by pertinent laws
https://magazine.seoulselection.com/wp-content/uploads/2013/05/5699642744_ab31043c96_o.jpg
1063
1600
rjkoehler
https://magazine.seoulselection.com/wp-content/uploads/2018/01/Seoul-logo.png
rjkoehler
2013-05-08 08:40:33
2013-05-08 09:03:39
SEOUL Weekly: Lotus Lantern Festival