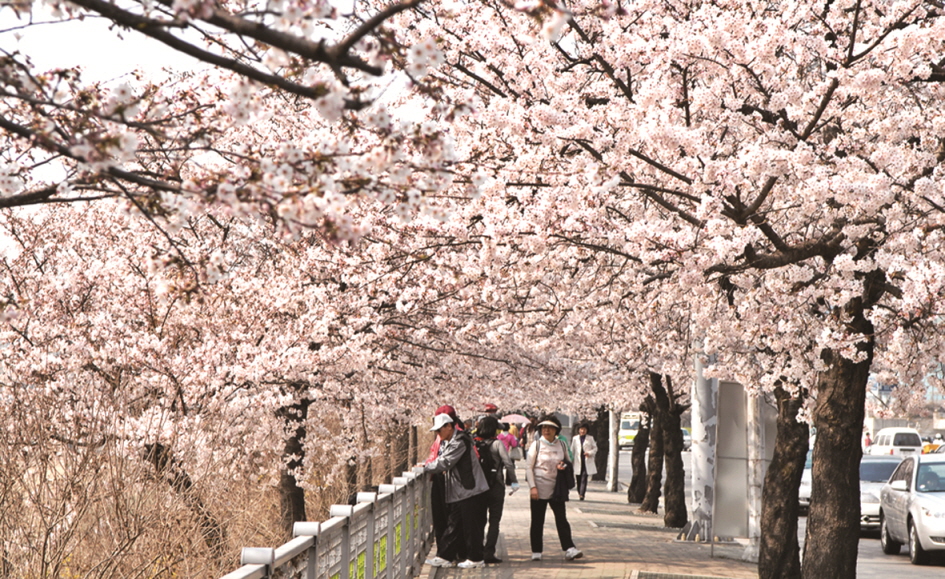 April 10, 2013 / Issue No. 575
Book Giveaway For The Voices of Heaven
Psy—yes, one of
TIME'
s most influential people—is releasing his next single "Gentleman" at a concert at World Cup Stadium. Even if you can't make the concert, he'll be streaming it live via YouTube. Reflecting Psy's newly won status as a global superstar, the world media is already focusing its attention on the event.
VENUE: Sangam Seoul World Cup Stadium
DATE: Apr 13, 6:30pm
ADMISSION: SR: KRW 110,000, R: KRW 99,000, S: KRW 88,000, A: KRW 77,000, B: KRW 55,000
Tickets: http://ticket.interpark.com/global
MORE INFO: T. 1544-1555
GETTING THERE: World Cup Stadium 월드컵경기장역 (Line 5), Exit 1
Yeouido Spring Flower Festival
Don't miss Seoul's signature spring festival
The annual Yeouido Spring Flower Festival is set to return Apr 12–18 when 1,700 cherry trees erupt into magnificent clouds of pink. The spring's spectacular show gets under way along the 1.7-kilometer-long street behind the National Assembly building. At night, the cherry blossoms are lit up with various colored lights. A wide range of street performances such as mime and modern dance as well as art exhibitions also take place.
VENUE: Yeouido
PERIOD: Apr 12–18
ADMISSION: Free
MORE INFO: www.ydp.go.kr
GETTING THERE: National Assembly Station 국회의사당역 (Line 9), Exit 1
Looking for Writers
We are looking for writers to pen the Korea Essentials 2013 series, a cooperative project between the Korea Foundation and Seoul Selection. We've published
12 volumes so far
, which you can find on Seoul Selection's online bookshop. This year, we plan to release four volumes:
Hanbok and Korean Fashion
,
Taekwondo
,
Korean Traditional Medicine,
and
Korean Dance
. Each volume is about 20,000 words; manuscripts should focus on providing readers fun, easy explanations rather than excessively technical content.
If you are interested in writing, please send a resume and writing sample to the appropriate supervisor below:
Hanbok and Korean Fashion: Hye Young Park pubco@seoulselection.com
Taekwondo: Hwa-pyeong Kim word@seoulselection.com
Korean Traditional Medicine: Eugene Kim planner@seoulselection.com
Korean Dance: Jin Lee publisher@seoulselection.com
Fashion Show & Culture Lesson
Korean hanbok design brand 
Jilkyungyee
will be marking the Inter-Pacific Bar Association's annual meeting in Seoul with a fashion show at the MBC historical drama set in Yongin on April 18 (8pm). Featuring the participation of 35 lawyers and their families from 13 nations, the show will help participants better understand the characteristics of Korean traditional clothing and how to wear them. The next day (11am, 2pm), Jilkyungyee will host a cultural experience program at its new hanok cultural hall, Mubongheon, in Samcheong-dong.
For more information, call (02) 744-5606.
Brazilian Community Lecture: The Centrality of Margins: Islam in Mozambique
Professor
Liazzat Bonate
will discuss her ongoing research on Islam in Mozambique, which she has been conducting for more than fifteen years. She argues that the unwarranted perceived marginality of Muslims in this region has stemmed from 1) history, especially of the Indian Ocean region of which Mozambique was not only an integral part but also a center of for more than seven centuries, and 2) Islam, which has been dominated by the Orientalist and Islamist search for the "true essence" and authority in Islam, resulting in the marginalization in the public sphere of the religious conceptions and practices that continued to be central to local life of the most global Muslim communities, including Mozambique.
VENUE: Seoul National University Yeongeon Campus College of Medicine Education Building, Room 117
DATE: Apr 17, 7pm
ADMISSION: Free
GETTING THERE: Hyehwa Station, Line 4, Exit 3
Libera Boys Choir Concert in Korea
English boys choir Libera comes to Korea. With 40 members between the ages of seven and sixteen recruited from the London area, the group blends a variety of musical forms, including classical, Gregorian chant, and pop.
VENUE: Sejong Center for the Performing Arts
DATE: Apr 13, 5pm
ADMISSION: R: KRW 99,000, S: KRW 77,000, A: KRW 55,000, B: KRW 33,000
MORE INFO
: T. 02-548-4480,
www.sejongpac.or.kr
GETTING THERE: Gwanghwamun Station, Line 5, Exits 1 & 8.
A world-renowned installation artist and photographer,
Georges Rousse creates pieces whose beauty come from the crossover between the second and third dimensions. Hangaram Art Museum invites spectators to observe and feel "the flat and the cubic" and "reality and apparition" simultaneously, allowing for an interesting and peculiar experience.
VENUE: Hangaram Art Museum, Seoul Arts Center
PERIOD: Apr 15–May 25
ADMISSION: Adults: KRW 5,000, Students: KRW 3,000
MORE INFO: T. 02-580-1300, www.sac.or.kr
GETTING THERE: Nambu Bus Terminal Station 남부터미널역 (Line 3), Exit 5. Transfer to shuttle bus, or green bus No. 4429.
Olleh International Smartphone Film Festival
The Olleh International Smartphone Film Festival will open in Seoul on April 17, helping explore a new avenue for filmmaking in an era of media revolution.
The three-day event is an annual film competition that brings together 10-minute shorts produced solely by the use of smartphones. The festival aims to encourage work from aspiring filmmakers and amateurs who don't have access to the more expensive production equipment. Some candidates will use smartphone video editing apps, while others choose to use PC tools.
This year's opener, titled Drawing Paper, was produced by a group of children living on remote islands under the guidance of filmmaker Bong Man-dae.
There are three competition sections: local moviemakers, teen filmmakers, and a newly added group for international contestants. The festival has also introduced a section for children; last year, judges gave out special prizes to middle schoolers.
VENUE: COEX Millennium Square & Megabox
PERIOD: Apr 17–20
MORE INFO: www.ollehfilmfestival.com
GETTING THERE: Samseong Station (Line 2)
RASKB: Daehangno and Hyehwa-dong: An Architectural Walk
During this excursion of Daehangno and Hyehwa-dong, the RAS-KB will look at a variety of styles of Korean architecture in the 20th century. The excursion will begin around Marronnier Park, which is where Seoul National University and its Japanese colonial forerunner, Gyeongseong Imperial University, were located. Several university buildings built during the colonial period still stand, including the former headquarters building, which was designed by Park Kil-yong (1898–1943), a noted Korean architect during the colonial period. The tour will then move through Hyehwa-dong and Seongbuk-dong, stopping by fascinating pieces of historical architecture along the way.
DATE: April 13
COST: KRW 20,000 for members and KRW 25,000 for nonmembers
GETTING THERE: See link above.
Wando Harbour
Wando Harbour in the far south of Korea. Photo by Arnab Sen.
*Click the photo to see a full-size version at our website.
NOTE: If you have a photo you would like to see in our Everyday Koreans section, please sent it to story@seoulselection.com. Photos should be AT LEAST 950px wide. Send a one-line bio, too.

Tell Us About 'Your Korea': If you're a longtime resident of Korea and would like to share your story in KOCIS's KOREA Magazine, shoot an email with your story idea to book@seoulselection.com.
Update Your Shopping Mall ID – Seoul Selection encourages you to change your ID and password for our online bookshop and shopping mall at Seoulselection.com. The old IDs and passwords no longer work following our recent upgrade.
Looking for Translators – Seoul Selection is looking for a few good translators (Korean to English) for general translation work. Those interested should send a resume and cover letter to Kyehyun at trans@seoulselection.com.
Seoul Selection eBooks
– You can purchase some Seoul Selection titles in ebook format via
Amazon.com
(for Kindle) and Apple's
iBookstore
. Titles include
Ask a Korean Dude
,
Moon Tides
,
Doing Business in Korea
,
Once Around the Sun
, and seven volumes of our Korean Film Directors series:
BONG Joon-ho
,
IM Kwon-taek
,
KIM Jee-woon
,
LEE Chang-dong
,
LEE Man-hee
,
PARK Chan-wook
, and
SHIN Sang-ok
.
Seoul Selection via Ingram
– Seoul Selection now has a direct wholesale distribution agreement with
Ingram Book Group
, the world's largest wholesale distributor of publisher content. By choosing to allow Ingram to represent our material, we have opened our titles to a wider audience. Our titles will be available for order through Ingram at more than 35,000 distribution channels worldwide. Ask your local bookstore to have Seoul Selection titles available!
Send Your Event Info
– If you would like to advertise any upcoming events you are organizing, please send us the press release material at
book@seoulselection.com
by the preceding Friday in order for it to appear in the following Tuesday's issue.
Freelance Contributors Wanted – SEOUL Magazine needs writers who are fluent in both Korean and English. Writers should have a strong interest in Korean culture and be able to interview Koreans. Send your resume and writing samples to book@seoulselection.com.
We Buy & Sell Used Books – Seoul Selection buys and sells used books in English. Unlike our regular selection of publications that specialize in Korea-related topics, our Used Book section carries books on all subjects. It's all part of our effort to make life easier for the English-speaking community.
SEOUL
(April 2013)
Tears of Blood
Bridal Mask
Azalea Vol.6
Exploring the National Museum of Korea
Learn Korean Language and Culture through Korean Stories (Korean Only) – for intermediate learners
Asia in Mobility
Standard English-Korean & Korean-English Dictionary
The Innocent Man
Code Name: Jackal
Confession of Murder
Two Weddings and a Funeral
Publisher: Hank Kim / Editor: Robert Koehler
Seoul Selection reserves all intellectual property rights on information provided in this newsletter. Some event information has been provided by the Korea Foundation. The IPRs are protected by pertinent laws
https://magazine.seoulselection.com/wp-content/uploads/2013/04/spring1.jpg
579
945
rjkoehler
https://magazine.seoulselection.com/wp-content/uploads/2018/01/Seoul-logo.png
rjkoehler
2013-04-10 12:25:04
2013-04-11 12:27:53
SEOUL Weekly: Psy Concert—Happening