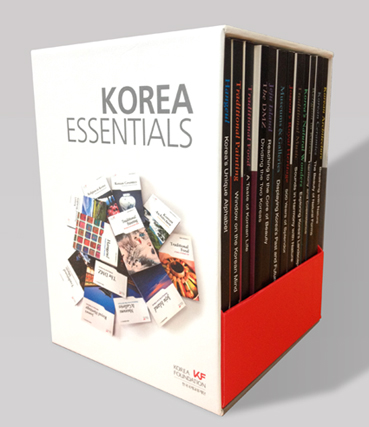 March 20, 2013 / Issue No. 572
Looking for Writers
We are looking for writers to pen the Korea Essential 2013 series, a cooperative project between the Korea Foundation and Seoul Selection. We've published
12 volumes so far
, which you can find on Seoul Selection's online bookshop. This year, we plan to release four volumes:
Hanbok and Korean Fashion
,
Taekwondo
,
Korean Traditional Medicine,
and
Korean Dance
. Each volume is about 20,000 words; manuscripts should focus on providing readers fun, easy explanations rather than excessively technical content.
If you are interested in writing, please send a resume and writing sample to the appropriate supervisor below:
Hanbok and Korean Fashion: Hye Young Park pubco@seoulselection.com
Taekwondo: Hwa-pyeong Kim word@seoulselection.com
Korean Traditional Medicine: Eugene Kim planner@seoulselection.com
Korean Dance: Jin Lee publisher@seoulselection.com
Buy all 12 volumes in one convenient set
Seoul Selection is pleased to announce that we've
bundled all of our Korea Essentials volumes into one convenient set
. The Korea Essentials series is a cooperative project between the Korea Foundation and Seoul Selection to furnish the international reader with insight and basic understanding into the arts and culture of Korea. The content of this series is based on material published in
Koreana
, the Korea Foundation's magazine.
Hangeul: Korea's Unique Alphabet
Traditional Painting: Window on the Korean Mind
The DMZ: Dividing the Two Koreas
Traditional Food: A Taste of Korean Life
Jeju Island: Reaching to the Core of Beauty
Museums & Galleries: Displaying Korea's Past and Future
Joseon's Royal Heritage: 500 Years of Splendor
Traditional Music: Sounds in Harmony with Nature
Korea's Natural Wonders: Exploring Korea's Landscapes
Religion in Korea: Harmony and Coexistence
Korean Ceramics: The Beauty of Natural Forms
Korean Architecture: Breathing with Nature
Tongyeong International Music Festival (TIMF)
This month the annual Tongyeong International Music Festival kicks off its 10th year as the premier western classical music showcase in Korea. If you're headed to Tongyeong for the music fest or just looking for a good getaway anytime of year, we've got some tips on where to go and what to do.
VENUE: Tongyeong Citizens' Center and other venues of Tongyeong-si, Gyeongsangnam-do
PERIOD: Mar 23–28
ADMISSION: Depends on program
MORE INFO: T. 02-3474-8315, www.timf.org
GETTING THERE: Express buses to Tongyeong depart from Seoul Express Bus Terminal (travel time: 4 hours).
The biggest Irish band since U2 comes to Korea for the first time ever. So much has changed for the Script since they released their first album four years ago. First they broke into Ireland and Britain; then the States; then everywhere from Asia to South Africa. Along the way, they toured with U2, Take That, and Paul McCartney, sailed through the second-album syndrome that sinks so many bands, played to a 55,000-strong crowd at an historic hometown show in Dublin, amassed almost four million followers on Facebook and 1.5 million on Twitter, and saw their singer star on TV talent show
The Voice
. Their music has been featured in popular television programs such as
90210
,
Ghost Whisperer
,
The Hills
,
Waterloo Road
,
East Enders
,
Made in Chelsea
, and
The Vampire Diaries
.
VENUE: Uniqlo AX
DATE: Mar 27
ADMISSION: KRW 110,000
Tickets: http://ticket.interpark.com/global
MORE INFO: T. 02-332-3277
GETTING THERE: Gwangnaru Station 광나루역 (Line 5), Exit 2
Jane Birkin—Serge Gainsbourg via Japan
English actress and singer Jane Birkin will dedicate her upcoming Seoul concert to her lifelong music partner and composer Serge Gainsbourg. In 1969, she and Serge Gainsbourg released the song "Je t'aime… moi non plus" ("I love you… me neither"), written by Gainsbourg and featuring both of them on vocals, which caused a scandal for its sexual explicitness. Some 20-plus years after his death, Birkin's devotion to spreading his work around the world has raised his profile. Currently, Birkin is working with a jazzy quartet of European-based Japanese musicians.
VENUE: Universal Art Center
DATE: Mar 30, 7pm
ADMISSION: R: KRW 132,000, S: KRW 110,000, A: KRW 88,000
MORE INFO: T. 02-6339-1232
Tickets: http://ticket.interpark.com/global
GETTING THERE: Achasan Station 아차산역 (Line 5), Exit 3
Gwangyang Maehwa Flower Festival
In English, the maehwa is called the "ume flower," and Gwangyang-si was the first place in Korea where ume flowers were cultivated in bulk. This flower festival was the earliest of its kind and started in 1997 to publicize the ume flower, its fruit (a form of plum), and products made from them. The festival site is noted for its scenic beauty, filled with ume blossoms, and a famous Korean movie, "Chihwaseon," and TV show, "Damo," were filmed on this location.
VENUE: Gwangyang Maehwa Village, Jeollanam-do
PERIOD: Mar 23–31
ADMISSION: Free
MORE INFO: T. 061-797-3714, www.gwangyang.go.kr/gymaehwa
GETTING THERE: It takes more than three hours to get from Seoul to Gwangju Gwangcheon by express bus.
Increase your salary potential, move up the career ladder, or work abroad with the most
internationally recognized business degree: the MBA.
A unique and customized event format that helps you select the right MBA program.
– One-to-one meetings and workshops with Admissions Directors
– Personalized MBA orientation
– Interactive MBA conferences
– GMAT, TOEFL, and IELTS advising
– Scholarship opportunities
VENUE: Novotel Ambassador Gangnam
DATE: Mar 21, 4pm–9:30pm
MORE INFO: www.accessmba.com
GETTING THERE: Sinnonhyeon Station 신논현역 (Line 9), Exit 4
RASKB: Visit to Sewang Brewery and Botapsa Temple
Located in Jincheon County, North Chungcheong Province, Sewang Brewery is one of Korea's oldest continuously functioning breweries. Built in 1930, and run by the same family for three generations, the beautiful wooden brewery—built of pine cut from the forests of Mt. Baekdusan—was so perfectly designed for its task, that when repair work was done in 2006, it was discovered its framework hadn't rotted at all. The clay jars in the fermentation room are from the 1930s, too. The brewery even got featured in cartoonist Huh Young-man's serial in the Dong-A Ilbo, "Sikgaek." If you're a fan of makgeolli, you won't want to miss this excursion—Sewang Brewery produces some of the finest makgeolli in the Republic of Korea, along with a wide variety of other interesting yakju (medicinal liquors). We'll be trying some of its firewater at the brewery's recently built tasting center and gallery.
PS: I'll be leading this tour.
DATE: March 30
COST: 65,000 won for members and 78,000 won for non-members
GETTING THERE: See link above.
Seoul Village Criers
The blog Seoul Village is collecting recordings of the voices of the criers hawking services in Seoul's various neighborhoods. Got a recording device? Why not help Seoul Village out. See
this link
for more information.
Amseojae Pavilion
Amseojae, a scenic pavilion used by 17th century scholar Song Si-yeol during his time in exile in the Hwayang Valley, Goesan. Photo by Robert Koehler.
*Click the photo to see a full-size version at our website.
NOTE: If you have a photo you would like to see in our Everyday Koreans section, please sent it to story@seoulselection.com. Photos should be AT LEAST 950px wide. Send a one-line bio, too.

Tell Us About 'Your Korea': If you're a longtime resident of Korea and would like to share your story in KOCIS's KOREA Magazine, shoot an email with your story idea to book@seoulselection.com.
Update Your Shopping Mall ID – Seoul Selection encourages you to change your ID and password for our online bookshop and shopping mall at Seoulselection.com. The old IDs and passwords no longer work following our recent upgrade.
Looking for translators – Seoul Selection is looking for a few good translators (Korean to English) for general translation work. Those interested should send a resume and cover letter to Eugene at planner@seoulselection.com.
Seoul Selection eBooks
– You can purchase some Seoul Selection titles in ebook format via
Amazon.com
(for Kindle) and Apple's
iBookstore
. Titles include
Ask a Korean Dude
,
Moon Tides
,
Doing Business in Korea
,
Once Around the Sun
, and seven volumes of our Korean Film Directors series:
BONG Joon-ho
,
IM Kwon-taek
,
KIM Jee-woon
,
LEE Chang-dong
,
LEE Man-hee
,
PARK Chan-wook
, and
SHIN Sang-ok
.
Seoul Selection via Ingram
– Seoul Selection now has a direct wholesale distribution agreement with
Ingram Book Group
, the world's largest wholesale distributor of publisher content. By choosing to
allow Ingram to represent our material, we have opened our titles to a wider audience. Our titles will be available for order through Ingram at more than 35,000 distribution channels worldwide. Ask your local bookstore to have Seoul Selection titles available!
Send Your Event Info
– If you would like to advertise any upcoming events you are organizing, please send us the press release material at
book@seoulselection.com
by the preceding Friday in order for it to appear in the following Tuesday's issue.
Freelance Contributors Wanted – SEOUL magazine needs writers who are fluent in both Korean and English. Writers should have a strong interest in Korean culture and be able to interview Koreans. Send your resume and writing samples to book@seoulselection.com.
We Buy & Sell Used Books – Seoul Selection buys and sells used books in English. Unlike our regular selection of publications that specialize in Korea-related topics, our Used Book section carries books on all subjects. It's all part of our effort to make life easier for the English-speaking community.
SEOUL
(March 2013)
Korean Verb Conjugation Dictionary for Foreigners
A Gentleman's Dignity
Yonsei Korean 1-2 (with Audio CD)
Yonsei Korean 1-1 (with Audio CD)
Talk To Me In Korean Level 3
Hello Korean 2 English Edition
Hello Korean 1 English Edition
Barbie
Lady Furious
Paradox Circle
The Peach Tree
Almost Che (Iron Dae-oh: The Nation's Iron Bag)
Publisher: Hank Kim / Editor: Robert Koehler
Seoul Selection reserves all intellectual property rights on information provided in this newsletter. Some event information has been provided by the Korea Foundation. The IPRs are protected by pertinent laws
https://magazine.seoulselection.com/wp-content/uploads/2013/03/GOODS2_1363772843.jpg
427
369
rjkoehler
https://magazine.seoulselection.com/wp-content/uploads/2018/01/Seoul-logo.png
rjkoehler
2013-03-21 09:43:51
2013-03-26 14:52:03
SEOUL Weekly: Korea Essential Series