Chef Lim Soo Ho brings his unique take on Pyeongchang-style noodles at Namgyeong Makguksu
There's more than just buckwheat flavoring the noodles at Namgyeong Makguksu. Love is in the air: Love for Korean tradition, for a Pyeongchang grandmother, for a wife, the texture and chew and smell of the humble makguksu noodle, and for the ingredients that best enhance it. Chef Lim Soo Ho is a man brimming over with love for his noodles, his customers, and his life.
"I'm not a person with a background in food. I was just a regular office worker, but I left it all to cook Pyeongchang-style buckwheat noodles," Lim recalls. "At my company I was doing well. I had a place to live, I had friends, but I went on vacation and started thinking, 'How can I live more happily?' I wanted to try something I'd never done before."
Most people would have taken up a hobby. Chef Lim quit his job, gave up the life he'd built, and told everyone he was moving back to his hometown of Pyeongchang in Gangwon-do to learn how to cook — no matter what anyone else thought of his plans.
"I didn't know how to cook anything," says Lim, who faced some steep opposition. "All my friends and family hated the idea. When I showed up in Pyeongchang, I wanted to learn from a local grandmother, but even she told me I was crazy. Who is this young single guy who wants to learn to make noodles? The neighbors were nice, but they thought I was nuts and looked at me funny. The grandmother finally said, 'Bring your wallet and come.' I studied under her for three years before I finally came back to Seoul to start my restaurant."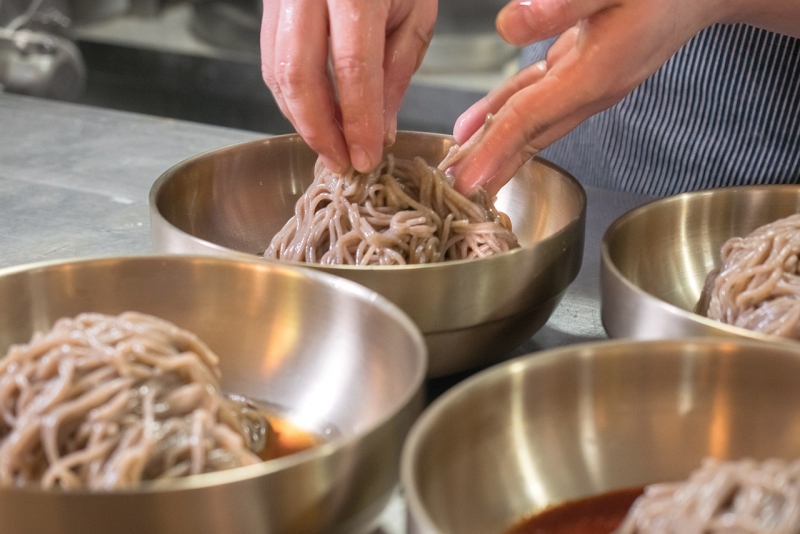 Pursuing the taste of a grandmother's noodles
Lim's first venture into noodle making went better than anyone could have hoped. All the people who questioned his ambitions ate their words as he found a space and started working his magic with buckwheat. But after being in business for a while, Chef Lim started to doubt his skills. People started to say that the flavors weren't quite there, and maybe the quality was declining because Lim was getting bored with his venture.
"I delayed reopening for three months to see what I was really good at, what I really loved. It turns out it was really the taste of that grandmother's noodles, my teacher. I got good feedback from one of my regular customers, who told me not to do it the way the chains were doing it but the way I had originally been doing it. I had to keep doing it by hand, using the best ingredients. It's the flavor of that granny's noodles. From that point on, I started to relax and enjoy it again."
"I'm only looking to feed people who are really desiring these noodles. I'm so grateful to see people coming to enjoy my noodles," says Lim. "I'm not doing this for the money. I want to give strength to people and live happily. That's my ultimate goal."
If any noodles are capable of bestowing strength and happiness, it's Lim's makguksu. His buckwheat noodles manage the magic feat of being simultaneously chewy and tender, whether served in a thick, spicy sauce or in a clean, refreshing broth with gentle sourness. For real aficionados of the nutty, savory noodles, he also serves a sauceless version, and another topped only with ground wild perilla seeds, which turns it into a dish simultaneously rich and austere.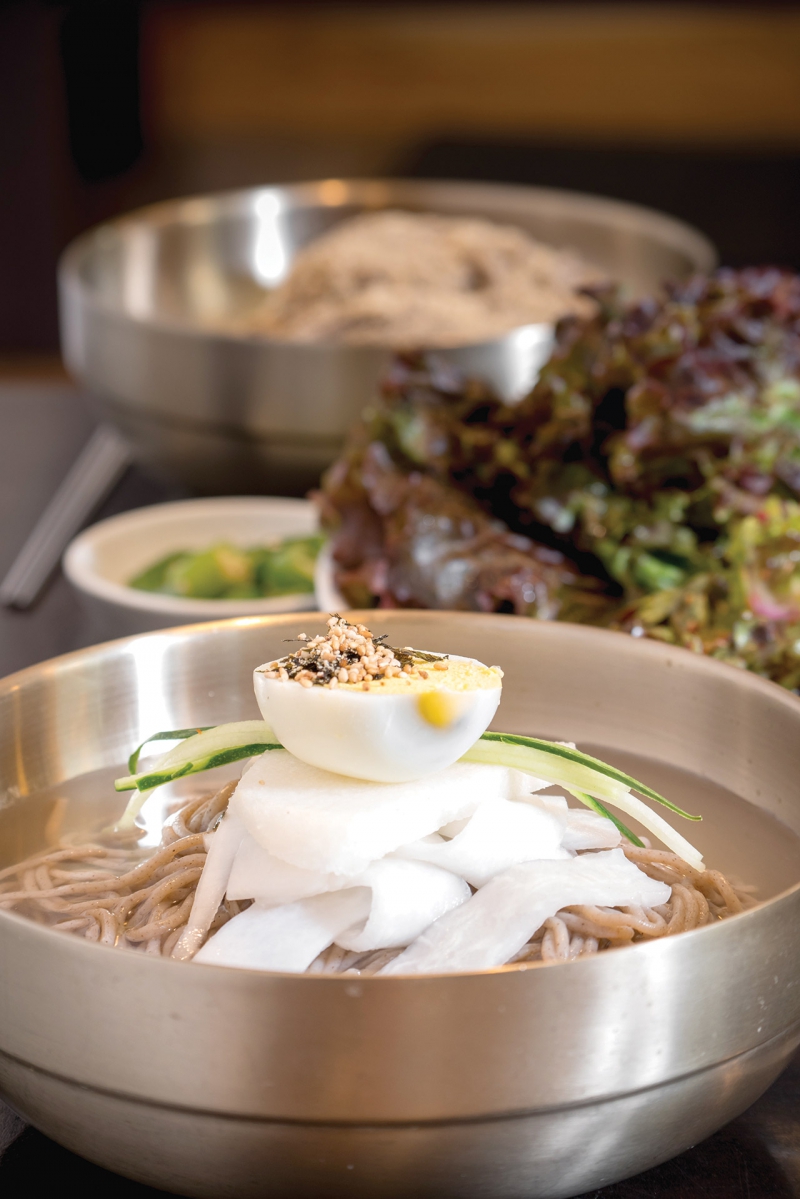 A love story with extra slurping
The restaurant brought Lim more than just the satisfaction of running a business that makes him happy. It brought him love.
"I met my wife as a customer," Lim says, grinning from ear to ear. "She wrote her number on a napkin and left it for me! I was so busy those days, and I didn't get around to calling her for almost a week. She was really annoyed! But it worked out well in the end, and now we're married and have a baby together."
Without his delicious noodles, he wouldn't have the family he has now. His brother joined him in the kitchen, making and serving up noodles. Lim gives them a lot of credit for the success of Namgyeong Makguksu. "My brother and wife are there to support me all the time."
As for the future, Lim's path is clear: "The hardest thing is now to do it for a long time, to make a restaurant that can last for a hundred years or more. To make good, deep roots for what we're doing. Lots of people want me to turn it into a franchise, but no matter what, it must stay true to the granny's noodles."
More Info
Namgyeong Makguksu
207-13, Jamsil-dong, Songpa-gu
T. 02-417-0060
Written by Jennifer Flinn
Photographed by Romain John
https://magazine.seoulselection.com/wp-content/uploads/2018/07/남경막국수-90.jpg
854
1280
cyn
https://magazine.seoulselection.com/wp-content/uploads/2018/01/Seoul-logo.png
cyn
2018-07-05 11:47:27
2018-08-28 09:33:13
For the Love of Noodles