CGV's Cine Library brings together film and the arts that inspire it
"You are not allowed to bring your bag into the library, you can only have your laptop and writing implement with you," says the receptionist at CGV Cine Library, Korea's first film library. "Please leave your identification with us, and we will offer you a locker where you can keep your belongings."
At first, this writer is put out. Is it really worth the extra trouble to visit this library? However, as soon as I step into the library, I have no other choice, or else to change my mind entirely.
On both sides of the rectangular space — once used as a film-screening theater — are bookshelves densely filled from top to bottom. Rows of seats and tables occupy the middle, and soft interior lighting completes the mood of the library. CGV Cine Library opened in Myeong-dong in 2015. Its mission is to be an exceptional cultural venue of inspiration, relaxation, and communication.
"Through the agency of books, CGV Cine Library intends to be a comfortable space for those who love film, art, music, and photography," says Hyu-ri Kim, a member of the cinema team at CGV Arthouse.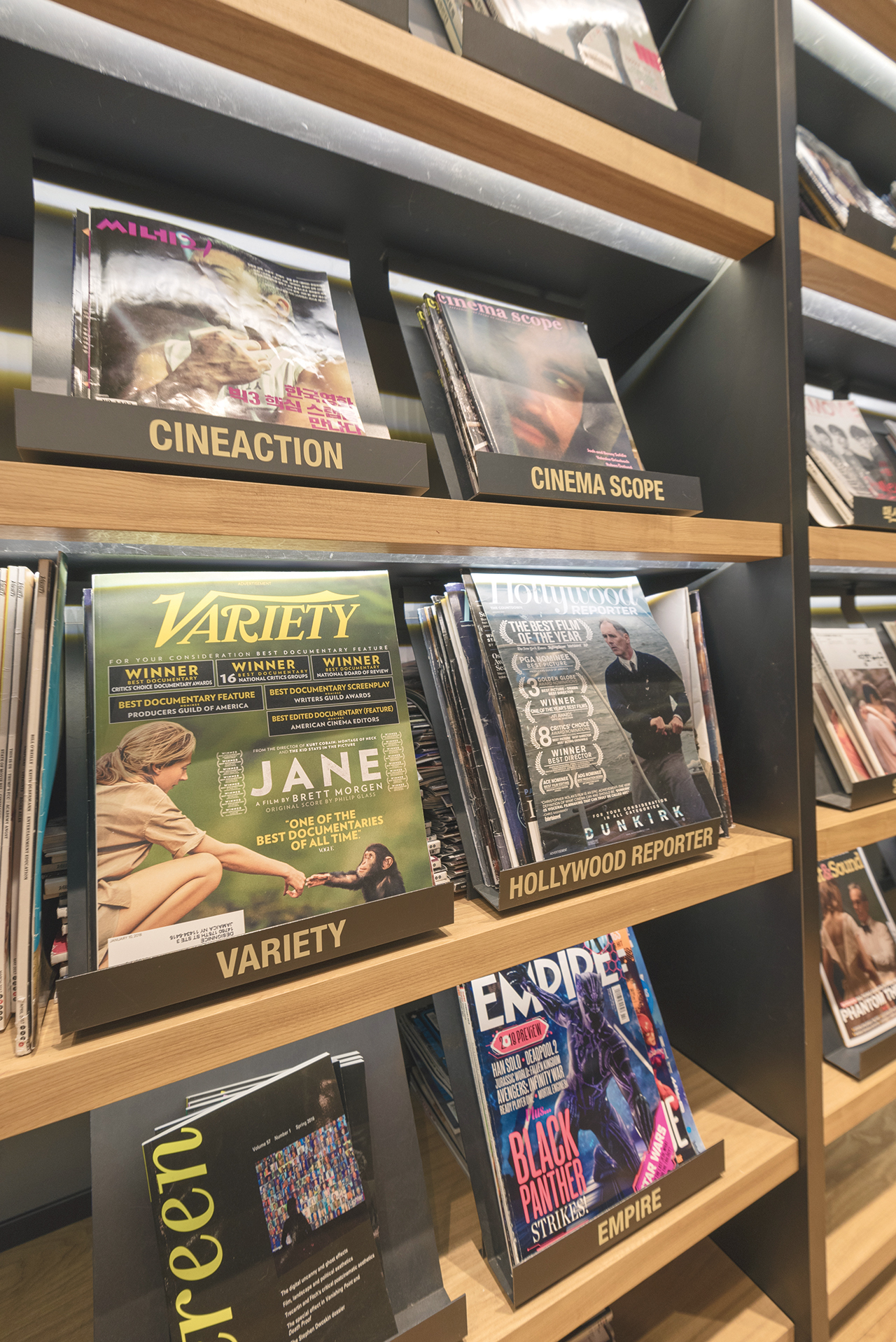 10,600 volumes and more
The library houses about 10,600 exquisitely selected books and occasionally holds various talks by film professionals. It is the books that are the real appeal for those engaging in creative occupations as well as movie enthusiasts. The library's collection includes books not just about films, but also about literature and art, which have inspired film in many ways. World literature, books adopted from movies and vice versa, and graphic novels account for 5,565 items of the collection. Hundreds of scenarios, productions designs and storybooks are also available, presenting a more vivid illustration of the film-making process. Art books, accounting for as many as 1,400 of the collection, are also an integral part of the library.
There are featured exhibitions as well. The "Books of My Life" section displays a collection of books selected by high-profile Koreans, including popular actors and actresses, directors and critics. You can find your favorite actor's recommendations, as well as enjoy discovering who recommended the books you love.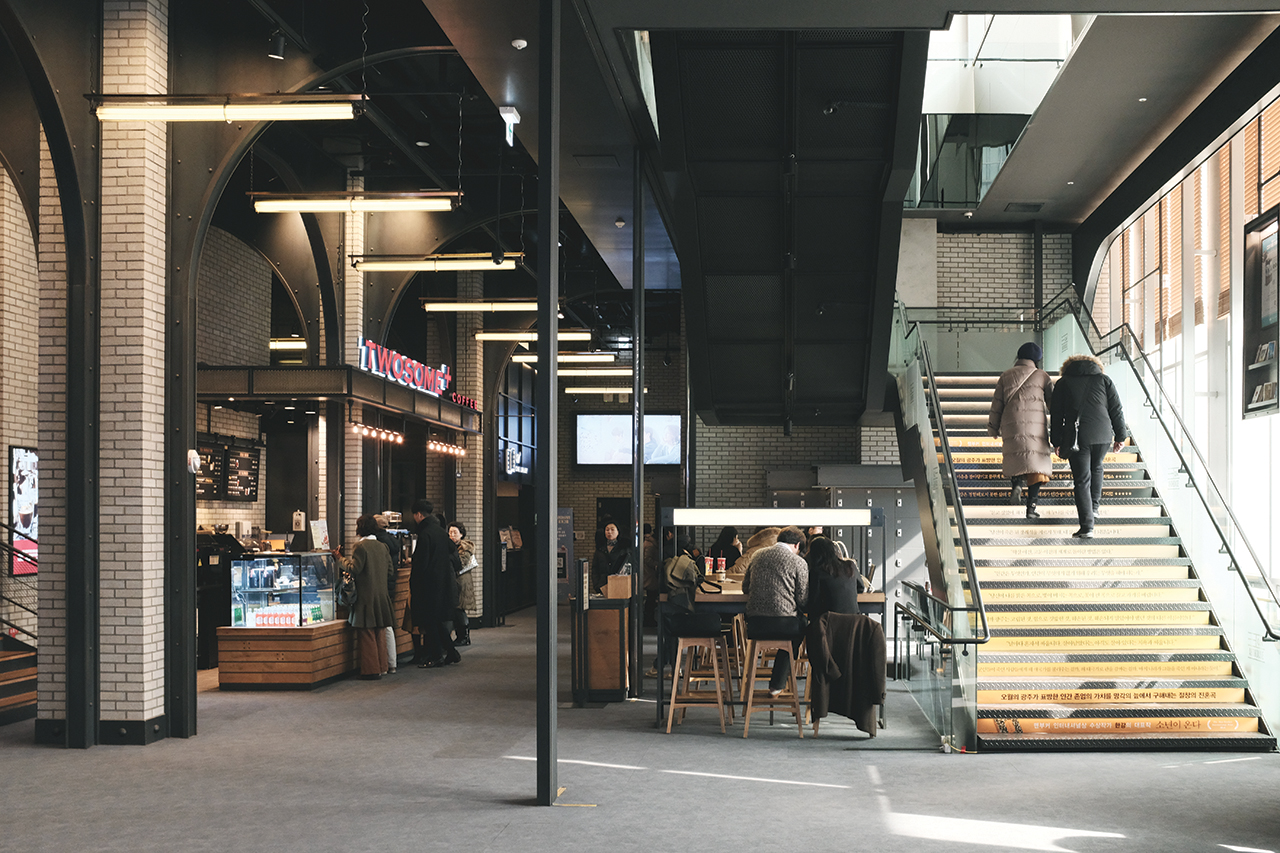 In another section, there are collections of books chosen by three well-known, international award-winning directors. They are Lee Chang-dong, the director of "Peppermint Candy"; Park Chan-wook, the director of "The Handmaiden"; and Kim Jee-woon, the director of "The Good, the Bad, the Weird." This section provides a rare glimpse into the famous film directors' works through the scores of books selected by them.
"Library Talk," one of the featured programs at the library, enables participants to have conversations with directors, actors and film critics after enjoying a film at the theater. Regarding such diverse features of the cine library, Kim says, "CGV Cine Library aspires to be a valuable space enriching the lives of the visitors."
The library is open Tuesday to Sunday, 12 p.m. to 9 p.m., but opening hours vary in accordance with occasional changes. Looking up the information online beforehand is highly recommended. The entrance fee requires a little attention. Movie ticket holders of CGV Myeongdong Station Cine Library or CGV Myeongdong receive complimentary admission within 15 days before or after the screening date of the ticket. CJ (CJ One) members receive a 1,000-point deduction. And CGV VIP members and CGV Arthouse Club members receive four complimentary visits a month.
Whether you are a movie buff, a bookworm or a big fan of a film master, you will find this library dedicated to film truly inspiring. You may feel a connection with others by seeing the interconnectedness among different fields of art. Or perhaps, new ideas will spring up from this treasure trove of knowledge. This writer now fully understands why the extra care is taken to protect the precious collections of this library.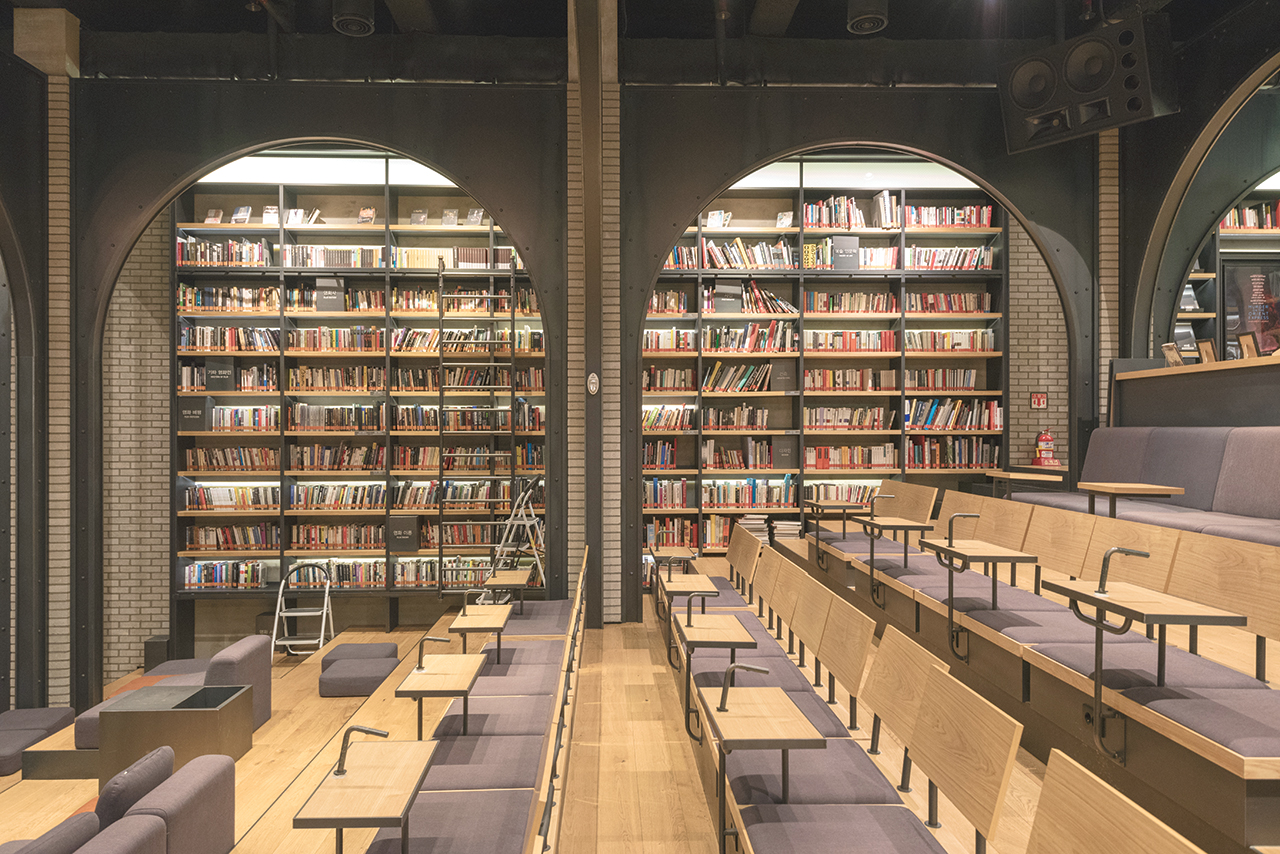 More Info.
CGV Cine Library
10th, 11th Floor, 123, Toegye-ro, Jung-gu | 1544-1122 | www.cgv.co.kr
Written by Sang-ah Lee
Photographed by Robert Koehler
https://magazine.seoulselection.com/wp-content/uploads/2018/02/20180211-DSC_5764.jpg
854
1280
rjkoehler
https://magazine.seoulselection.com/wp-content/uploads/2018/01/Seoul-logo.png
rjkoehler
2018-04-27 15:04:51
2018-04-27 15:05:40
More than Books