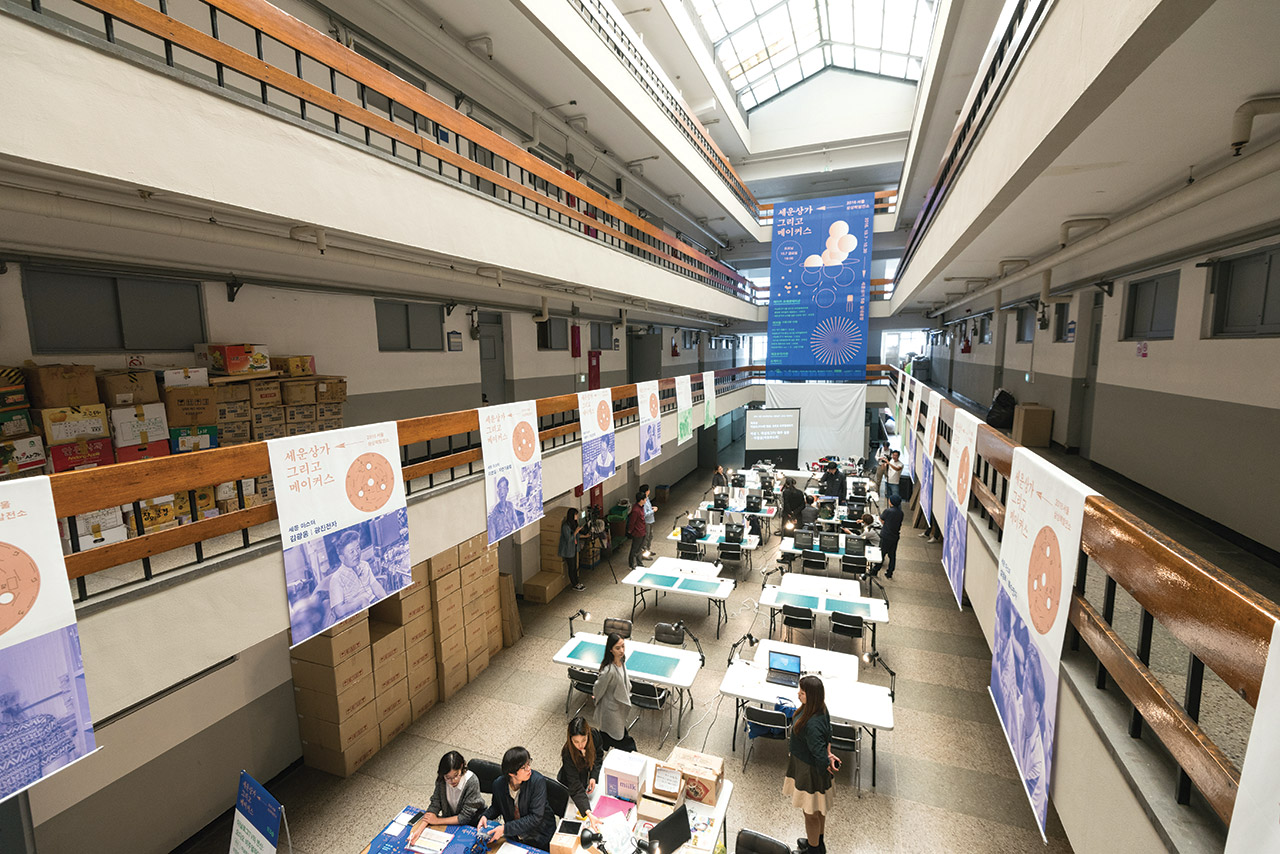 SEOUL visits four up-and-coming centers of the arts
Seoul is a city of the arts and culture.
Almost everywhere you go, you can find spaces dedicated to the arts, from local community centers to sprawling complexes such as Seoul Art Center.
Some areas, however, are more artistically inclined than others. In this issue, we'll explore four relatively under-appreciated art districts: Dapsimni, Makerscity Sewoon, Changsin-dong and Seongbuk-dong.
Dapsimni Antique Art Street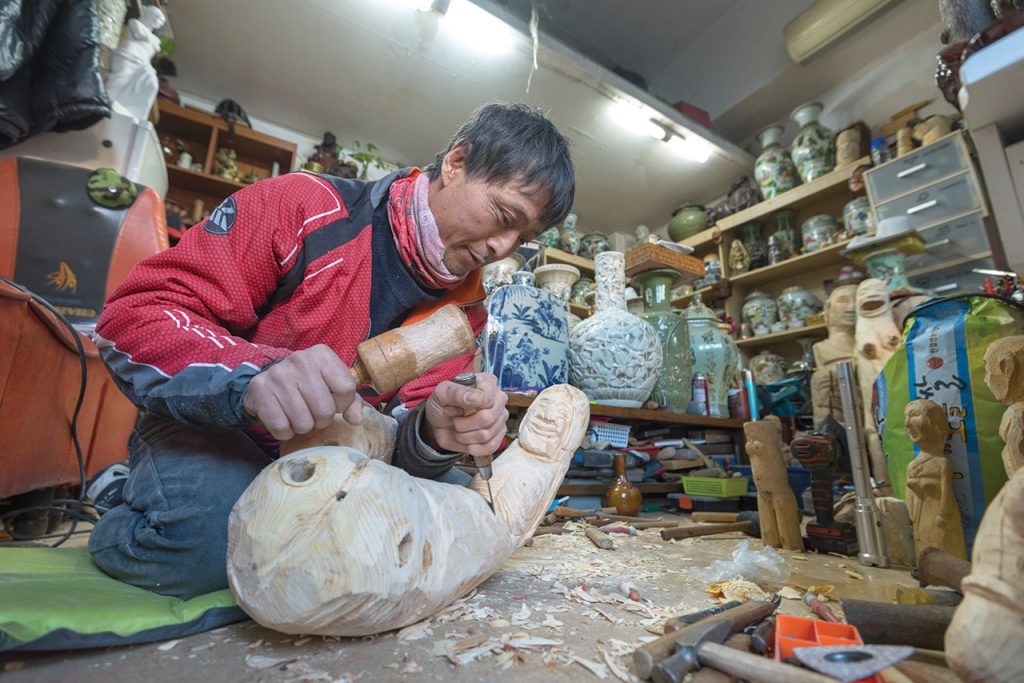 Also known as Janganpyeong Antique Market, Dapsimni Antique Art Street is an arcade – six arcades, actually – filled with shops selling antiques. A gritty place in an equally gritty part of Dongdaemun-gu, the market has admittedly seen better days, the lack of customers casting a bit of a pall over the place. Nevertheless, Korea's largest antiques market is a fascinating place in which to get lost, an unofficial museum where you can find everything from ceramics from the Joseon era (1392–1910) and stone pagodas to an artisan who carves wooden penis totems.
About 140 shops housed in several large concrete structures comprise the arcade, which developed in the 1980s when antique shops from other parts of the city such as Itaewon and Ahyeon-dong congregated in the area. Early on, it was a popular with foreign residents and visitors, especially Japanese, who are well-known for their love of East Asia antiquities. Stricter laws on the export of items and a protracted slump in the antiques market have hit the arcade hard, however. Depending on when you go, you may feel you're the only one in the place.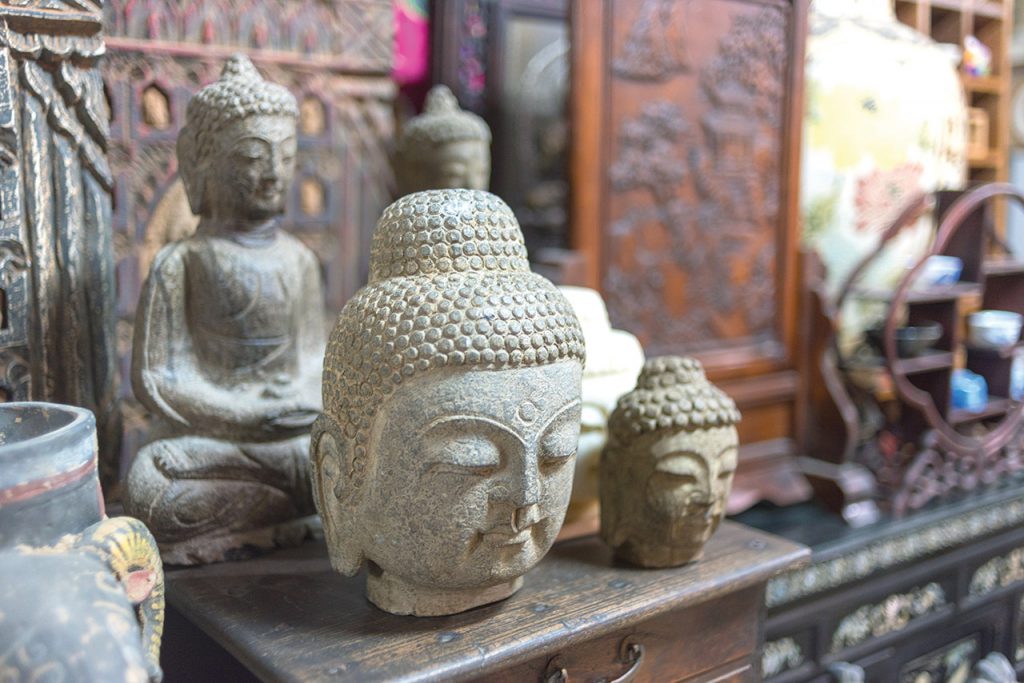 Many if not most of the antiques you'll find are from other Asian countries, especially China. Several shops, however, specialize in Korean items. Yemyeongdang (T. 02-2215-5147) sells wooden items such as furniture and chests, many of its wares dating from the Joseon era. Sambodang (T. 02-2245-3851) is another place that's been collecting Korean antiquities for decades, including some beautiful ceramic pieces from the Joseon era. And if you need a penis totem carved from a block of wood, Wangnisa in Arcade No. 5 is your place.
Compared to Insa-dong, where the antiques shops deal primarily in high-end items and modern crafts made using traditional techniques, Dapsimni's merchants trade in more reasonably priced items. Antiquities such as Joseon ceramics may still cost several million won, of course. Most shoppers, however, find you can still find something you like without breaking the bank.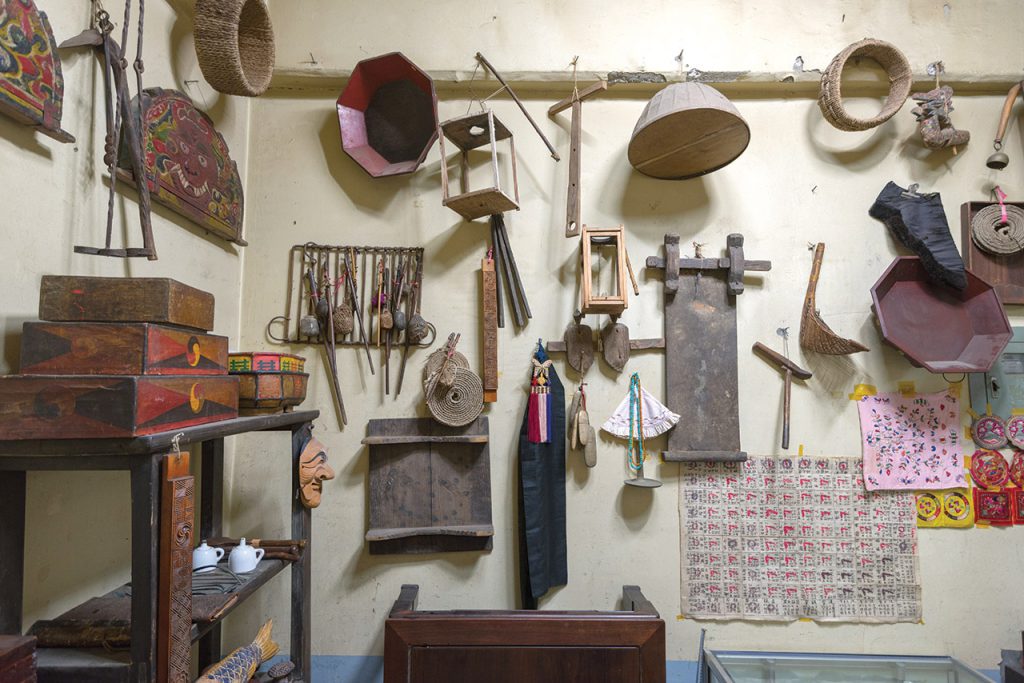 GO> Dapsimni Station (Line 5), Exit 1
Sewoon Electron Plaza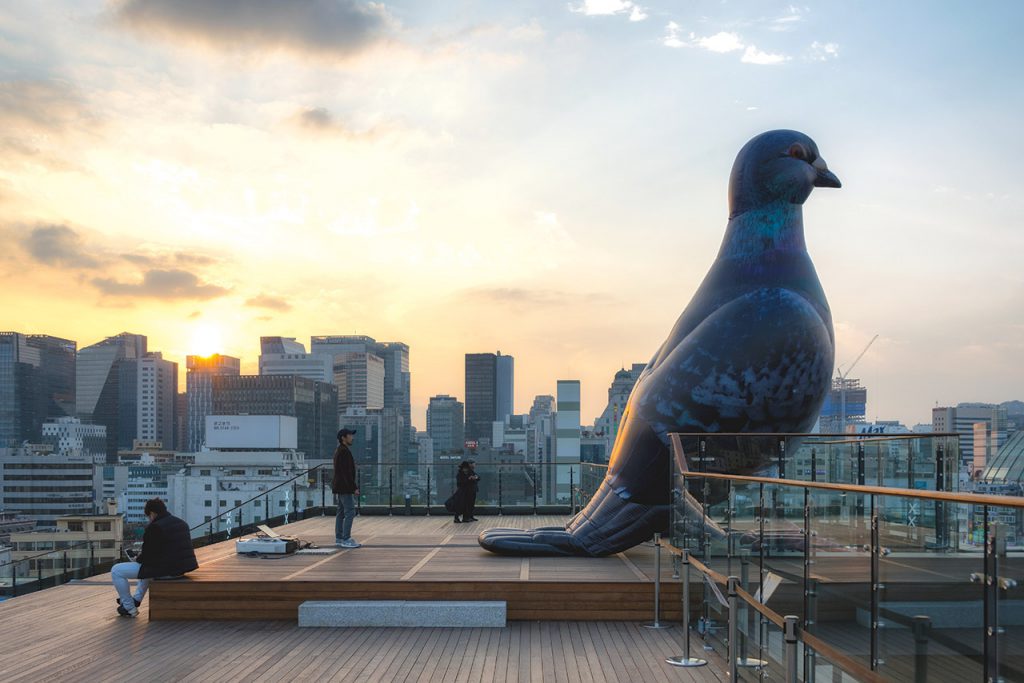 Not so long ago, many Seoulites considered the Sewoon Arcade as an eyesore, a massive concrete relic from a time that had long since passed. Constructed between 1967 and 1972, the mixed-use megastructure in the middle of Jongno was the center of Korea's consumer electronics trade in the 1980s. Its merchants and craftsmen were so good, it was said, they could build even submarines or missiles when they got together. By the 2000s, however, many of the electronics merchants had moved out and the arcade was in ill repair. The city even decided to raze the site.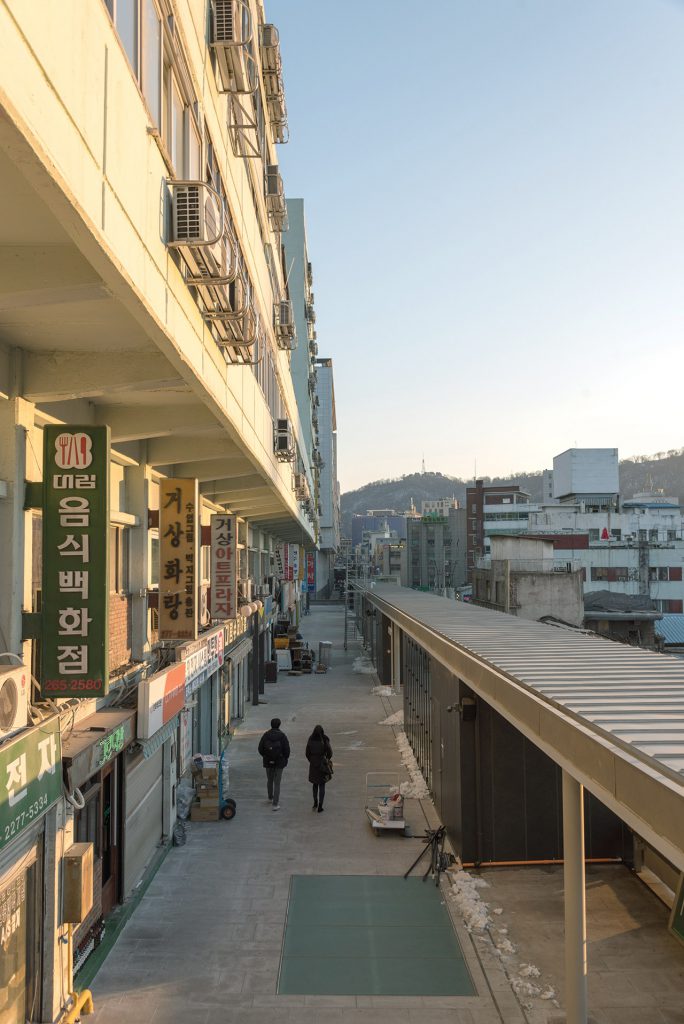 In 2014, however, the city rescinded the demolition order, deciding instead to preserve and rejuvenate the historical building and its surroundings. The Dasi (Again) Sewoon Project aimed to turn the old arcade into a bastion of "maker culture," a movement fusing technology such as digital fabrication with the DIY spirit – a "convergence of computer hackers and traditional artisans," in the words of U.S. magazine Adweek. The project seems to be succeeding, too, as the old eyesore becomes a hot spot where the industrial and digital become one.
Embodying this spirit, Fab Lab Seoul is a digital fabrication laboratory where you can use 3-D printers and other devices to build robots, drones, figurines or whatever else you'd like to make. In the old boiler room is Sewoon Basement, a workshop and classroom run by the University of Seoul where students use robots to make ceramics and other crafts. The old boilers have been preserved, too, creating a space blending the industrial and digital ages.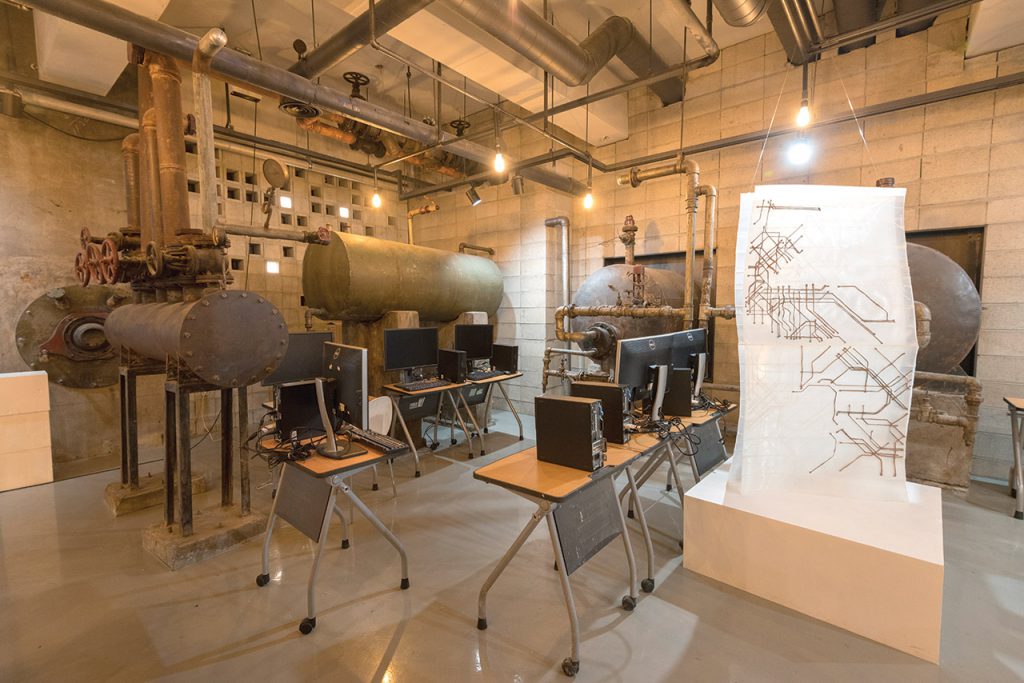 The rejuvenation of the Sewoon Arcade is attracting a great many artists and artisan, young and old. The Sewoon Makers' Cube is a space for startups. A couple of trendy new bakeries and cafés have opened up, too. Horangii Coffee offers not only coffee, but Vietnamese sandwiches, too. Green Dabang is a coffee shop during the day and a wine bar at night.
Not to be missed is the rooftop space. The "Roof of Seoul," as it is called, is an observatory/cultural space/urban garden that is open to the public. With views of Jongmyo Shrine, Mt. Bugaksan and the surroundings Euljiro district, it may offer the most inspiring vistas in the city.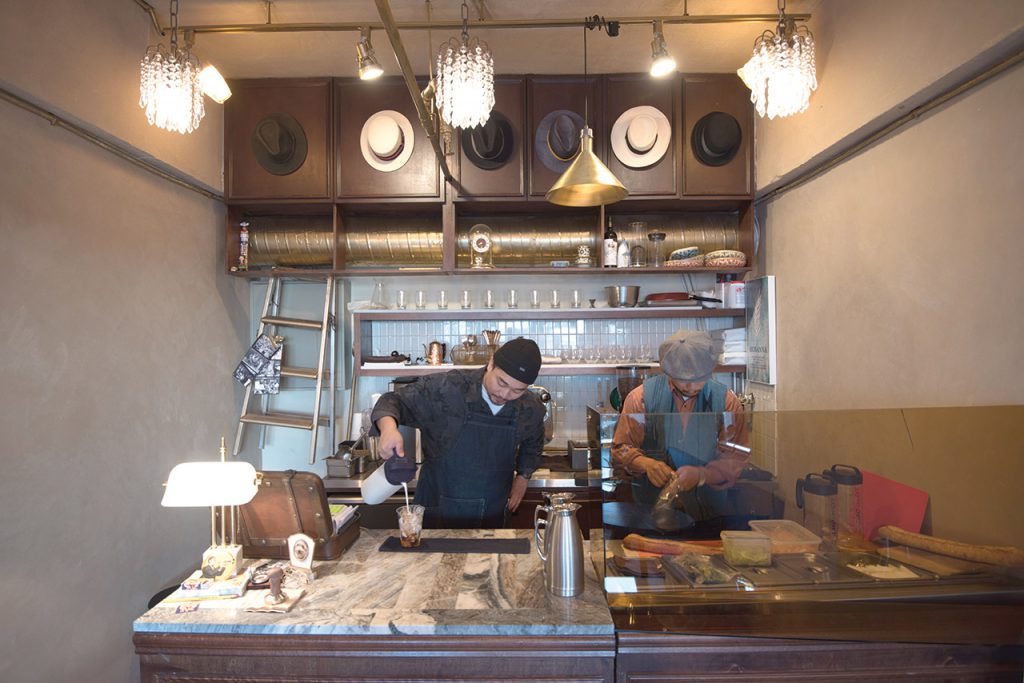 GO> Jogno 3-ga Station (Line 1), Exit 12
Changsin-dong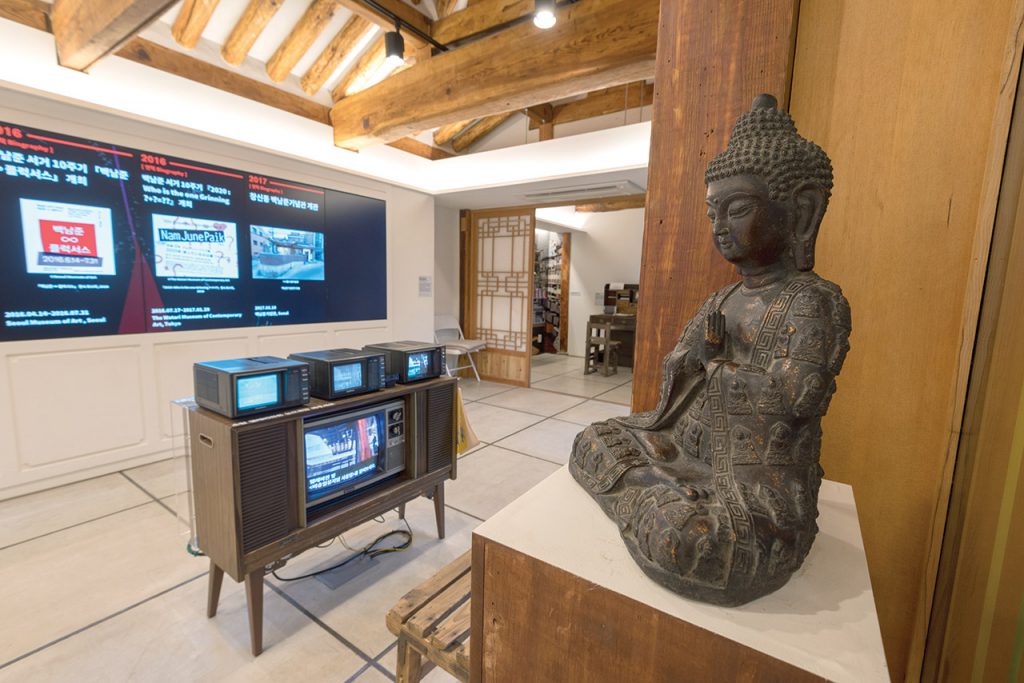 Changsin-dong is one of Seoul's most underrated neighborhoods. The gritty hillside community overlooking Dongdaemun is Seoul's "garment district," its army of small-scale needlepoint artisans producing much of what is sold at nearby Dongdaemun Market. Climbing through the tangle of alleyways, you are accompanied at all times by the sound of sewing machines, the sight of steam rising from workshop vents and the woosh of passing motorcycles carrying goods and materials to and from Dongdaemun. Many of the workrooms boast chic signs by Gong Gong Gong Gan (T. 070-7626-5782), a social enterprise with a workshop near the top of the hill where it engages in a variety of social and artistic pursuits, including designing upcycled fashion.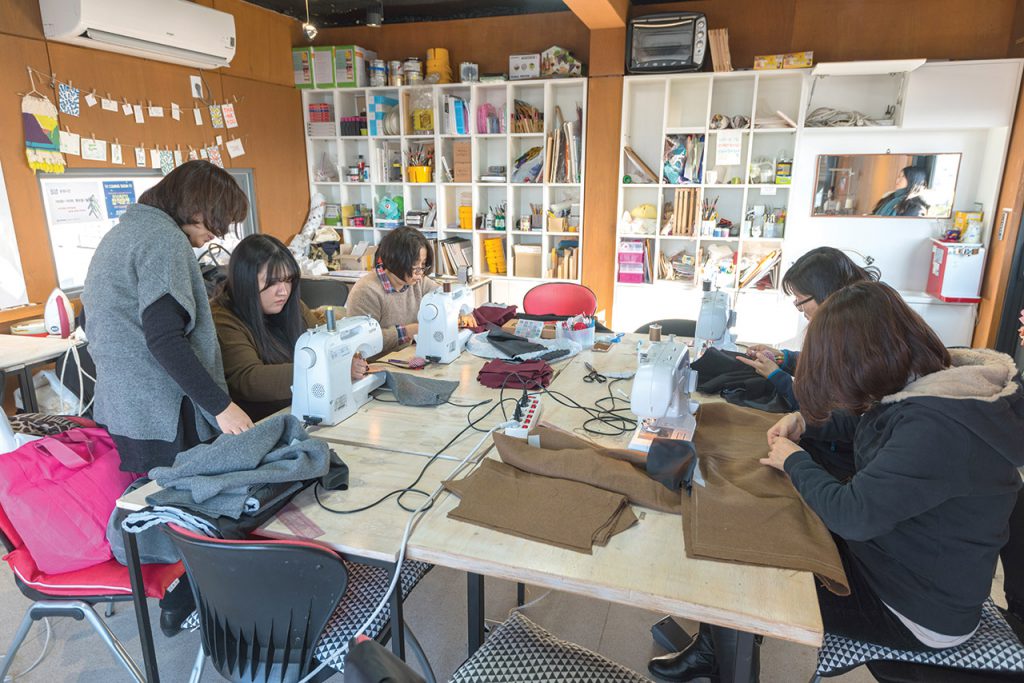 Changsin-dong has an artistic side, too. Nam June Paik, the father of video art, lived in the district for 13 years, from 1937 to 1950. His old home has been converted into a museum, the Nam June Paik Memorial House, which opened in March of 2017. Operated by the Seoul Museum of Art, the restored Hanok hosts exhibits of work by and about the artist and hosts lectures and other educational programs.
Park Soo Keun, one of Korea's most beloved modern painters, lived and worked in the area for 11 years, from 1952 to 1963. Street art pays tribute to the painter, whose work depicted simple scenes of pastoral life. Well-intentioned the installations may be, but a more interesting tribute are the handmade dolls, bags and other handicrafts at Danjiya Noolja, a shop-cum-showroom at the top of the hill. The items are based on "A Girl Tending to an Infant," one of Park's best known works. Get a coffee at Dal Café next door, too.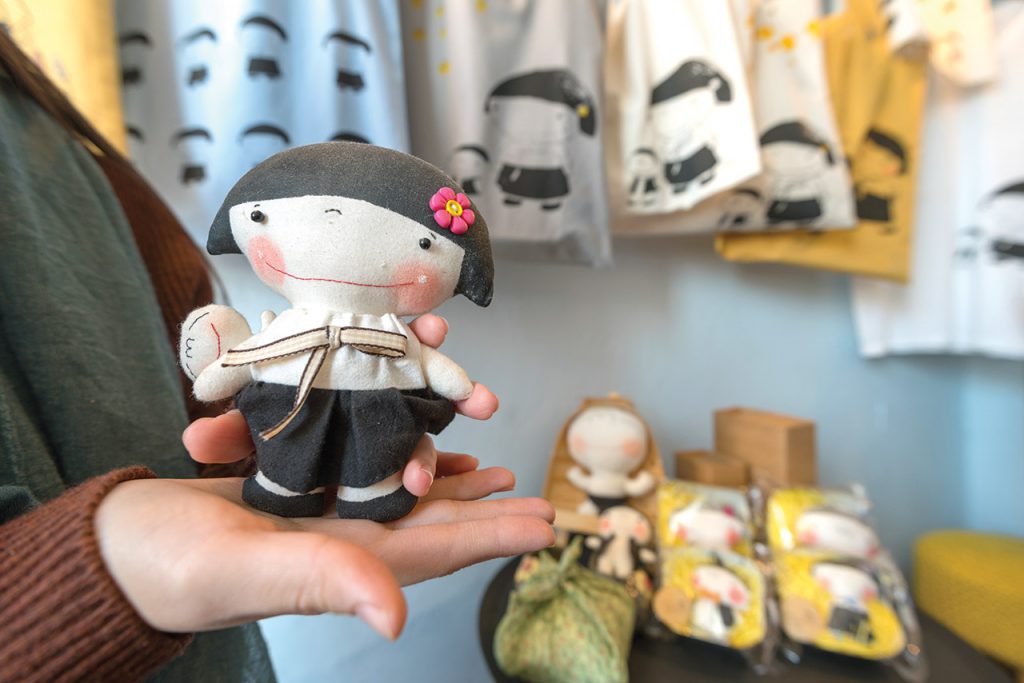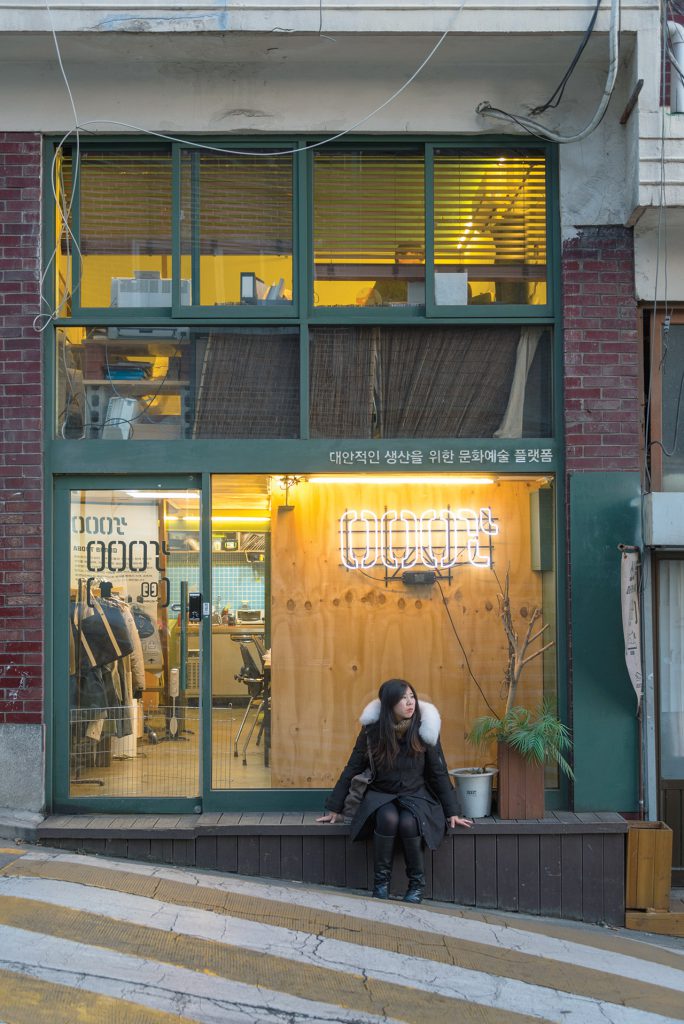 Also at the top of the hill is Changsin Communication Art Workshop Center, a workshop where the Jongno Foundation for Arts and Culture conducts community art programs, including classes on needlepoint, candle-making and other crafts. The center also has a rooftop observatory offering panoramic views of Mt. Namsan, Dongdaemun Market and Seoul Fortress Wall.
A short walk from Dongdaemun Market, Changsin Alley Market is a vibrant traditional market best known for its s spicy pigs' feet, or maeun jjokbal. The area is also home to "Little Nepal," a collection of restaurants and shops catering to the city's Nepali community.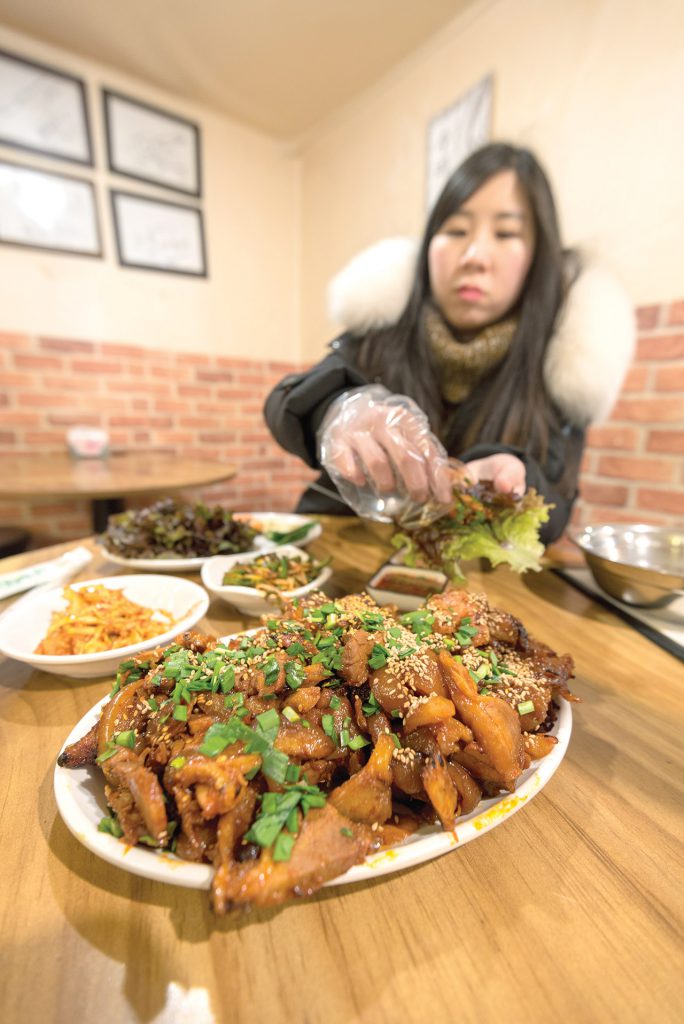 GO> Dongdaemun Station (Line 1), Exit 3
Seongbuk-dong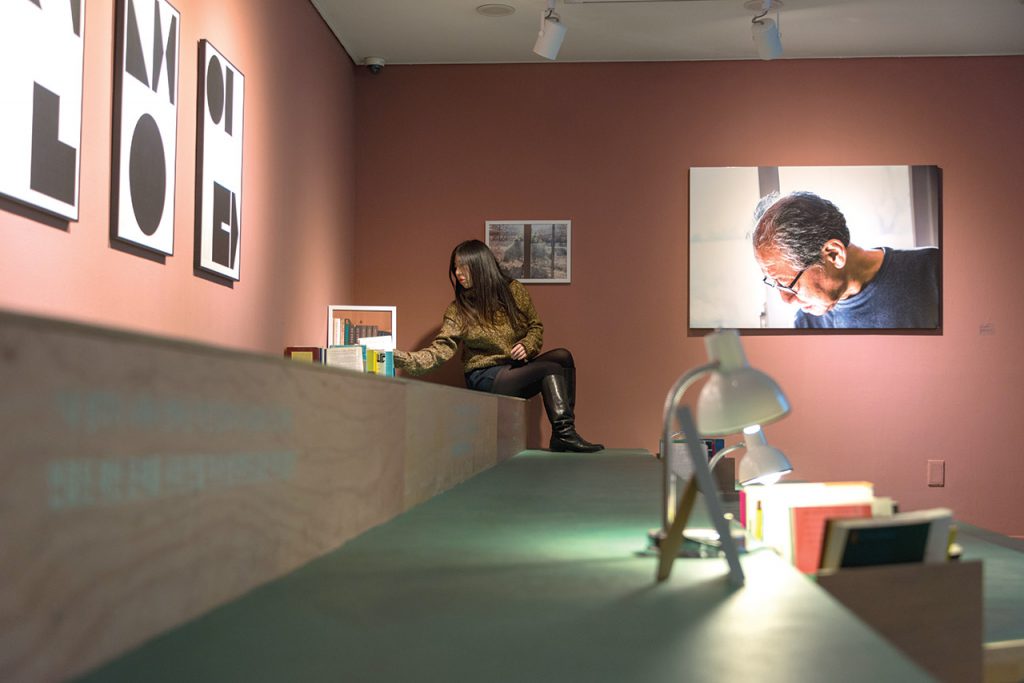 Seongbuk-dong is a quiet district nestled in the lower slopes of Mt. Bugaksan, the old guardian peak that protected Seoul from the north. Seoul's well-heeled and foreign diplomats favor the neighborhood for its relaxed vibe, leafy surroundings and inspiring views over the city. As the tranquility also lends itself to artistic pursuits, the area is also home to a couple of museums and other places of cultural interest.
In 2013, the old district health center was remodeled into an arts space named Seongbuk Young Art Space. Focusing on the visual arts, the museum hosts special exhibits by experimental new artists and promotes the local arts scene through participatory programs such as workshops, tours, art and music therapy sessions and community arts programs to help disadvantaged segments of society. In spring, it organizes the Seongbuk Arts Commons, a tour of workshops of young artisans in the area accompanied by performances. The Seongbuk Museum of Art, located further up the road, hosts exhibits of work by more established artists.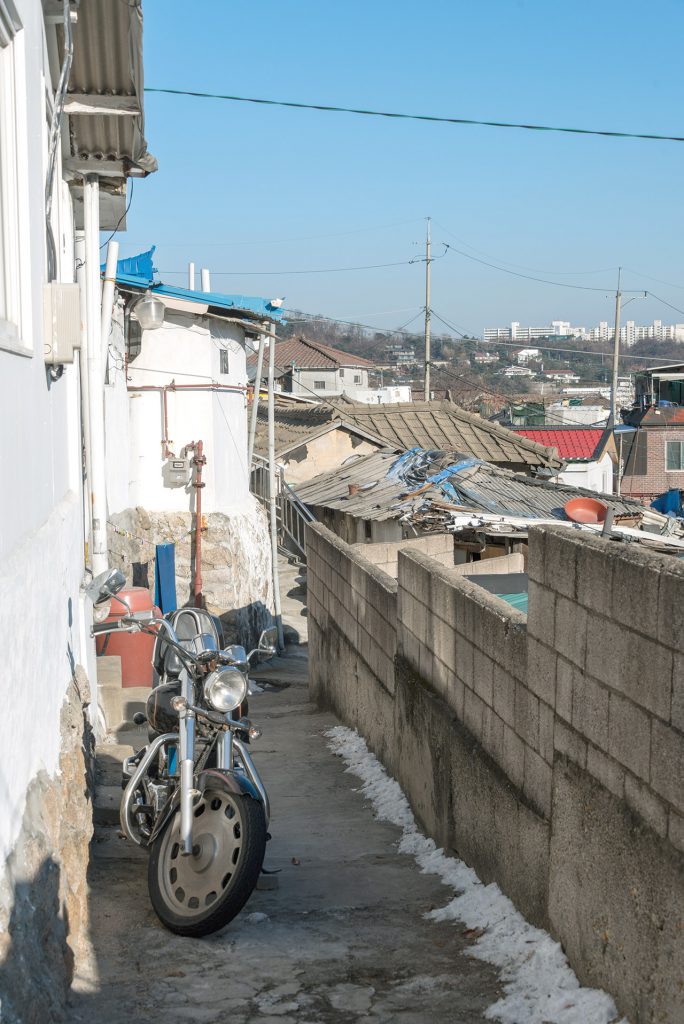 Though Seongbuk-dong's residents are mostly well-to-do, the district is also home to one of the city's few remaining "moon villages," or daldongne, working-class communities formed on hilltops after the Korean War. Bukjeong Village is a picturesque collection of old homes perched on a hill just beneath Seoul's old city wall. While many of the residents are elderly, young artisans, actors and designers are moving in, too, attracted by the quiet and the cheap rents. They've converted some of the old homes into galleries and workshops, adding a dash of youthful creativity to the community.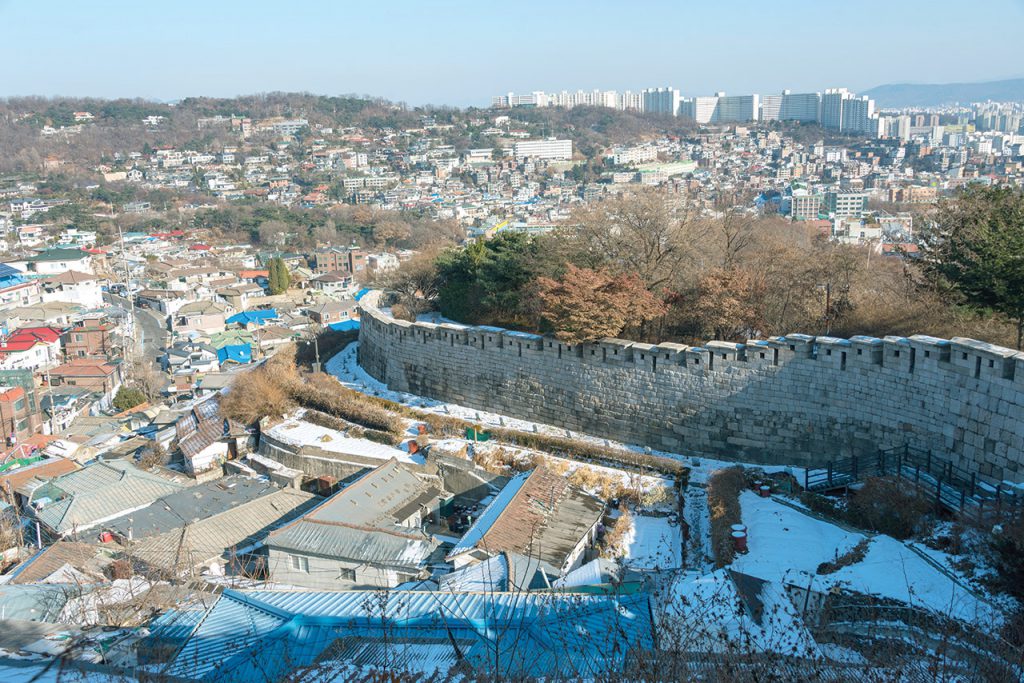 GO> Hansung University Station (Line 4), Exit 6
Written and photographed by Robert Koehler
https://magazine.seoulselection.com/wp-content/uploads/2017/12/DSC_5109.jpg
854
1280
cyn
https://magazine.seoulselection.com/wp-content/uploads/2018/01/Seoul-logo.png
cyn
2018-01-10 11:19:06
2018-01-24 11:34:11
Artistic Explorations 서울의 예술거리