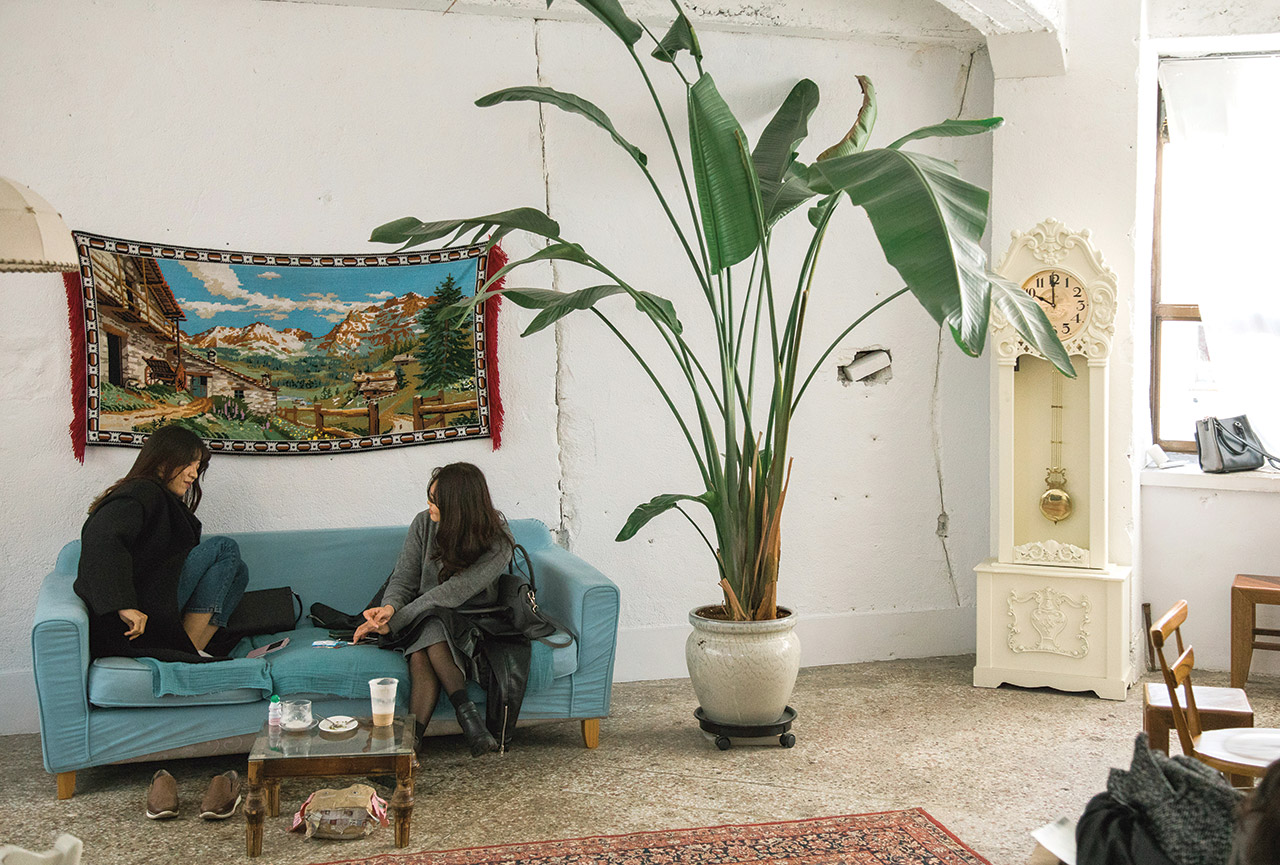 What's old is new again in the queen of central Korea
Two neighborhoods in Daejeon's eastern district have recently began to see new growth and interest while staying true to some of their historical roots. Soje-dong and Daeheung-dong sit on either end the city's main hub, Daejeon Station, and each share an interesting past.
Preservation over renovation
Originally built in the 1920s, Soje-dong was a neighborhood of dormitory style homes made for laborers along the newly completed Seoul-Busan railway line. In all, around 100 of these small dormitory-style homes were built in this area, of which several dozen still remain intact today. Given all the growth that Daejeon has seen in the time since these homes were built, it is amazing that so many of them have been left untouched. This preservation is a big part of what draws in curious visitors today. The owner of the Cheongyang Super, which sits right in the heart of this little neighborhood, reckons that only a small percentage of the neighborhood has seen any real change outside a few coats of paint that art students gave a few of the buildings. While one might be quick to assume this is an exaggeration given how rare it is for anywhere in Korea to resist change for long, walking through the streets and stepping into the famous Daechang Barbershop makes it clear that this truly is the reality here. The barbershop has been in business for 50 years according to the recollection of the barber himself, and many of the homes throughout the neighborhood seem to be in remarkable shape considering all that has happened in the nearly 100 years since they were built. Several of the homes have even been turned into small galleries that are used for both creating and displaying artwork of local and even international visiting artists. Despite being an interesting historical location just minutes from a busy downtown area, the streets of this neighborhood are still relatively quiet compared to similar areas across the country, which is something that certainly adds to the charm of the neighborhood and increases the feeling that you really are getting a glimpse of old Daejeon.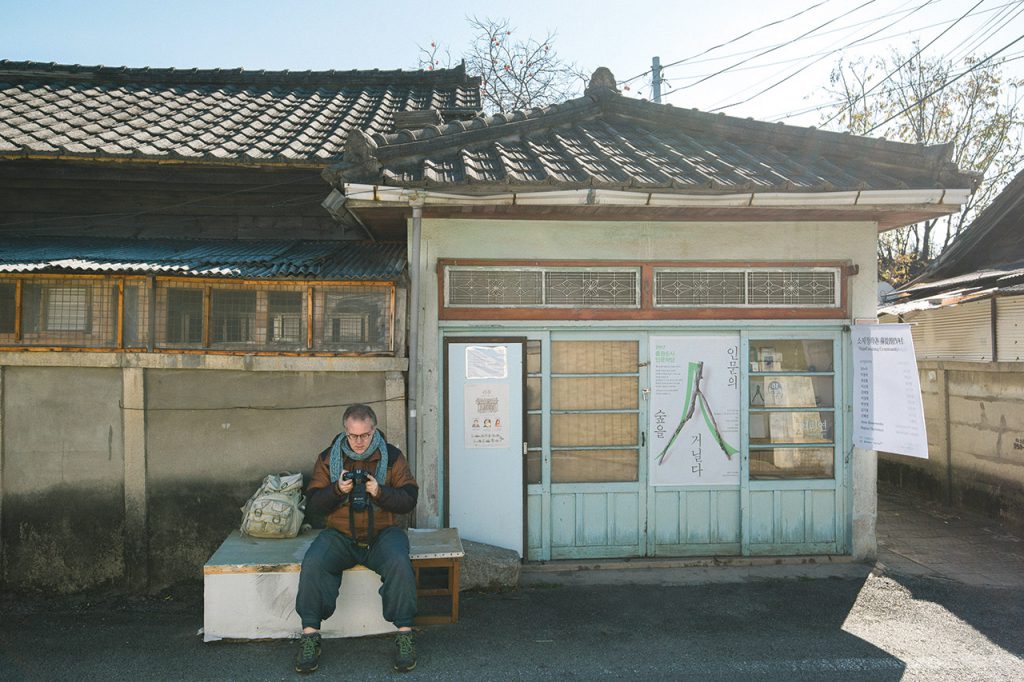 A balanced development
Some of the renewed interest in these areas is due, in part, to a city initiative in Daejeon over the last 10 years that has focused on a more balanced approach to city development. With the help of local artists, some of the buildings in the neighborhood were painted in a way reminiscent of other cultural villages across the country. These painted alleyways serve as a guide to visitors as they make their way through the neighborhood and often top their trip with a visit to the windmill at Sky Park for an interesting viewpoint of all of Daejeon's eastern district.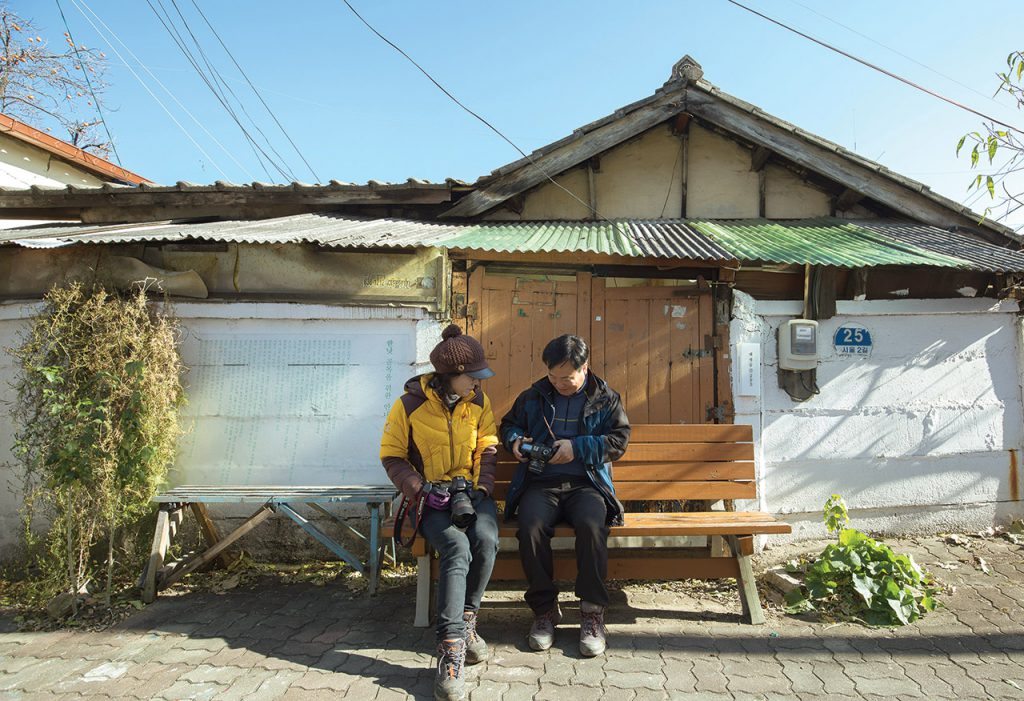 Boom, bust and vintage rebirth
Daeheung-dong is an area that was at one point in time part of Daejeon's downtown district. Before Daejeon became its own separate metropolitan municipality, the city was once home to Chungcheongnam-do's provincial office. Along with this office, the hussle and bustle of Daejeon Station and Daejeon's largest department store drew in much of the city's development. This all changed in 1995 when the provincial office moved out and Daejeon's new city hall was constructed across town in Dunsan-dong. Over the next 30 years, growth here stagnated, only to recently see a rebirth, in large part due to a renewed interest in the area's vintage aesthetic.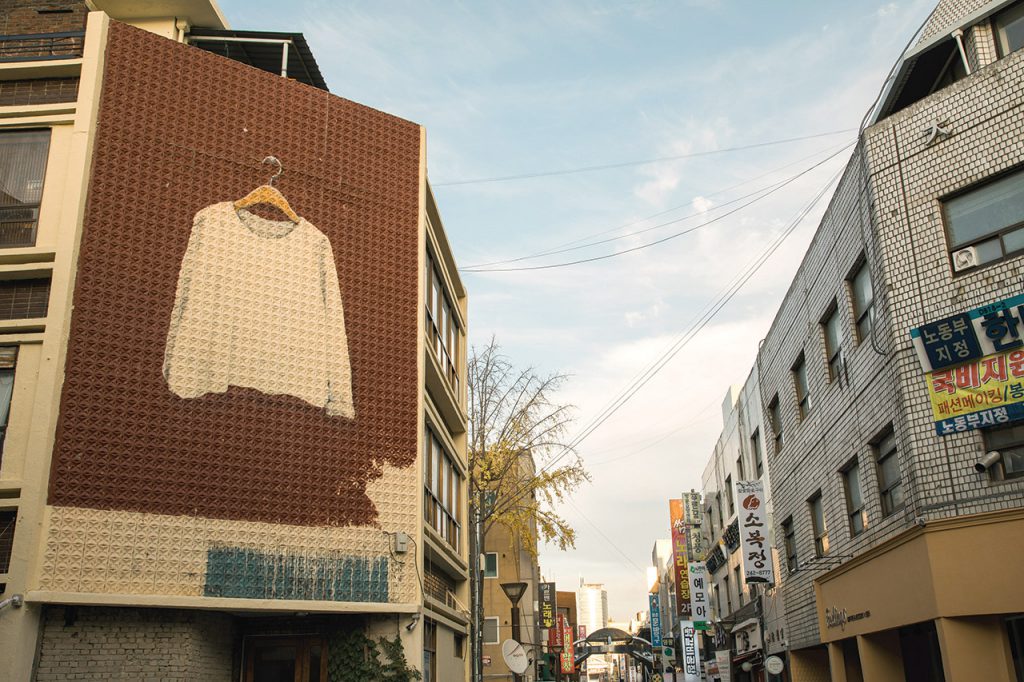 A perfect example of this vintage aesthetic is the Sanho Dabang building. The building's iconic brick wall, painted with a simple image of a shirt hanging on a coat hanger, was a landmark here for years as a well-known café known as Sanho Dabang. The old-school coffee house, or dabang, was replaced by a more modern café, but somehow the interior became more vintage in the process, with the design essentially being torn down to the bare concrete of the structure. Currently, the café, now known as Yeojeonhi Jal, is spread across two floors. The front entrance opens directly into a dimly lit café with a counter to order from their simple menu of coffee drinks and beer. The salted cream latte is particularly popular and an excellent mix of salty sweetness, much like chocolate and sea salt. A narrow and steep staircase leads to the brighter second floor, which has the atmosphere of a vintage loft apartment. White painted brick walls, a piano and a mix of small tables sofas and stools are spread across the open room – it's a popular place to lounge around.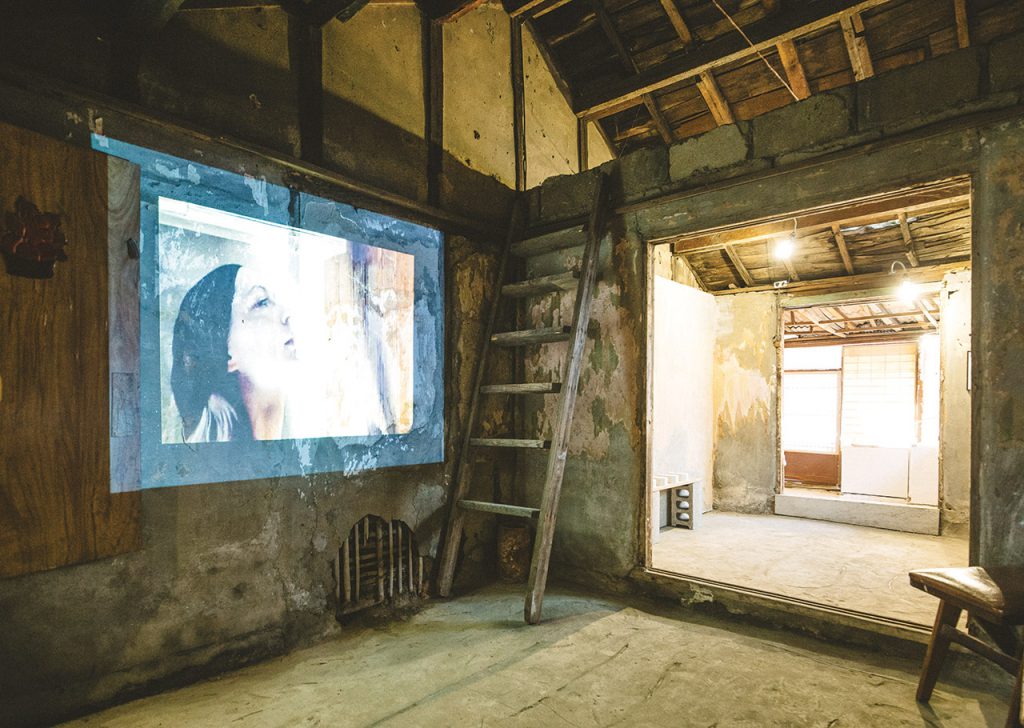 A home for vintage collectors
Just a few minutes away is Café Biyori, which takes vintage beyond just the aesthetic. Step inside and it quickly becomes clear that this is a café created as a passion project of a very passionate collector. The walls are lined with old typewriters, clocks, bowls, cups and even vintage video games. Many of the items are for sale – don't expect any bargain antique hunting here, though – and the old Super Nintedo and Game Boy are free for customers to enjoy. There is also a theater and seminar room available to rent with a projector to use to enjoy movies or simply to use as a quiet room for meetings. Reservations are available up to a month ahead of time, and the room is free as long as it is being used for a meeting of four or more paying customers. For a different flavor of vintage style, the Heunari Café combines a colonial style exterior much like the buildings in Sojedong with an interior design that is charmingly eclectic.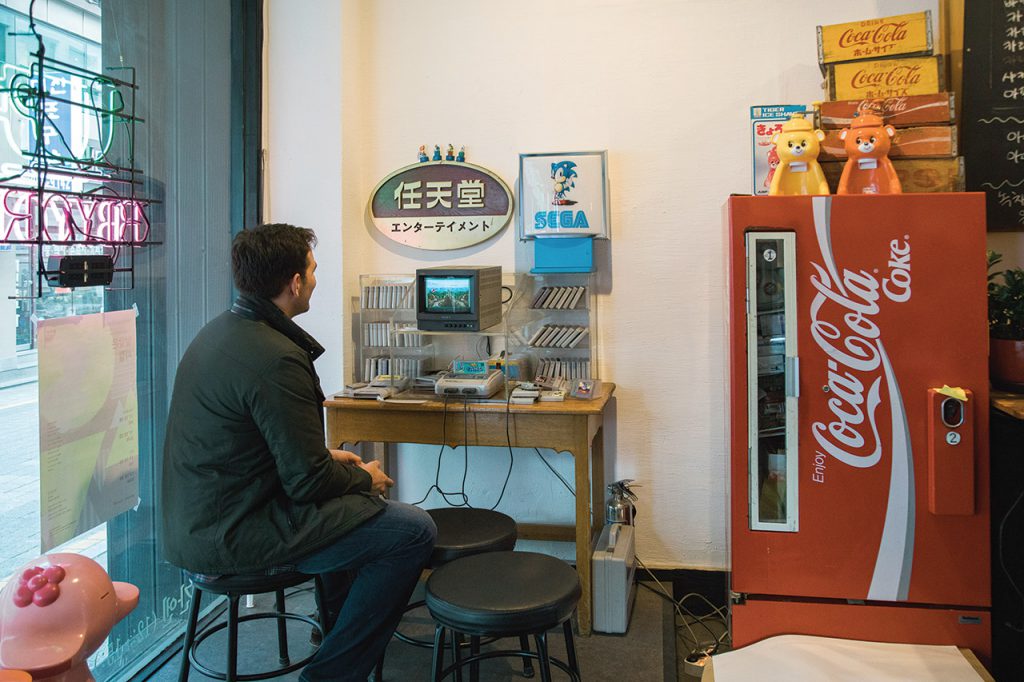 A little something for everyone
Not everything in the area focuses on vintage appeal, however. Take, for example, Worthwhile Chocolate, a café that serves a surprisingly tasty variety of handmade chocolates infused with toffees or berries, along with a variety of truffles, cakes and cookies – all made using the store's homemade chocolate. Best of all, all the chocolates, truffles and cacao nibs are out for sample before purchase. Another modern spot is the Black Stone Steakhouse, which offers up an impressive menu of various cuts of beef that you can order from to cook on a sizzling hot stone that the waiter brings to your table. Cook the steak to your liking and pair it with one of their pastas such as the cream truffle pasta that comes recommended.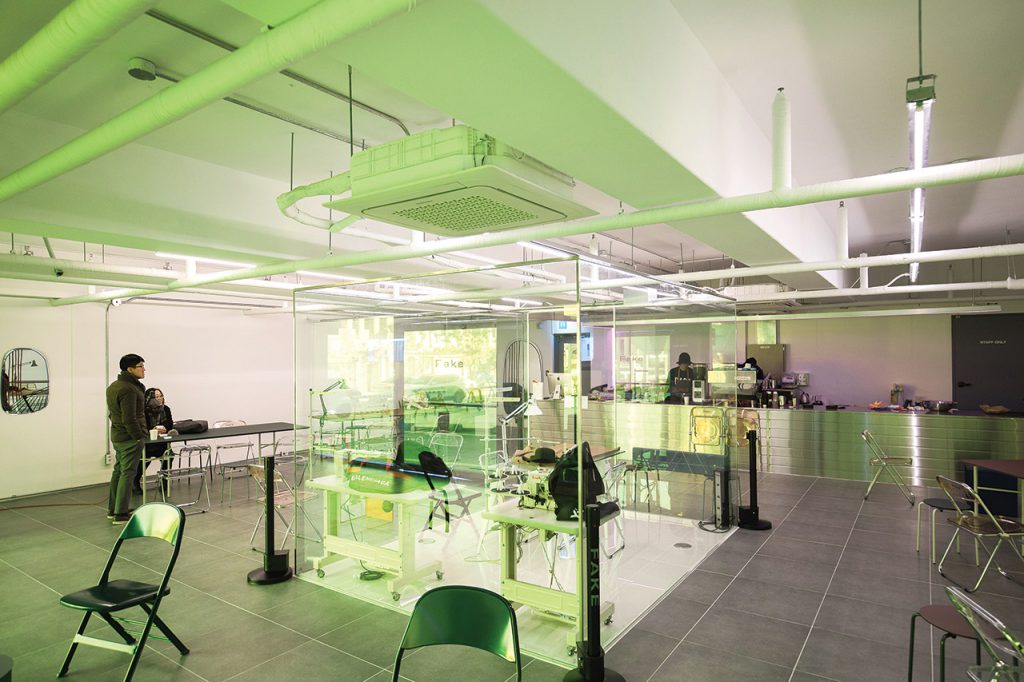 Passion projects on every corner
One point that becomes apparent after an afternoon exploring the area is just how much passion many of these shop owners have for their businesses. The intriguingly named Fake, for example combines the owner's interest for fashion and clothing design with great coffee and a unique interior. Part of this interior design even includes a glass-encased workspace in the middle of the café where workers can enter and work on designing clothes for all to see. Not far away lies another passionately run café called Idee, which is a book café run by the editor and publisher of the Wolgan Tomato, an art and culture magazine published in Daejeon. The café itself is a well designed space with hints of a vintage vibe without being too obvious, and is an excellent place to read, peruse back issues of the magazine, or work on a bit of writing yourself. For bit of passion focused entirely on the  work at hand, head over the the Melbournian BakeHouse, an artisan bakery started by Australian expat David Atwell. The bakery offers a delicious selection of breads, pastries, savory pies, cakes and cookies all made in-house using flour imported from his home country – there are even organic and legitimately gluten-free options as well.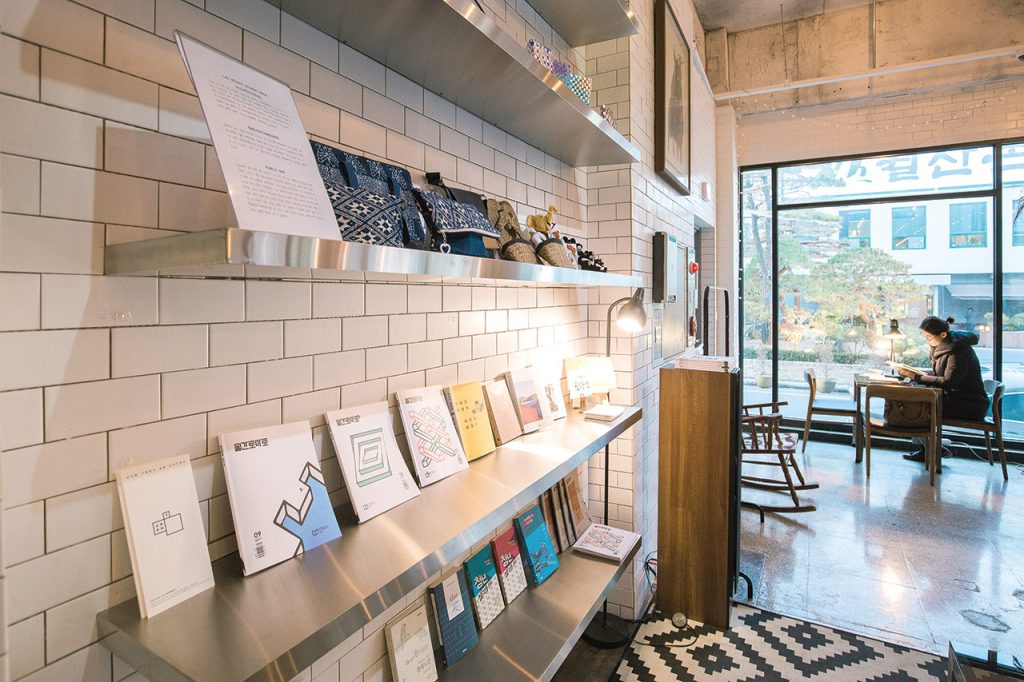 Everything in between
Should you decide to spend a day exploring these two neighborhoods it would be impossible to walk between them without at least passing by Eunhaengdong and the still-bustling alleyways of Daejeon's largest traditional market, Jungang Market. Jungang Market, also known as the Station Market, serves as the main market for many who reside in these neighborhoods. Open every day of the week, the stalls in the market are always crowded and sell not only a variety of produce seafood and meat, but also an endless variety of street food such a ddeokbokgi, hoddeok, gimbap and even an entire street dedicated to steaming carts of soondae. And for a whole different type of bustling, Eunhaengdong offers an almost overwhelming level of stimulation coming from the overhead LCD screen that stretches overhead a packed crowd of people over a distance longer than most city blocks. Most importantly, however, is that Eunhaengdong is home to Daejeon's most recognizable claim to Korean-wide culinary fame, Sungsimdang bakery. After a full day of sightseeing and café hopping, this is a great spot to pick up a few treats to take away before heading next door to either Daejeon Station or the Daejeon subway for a ride home.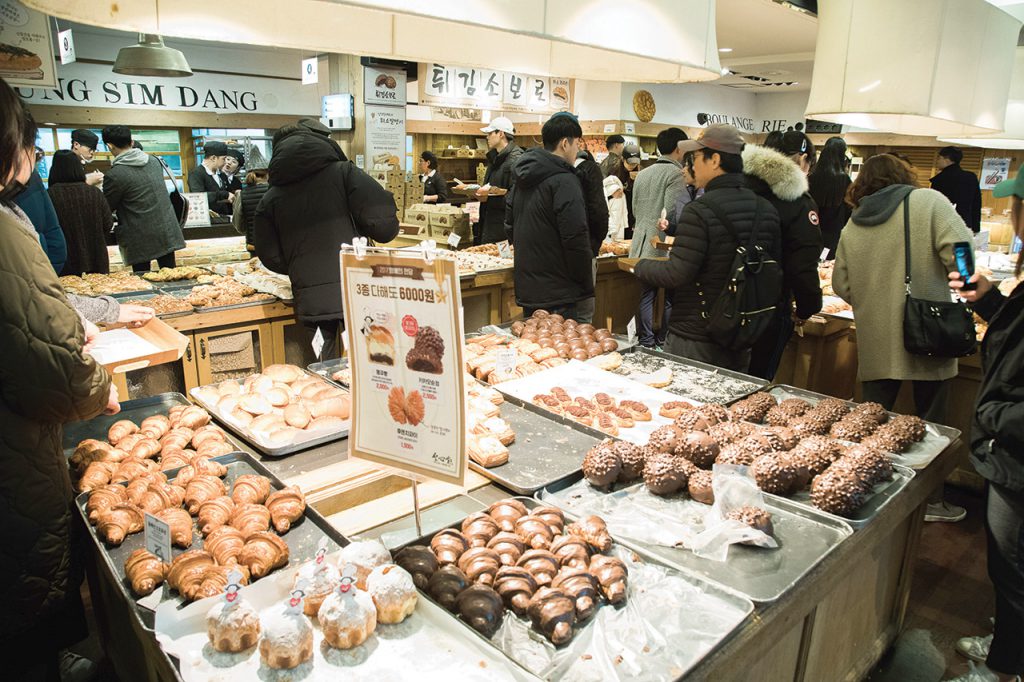 [separator type="thin"]
More Info
STAY> Daejeon is a day trip from Seoul.
EAT> A Daejeon specialty is dubu duruchigi, a very, very spicy stew of braised bean curd, often served with a side bowl of noodles over which the stew is poured. Two classic places to get it are Gwangcheon Sikdang (T. 042-226-4751 near Jungangno Station and Jillojib (T. 042-226-0914) in front of Daejeon Station.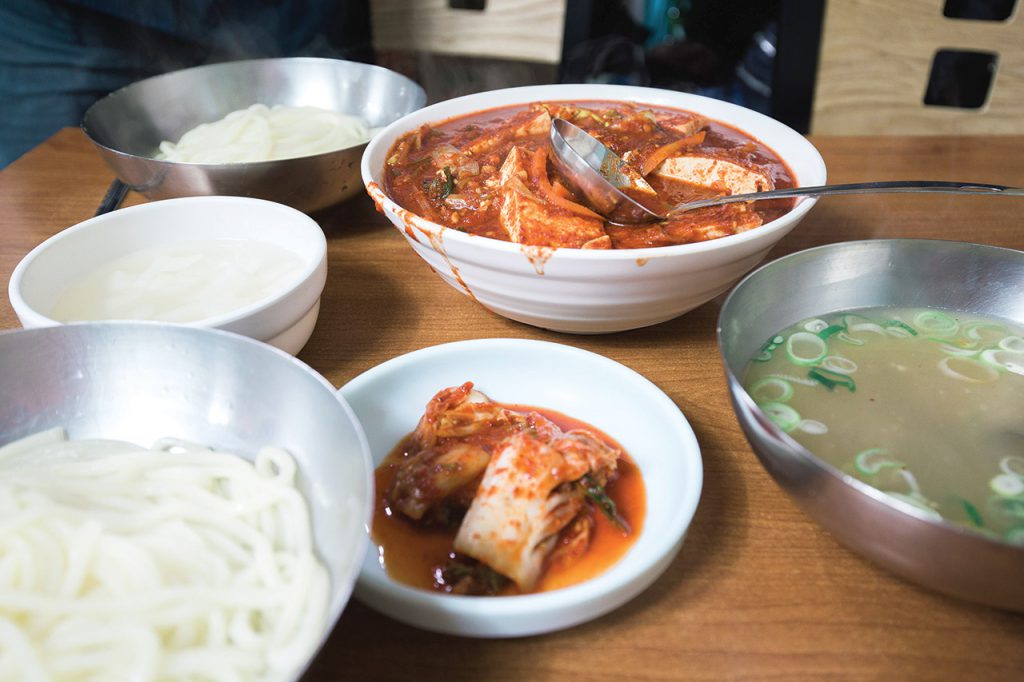 GO> High-speed trains to Daejeon depart from Seoul Station (travel time: 1 hour). Daeheung-dong and Soje-dong are within walking distance of Daejeon Station.
Written and photographed by Nathaniel Merz
https://magazine.seoulselection.com/wp-content/uploads/2017/11/821A1643.jpg
865
1280
cyn
https://magazine.seoulselection.com/wp-content/uploads/2018/01/Seoul-logo.png
cyn
2017-12-12 11:28:56
2018-01-24 11:35:04
Retro Daejeon 레트로 대전