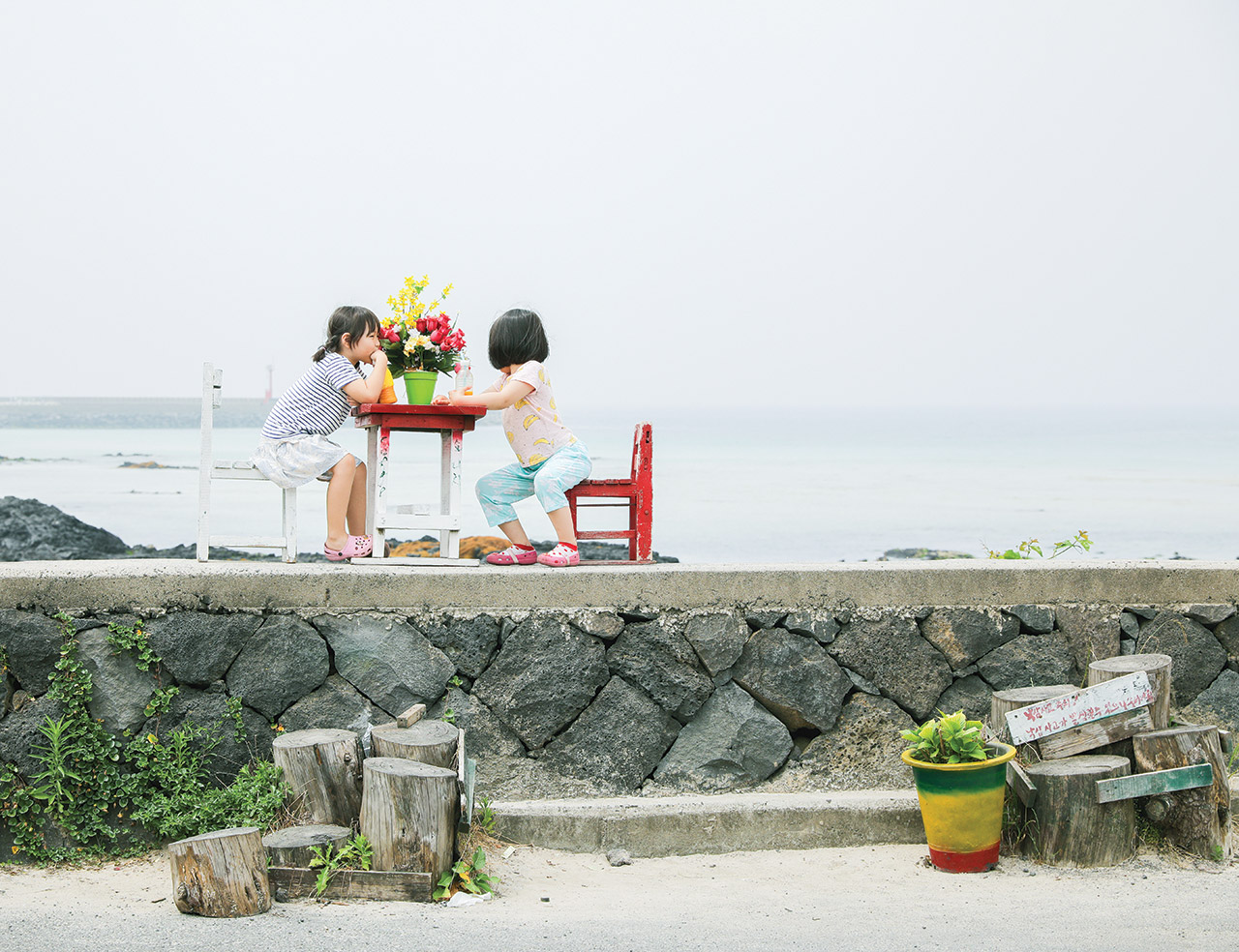 Jeju-based photographer Douglas MacDonald explores the charms of the island's northeast coast
It's a picture-perfect day on Jeju, sunny and warm with not a cloud overhead. As I drive northeast along highway 1132 and make a left at the sign for Gimnyeong Beach, bright sunlight glints off of my side view mirror and a light breeze ruffles my hair, the smell of the sea everywhere, hinting at what's to come just around the next bend.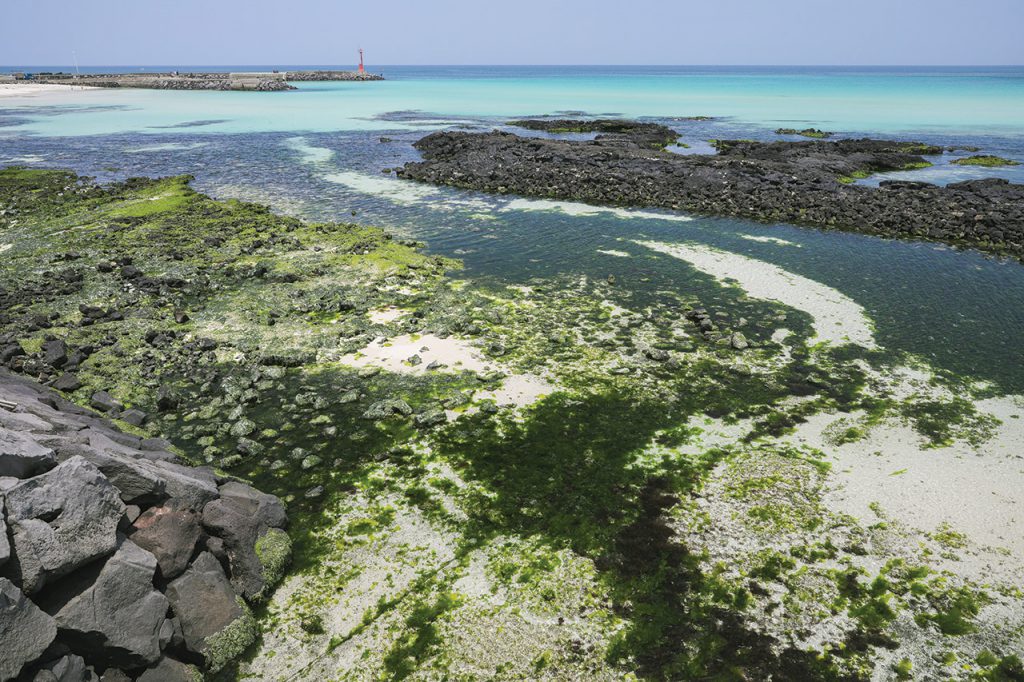 Tradition survives at Gimnyeong Beach
For a first-time traveler to Jeju, your first look at Gimnyeong Beach is unforgettable. Brilliant white sand, freshly graded for the start of the summer season, contrasts beautifully with the 2-million-year-old black volcanic rock that separates the beach from the layers of greens and blues that stretch out to the horizon. Already dozens of beach-goers, towels laid out and brightly-colored umbrellas standing at attention, dot the sand. But, take a short stroll down a narrow road just to the left of the main beach and you'll find yourself on a stretch of sand that reminds me of Jeju 15 years ago, before tourism development took over. The sand is somehow whiter and the sea an even more beautiful shade of aqua-green. A mother and her child stand at the water's edge, completing the postcard-perfect view. The photo ops are unlimited.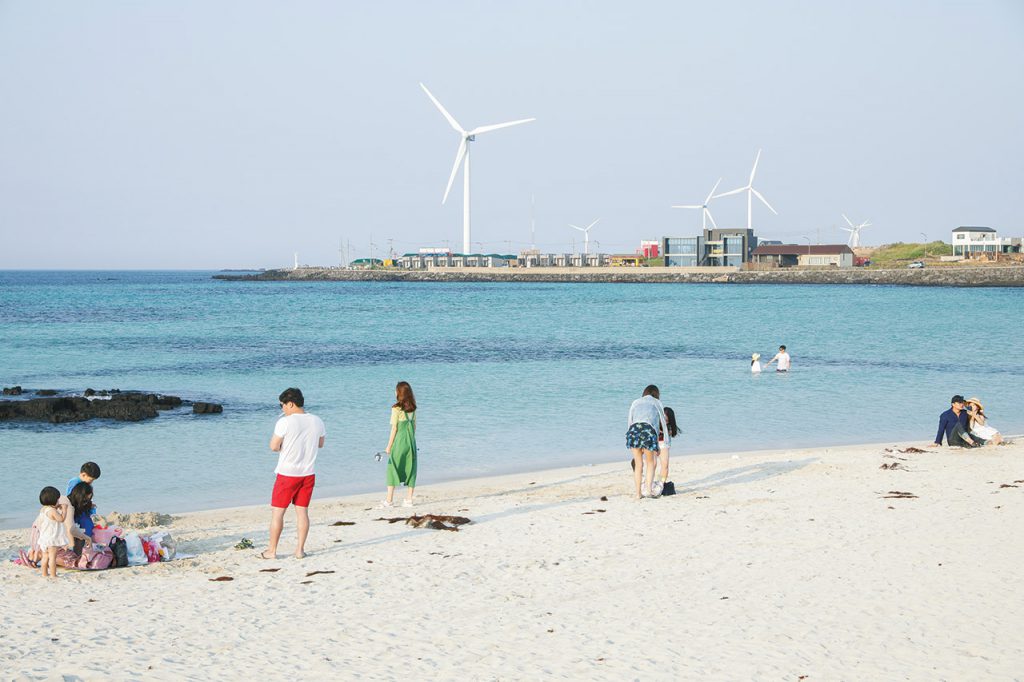 Prying myself away from the beautiful scenery at Gimnyeong Beach, I drive further east along what may be one of Korea's finest stretches of coastline. I'm struck by the large number of diving women, or haenyeo, working along the shore in the mid-morning heat. They're collecting umutgasari, a kind of algae that grows only in late spring. After collection they then lay it flat to dry beside the road. The daughter of one of the haenyeo, Yeong Gyeong, explained that the dried algae is then placed in nylon bags that will be transported to a factory that processes the algae into beauty products and agar, a jelly-like substance that's a popular ingredient in soups and desserts throughout Asia. There are concerns that over-development may threaten the haenyeo's work environment. Gyeong says, "They were disappointed that many of the original landowners in the area sold out so easily, opening the door to rampant construction of tourism infrastructure." She adds, however, "Most of the women like that the area is getting more popular. It's good for the local economy."
A true community market
Part of that local economy includes the Bellongjang Market in the small town of Sehwa. Started in February 2013 by a small group of artists and café and guesthouse owners, the market has grown to include as many as 300 sellers. Now located at Sehwa Pogu, the local port, it opens on Saturdays from 11 a.m. to 1 p.m. (except on days the town's 5 day market is held).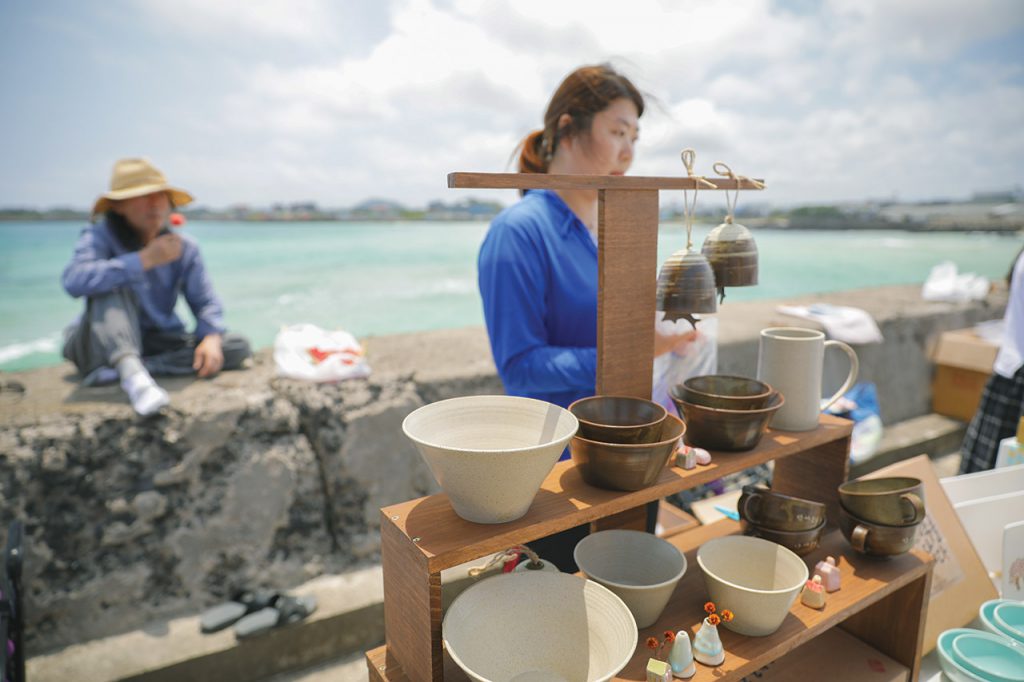 This highly Instagrammable event was the highlight of my day. It showcases a cornucopia of delights, from leather purses and wallets to handcrafted dolls and pottery, freshly squeezed juices to homemade organic breads. Anything goes as long as sellers follow one rule: You must make your own products.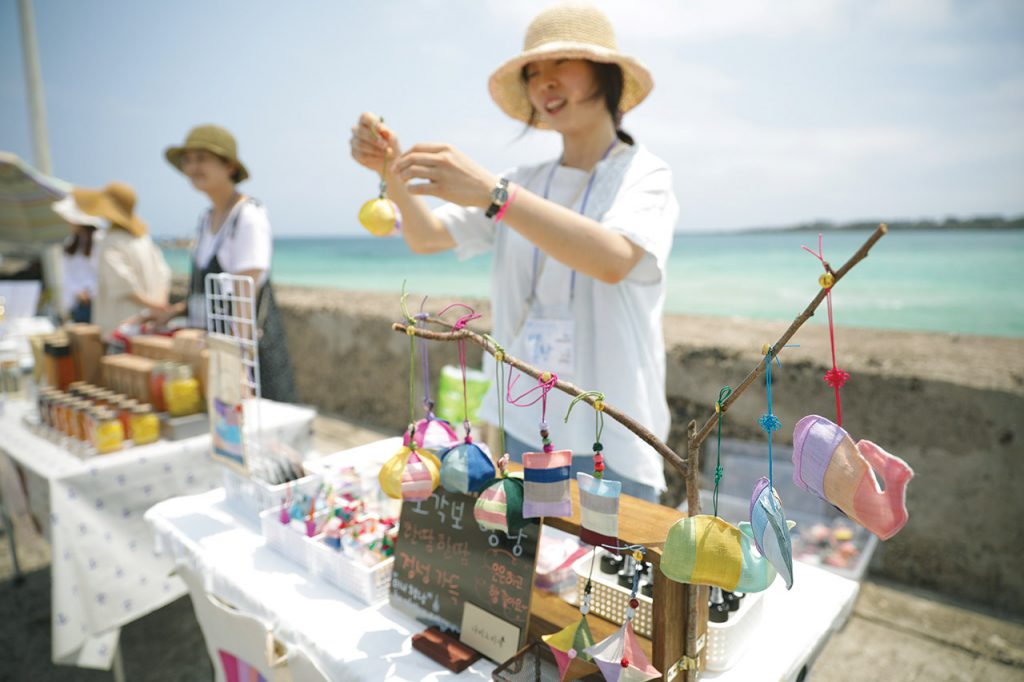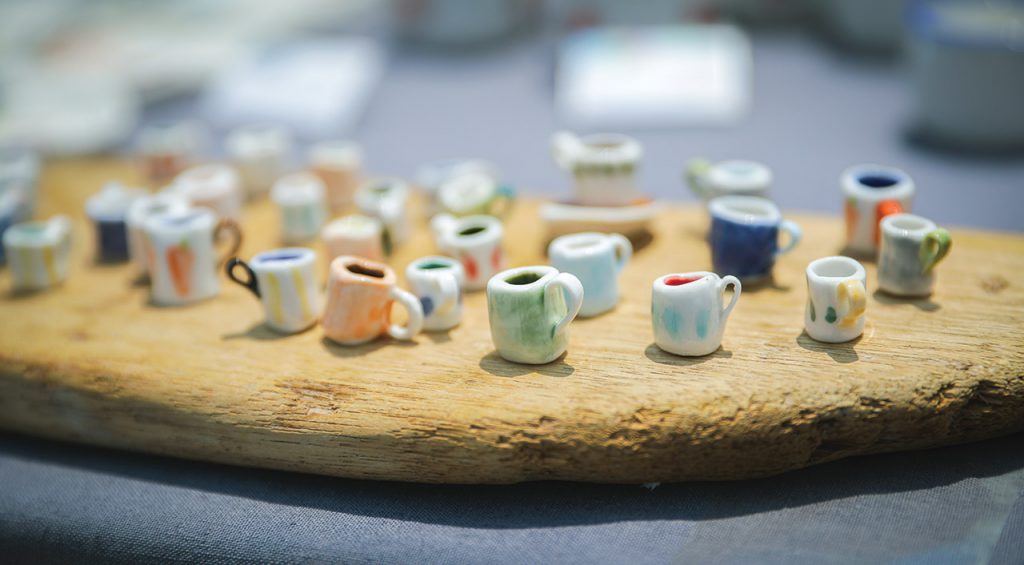 While some of the sellers already have regular jobs or successful businesses in the area, the market also benefits lesser-known artists like Yang Hye-seon, a young mother of two who first began making fabric pockets filled with aromatic scents about two years ago and now regularly attends the market to sell her wares. "It allows me to take a break from life as a mom. I can do something creative and make a little money, too."
A bit of tranquility in Woljeong-ri
Sehwa may be a fun way to spend a couple of hours, but the true pulse of the area is at Woljeong-ri Beach. Though a mere 20 minute drive separates Woljeong-ri from its "sleepy cousin" Gimnyeong, they are worlds apart. The beach, less pristine but still beautiful, is anchored by a lively strip featuring a wide assortment of places to stay and eat. If you love to people-watch, this is the place to be. Young couples pose for selfies on colourful chairs along the promenade as beautiful people and flashy cars pass by. Lines of drying squid sway in the wind nearby with the blue-green ocean serving as a backdrop to it all. Indeed, so trendy is Woljeong-ri that there is concern that the hot spot may be experiencing gentrification pains like Seoul's hippest neighborhoods.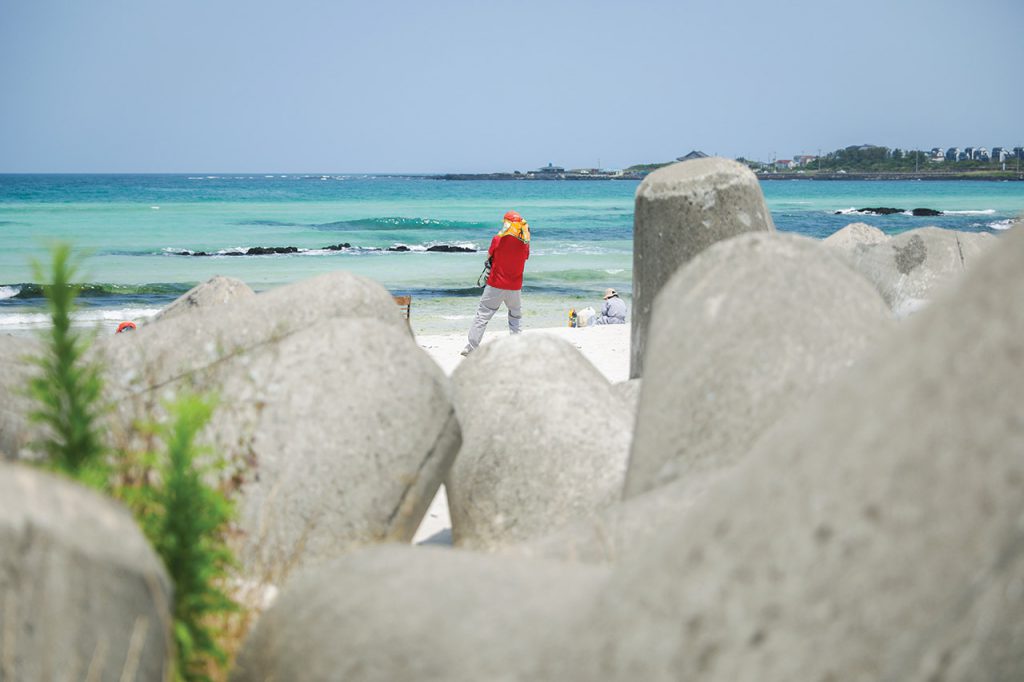 If you're looking for something more traditional, walking a few meters behind the strip leads you to undiscovered alleys that show hints of the past. Crammed between a massive new hotel complex and a curry restaurant lies Mujaae House. According to Ko Chang-song, Woljeong-ri's senior community vice-chairman, the house is 150 years old and has been owned by five generations of the same family. Now owned by his son, Ko Bo-hyeong, the home has been carefully remodeled to maintain as much of the original stone structures as possible. It features a main building, or angeori, and subordinate building, or bakgeori. Traditionally in Jeju, these spaces were divided by generations, with the parents living in the angeori and the married children in the bakgeori. Now listed on Airbnb, the 5-star-rated house features all the modern conveniences you could want within both buildings with a beautiful, oasis-like stone garden in the center courtyard. When pressed about the massive development taking place in the area, Song replied, "People may complain that traditional Jeju is disappearing, but that's just capitalism."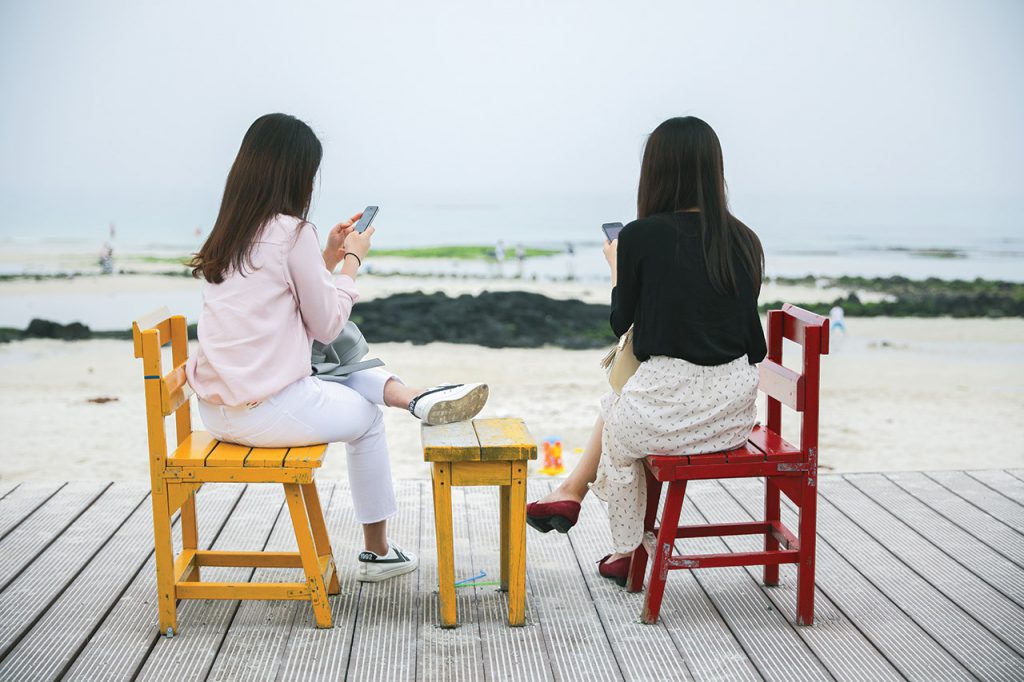 As development along Jeju's northern coast continues unabated, concerns have been raised about whether the growth in tourism on the island can be sustained. After Korea's dispute with China over the U.S. deployment of a controversial anti-missile system to Korea, there's been a decline in the number of Chinese tourists visiting Jeju. Though a fresh influx of mainland Korean tourists has picked up some of the slack, more needs to be done to diversify its tourist base. There's been talk of tapping into the massive Southeast Asian travel market by adding direct flights from cities like Jakarta and Kuala Lumpur. Is that a good thing? The jury is still out. In the meantime, travelers have a chance to visit Jeju's sleepy northern coast before it's too late.
[separator type="thin"]
More Info
STAY> Yeowoolmok Guesthouse (T. 010-2735-6623), made famous in the 2013 TV series "The Goddess of Marriage," is a 10-minute drive from Woljeong-ri beach. It features traditional stone walls, Korean style bedding, and a nice front yard with a spectacular view of the ocean. Summer rates are KRW 39,000 per person a night or KRW 77,000 a night for a whole room (for up to 4 people).
Aqua Beautique (T. 70-4548-1014 ) is more upscale at KRW 206,000-250,000 a night but features individual swimming pools and is just a 50 meter walk from Woljeong-ri beach.
EAT> Shrimp Box serves two dishes, spicy shrimp and lemon and garlic shrimp. Both cost KRW 9,000 and they're fantastic. There's also  a wide selection of craft beers. It's open from 11 a.m. to 6 p.m. with a break between 2 and 3. It's closed on Monday and Tuesday.
Heukdaeji Gareum Mul is the place to go if you want to try Jeju's famous black pork, as well as other common Korean dishes like kimchi soup. It is located just meters from Woljeong-ri beach.
Neulhaerang, located right beside Aqua Beautique, is a colorful, eclectic little café featuring a nice mix of both Korean and foreign food, from dumplings and tteokbokki to sandwiches, as well as coffee, tea and beer, all served on beautiful wood benches. The main selling point is the veranda. A perfect place to watch the sunset.
aA Café (T. 010-7456-9915) was my favorite place to take a break. It serves wonderful shakes and organic lemon iced tea. It also has amazing bean bag chairs on the patio with stunning views of the ocean.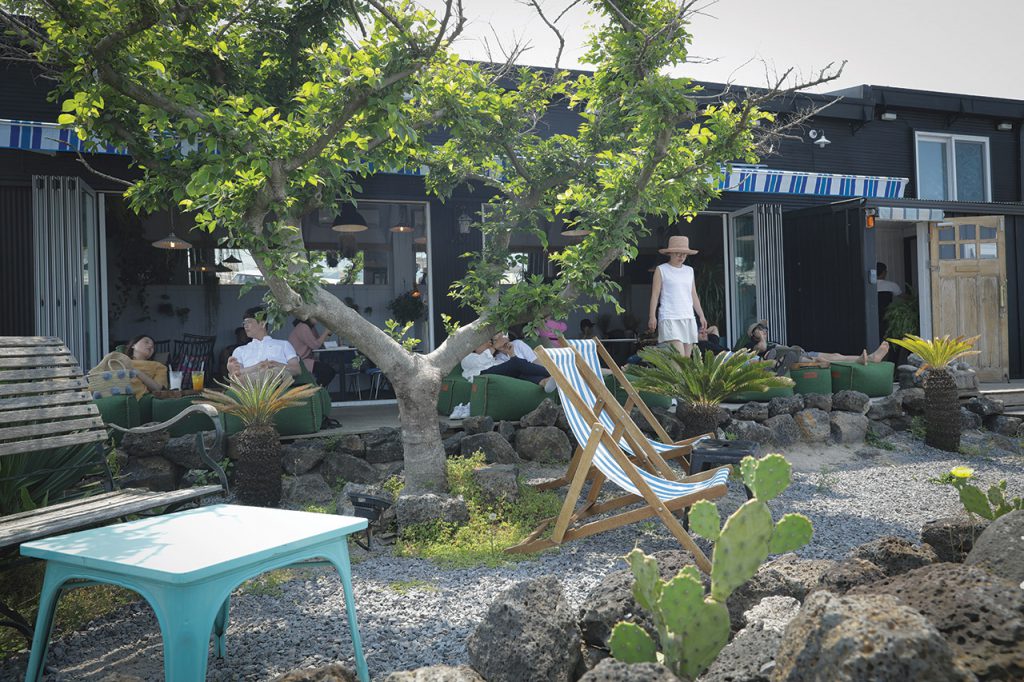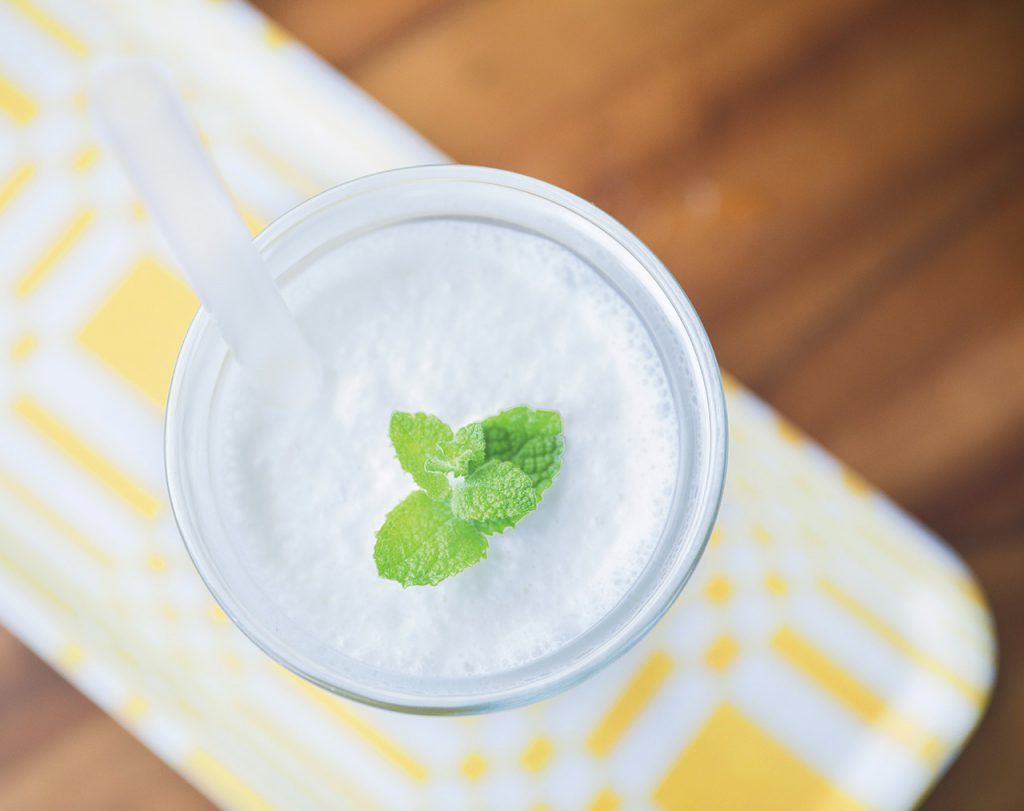 GO> Several discount airlines (Jeju Air, Jin Air, T'way Air) have multiple flights a day to Jeju from Gimpo.
How to Get to Jeju's North Coast
Bus service is available but slow. Rental car agencies are located just outside the Jeju International Airport. Take highway 1132 going east for about 40 minutes. Turn left at Gimnyeong Beach exit. Take first right before the beach parking lot to drive along Shore Road.
Written and photographed by Douglas MacDonald
https://magazine.seoulselection.com/wp-content/uploads/2017/07/K52A2164.jpg
984
1280
cyn
https://magazine.seoulselection.com/wp-content/uploads/2018/01/Seoul-logo.png
cyn
2017-07-06 15:33:36
2017-07-06 15:33:36
Jeju's Jewel of the North 제주도 동북부