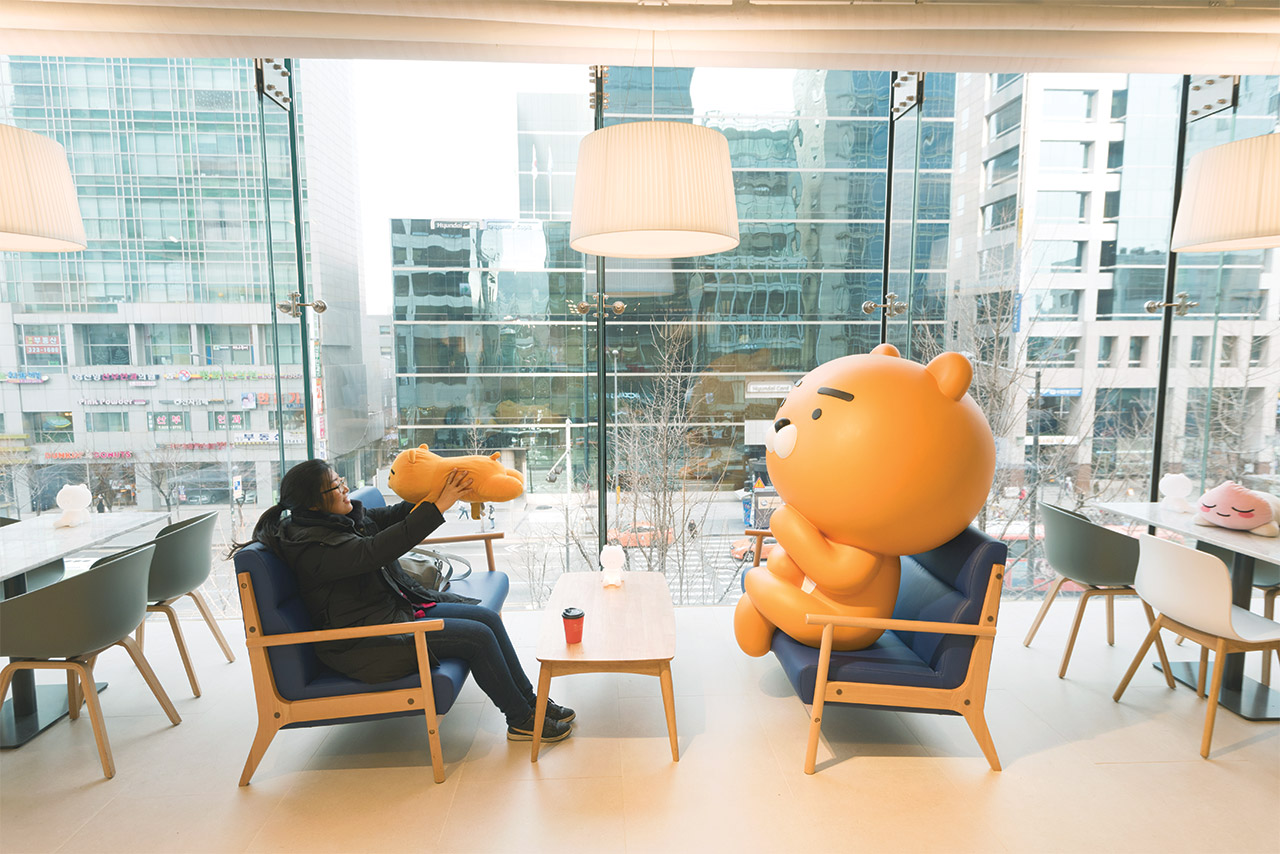 The kidult phenomenon grows as Koreans take comfort in nostalgia
In fall 2016, the KAKAO FRIENDS Flagship Store in Gangnam opened its doors to 3,000 adults waiting to enter. From opening day, around 200 to 300 people lined up outside daily. In one month, over 450,000 visitors had come through the new flagship store. Where are the children? These adults make up the "kidult" phenomenon sweeping through Korea.
Back in the 1980s and 1990s, toys were luxurious and highly prized items. Decades later, toys are affordable and accessible – and the children of the 20th century have grown into the adults and kidults of today.
In a time of numerous economic and political challenges, adults are turning to items carrying the nostalgia of their carefree childhood days – and paving a whole new consumer market.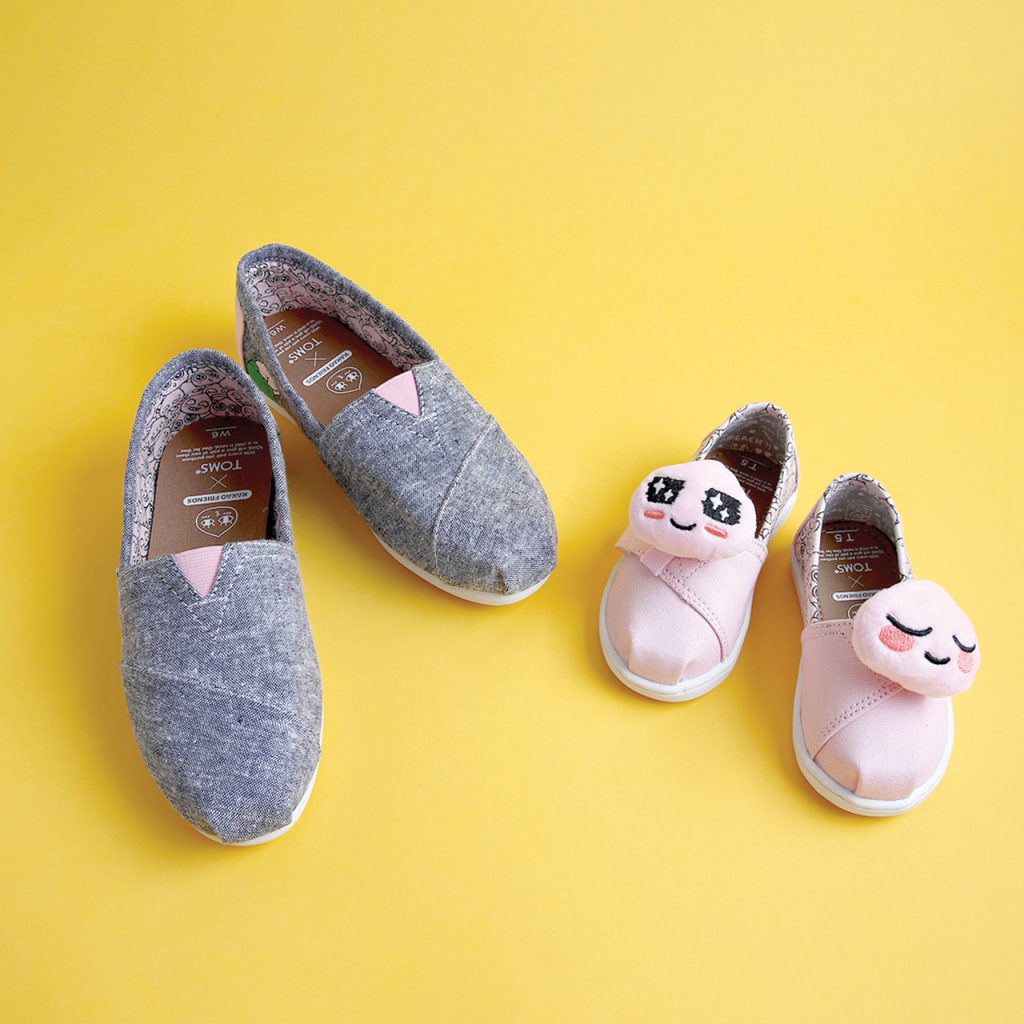 Mania to mainstream
"Kidult" is a portmanteau of "kid" and "adult," and represents adults with childlike tastes who carry the pleasures of childhood into adulthood. In recent years, kidult culture has been moving from geek circles into mainstream markets. Geek culture used to carry a negative stigma, with implications of adults escaping responsibilities through childlike activities. Koreans call this obsessive, geekish behavior deokhu, a Koreanization of the Japanese word for obsessive geek, otaku, and the public admission of geekdom as deoming out.
The societal stigma of kidult culture is being replaced with a more positive, embracing outlook – and creating a thriving market in the process. The Korea Creative Content Agency's 2016 report about the content industry stated that the national character market grew 20 percent from KRW 7.2 trillion in 2011 to KRW 9.1 trillion in 2014. In 2015, the market brought in KRW 9.8 trillion in sales, and observers expect an 11.4 percent increase to around KRW 11 trillion. It has reached a point where distinguishing an average adult and a kidult has become a difficult task. The deokhu is the new thing, and deoming out is the new normal.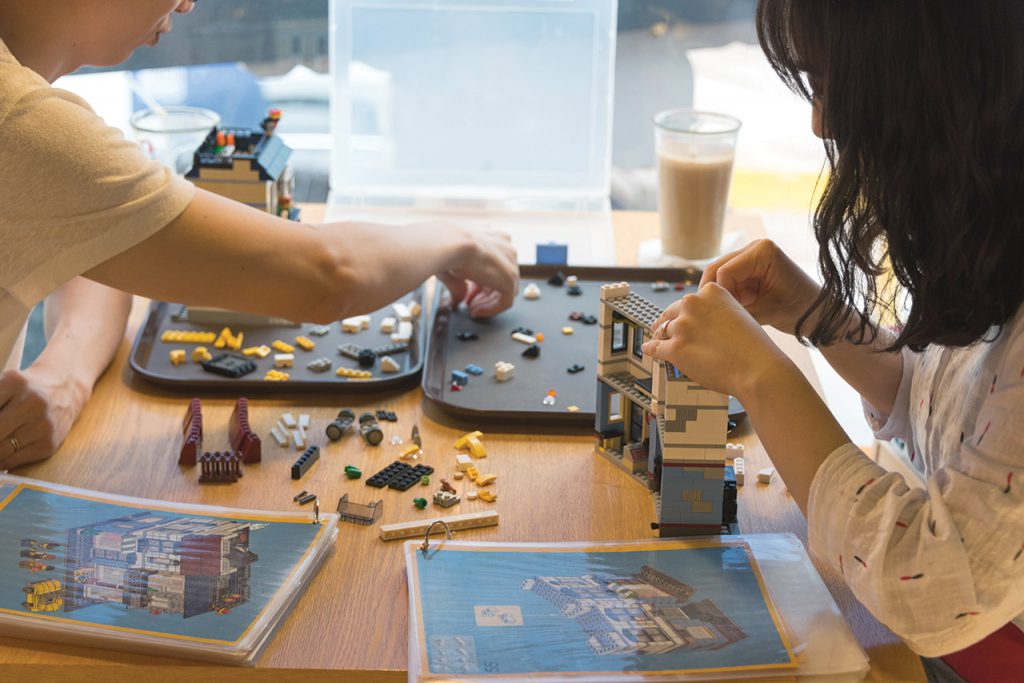 Taking over the consumer market
From small shops to corporate brands, kidult is the new trend. The kidult market is dominating consumer items sold in family marts, malls and convenience stores.
In university areas of Seoul like Hongdae, Kondae, and Haehwa are so-called gatcha shops. With just a few thousand won in change, users insert coins in gatcha machines to collect random capsules of character items ranging from Disney favorites to Pokemon. In September 2015, Lotte Mart set up kidult sections in multiple store locations. The distributor found that 90 percent of the consumers of figurines, drones and car products were adults in their 20s and over. In 2016, the "coloring" syndrome boosted sales of coloring books two-to-four fold at major bookstores like Kyobo. The main consumers were women in their 20s and 30s.
Kidult culture has proven to be more than a hobby for its fans, however.
Honjok, or a lifestyle tailored to one, is the new trend on the rise among young people of Korea (see SEOUL's February issue). Honbap (eating alone), and honsul (drinking alone) are socially acceptable and even cool things to do nowadays. Statistics like the increase in single moviegoers in Korea reveal society's growing prioritization of self-improvement over communal activities. The kidult trend feeds into the strong sense of self and style that floods into everyday items. Its market thrives in a society with public respect for individualistic tastes and one-person lifestyles.
Grabbing essentials after a long day at work? Why not one with design and function?  Cute, smiling characters on your usual toothpaste might release your fatigue after a long day. Next thing you know, you're heading to the register to purchase.
Big-name stores and brands are hopping onto this trend to attract shoppers. In June 2016, E-mart released various household items like organizers, clocks and lunchboxes with LINE FRIENDS characters. That July, Home Plus released KAKAO FRIENDS-edition umbrellas. LG Household & Health Care released car air fresheners with long-loved Star Wars characters like Darth Vader and R2D2. 7-Eleven also produced KAKAO FRIENDS umbrellas and transportation cards, as well as Pikachu journals, lunchboxes and snacks.
The kidult market is also taking the fashion and beauty industries by storm. Missha partnered with LINE FRIENDS for a skincare and beauty collection, and The Face Shop produced Disney-edition products. Vans collaborated with LINE FRIENDS for special-edition sneakers.
In 2015, Samsung C&T Corporation's fashion brand 8 Seconds was one of the first SPA brands to partner with KAKAO FRIENDS. This collaboration resulted in a whooping 86 percent increase in sales from the previous season, while online presales increased by 10 times from the previous year. Samsung's Bean Pole also sold out their KAKAO FRIENDS edition pouches and passport wallets within two weeks.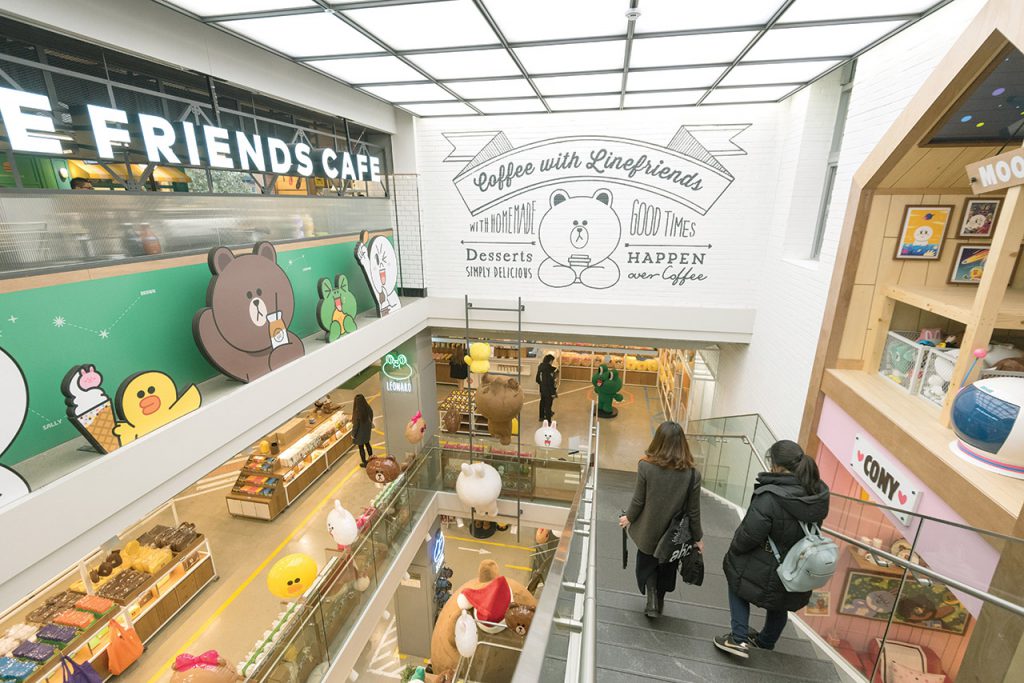 Eland's SPA brand SPO recently collaborated with Peanuts and featured sweatshirts and hoodies with characters like Snoopy and Charlie Brown. The brand's history of collaborations with Star Wars, Simpsons and Pokemon characters was also extremely successful and sold out after every release.
All-around experiences
Seoul is a fast paced city with an endless list of places to go and things to see. The kidult market is moving into large-scale events and exhibitions around the city for its fans.
Last November, KAKAO FRIENDS opened a second flagship store near Hongik University. The space provides an all-around experience for kidult fanatics. The five-story building boasts different themes per floor. The first floor, known as the "Best Item Zone," carries over 1,500 kinds of best-selling KAKAO FRIENDS merchandise, while the second floor displays the newest products in travel, food and baby categories. On the third floor, "Friends Home" features office, living room and kitchen showrooms decorated with KAKAO FRIENDS products. It also has a "Ryan Cafe" with character food items and a life-size figure of the popular character Ryan for photos. On Dec. 17, 2016, the two basement-level floors opened as the "KAKAO FRIENDS Concept Museum Seoul." With the theme,"We are Friends," the exhibition features a closer look of KAKAO FRIENDS' beloved characters through their histories, childhoods, personalities and relationships.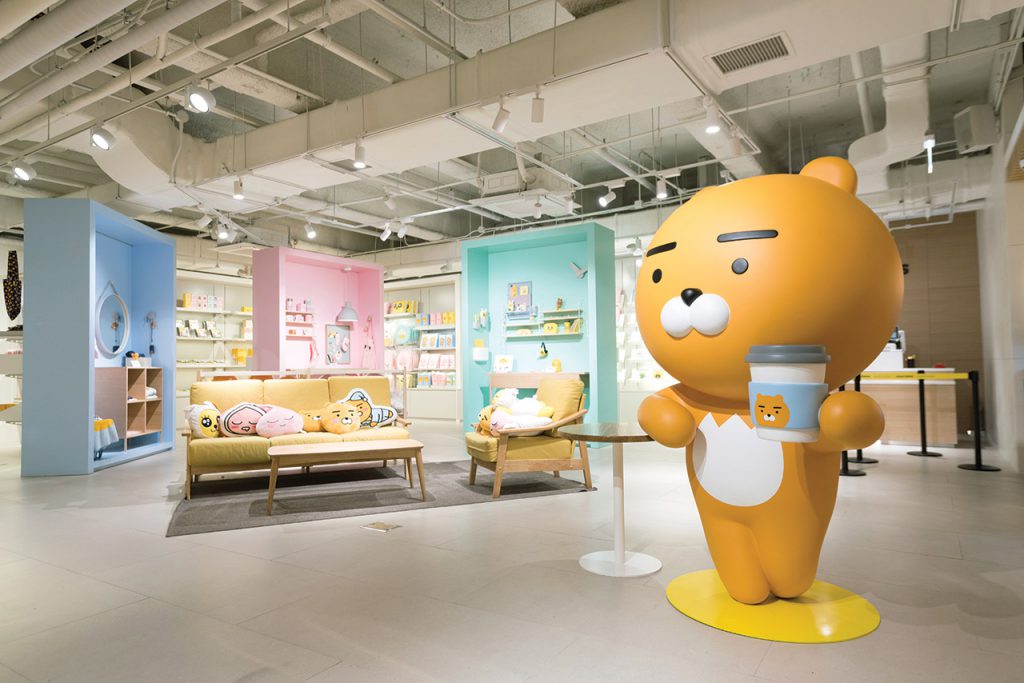 The Figure Museum 6 in Cheongdam features six different exhibitions. Limited edition figures from animation and Hollywood films like Atom, Gundam, and Batman are drawing in kidult fans. Enter 6 Marvel's store near Hanyang University is known for its exceptional collection of Marvel characters. Visitors are able to interact with life-size Marvel heroes and experience scenes from the film "The Avengers." They are also able to purchase figurines, mats, notebooks, bags and portable batteries featuring Marvel characters.
These exhibitions are extending into weekends of kidult festivals and celebrations for people of all ages to enjoy. In 2014, the Seoul Kid & Adult Fair held its first gathering at COEX, attracting over 40,000 attendees. It featured figurines, paper crafts, drones, dioramas, designer toys, radio controllers, die-cast toys and more. The third fair was held in July 2016.
Earlier this year, the Kidult and Hobby Expo was held at COEX Jan. 19 to 22. It targeted families, couples and friends, and displayed a dynamic picture of multiple generations coming together with a shared love for characters. Fathers in their 30s and 40s accompanied their children and had a blast putting together Lego models, playing with drones and posing in front of life-size figurines.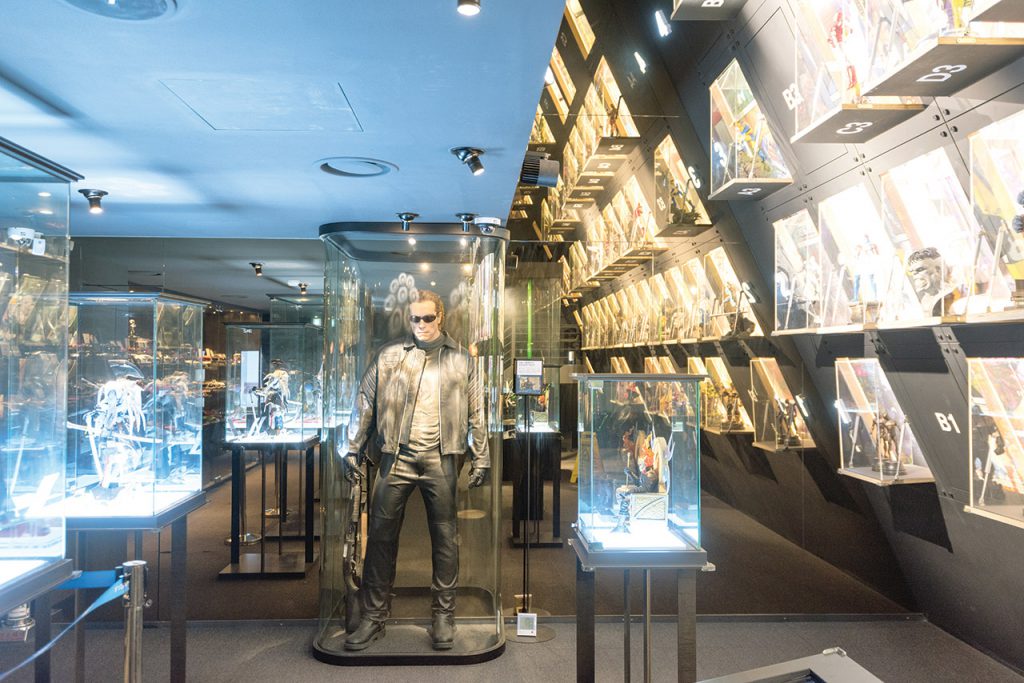 From Aug. 4 to 6 this year, the first Comic-Con will be held in Seoul. Kidult fans are already anticipating this event, which is one of the world's biggest celebrations of comics and related entertainment.
Nostalgia, the driving force
Why is this seemingly childish trend gaining explosive momentum in the Korean market? The skyrocketing kidult industry has psychological implications and also reveals something about Korea's current political and economic climate.
Think about how the most hard-faced people brighten at the sight of babies and puppies. Ethologist Konrad Lorenz's concept of baby schema explains how infant features like chubby cheeks, big eyes and a round head naturally evoke care-taking instincts in humans. This innate psychological tendency translates into the sustained love for characters like Mickey Mouse or Hello Kitty in the previous century, and may be one of the factors that draw people to kidult culture.
Yamaguchi Yuko, the designer of Hello Kitty, said during an interview in 2009, "A good character is one that looks like I can talk to them, and they will talk back… Communication must be a possibility, and they must be within hand's reach." This value on connection is essentially tied to nostalgia for childhood times. Professor Christine Yano at Hawaii University, who analyzed Hello Kitty's success, said, "People look for cute, lovely and comfortable family-like beings especially in times they need comfort." This sense of connection formed between characters and people can result in emotional materialism.
During times of political and economic unrest, a collective sense of nostalgia for the "good" times of the past increases. Korean media and entertainment has been flooded with comeback TV series and music videos with 1980s and 1990s vibes, like the recent hit series "Reply 1988." Character items are accessible and affordable ways to embrace this nostalgia.
The Oricom Brand Strategy Institute stated, "By reconnecting with a childhood item through cheesy yet fun kidult purchases, people alleviate stress and find pleasure." The kidult market's growth may reveal an internal desire for emotional and mental rest from issues weighing down modern Koreans, such as unemployment, low pay and climbing housing prices.
For the sake of happiness
In 2015, the kidult market produced KRW 500 to 700 billion in profits. This is expected to increase over 20 percent over the next two to three years to surpass KRW 1 trillion.
A collective emphasis on individualism coupled with a nostalgic longing awakened by difficult times is bringing unprecedented results for the kidult market. But implications aside, humanity's innate desire for pleasure seems to be the driving force of this giant market. What is life without fun, right?
Actor Sim Hyung Tak, a well-known collector of Doraemon items, said, "I collect Doraemon items and spent USD 10,000 buying its products. People don't understand my obsession sometimes. But when I buy Doraemon items, I'm so happy I feel like flying, and all my stress goes out the window."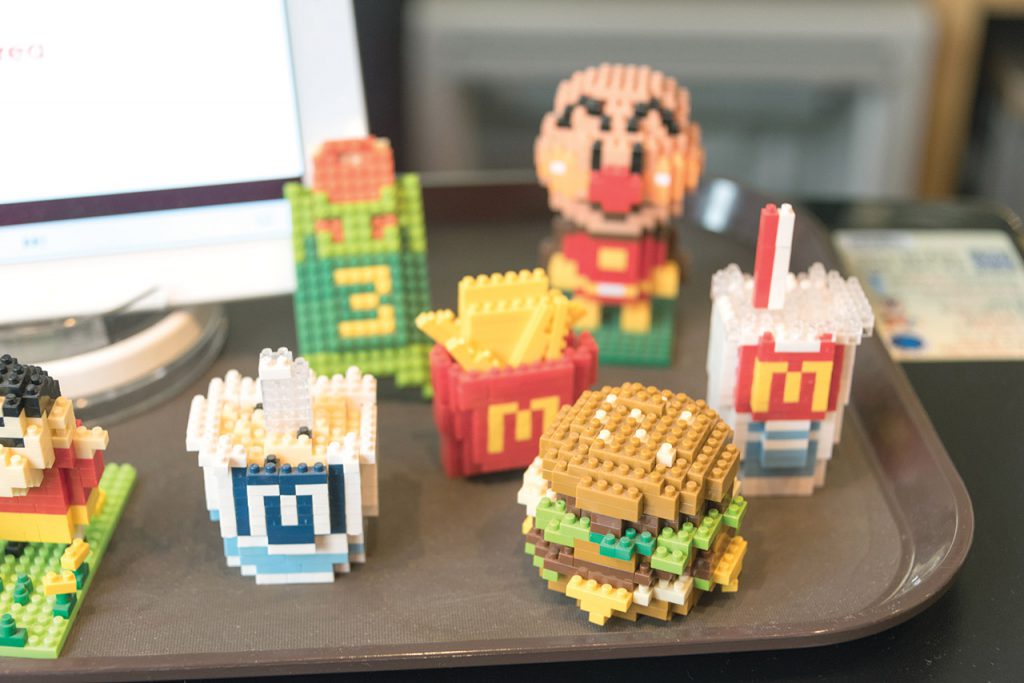 The animated series "Pokemon" was a hit back in the 1990s. The local launch of its augmented reality game Pokemon Go on Jan. 24 was nothing short of viral. In less than a week, users in Korea surpassed 7 million. One of the places Pokemon frequented was none other than Gyeongbokgung Palace. Within a week of the game's release, visitors increased 37 percent from the previous week.
Today, we no longer watch the Pokemon character Ash Ketchum on television. We are Ash Ketchum through the screen of our smart phones.
Even though the reality may be that we look like fools as we sleep happily in the Doraemon underwear we couldn't afford when we were seven, what matters is that in that moment, we're truly happy. This might be the force that drives us to bring home a teddy bear that can't do much for us except to let us know, through his unfading smile, that things will be indeed be okay.
Written by Diana Park
[separator type="thin"]
Recommended KIDULT SPOTS
Here are some spaces to let your inner child roam free
Character stores, vintage shops, figurine museums…SEOUL hooks you up with spots to indulge your childhood nostalgia in these trying times.
Kakao Friends Flagship store in Gangnam
Dongil Building, 429 Gangnam-daero, Seocho-gu
T. 02-6494-1100
Lots of KAKAO FRIENDS-related merchandise, including stationary, clothing and luggage branded with your favorite KAKAO FRIENDS characters.
Kakao Friends Flagship Store in Hongdae
Dongyodong Daea Building, 162 Yanghwa-ro, Mapo-gu
T. 02-6010-0104
Much like Kakao's flagship store in Gangnam, but in Hongdae. Check out the cafe on the top floor.
LINE Friends Flagship Store in Itaewon
200 Itaewon-ro, Yongsan-gu
T. 02-790-0901
LINE FRIENDS recently opened a massive complex in Seoul's multicultural Itaewon district.
Vintage Bonnie
21-17 Supyo-ro 28-gil, Jongno-gu
T. 070-4281-6248
This vintage shop in the historic and increasingly trendy Ikseon-dong district has a collection of goods ranging from the 1920s to the 1980s.
Figure Museum W
Ys Roo, 3 Seolleung-ro 158-gil,
Gangnam-gu
A virtual paradise for the young at heart, Figure Museum W is home to a vast collection of toys, models and figurines from the United States, Japan and elsewhere.
Matthew & Joelle's Toy Kingdom
3rd Floor, Starfield Hanam,
750 Misa-daero, Hanam, Gyeonggi-do
Shinsegae's entry into the kidult market is a giant toy store in Hanam's Starfield Mall. Interestingly, it's also Korea's largest LEGO store.
Cosmos Wholesale
2nd Floor, 29 Euljiro 11-gil, Jung-gu
T. 010-5630-6699
Open on Friday, Saturday and Sunday, this gem hidden in the gritty Euljiro district sells used records, old posters, vintage clothing, toys and figurines, among other things.
Woozoo Space
3 Seongbuk-ro 8-gil, Seongbuk-gu
http://storefarm.naver.com/woozoospace
This is where to go to pick up animated character-related figurines and toys at cheap prices. Lots of Disney and Pixar goods available.
Mohyeong Dabang
2nd Flr, 45 Hongik-ro 5-gil, Mapo-gu
T. 02-322-7230
This figurine and gacha shop in the Hongdae area also doubles as a cafe.
Written by SEOUL Staff
https://magazine.seoulselection.com/wp-content/uploads/2017/03/DSC_4472_2.jpg
854
1280
cyn
https://magazine.seoulselection.com/wp-content/uploads/2018/01/Seoul-logo.png
cyn
2017-03-24 11:18:00
2017-03-24 11:18:00
Back to the Good Old Days