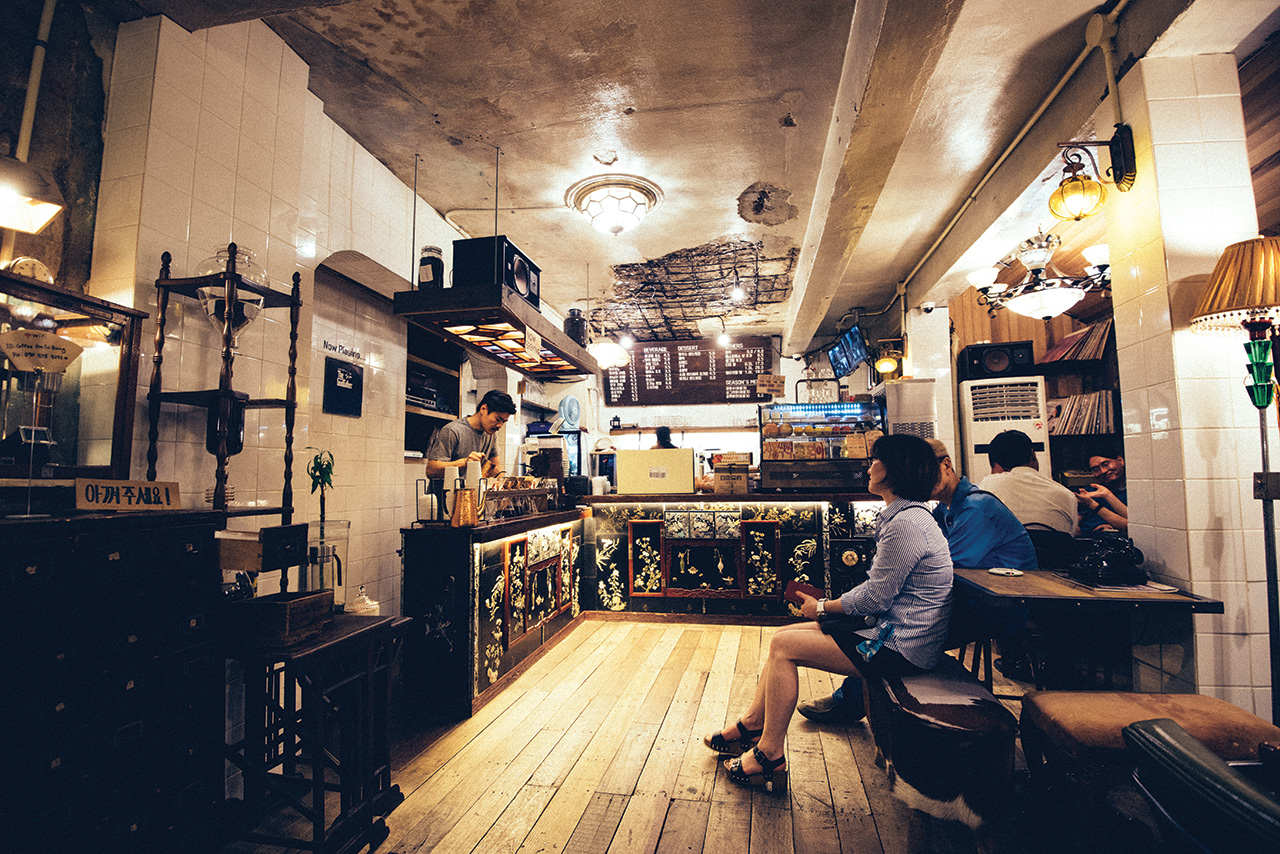 Euljiro is a heady mix of the industrial and artistic
"In order to really know a person, you should see what's inside them over a long time. Likewise, with Seoul, with Euljiro, in the maze of alleys, you can find a 'real,' decades-old vibe. The people living and working in the alleys, these unadorned scenes – that's the real Korea."
Kang Yun-seok, the owner of Coffee Hanyakbang (T. 070-4148-4242), sits on the first floor of his café, where – on days when the veteran musical actor isn't on stage, that is – he is often found hand-roasting coffee beans in an antique roaster. Take a step outside, and you're in an alleyway so narrow it's barely wide enough to accommodate a single person. Light, trickling down from a lone sliver of open sky, illuminates the tangled wires, rusting grates, metal vents and water-stained stucco walls below.
You're a long way from Gangnam, that's for sure.
A land the redeveloper's wrecking ball has seemingly forgotten, Euljiro is as "real" as it gets. In the shadow of aging concrete towers, signs hawk illegal bugging equipment and fake Viagra to passersby. Metalworkers pedal their bikes through gritty, narrow alleyways. Gaggles of coworkers laugh over draft beer and dried fish at crowded backstreet pubs. Elderly men sip coffee and swap stories at tea houses hidden in the urban maze.
Euljiro's rough, no-BS personality is also why the neighborhood is quietly becoming Seoul's newest hot spot. Young artists, merchants and other creative types are transforming old, empty spaces into galleries, unique shops and quirky bars and clubs. At the same time, Seoulites are rediscovering the area's enduring eateries, which have been dishing out delightfully no-nonsense grub for decades.
Industrial arts
The dense network of alleyways between Euljiro 3ga Station and Euljiro 4ga Station is a virtual time machine to 20th century Korea. After the Korean War, metalworkers, machinists, tile merchants, lighting shops and other building supply sellers settled in and ignited Korea's post-war industrialization. The skilled local machinists, it was often said, could even build you a tank or a submarine with the right blueprints.
Nowadays, the area is divided up into, among other things, a metalworking district, tile district, sewing machine district and a lighting district. The metalworking district, alleys narrow and signboards charmingly old, is especially fun to get lost in. Lee Sung Won, who has run a local metal arts shop since 2008, explains that many of the artisans have been practicing their craft for 20 to 40 years. Still, the place is getting younger. "Before, it was hard to find young people," he says. "But with it getting tougher to find a job, young people looking to learn a skill have began to gather here."
As you'd expect in an industrial zone, the place has a lot of grit. During work hours, metal shavings are everywhere, and the smell of industrial chemicals hangs in the alleyways. Workshops are old and getting older. Nevertheless, photographer Kim Cheol-seong, who is documenting the neighborhood for the photography archive of Seoul Museum of Art, says the alleys are remarkably clean and have an artistic quality to them. "Here and there, you can feel the artistry of the artisans," he says. "The way they stack their products, the way they do their signboards and even the drawings on nearby walls, it all seems artistic to me."
Youthful creativity
A short walk from Exit 10 of Euljiro 3ga Station is an alley of old print shops and other offices. At the entrance of one old building is a small sign that reads "Hotel Soosunhwa." Climb up to the fifth floor, and you'll learn that Hotel Soosunhwa (T. 070-8950-2649) is not, in fact, a dodgy place of accommodation. Last December, three young designers transformed the upper floor space into a café cum workshop cum showroom, a "co-working place" where artists can share ideas, work or just enjoy a beer. They also host exhibits, film screenings and other art-related events.
Kyyn Lee, one of the founding designers, explains that they were drawn to Euljiro by the neighborhood's honest, unrefined character. "In fact, many studios and artists are coming to the area," she says. "It's an untamed space in Seoul…I think it's a space with a lot of good connections, where artists can regenerate."
Urban inspiration and cheap rents are bringing many young creatives to the Euljiro area. The plentiful supply of materials and legions of trained craftsmen with whom to collaborate are also drawing cards. Local authorities and organizations are promoting the arts, too. In the Sallim-dong metalworking district, for instance, the local government has helped turn empty buildings into art studios for young artists. The Seoul Foundation for Arts and Culture, too, has invited artists and artisans to teach DIY workshops at the sprawling Seun Arcade, a line of massive concrete buildings built in the late 1960s that are home to electronics shops and other stores.
Euljiro has some unique shops as well. Cosmos Wholesale (T. 010-5630-6699, open Friday, Saturday and Sunday), a third-floor shop founded by five friends, is both a workshop and a store that sells used records, old posters, vintage clothing, toys and figurines, and, well, lots of other things. This writer even saw a Boy George figurine. Originally located near Hyochang Park, the shop moved to Euljiro a year and a half ago. "There was a Seoul we liked," one of the owners explains. "Seoul is like a man from a poor family. No matter how big he makes it, sentimentally, he still likes disheveled, messy, natural things."
Euljiro's culinary side
Euljiro's alleys have long been home to some of the city's oldest eateries. Chinese restaurant Andongjang (T. 02-2266-3814), founded in 1948, draws diners with its white-broth oyster jjamppong. Another Chinese restaurant, Ogubanjeom (T.02-2267-0516), has been serving outstanding fried dumplings since 1953. At night, you can find several time-honored establishments serving good food with no fuss like gopchang joint Uiljip (T.02-2267-9848) and meat place Tongiljip (T. 02-2273-0824).
A couple of places near Seun Arcade, including Sansu Gapsan (T. 02-2275-6654), do very good abai soondae, a North Korean blood sausage. One favorite of this writer is Hyangchon Sikdang (T. 02-2285-1515), a small place in the Sallim-dong metalworking district that serves good home-style Korean stews and pan-fried pork. Another fun place, at least at night, is the so-called nogari alley, where you'll find crowded pubs serving cheap draft beer and even cheaper dried fish.
Cafés and bars are moving in, too. The alleys around Euljiro 4ga are home to a number of old Korean-style coffee houses, or dabang, where you can usually find groups of elderly Koreans relaxing over coffee and pleasant conversation. Of much more recent vintage is Coffee Add (T. 070-4209-7272), a renovated old building that serves good coffee and excellent handmade desserts. The third-floor space is especially recommended.
Coffee Hanyakbang (070-4148-4242), mentioned in the introduction, has become a big hit with foodies and coffee lovers. Even if you don't like coffee, it's worth visiting. Between the antique decor from Europe and China and the claustrophobic alley it's on, it's like walking onto the set of a Wong Kar-wai film. "Coffee is a beverage, but it is also a place of rest," says founder Kang. "When animals want to rest at night, they retreat into some deep place. People are the same way." The vintage atmosphere puts visitors in a nostalgic mood. "Visitors seem to reminisce a lot," says Kang.
No introduction to Euljiro would be complete without mentioning Seendosi (T. 070-8631-4557), a lounge that, like Hotel Soosunhwa, occupies the top floor (and roof) of a similarly old, dingy building. Run by artists, the workroom-by-day, bar-by-night captivates visitors with its "found object" decor and alternative playlist. The drinks are pretty good, too. The space also hosts underground music shows.
Euljiro's rough, no-BS personality is also why the neighborhood is quietly becoming Seoul's newest hot spot.
[separator type="thin"]
More Info
GO> Euljiro3ga Station (Line 2 or 3) or Euljiro4ga Station (Line 2 or 5)
Written and photographed by Robert Koehler
https://magazine.seoulselection.com/wp-content/uploads/2016/10/DSC_9554.jpg
854
1280
cyn
https://magazine.seoulselection.com/wp-content/uploads/2018/01/Seoul-logo.png
cyn
2016-11-05 14:15:23
2016-11-05 14:15:23
Seoul's Gritty Heart