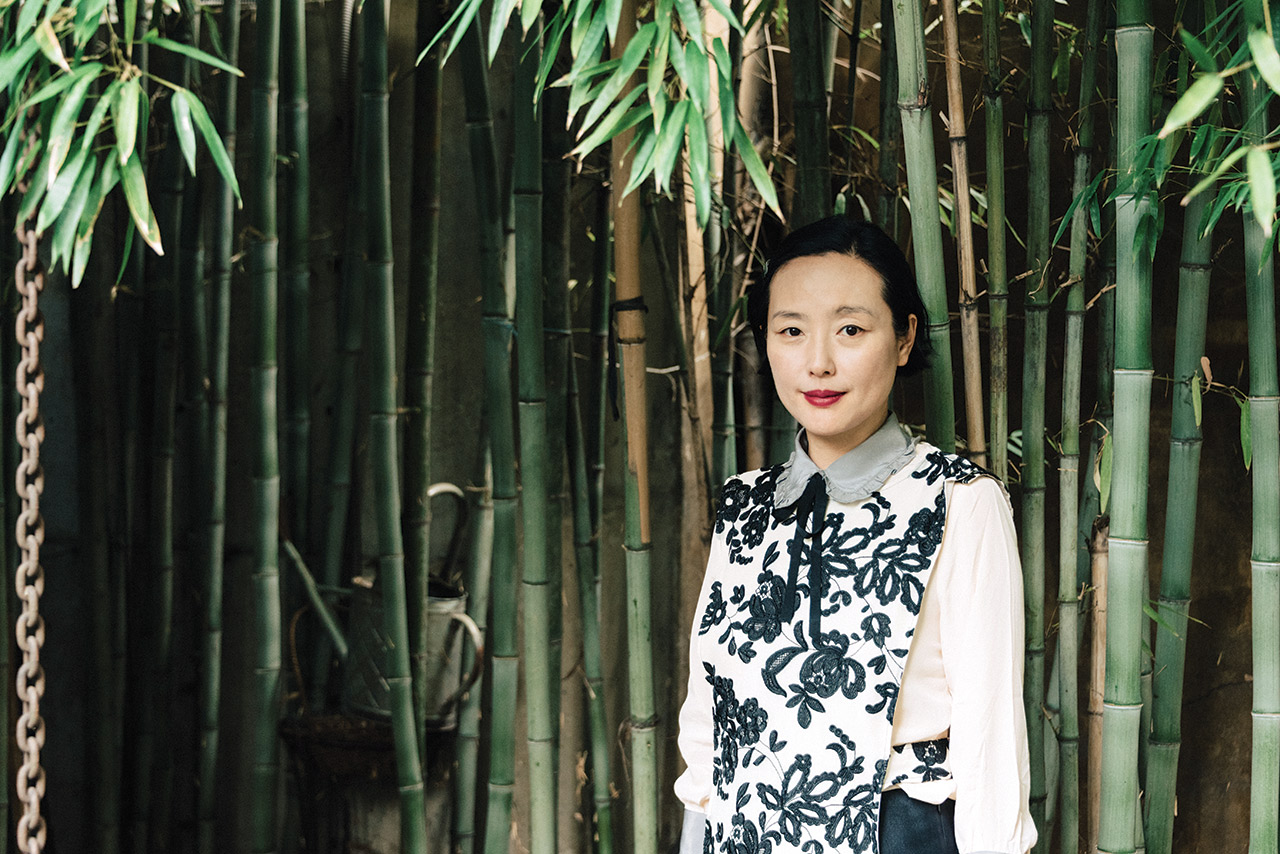 Fashion designer Kim Young-Jin of Tchai Kim brings the hanbok into the 21st century
"When we look at a culture, we should absorb and interpret tradition to make it our own… I think it's best not to be rigid, to avoid thinking that because something is tradition, it should be done in a certain way."
And if there's one thing fashion designer Kim Young-Jin hasn't displayed, it's a propensity for rigid thinking. Working in the medium of Korea's indigenous clothing, or hanbok, Kim employs artistry and creativity to free tradition from the strictures of time and preconception. Her signature Tchai Kim brand of ready-to-wear designs, praised by no less an international fashion icon than Vogue international editor Suzy Menkes, is a bold reinterpretation of the hanbok with a modern sensibility and personal touch. "My fashion reflects my honesty. I like kimchi and rice, but I also like wine. If I like hanbok, I should mix that in there. I can't go back to a fashion world of the past I have no way of knowing just because I like hanbok. It's no longer alive. I should remain true to the things I know and like. I should be honest with them."
Learning on the job
Kim wasn't born a fashion designer. She began her professional career in theater, performing in poet and dramatist Lee Yountaek's Theatre Troupe Georipae. She found it difficult to make a living in theater, however, so she got a job in sales with noted European fashion houses Louis Vuitton and Cerruti. For someone with no formal training in fashion, it was a learning experience. "I handled buying, trained employees and worked in sales," she recalls. "That is to say, I didn't study fashion. Instead, I got my start experiencing it in reality."
She realized that in addition to being considerably more lucrative than the theater,  fashion was as interesting as the arts, too. She says, "The performing arts are intangible, but fashion is tangible." Her experience at Louis Vuitton and Cerruti also gave her a better understanding of the meaning of tradition. Louis Vuitton, she explains, was a simple luggage maker who revolutionized luggage design because he took pride in work and wanted to be recognized for it. His design became the company's tradition, resulting in the Louis Vuitton company we know today. "Koreans, too, have traditions, so I pondered why we couldn't do the same. I pondered about our identity."
Hanbok is fashion
Her constant business trips proved a burden, however, so she quit her job to relax at home. This, too, proved not to her liking, and she took up quilting. After quilting, she began learning how to make hanbok. Studying under a master artisan, she learned how to make the "traditional" hanbok as it is commonly understood. Finally, 12 years ago, she went into business making designer hanbok, largely for weddings.
She began to wonder, however, if perhaps our understanding of "tradition" might be mistaken. "People ask me for a traditional hanbok, but what tradition do they mean?" she explains. "The hanbok of the 16th, 18th and 20th centuries are all different. People believe only the tradition they've seen is the real tradition. People who have seen only hanbok with sleeve inseams that are curved believe those are traditional. I think the straight inseams of the late 18th century are traditional."
"Ultimately, the hanbok is fashion. In every era, it has changed."
Feeling the need to bring hanbok fashion into the 21st century, she launched her second brand, the ready-to-wear Tchai Kim label, in 2010. The brand, she explains, marries historical motifs with her own identity as a designer. She cites the brand's most iconic piece, the cheollik one-piece dress. "The cheollik is originally a man's garment. While the pleats are very pretty, I thought they'd be unwieldy for a man today, but they'd look good on a woman. So I turned the cheollik into a one-piece dress." Wear it with a wrap skirt, and you get more volume and more of a hanbok-esque look.
Don't forget the artist
The cheollik one-piece is Kim's most popular work, and she's rightfully proud of it. Her pride, however, comes not only from the sales. "Prior to me, nobody made a cheollik one-piece," she says. "So I think it will be one of the greatest achievements as my life as a designer." Of course, the success of the garment has led to many imitations, but this, too, reflects the influence of the design.
Unfortunately, the importance of the designer is often overlooked, at least as far as the hanbok is concerned. "My cheollik one-piece is the product of the designer's creativity, but it seems people don't think that's very important," she laments. "So people are making imitations. There's no respect for design." When the media report about the current hanbok trend in places such as Bukchon Hanbok Village, she observes, all they say is that many people are wearing hanbok. That's not what's important, however. "If I were a magazine editor or TV producer, I would emphasize the creativity of the person who made the hanbok, what they were thinking when they made it."
A hanbok, like any work of art, is the work of a human creator. "The designer should have a personal history and dreams, which he or she reveals through the Hanbok."
Fashion. Not a movement.
Kim hopes the popularity of hanbok in places like Bukchon Hanbok Village and Jeonju serve to generate greater interest in the Hanbok, regardless of the initial seriousness of the participants or the low quality of the garments. If interest is generated, the situation will improve over time, she hopes.
Indeed, Kim has done much herself to promote the hanbok, both domestically and overseas. "You can say I was the first person to go overseas in a hanbok and post photos of it," she says. Now, she says, there are people who go around taking photos of themselves in hanbok on a professional basis. "These people sometimes email me to ask if they can rent my clothes," she says. "I wonder about their intention, however. If they really like hanbok, they should buy it themselves and wear it to show other people." If you love culture, you should be willing to open your wallet, she says. "Inspiration alone will not help in the development of the hanbok."
Kim thinks that for a proper interest in the hanbok to take root, it must be remembered that the garment is a matter of personal taste, not a social movement. It's not a Mao suit – you can't make everyone wear it. Calls to lower the price to encourage more people to wear it are mistaken, she believes. Instead, people should be refined enough to be able to choose their clothing according to quality.
Unfortunately, much of what Kim sees today is issue-making rather than allowing hanbok to develop naturally as a fashion choice. Nevertheless, for her, the mission remains the same. "What I must do is make pretty hanbok," she says. "I want to make pretty things well, and incorporate in them my spirit."
[separator type="thin"]
More Info
Tchai Kim Samcheong-dong Main Store
50 Hwa-dong, Jongno-gu, Seoul
02-736-6692
www.tchaikim.co.kr
Written and photographed by Robert Koehler
https://magazine.seoulselection.com/wp-content/uploads/2016/10/DSC_6284.jpg
854
1280
cyn
https://magazine.seoulselection.com/wp-content/uploads/2018/01/Seoul-logo.png
cyn
2016-10-12 10:56:59
2016-10-12 10:56:59
Reconceptualizing the Traditional