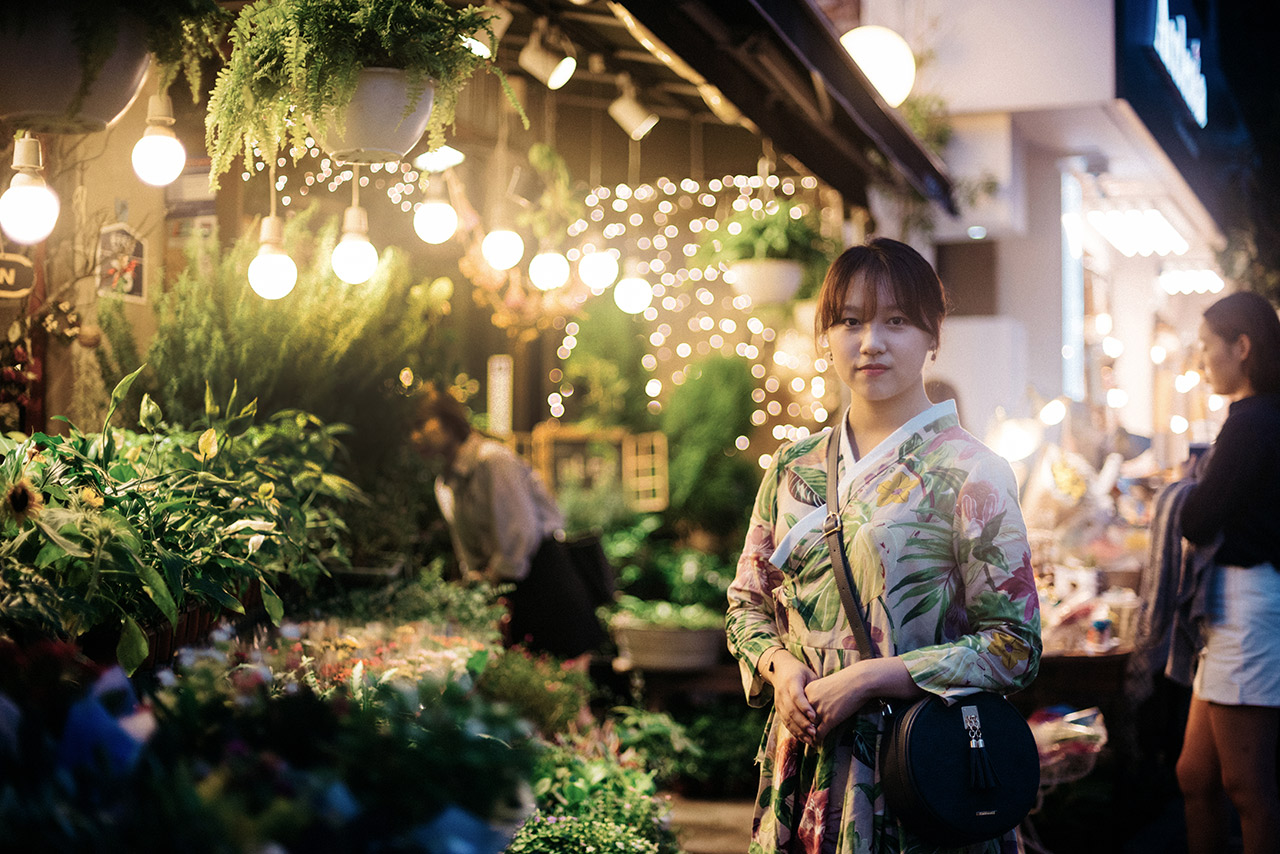 Korea's traditional clothing has gone from forgotten to trendy. But will its popularity last? 
A young twenty-something couple walk past Gyeongbukgung Palace in hanbok, traditional Korean dress. His silky, purple baji, or traditional Korean pants, bands together at the waist and meets at the ankles – unlike the form-fitting denim jeans that are the mode of today.
Once upon a time, it was easier to draw conclusions from this scene. It could have been the filming of a historical drama set in the Joseon Dynasty, or more likely, a Korean holiday such as Chuseok or Seollal, when traditional customs long dictated time-honored dress.
However, the past few years have seen a revival of hanbok. Trendsetting young designers are changing the game and making hanbok more accessible as they play with lines and patterns. Thanks to hanbok rental made easy, the hanbok hashtag on social media reveals thousands of tourists, Korean and otherwise, posing in rented costume whilst visiting famous sites such as the palaces of Seoul, Bukchon Hanok Village and Jeonju Hanok Village. It's caught the attention of fashion designers like Karl Lagerfeld, Carolina Herrera, Giorgio Armani and Miuccia Prada.
Style magazines around the world are investigating hanbok's significance in the modern world and pondering its future. What does this trend mean and is it here to stay?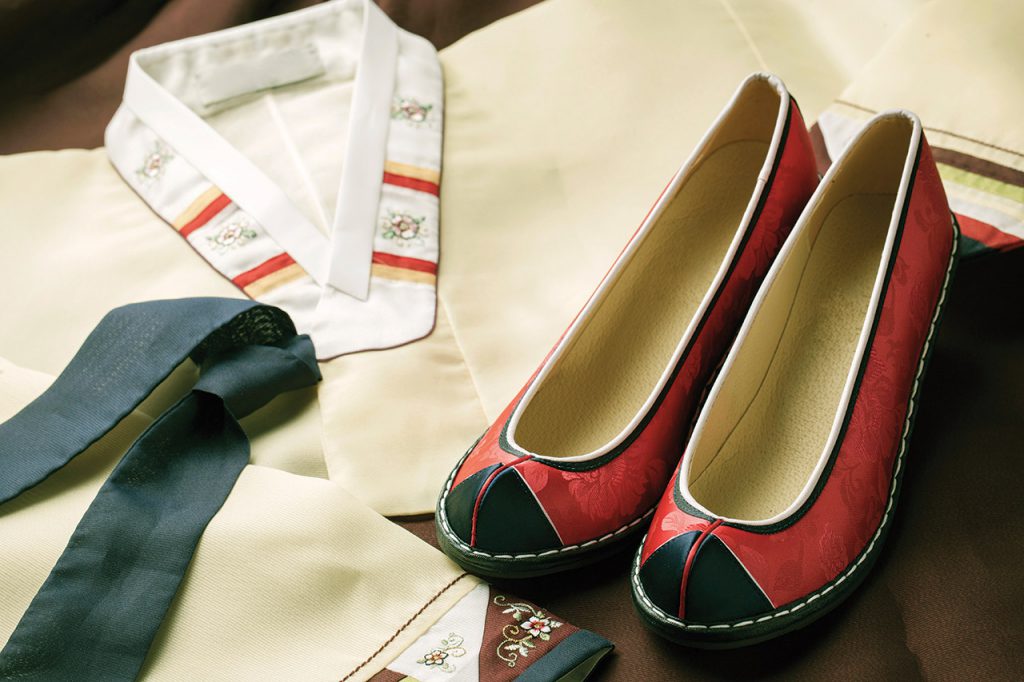 The hanbok through history
Although many associate the hanbok with the Joseon Dynasty (1392-1910), the origins of the costume can be traced back to the 4th century BC. Despite these minute changes over time, the basic concept has remained remarkably consistent.
Trademarked by its simple, clean-cut lines and often noted for its vibrant colors made with natural dyes, the two-piece attire made most commonly with silk, satin or hemp is different for each sex. Literally meaning "the Korean clothing," the hanbok was the daily outfit less than just a century ago. The men's outfit usually consists of a slightly oversized jeogori and loose trousers tightened at the ankles with a string called a daenim. A woman's outfit has a form-fitting jeogori and a bell-shaped skirt called a chima. A woman's jeogori has a lined collar that often spotlights her neckline.
Common accessories include overcoats, petticoats, vests, hats for men and hair pieces for women. Embroidery was reserved for royalty. As with many different cultures, the color and quality of one's hanbok long distinguished his or her place in society.
Harmonizing beauty with meaning
The pulchritude of the traditional dress lies in its movement and symbolism rather than its straightforward aesthetics. A careful dance of complexity with simplicity, flatness with volume and curved lines bowing to straight edges, the hanbok points to Koreans' desire to be close to nature and keep life in balance.
Although contemporary variations of the hanbok have added floral prints and monotone palates into the mix, traditional primary colors commonly found in nature such as red, blue, green and yellow as well as black and white were used in the color scheme. Each shade conveyed a different meaning and the complements between the tones expressed the harmony of yin and yang. Compatible with any body type and designed for maximum mobility, the subtle shadows created by a hanbok's movements highlight one's naturally flowing silhouette.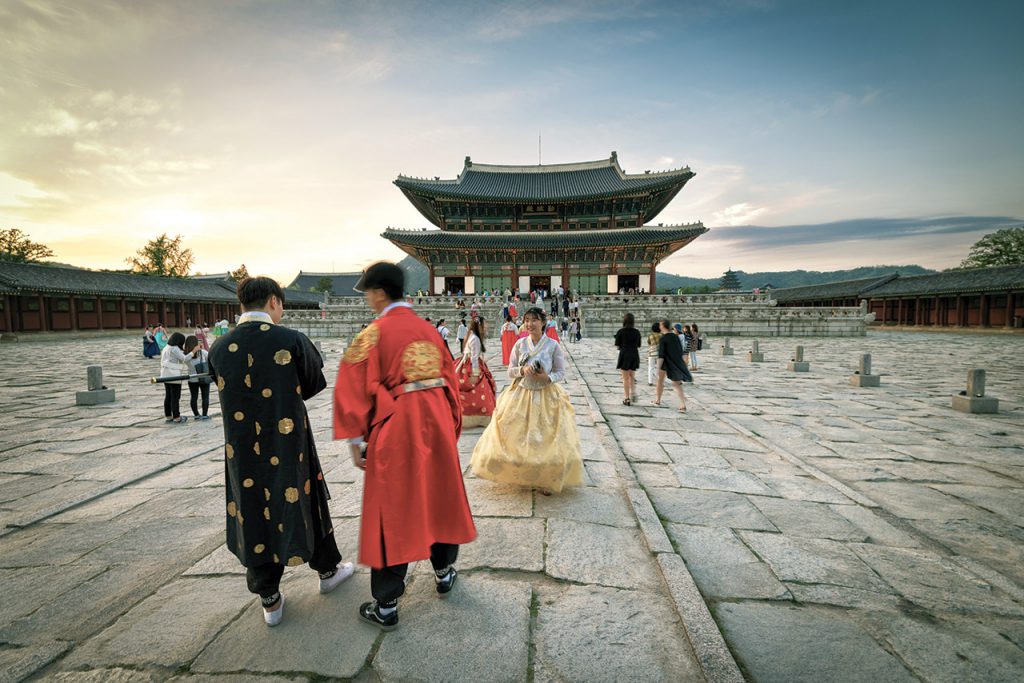 Social media and the hanbok revival
In an attempt to speed up modernization, King Gojong, the penultimate monarch of the Joseon Dynasty, mandated fashion changes as part of the Gabo Reforms of 1895. Later, as ready-made clothing became increasingly available in the second half of the 20th century, fewer and fewer people wore the hanbok on a daily basis.
Over the last couple of years, however, that trend has reversed in a major way.
A simple hashtag search on Instagram for hanbok (written in Korean) produced over 400,000 public hits. A study conducted by SK Planet shows that between the years of 2014 and 2015 alone, Internet searches for hanbok more than doubled, from 960,000 to 2.1 million. Many of the photos you'll find online are of young women in their teens or twenties wearing hanbok paired with walking shoes or sneakers. Choi Jung-chul of the Hanbok Advancement Center comments that while hanbok rentals steadily grew over the last four years thanks to efforts by Jeonju Hanok Village and elsewhere, interest in the costume really boomed last year, when the number of hanbok rental shops skyrocketed tenfold.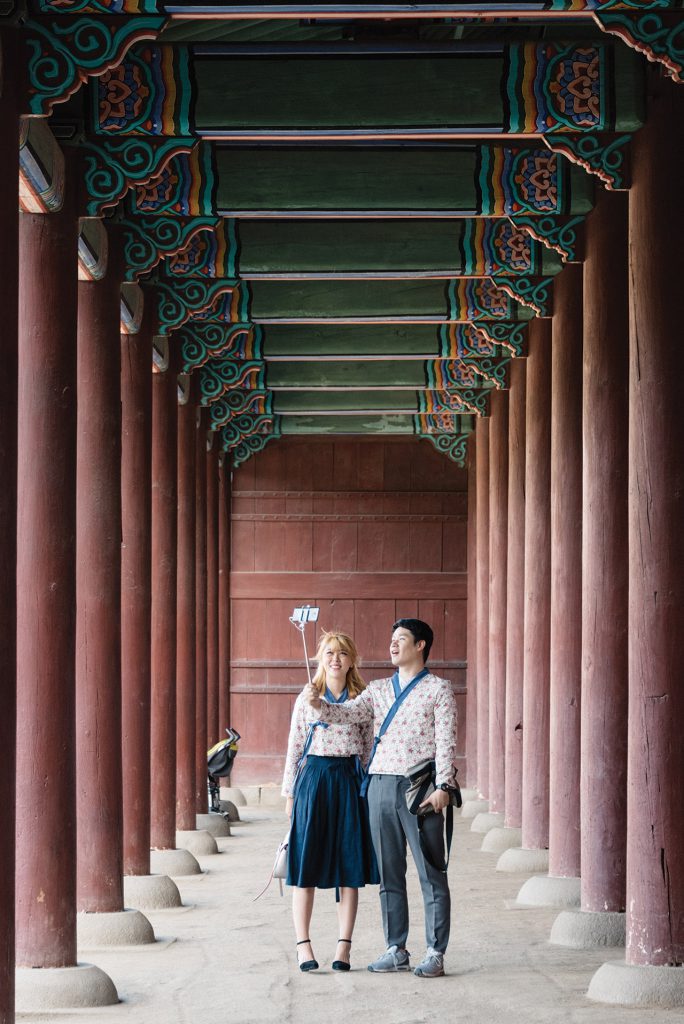 Is Hallyu playing a role?
Since foreign tourists account for a great percentage of those taking part in the hanbok craze, how much of the trend is related with Hallyu? Are K-pop celebrities who pose in hanbok or attend events in hanbok playing a part? Could the peaking interest be related to the costume's appearance in dramas ?
Or is this a sudden wave of nationalism and nostalgia for tradition from today's youth?
Many fashion analysts say it is likely the result of a combination of these factors, and also point to the fashion cycle. Kwon Mi-ru, blogger and instagrammer known to have traveled the world in her hanbok, cites another reason for the clothing's sudden popularity. A May article in the Joongang Ilbo newspaper entitled "Hanbok is Preferable No Matter What" credits her with sparking the so-called "hanbokstagram" craze on Instagram. She told the paper the hanbok is in vogue again because it's pleasing to the eye. "If wearing hanbok were a sudden display of nationalism or a marketing scheme, it would have faded out over time," she says. "Today's youth aren't going back to tradition; they're just trying to have fun."
Today's trends and industry big names
Korean fashion designers who have been working closely with hanbok for years might not chalk up the trend to just fun, however. Not only are some of the biggest names in Korean fashion well versed in traditional hanbok, but many designers are also passionate about finding a new place for the costume in the modern world, or creating modern variations that are less intimidating for everyday use. Up-and-coming contemporary hanbok designer Lee Yebom says that modern hanbok are trending "very feminine and flowery." The modern chima flares a lot less and often stops short a few inches above the knee. In contrast to the traditional hanbok's vibrant color scheme, modern hanbok popularly use light pink and baby blue in spring and summer and muted tones of beige, navy and mustard yellow in autumn and winter. Straying away from convention, the jeogori often has a steeper necklace and floral prints. Yebom's line, which you can browse on her Instagram account (@yebom_yangpum), reflects this contemporary hanbok style aimed at a younger market.
Luckily for Yebom, there are a handful of designers to look up to. Designer Lee Young-hee has been a doyen in the field for over forty years. She introduced her hanbok collection in Paris as far back as 1993 and brought  the costume to the runway of the French Haute Couture show in 2010. She's paved the way for younger designers who continue to bring fresh material.
One such designer is Kim Young-Jin, who owns the brand Tchai Kim. Among Tchai Kim's best known products is the chullik one-piece, a revamped version of military uniforms from the Joseon Dynasty. Hwang Lee-sle, CEO of the brand Leesle, is best known for her practical additions to hanbok. She has worked to incorporate hanbok into daily life by adding zippers instead of strings and making the fabric easier to throw in the wash. Another name working to make hanbok more mainstream is In Oh-kyung, who runs a hanbok company called Inohjudan. Trademarked by her hanbok featuring prints of the American cartoon character Spongebob, she was one of five Korean designers in Hollywood last year for a pre-Oscars fashion show that introduced the hanbok to an international audience.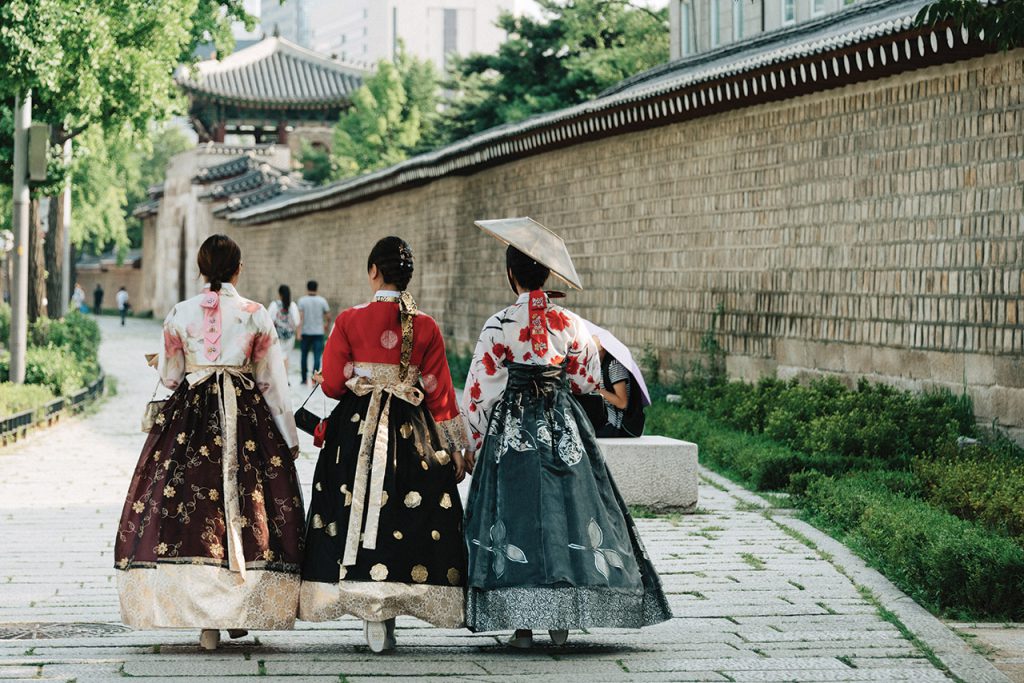 Claiming international fame
The current push to promote hanbok traces back to 1996, when Hanbok Day was established. There were rather unfruitful campaigns to have people wear hanbok on the first Saturday of every month.
Years later in 2010, a biannual fashion show project called Concept Korea was launched by the Ministry of Culture in order to bring attention to Korean fashion. Though not limited to the hanbok, it put Korea in the spotlight. Just a year later, hanbok-inspired pieces were seen in the spring collections of both Chanel and Dior, further rousing the fashion world.
Amongst Koreans, and thanks in part to Kwon Mi-ru, the hashtag "hanbok travel" is trending on Instagram, and there are many young Korean women who are packing their hanbok on international trips. Student Lee Su-bin, who recently sat for an interview with Cosmopolitian Korea, said she wanted to combine her dream of becoming a designer with her dream of traveling the world. By wearing her hanbok on her travels, she believes she is able to customize her experience.
Wear hanbok and get free stuff
The boom of Korean tourism in 2013, along with the rise of Hallyu, also saw an increase in interest in traditional Korea.
There are several publicly run programs for those who are interested in hanbok and want to incorporate the clothing into their experience of the the city. The Seoul Global Tourism Center set up booths for a hands-on hanbok program, inviting visitors to try on the costume. Visitors wearing hanbok get free admission to all five of Seoul's palaces. Recently, the fee waiver has gone so far as to include sought-after night palace tours as well.
The Jongno Ward Office announced just this past July that they would be starting an initiative named "Hanbok Love in Action" with restaurants in the district to offer a 10 percent discount for those who come to their restaurants dressed in hanbok.
While many professionals in the hanbok field welcome the heightened interest and social media activity, there is also concern that the immediate increase may be ephemeral. Hanbok designer In Oh-kyung, for instance, thinks the hanbok still has a long way to go. "Yes, hanbok culture is changing, but I hope that one day, it can become one part of fashion the same way that hip-hop or gothic have," she says. "It's yet to achieve that status, and in order for us to get there, we've got to find ways to integrate the clothing better into one natural part of society."
Written by Hahna Yoon
[wc_box color="secondary" text_align="left"]
Just Ordinary Clothes
Leesle Hwang strives to make the hanbok a piece of everyday life
Written by SEOUL staff
Hanbok designer Leesle Hwang wants to see more people in hanbok. It's not a nationalist thing, however. "You shouldn't wear them just because you're Korean," she explains. "I want to make the hanbok an outfit anybody can where every day, regardless of nationality, because it looks good."
Hwang certainly puts her proverbial money where her mouth is. Check out her blog or her social media accounts, and you'll find photos of her at cafés, at the movie theater, on the bus or even in clubs decked out in her hanbok. Its her "1,000 Actions in a Hanbok Challenge," she calls it, and she hopes it will help make the outfit an ordinary presence in Korea's street fashion ecosystem. "It's my job to make it so that you can buy the hanbok in an ordinary clothing store, that it become a piece of clothing like blue jeans, something you can wear on a date."
From cosplay to Vogue
The founder and CEO of casual hanbok brand Leesle and party hanbok brand Sonjjang, Hwang got her start 10 years ago when she was a college freshman studying to become a forest ranger. As part of a college comic book club, she designed a hanbok based on the designs in the Korean comic "Gung" for a springtime cosplay event. The outfit was a hit, and when she put it up for sale online, it quickly sold for KRW 80,000. "It was then that I realized I wasn't the only person who wanted to wear the hanbok," she recalls.
With just a computer, camera and KRW 45,000 registration fee, she founded an online shopping mall. Now she employs eight people and makes over KRW 1.5 billion in sales a year. She fields several orders a day from overseas buyers in Asia, Europe and America and elsewhere. She was even quoted in a recent issue of Vogue. And she's still in her 20s.
Opening minds
Hwang's designs add a very young, modern sensibility to Korea's national dress. Her clothing is easy to wear, making use of zippers and other modern elements. They are machine washable. Hems are raised, skirts flare less, and traditional motifs are turned into one-piece dresses, slacks and even T-shirts.
Some of her designs are so innovative, in fact, that a few critics refuse to call them hanbok. Hwang takes a broad view, however. She says, "I think if a piece of clothing incorporates Korea's naturalistic beauty, its philosophy or its materials, we can call it a hanbok."
https://magazine.seoulselection.com/wp-content/uploads/2016/10/DSC_1476.jpg
854
1280
cyn
https://magazine.seoulselection.com/wp-content/uploads/2018/01/Seoul-logo.png
cyn
2016-10-12 10:50:24
2016-10-12 10:50:25
Hanbok: Not Just Yesterday's Wear