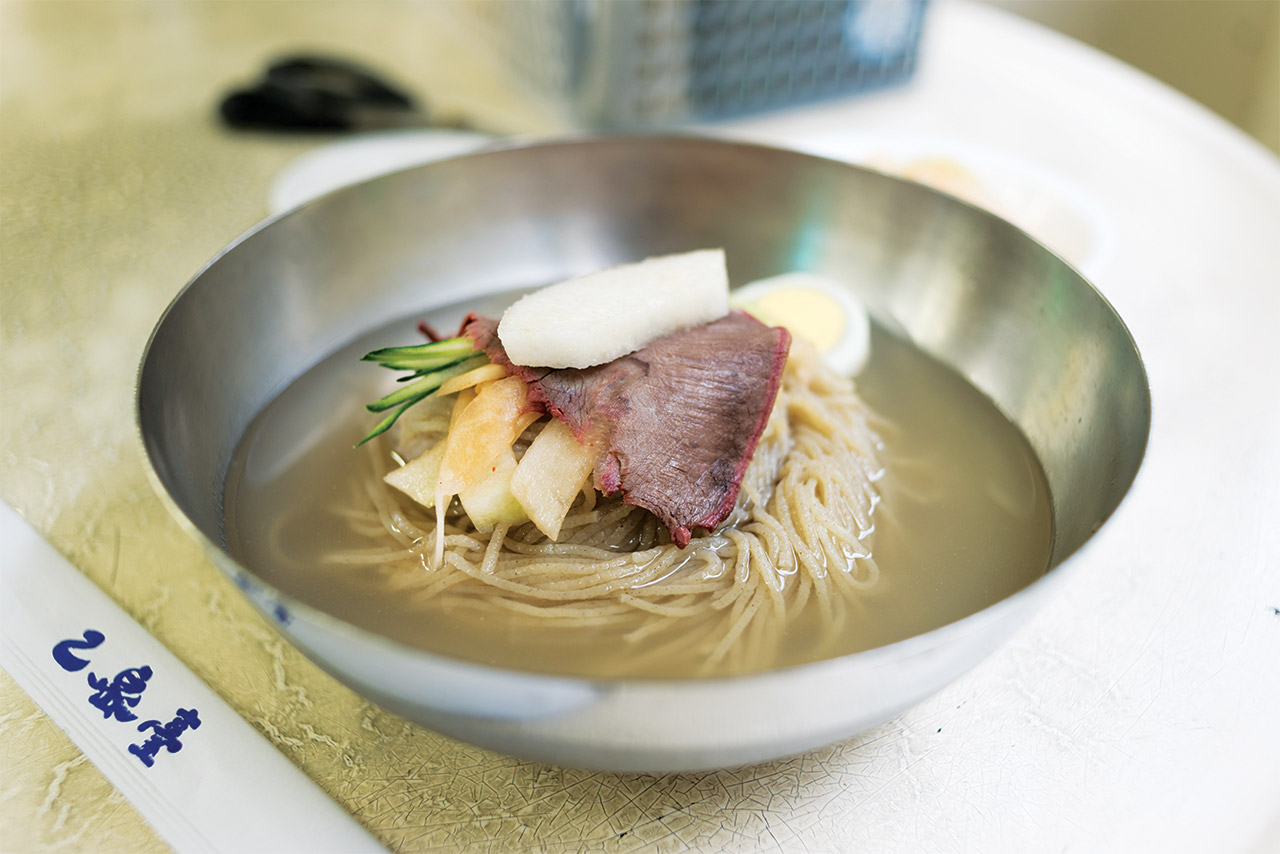 Naengmyeon Three Ways
Naengmyeon is one of the few popular dishes in contemporary Korean cuisine that has origins in North Korea, where it was traditionally consumed in winter with fresh snow used to keep the noodles and broth at an icy temperature. Refrigeration has reversed the game for the cold noodles, now ideal for cooling off throughout the steamy Korean summer.
The two major styles of naengmyeon are classified by their North Korean city of origin. The style of the DPRK capital, Pyongyang, features a mild beef-based broth and noodles made with buckwheat while the coastal city of Hamheung boasts a richer, pungent broth and noodles made of sweet-potato starch. Furthermore, these noodles can be had in mul or bibim variations, the latter being ideal for those who like some spice. Sample each North Korean style at a cold noodle joint that's been around for decades, or depart from the Korean dichotomy to try the dish in a refreshing Chinese style in Yeonnam-dong. Happy slurping, happy summer.
Eulmildae (을밀대 평양냉면)
Yeomni-dong 염리동     
In Seoul, as soon as the temperatures start to edge above jacket weather, getting the best naengmyeon the city has to offer is going to involve a wait. Eulmildae exemplifies this rule. Though it's tucked away in Yeomni-dong (not too far from Ewha Womans University), Eulmildae's tiny space is perpetually besieged by hungry patrons after icy, noodly refreshment. Pyongyang style is the name of the game here, and that means a mild, mild broth and hearty, buckwheat-y noodles. The noodles are the best part, earthy in color and taste with flecks of buckwheat you can see. Eulmildae offers mul and bibim naengmyeon for KRW 10,000 a bowl. The mul naengmyeon will work best for Pyongyang diehards. This reviewer happens to be Hamheung-style-biased and would describe even an excellent Pyongyang style mul broth as a bit dull. Thankfully, Eulmildae sticks to a tradition that seems to be fading from contemporary naengmyeon and graces the noodles with a slice of Asian pear. The bibim naengmyeon at Eulmildae has a nice sauce that's flavorful without tipping the spicy or sweet scale too far in one direction. The brisket pieces atop the noodles are the delicious tease of meat they're meant to be, keeping the noodles in the spotlight.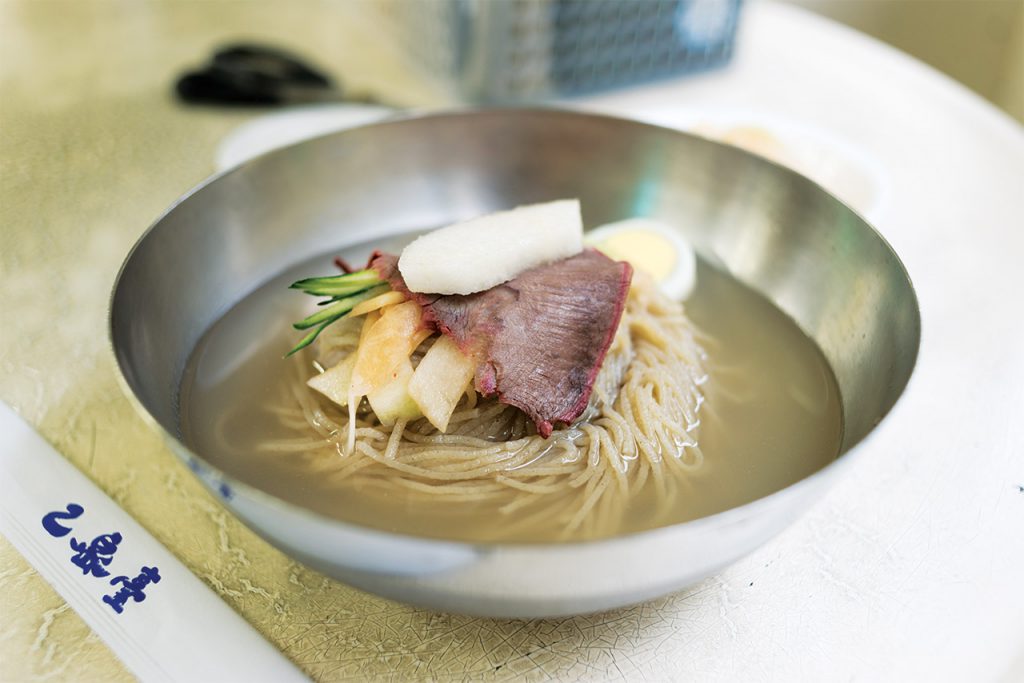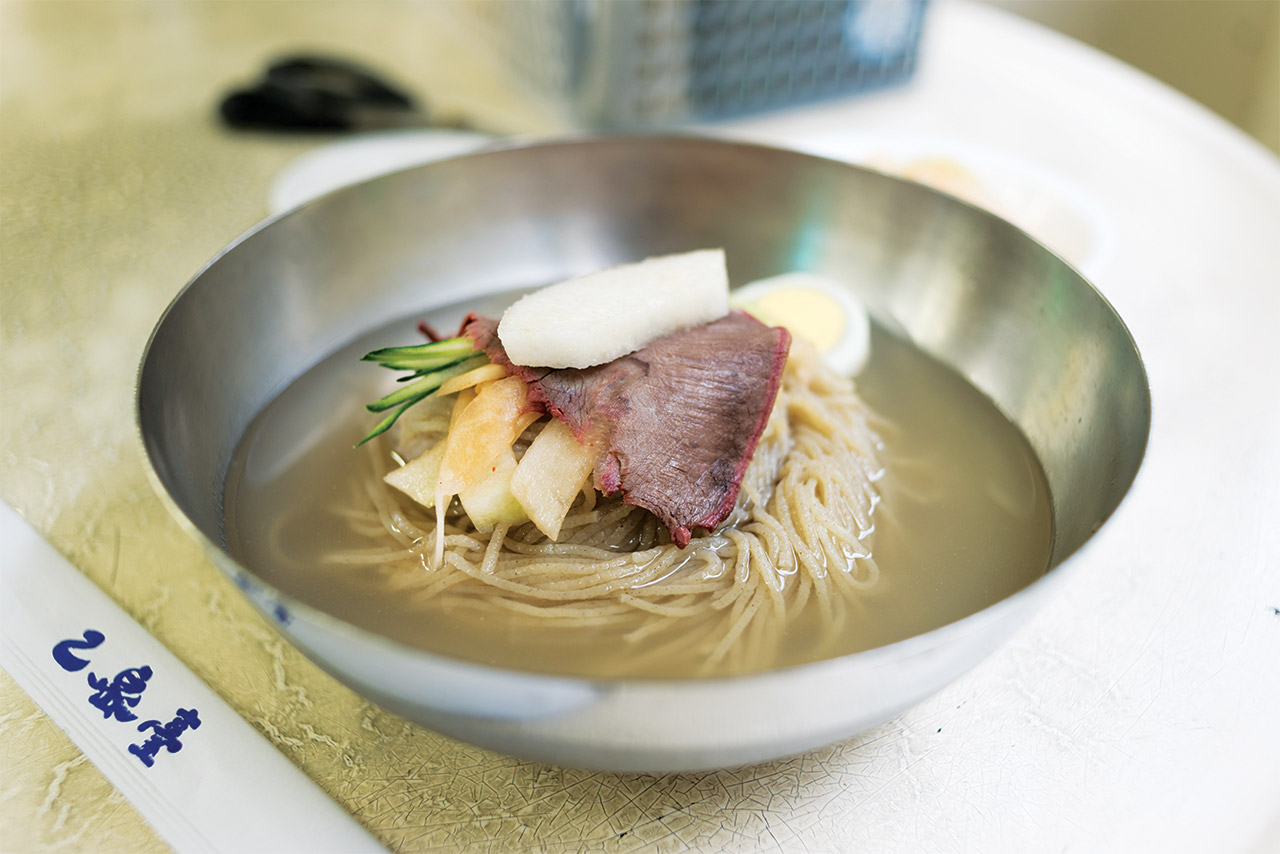 Hyangmi (향미)
Yeonnam-dong 연남동
Wrap your chopsticks around a new world of naengmyeon by trying it Chinese style. At Hyangmi in the burgeoning Little Taiwan section of Yeonnam-dong, the cold noodles are simply called naengmyeon, although it's truly a noodle dish that could hold its own category. Thin, toothy noodles the color of egg yolk are topped with clusters of baby shrimp, small squid pieces, julienned vegetables, shredded egg cake and the flavor lynchpin: a hefty dollop of peanut sauce. Korean naengmyeon is browns, reds, and dark greens. At Hyangmi it's yellows, oranges and beige. Churn the noodles in their dressing to reveal a nutty, fragrant cold broth. Sipping the broth on its own, as with all good naengmyeon, is a chilly delight. It's a tangy but light taste not usually expected from a Chinese-style noodle dish. These noodles are joyfully refreshing, but don't be fooled by the soft flavors: this is heavy eating. A post-noodle stroll comes recommended.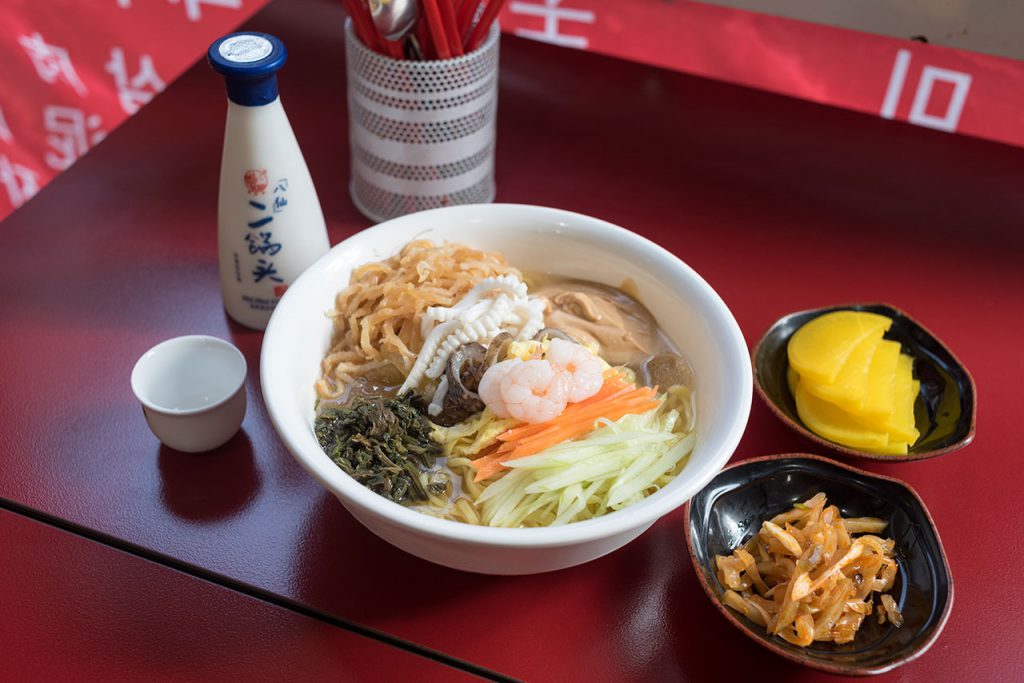 Wonjo Hamheung Naengmyeon Yennaljip (원조함흥냉면 옛날집)
Yeji-dong 예지동   
Walk through the disco, arcade glow of Jongno's lighting district to arrive at Wonjo Hamheung Yennaljip ,which has been serving naengmyeon since the close of the Korean War. A massive framed tiger drawing on a dining room wall harkens back to a time when Korea may have still had a few of them. After lunch rush, the restaurant becomes a sort of quiet naengmyeon temple with just a few, mostly elderly cold noodle worshippers. Hamheung broth is known for its strong flavor and that is undoubtedly the case here. For a real Hamheung broth experience, order the mul naengmyeon, KRW 9,000. The oyster-gray noodles, which the English menu notes are made of 100 percent sweet potato starch, come balled in a tight nest and topped with visible chunks of ginger along with the standard cucumber slivers. Classic cold noodle condiments such as mustard, sugar and vinegar on the table, but this bowl of naengmyeon can stand on its own. Those in need of more funk should go for the hoe naengmyeon, also KRW 9,000, which comes in a tangy red sauce with chunks of skate.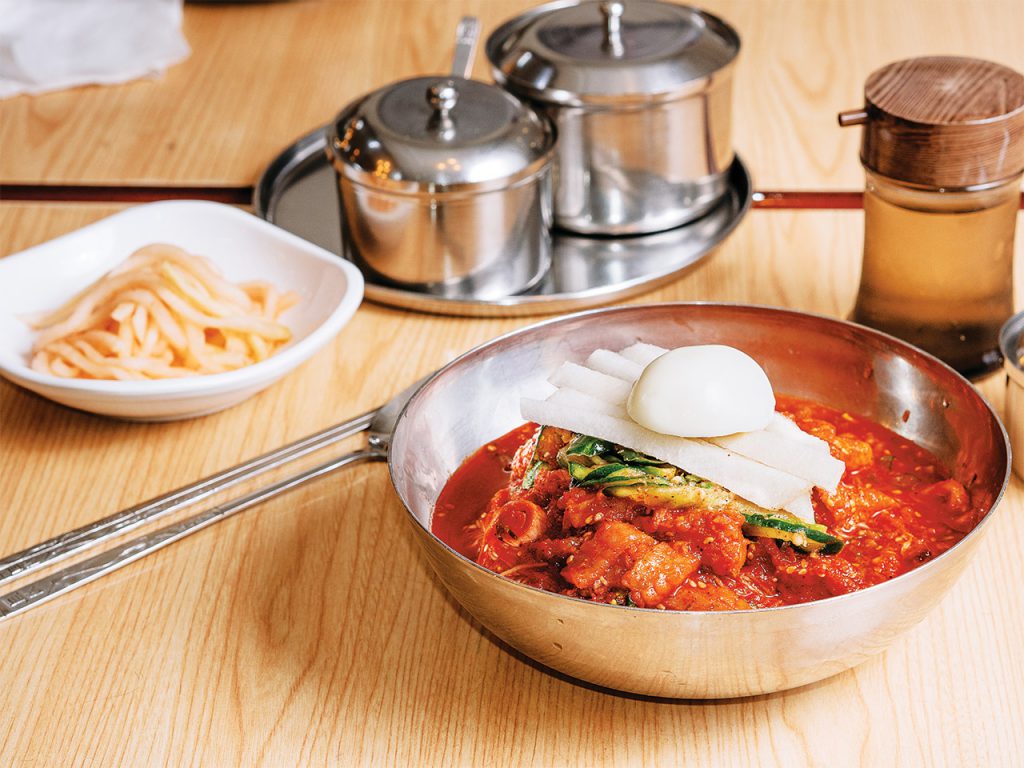 [separator type="thin"]
More Info
Eulmidae
147-6 Yeomni-dong, Mapo-gu, Seoul
T.02-717-1922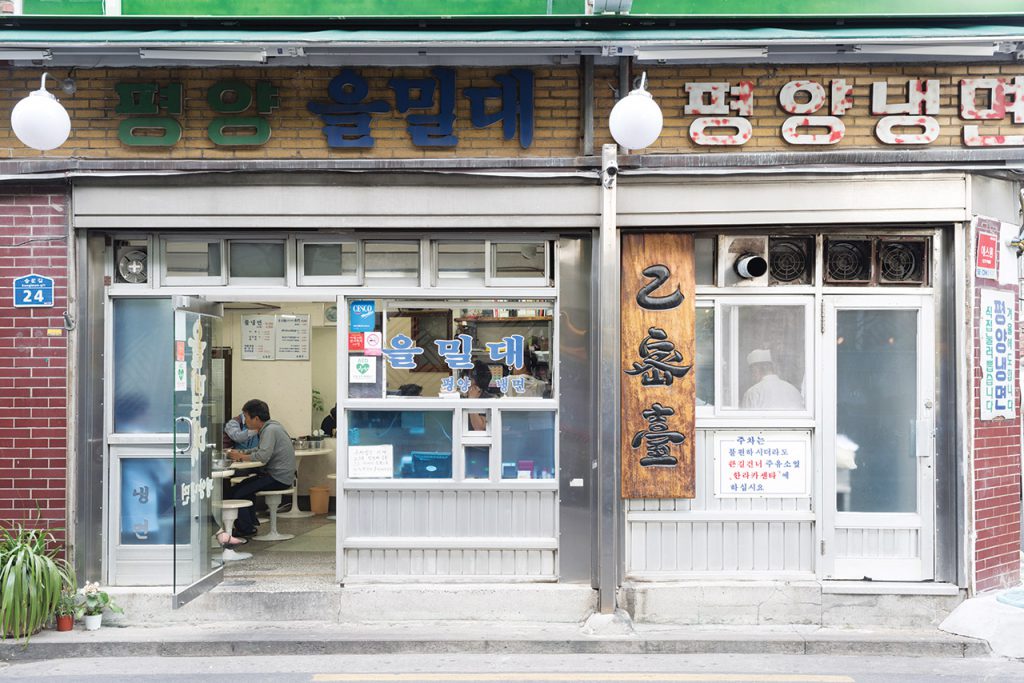 Hyangmi
228-26 Yeonnam-dong, Mapo-gu, Seoul
T.02-333-2943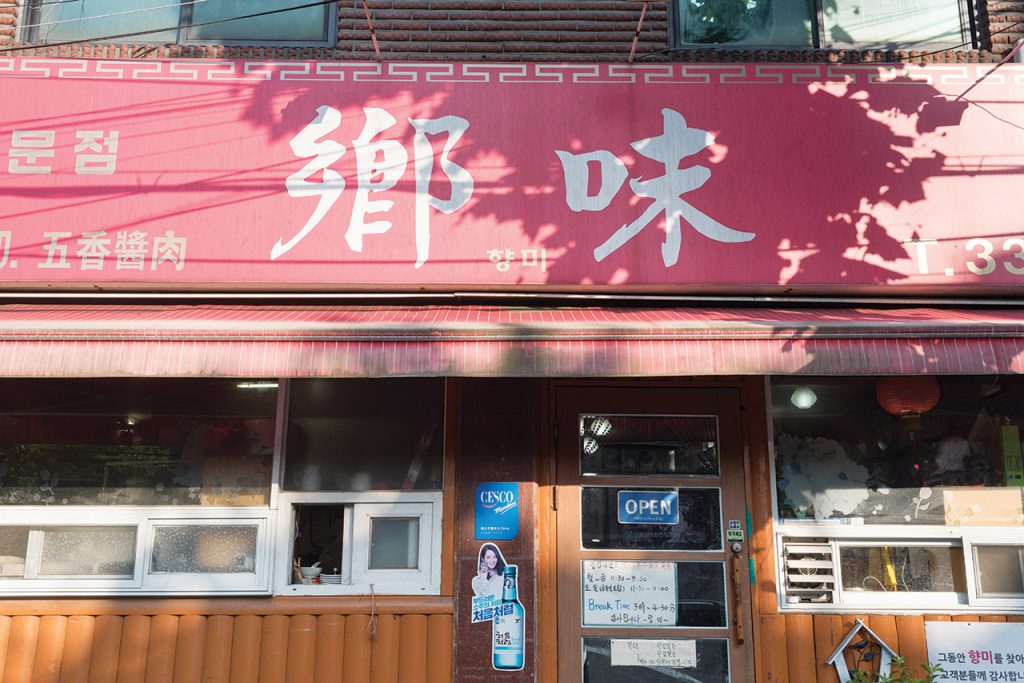 Wonjo Hamheung Naengmyeon Yennaljip
163 Yeji-dong, Jongno-gu, Seoul
T.02-2267-8497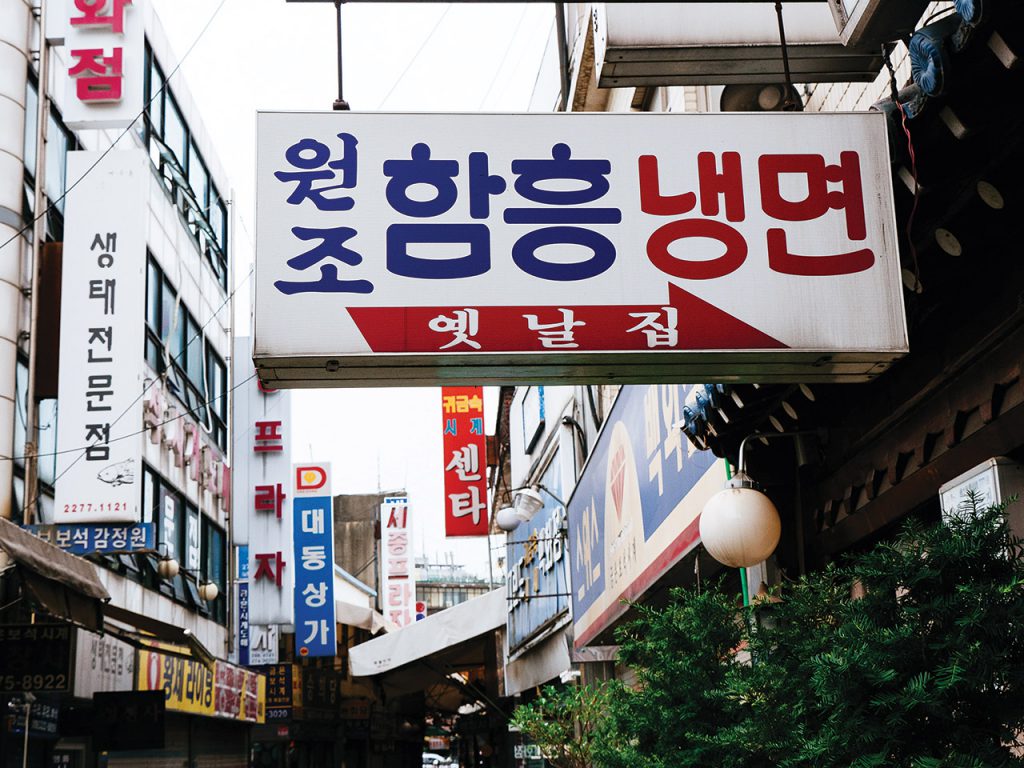 Written by Charlotte Hammond
Photographed by Peter Kim and Robert Koehler
https://magazine.seoulselection.com/wp-content/uploads/2016/06/DSC_4020.jpg
854
1280
cyn
https://magazine.seoulselection.com/wp-content/uploads/2018/01/Seoul-logo.png
cyn
2016-07-25 17:59:31
2018-02-13 16:15:28
Korean Summer Classic