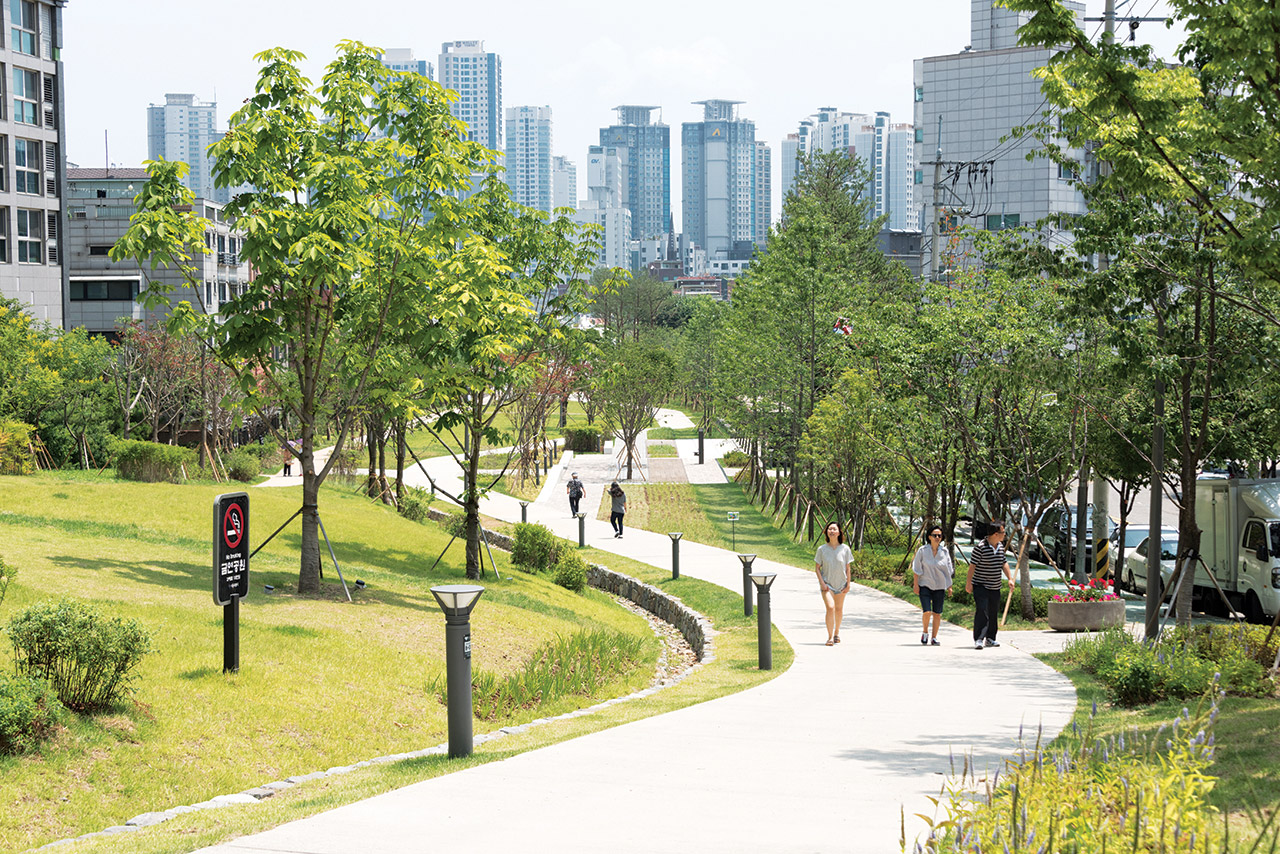 Discovering the newly opened Gyeongui Line Forest Trail
There's nothing like a disused railway line to provoke mixed feelings. Too often, tracks laid using the cutting-edge technology of their time and at a huge human cost are unceremoniously ripped up or left to decay, victim to the supremacy of the automobile. On the other hand, the space formerly occupied by a railway track presents unique opportunities for regeneration, giving rise to recreational gems like New York's High Line park, New Zealand's Central Otago Rail Trail cycle route, and the fabled rail bikes of Gangwon-do.
Gyeongui Line Forest Trail is Seoul's answer to the global trend of reinterpreted railway. Covering a 6.3-kilometer stretch of the old Gyeongui Line, it runs from Gajwa Station in northwestern Seoul towards Seoul Station in Yongsan-gu Ward, terminating near Hyochang Park Station. The ideal length for a weekend afternoon stroll, the trail offers a novel perspective on the city that mushroomed around and along the railway in the turbulent century of its lifetime.
SEOUL explored the stretch of the park that runs between Hyochang Park Station and Daeheung Station.
Abortive beginning
Come out of Exit 4 of Hyochang Park Station (subway Line 6), do a U-turn, then turn right. You'll find the beginning of the forest trail, a freshly created landscape of trees, shrubs and grass punctuated by re-laid pieces of railway track and the clusters of exercise machines found in all Korean parks. The trail meanders up and over Saechang Hill, the site of tribute storage warehouses during the Joseon period (1392-1910). New apartment blocks loom high on its north side, a reminder that the whole area might have been developed were it not for the railway.
As Gongdeok Station approaches, the trail is abruptly blocked by "Harrington Square," a large hotel-cum-office block-cum-mall approaching the final stages of construction. The architects who designed Harrington Square must be given full credit for their forest trail-blocking skills. Luckily, a footpath leads around the mighty square (which isn't a square; it's a big, impenetrable building) and to a main road, traversed by a pedestrian crossing at the junction to the north.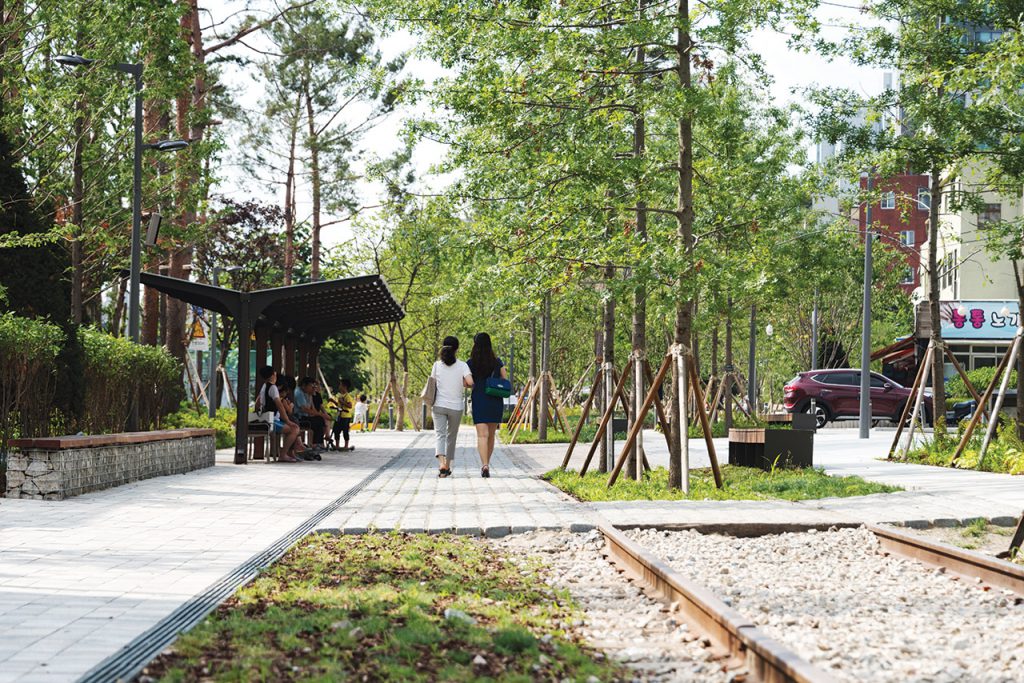 Public space for citizens
Before the forest trail resumes is a plot of land occupied by containers, makeshift buildings and gazebos. This is the Saturday market held at Public Space for Citizens, a unique social enterprise that has stepped in as custodian of the land in a bid to prevent further development. Korea Rail Network Authority had planned to lease the land to a developer, but PSfC moved in and began looking for an alternative.
"We're trying to establish a model for defending public property," says PSfC activist Suh Won. "The law clearly defines the right to private property and how to defend it, but when it comes to public property, people don't have a firm concept of what belongs to them and when it's taken from them."
As things stand, the collection of improvised structures, hand-painted slogans, colorful food trucks and market stalls makes for a great place to explore, grab a bite to eat, chat with activists and maybe pick up a few quirky gifts.
The lack of major roads on each side of the narrow strip provides a relaxing ambience, offering glimpses straight into quiet residential neighborhoods.
Parks and cafés
Beyond the realm of Public Space for Citizens, the forest trail continues. Landscaping work on the trail began in 2011 and was only completed earlier this year, so there's still a freshly transplanted feel to the vegetation, the pine and oak trees buttressed at the waist by wooden beams. But the lack of major roads on each side of the narrow strip provides a relaxing ambience, offering glimpses straight into quiet residential neighborhoods where some surprisingly old houses remain.
To the right of the trail, half way between Gongdeok and Daeheung Stations, is a small collection of renovated hanok (traditional-style houses). Look out for Café the Hanok (커피향 깊은 그 한옥), a café created from a small hanok with its central courtyard space covered. Drop in here for a coffee, juice, or smoothie, or snack on ham and cheese toast, waffles or a bagel. Next door is Café Snail House (달팽이가 그린 집), offering draft beer and snacks.
Head along this mini-hanok block back towards Gongdeok, then turn left at the corner to find La Cour 1912, another converted hanok offering Vietnamese pho noodles in broth, spring rolls and a wide variety of other dishes. Lien's Hanoi homestyle rice with spicy minced pork (KRW 9,000 or KRW 7,000 at weekday lunchtimes) comes highly recommended by SEOUL staff. The friendly Vietnamese waitress points out that this dish is different in every Vietnamese household: the version here is based on that of the owner's grandmother. Chinese dishes are soon to be added to the menu, while the selection of Vietnamese and Thai bottled beers will wash down even the spiciest grilled chicken.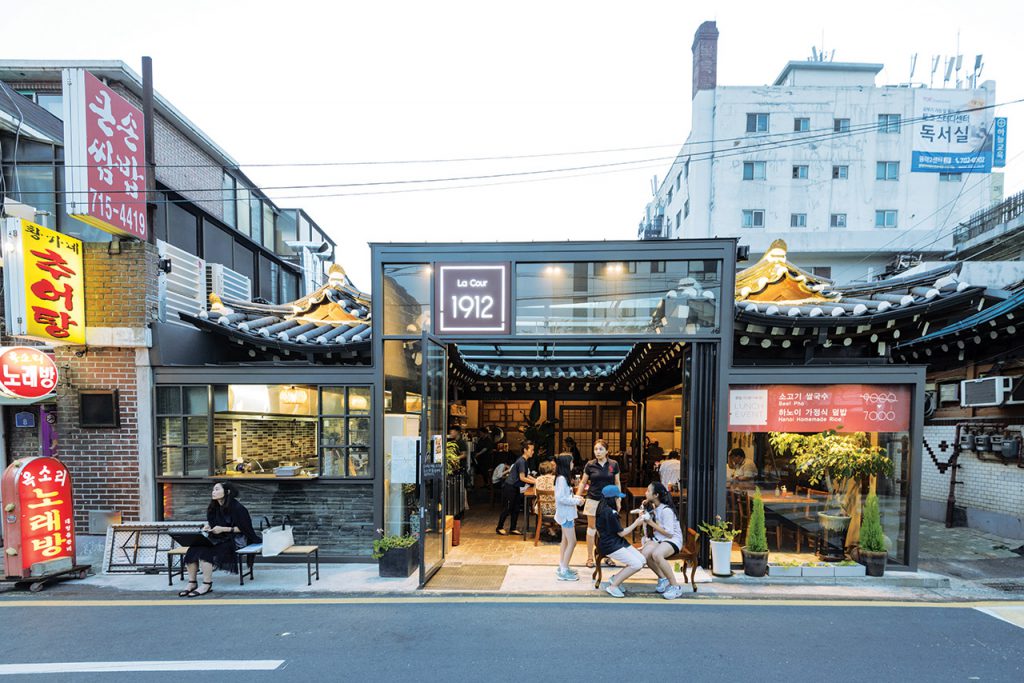 The trail continues northwest, undulating through the strip of railway land. At times, the landscape design feels a little sparse: there's a reason for this. Though the fundamental plan for the trail called for consideration of the history of the Gyeongui Line, culture, ecology and local communities, one of its defining features was the concept of completion through civic participation. While walking and cycling paths were laid and a variety of trees and plants put in, spaces were deliberately left along the length of the strip to encourage local residents to "fill" the rest of the trail with festivals, cultural events and more.
In addition to the aforementioned fragments of line, you'll spot other traces of the railway that once was: pieces of stone embankment, level crossings, the odd run of wooden sleepers – even a signal, waiting in vain to direct the next train from Beijing or Pyeongyang to Seoul. Perhaps one day this will be the beginning (or end) of a walking trail all the way up through a reunified Korea to the Chinese border and beyond – who knows?
The trail continues northwest; just before the road to Daeheung Station intersects it is Café Movin, a quirky combination of café and vintage clothing store in a converted house. Stop here to try on some dresses and shoes if you're so inclined.
Just across the road from Café Movin, in a building up on the southern flank of the trail, is Wood House, a wood workshop offering lessons. You can't drop in here and casually pick up a plane but those interested in joining can call 010-3221-5163.
Towards Yeonnam-dong
Beyond Daeheung Station, the trail continues towards Hongik University Station, some 1.5 kilometers to the northwest. Here, you'll find one of Seoul's most vibrant areas, full of bars, clubs and restaurants pulsing with energy from dusk till dawn. The trail itself enters Yeonnam-dong, a formerly quiet residential neighborhood gradually filling with a wonderful selection of restaurant, bars and cafés. Leaving the trail here and heading into the maze of surrounding streets in search of dinner and a drink is the perfect way to end an afternoon's walk.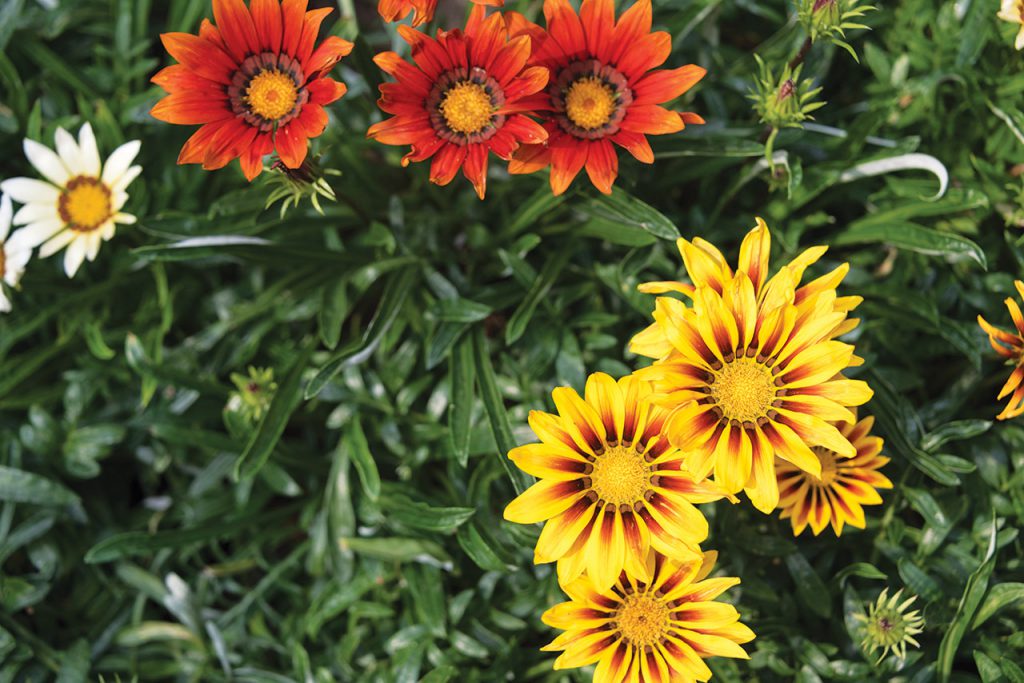 Back at the other end…
If you're walking the trail in the other direction, finish at Hyochang Park Station and head for the park after which it's named. Here, aside from shade and fresh air, you'll find the tombs of the "Three Martyrs," – Yi Bong-chang, Yun Bong-gil and Baek Jeong-gi – who were executed after trying to assassinate the Japanese emperor and other high-ranking officials. Alongside these is an empty tomb, awaiting the lost remains of fellow independence martyr An Jung-geun, who was executed by the Japanese in China's Lüshun Prison. Kim Gu, former independence movement leader and head of the Provisional Government of the Republic of Korea during the Japanese colonial period (1910-1945) is also buried here.
On the way up to the park, on the right, is Madagascar, a café, gallery and studio run by photographer Sin Mi-sik. Sin has a long history of involvement with Madagascar and other African countries; this is a great place to drop into and browse through the collection of photo books here while you enjoy another coffee.
With its quiet tree-lined paths and hidden cafés, Gyeongui Line Forest Trail contains no singular big attractions – rather, it's a hidden slice of green worth exploring when you feel like a relaxing walk through a different part of Seoul.
[wc_box color="secondary" text_align="left"]
Editor's Picks
Guldari Sikdang (T. 02-712-0066)
Hidden behind the AREX's Gongdeok Station, Guldari Sikdang is a local institution that serves some of the city's best kimchi jjigae. Be sure to also order a serving of spicy pan-fried pork, or jeyuk bokkeum, and an egg omelette on the side.
La Cour 1912 (T. 02-702-1912)
Located in an alley just off the forest park between Gongdeok and Daeheung stations, La Cour 1912 is a Vietnamese restaurant in a renovated Korean style home, or hanok, from 1912. The food is good, and the atmosphere even better.
Gyemijip (T. 02-714-7624)
Just a couple of doors down from La Cour 1912, Gyemijip is a hole-in-the-wall pub serving great fried chicken and chips, washed down with a cold craft brew. The window seats are pure bliss on a breezy summer evening.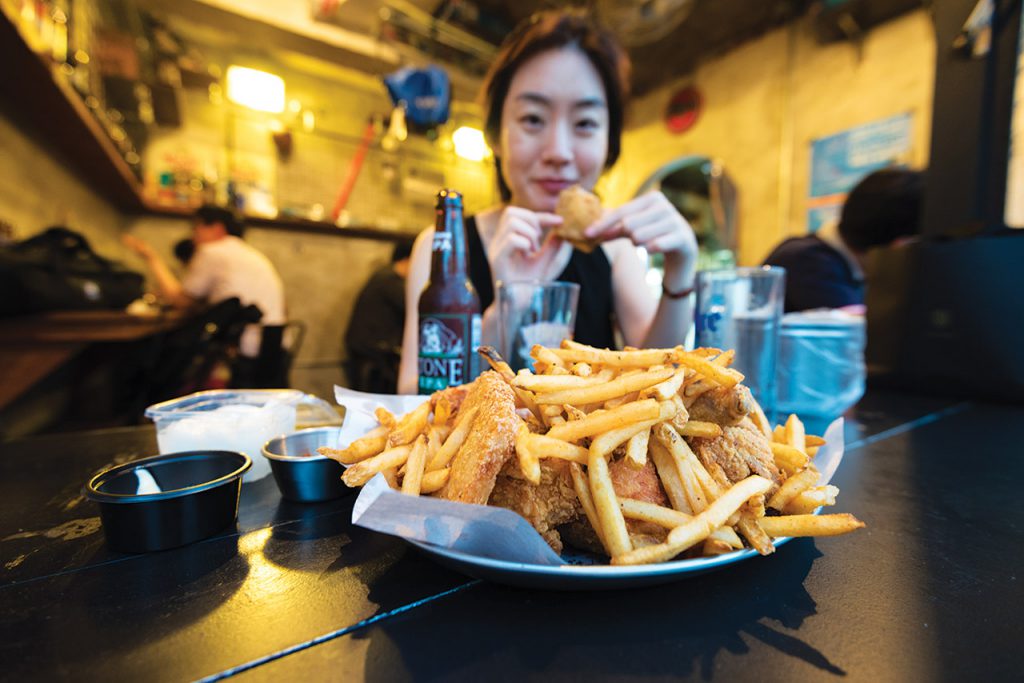 Public Space for Citizens' Food Truck Market
Enjoy good food while supporting a good cause at the Public Space for Citizens' Saturday market. You'll find a number of food trucks here, including the improbably named Jamaica Wasabi, where two Korean rasta fans prepare yakisoba and other Japanese favorites.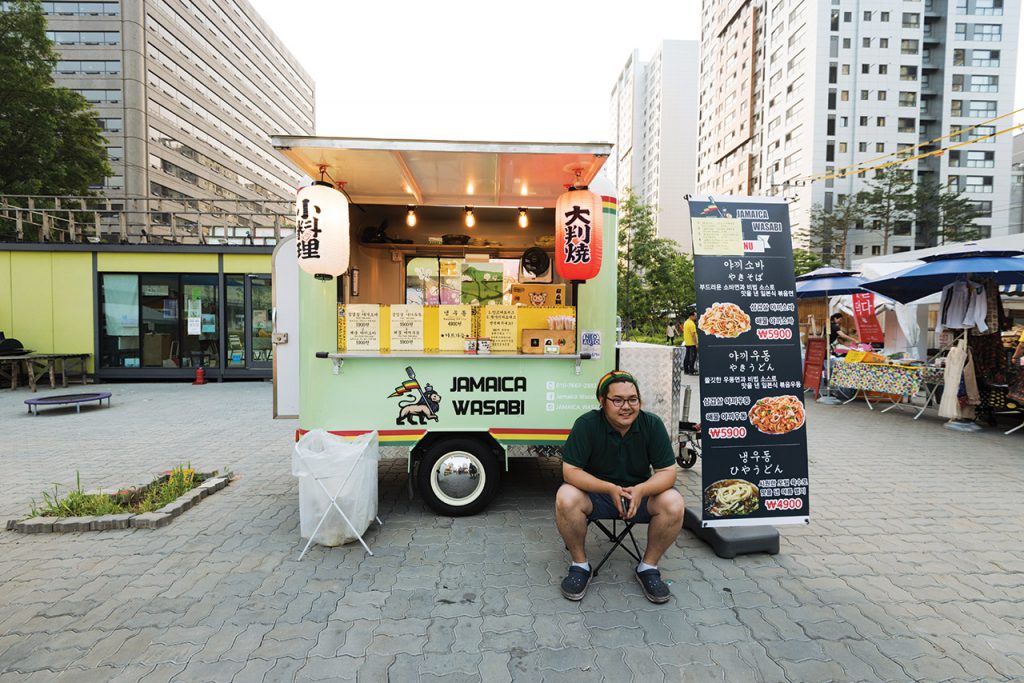 Kim Yakguk Coffee (T. 02-701-4700)
Just next to Exit 2 of Hyochang Park Station, this pleasant little café in an old pharmacy is a relaxing place to caffeinate. They do their own roasting, with three blends available.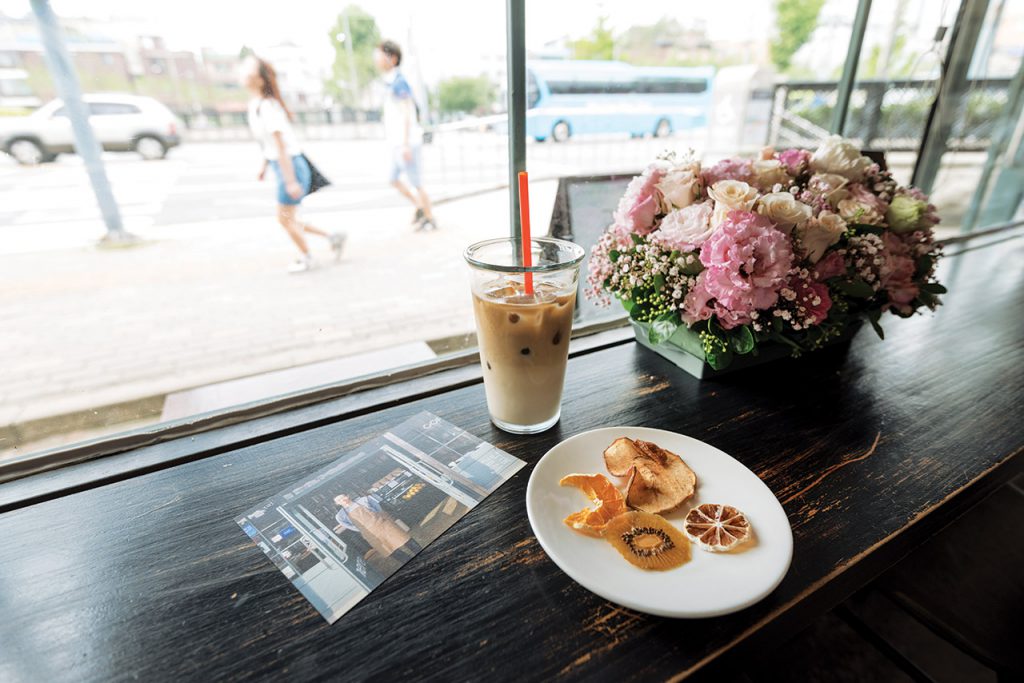 Café the Hanok (T. 02-714-7722)
Not far from La Cour 1912, this charming hanok café with a covered courtyard offers a wide range of coffee and non-coffee beverages as well as some tasty smoothies. If you're hungry, they have bagels, waffles and other snacks, too.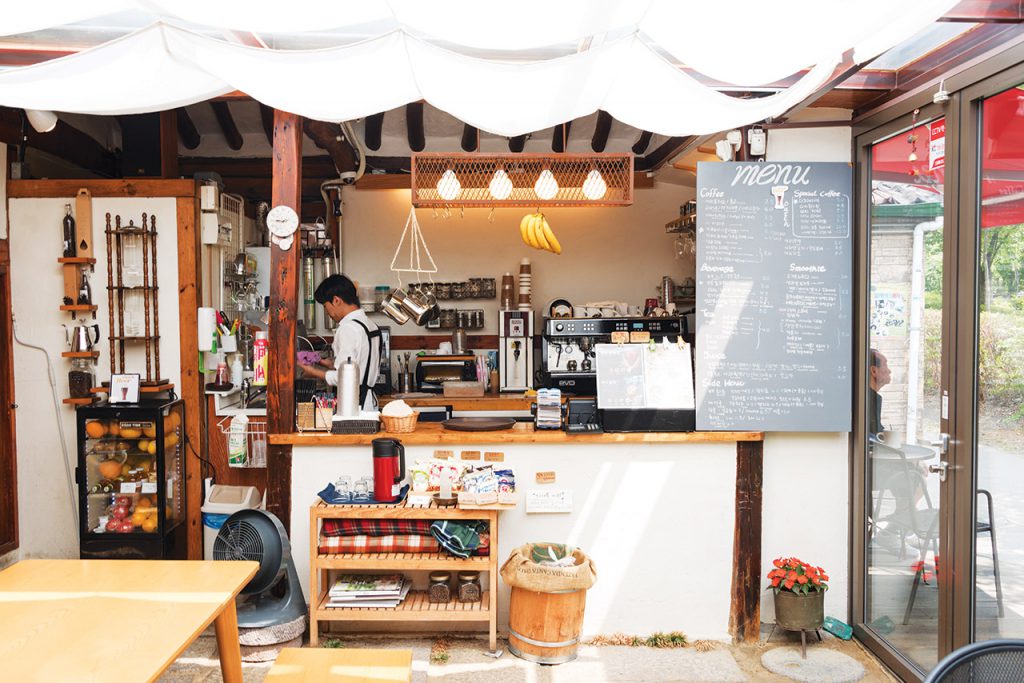 [/wc_box] [separator type="thin"]
More Info
A line through history
Built by the Japanese in 1905, five years before they officially annexed Korea, the Gyeongui Line ran north from Seoul all the way up the western Korean Peninsula to Sinuiju, almost 500 km away on the Chinese border. By the 1910s, three trains each week ran directly from Seoul's Namdaemun to Changchun in Manchuria, providing a connection to the Chinese Eastern Railway and potentially all the way to Europe through the Russian Empire.
The division of Korea into two states, however, led to the severance of the line near the DMZ, making South Korea effectively an island in railway terms – a status it retains to this day.
In 2005, work began on relocating much of the Seoul portion of the Gyeongui Line underground, clearing the path for the forest trail. The Gyeongui Line and Airport Railroad now both run in parallel, under the forest trail.
GO> Hyochang Park Station, Line 6, Exit 4
The park can also be accessed from any of the stations along it: Gongdeok, Daeheung, Sogang University, Hongik University and Gajwa.
Written by Ben Jackson
Photographed by Robert Koehler
https://magazine.seoulselection.com/wp-content/uploads/2016/06/DSC_9265_3.jpg
854
1280
cyn
https://magazine.seoulselection.com/wp-content/uploads/2018/01/Seoul-logo.png
cyn
2016-07-25 17:53:22
2016-07-25 17:53:22
A New Perspective on the City 경의선 숲길