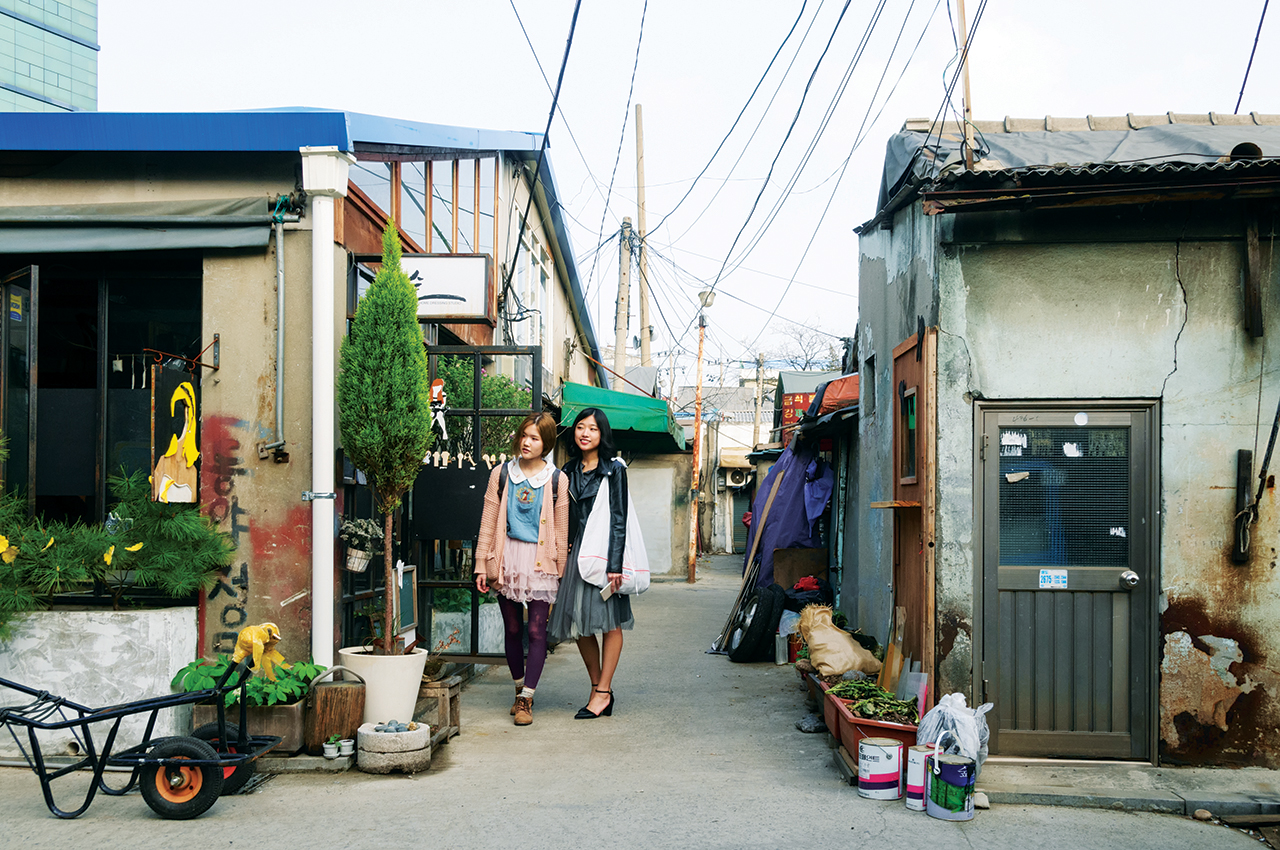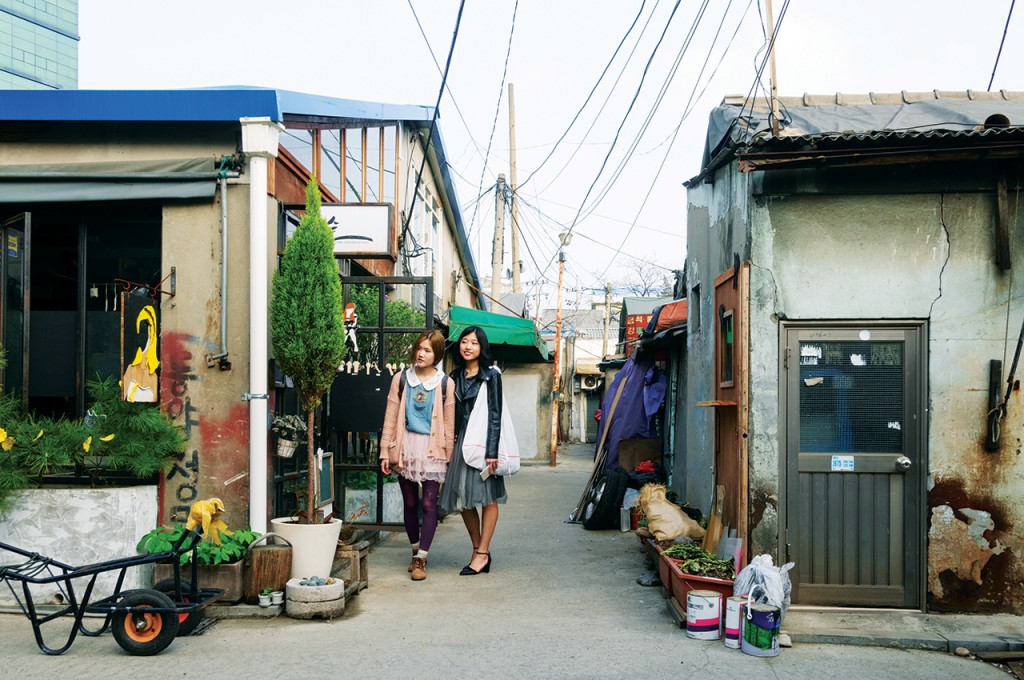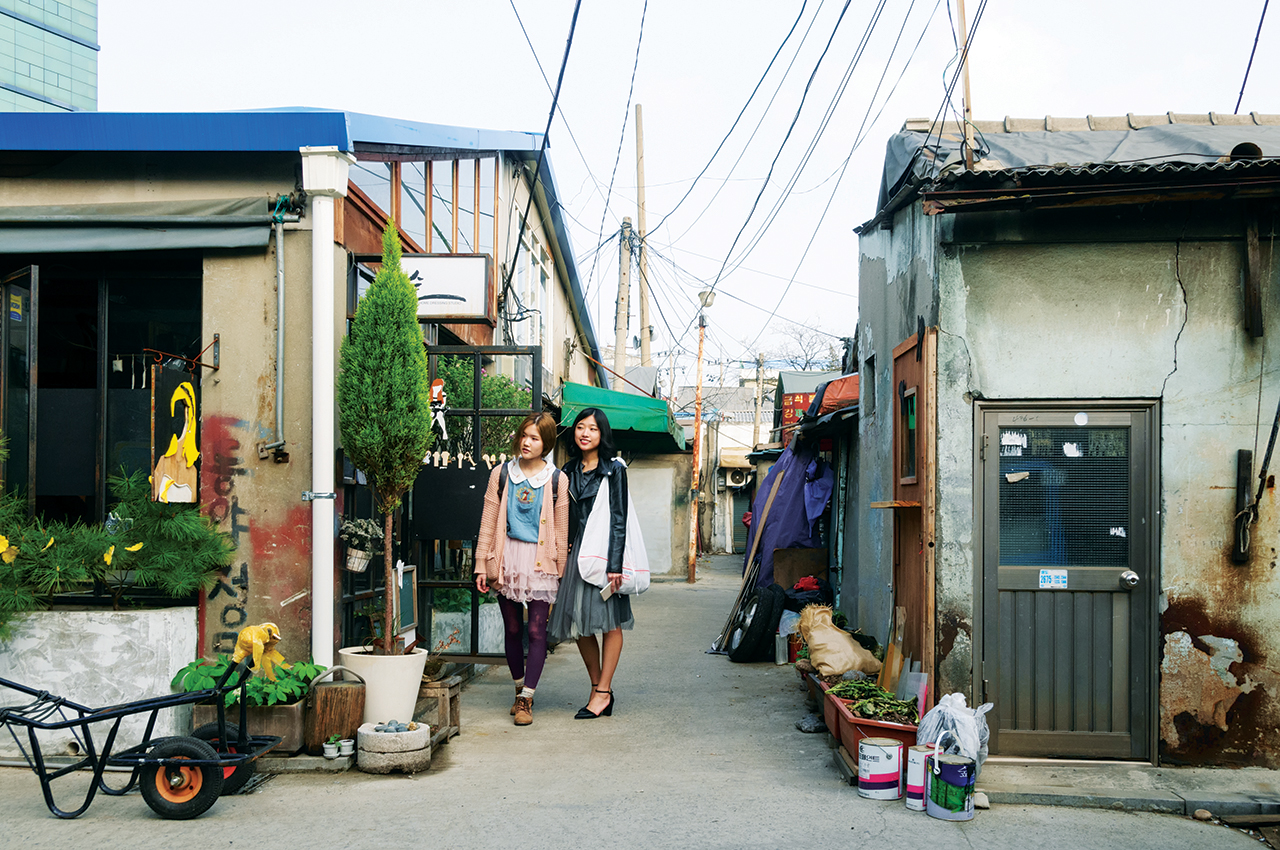 In Mullae-dong, culture thrives in a gritty, urban atmosphere of creativity
A place of extreme urban decay and harsh noise, there's little apparent tourist appeal in this gritty southwestern Seoul district called Mullae-dong. Stray animals wander the dank alleys lined with machine shops, little more than stalls illuminated by sparks and welding torches, their doors stained with graffiti and decades of grime.
In any other historical context, it would be considered ugly. But the shops staffed with surly metalworkers, rather than scaring away the youths, seem to lend authenticity, and younger generations are finding and creating new meaning here.
"Many places are hidden, without neon signs," says Jordan, a French resident staying here. "You can find special places when you directly go. Behind many doors you can see something special."
Mullae-dong's rough charms, low rent and dwindling factory population have provided ample bedrock for a fledgling art community. As working-class businesses check out, the spaces they vacate are filled by a growing network of art venues, concert halls and cafés.
The two communities coexist, aware of each other but seeing little overlap outside of the local corner store, before going their separate ways and heading for homes somewhere else. Likewise, many in the area expect it to be redeveloped sometime in the future, scattering the worlds-apart creative communities formed here to the winds.

Threads of history
A century ago, there were mudflats here, south of the river, far from Seoul. In 1936, the capital, then known as Gyeongseong, annexed the land from the neighboring county of Siheung to build its first planned city south of the river. That same year, a stop on the nation-spanning Gyeongbu Line opened here, called Namgyeongseong Station, today's Yeongdeungpo Station.
Mullae-dong's proximity to water and rail led to a thriving textile industry. The name itself derives from the Korean word for spinning wheel, mulle (물레).
The district's textile industry survived liberation and the Korean War. Its first machine shop opened in 1955. At the time, the country lacked modern steel plants, but President Park Chung-hee's push for self-sufficiency led to the creation of Pohang Iron and Steel Company, now POSCO, way down the peninsula in 1968. Soon, the same train line that had been carrying textiles out now carried steel plates in, supplying the local industry at below-export prices and changing Mullae-dong's character from cloth to steel.
By 2014, an estimated 1,355 small factories were active in Mullae-dong, 86 percent being staffed with under five workers. That number is declining.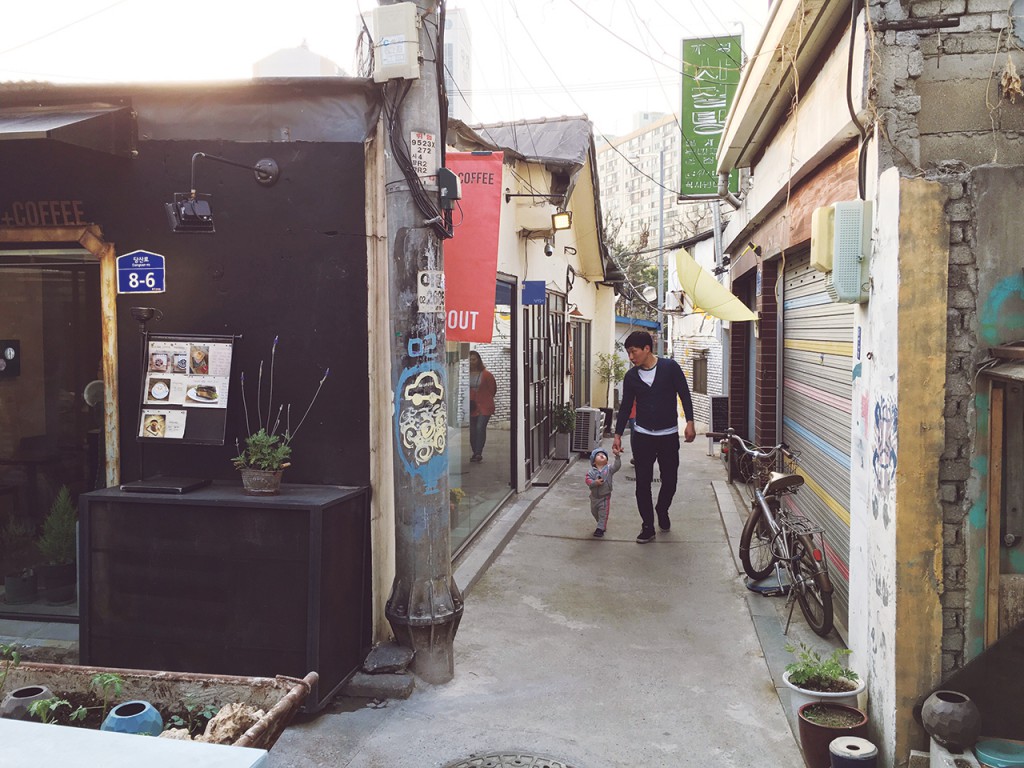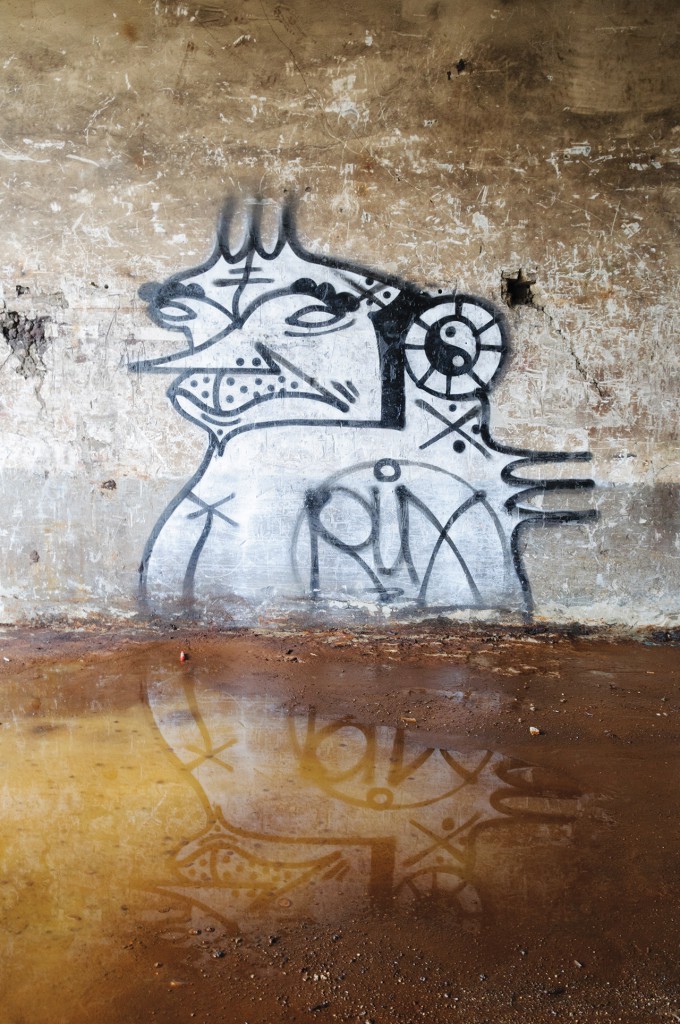 Mullae Art Village today
Today's Mullae-dong is once again evolving due to train connections, only this time it's the subway bringing in artists from Hongdae, the city's main arts and music district. Hongdae, eight minutes north on line 2, is chasing away artists with its gentrification and rising rent.
A Mullae Art Village map reveals many dozens of studios and galleries. Art venues are weaved into the area, interlaced with the aging machine shops. It started with one studio in 2003, accelerating in 2010 with the opening of city-funded support center Mullae Art Factory. In 2014, President Park Geun-hye visited to talk up the "creative convergence" taking place here.
SEOUL visited Mullae-dong on a Saturday, finding the roofs crawling with photography students attracted to the dinge, committing every inch to megapixels. Heavy machinery whirs and buzzes in the shops below, while up above, a DJ collective hosts a rooftop party celebrating the arrival of spring. Over the day, police respond twice to noise complaints there.
"It's not a familiar noise," shrugs party organizer Danja Gunz, who prefers Mullae-dong to more noise-intolerant parts of the city.
"You should switch to industrial music," jokes noisemyulchi, a noise musician who finds inspiration and raw materials here.
Below, coming from one metal shop, it's unclear if the rhythmic clanging comes from machinery or drums.
Cafés, restaurants and galleries do brisk business today. Mimes perform mid-afternoon at Studio QDA.
"Mullae-dong is changing," says Jordan, lounging in Urbanart Guest House's communal area. "You have the old parts and the new. There's this atmosphere like the old times, the old Seoul that you cannot find, as far as I know, anywhere else."
"Mullae-dong is in the early stages of gentrification," says Kyle Decker, an American visiting from Daegu. "What's happening in Mullae-dong reminds me a lot of what is happening on the west side of Chicago." The former Chicagoan describes gentrification there, where working-class neighborhoods attract poor artists, leading to hipsters leading to rich yuppies, raising land value and forcing out the original inhabitants.
A German couple, lodging here with their baby, see another city reflected in Mullae-dong's mix of decaying industry and fledgling artists: their own hometown, Berlin.
"Many foreigners are interested in here, especially Europeans interested in old cities," says Urbanart's owner, the aptly named Singloud Lee, a fixture of Mullae-dong's arts community as well as Korea's heavy metal scene.
Lee plans to open his own new concert venue here, named Mullae Metal City (MMC). "When metalheads come here they really like it," he says. "Everything is metal."
Sure enough, around sunset this day, heavy music lovers descend on the area's two basement concert venues: GBN Live House and Skunk Hell.
 
From metalworking to heavy metal
For Korea's live music community, the allure of a neighborhood that they'd be sharing with loud machinery, not noise-sensitive residents, was irresistible. Accordingly, Mullae-dong has attracted several concert halls catering to the loudest of Korea's musicians.
In summer 2011, Space Moon was opened in a dingy basement by Kim Soju and a German-Korean named Katrin Baumgaertner.
Around that time, members of Jarip Independent Musicians Collective, refugees of Hongdae's gentrifying live music district, opened Lowrise. Flimsy plywood was pressed against windows to ease noise pollution. Lowrise closed after a few years, morphing into today's cozy Urbanart Guest House.
In 2015, Won Jong-hee, vocalist of streetpunk band Rux, relocated his legendary punk venue Skunk Hell to Mullae-dong. He was attracted by Space Moon's success and envisions turning the area into a live music cluster, allowing underground musicians to finally abandon Hongdae. "I hope there's like 20 clubs in this street," he said.
Recently, Space Moon was bought out by Taiwanese-Korean Lee Yuying, known for making doom metal, noisecore and grindcore with his bands Gonguri, Sulsa, KJP47 and Little Puppy Princess. The venue reopened as GBN Live House this January, quickly becoming a fixture of local hardcore, metal and punk.
Tonight, Skunk Hell hosts a metalcore festival titled Jump Over the Line with six bands of various genres suffixed with -core.
GBN Live House offers 19 bands for KRW 5,000, with the caveat that each band only has 10 minutes to play before the buzzer sounds. The shortest act plays less than 10 seconds and the weirdest is a gimpsuited figure growling over electronic beats and throwing punches. The crowd, an energetic mix of locals and foreigners on stage and in the audience, count down with the timer as each band's 10 minutes expires.
"This is one of the coolest shows I've ever (expletive) been to in my life!" shouts Jesse Barnett, drummer of U.S. hardcore band Stick to Your Guns, from behind the drumkit. He played for DFTS alongside veteran hardcore musicians from Korea, Australia and France, tonight only, staging their first, last and reunion show in under 10 minutes on the Mullae-dong stage.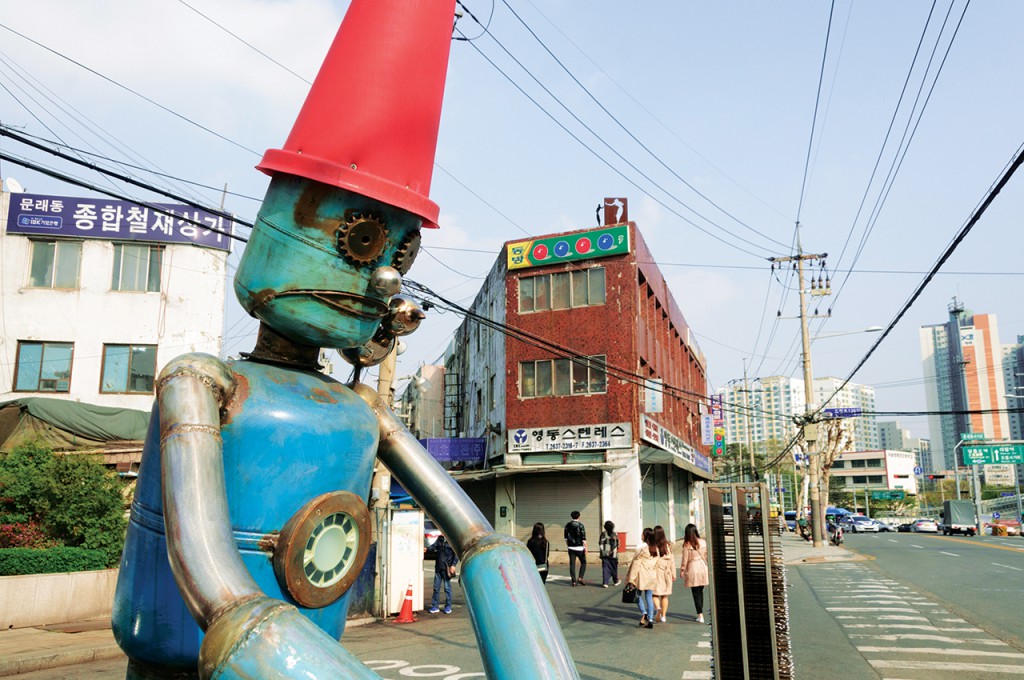 Transitory convergence
Across the alley, punks and metalheads gather outside a corner store, occupying seats that hours earlier held metalworkers coming off shifts.
Inside, the owner kindly sells them beer and reflects on her four decades here. She bought this land and built up her business, handing it to her son 10 years ago. She doesn't think her area will be redeveloped, due to the high number of individual landowners. Either way, it doesn't really matter to her, and the artists aren't having much effect on the area's future. "Mullae 2-ga and 4-ga, with buildings left over from the Japanese occupation, will be redeveloped someday. Here, Mullae 3-ga, I dunno."
The fading metalworking community isn't bothered by the loud music and spreading street art, content with minding their own business, though sometimes irked by intrusive visitors aiming cameras their way.
Singloud Lee, who published a district-funded book on the metalworkers in 2014, has advice for those looking to make contact: "Buy metal, ask them about their lives."
"They just do their work and we try not to look at them to make it normal," says Jordan.
"I buy them beer, they buy me beer, we're becoming friends," says Skunk Hell owner Won Jong-hee. "With all these young people coming in, their comment was 'I feel alive.'"
[separator type="thin"]
More info
A local favorite is Yeongil Bunsik (T. 02-2636-9817), a ramshackle hole-in-the-wall noodle joint that has been serving properly done kalguksu for nearly five decades. A renovated old home hidden in an alleyway, Comma Mallang (T. 010-4645-2639) is a cozy café specializing in family-style cooking. For something a bit more Western, try Yankees Burger (T. 070-7758-6263), where the house specialty is the Mullae Burger, a beef patty topped with mushrooms, salami and cheddar cheese and served on a ciabatta bun.
If you're feeling a bit dry, stop by the the self-described "Korean-style wine bistro" CHACHA (T. 02-2631-3378), a converted machine shop where you can enjoy a very reasonably priced glass of house wine with Korean favorites like gimbap, tteokbokki and sundae.
Walk straight from Exit 7 of Mullae Station (Line 2) until you reach the Mullae Park Intersection. Swing a left and keep going until you see "Moon Robot," a blue metal statue with a bright red hat. This marks the entrance of Mullae Art Village. After that, the best thing to do is just start exploring.
Written by Jon Dunbar
Photographed by Robert Koehler
https://magazine.seoulselection.com/wp-content/uploads/2016/04/DSC_0562_hj.jpg
850
1280
rjkoehler
https://magazine.seoulselection.com/wp-content/uploads/2018/01/Seoul-logo.png
rjkoehler
2016-04-27 09:31:06
2016-04-27 09:31:06
City of Art and Industry 문래동