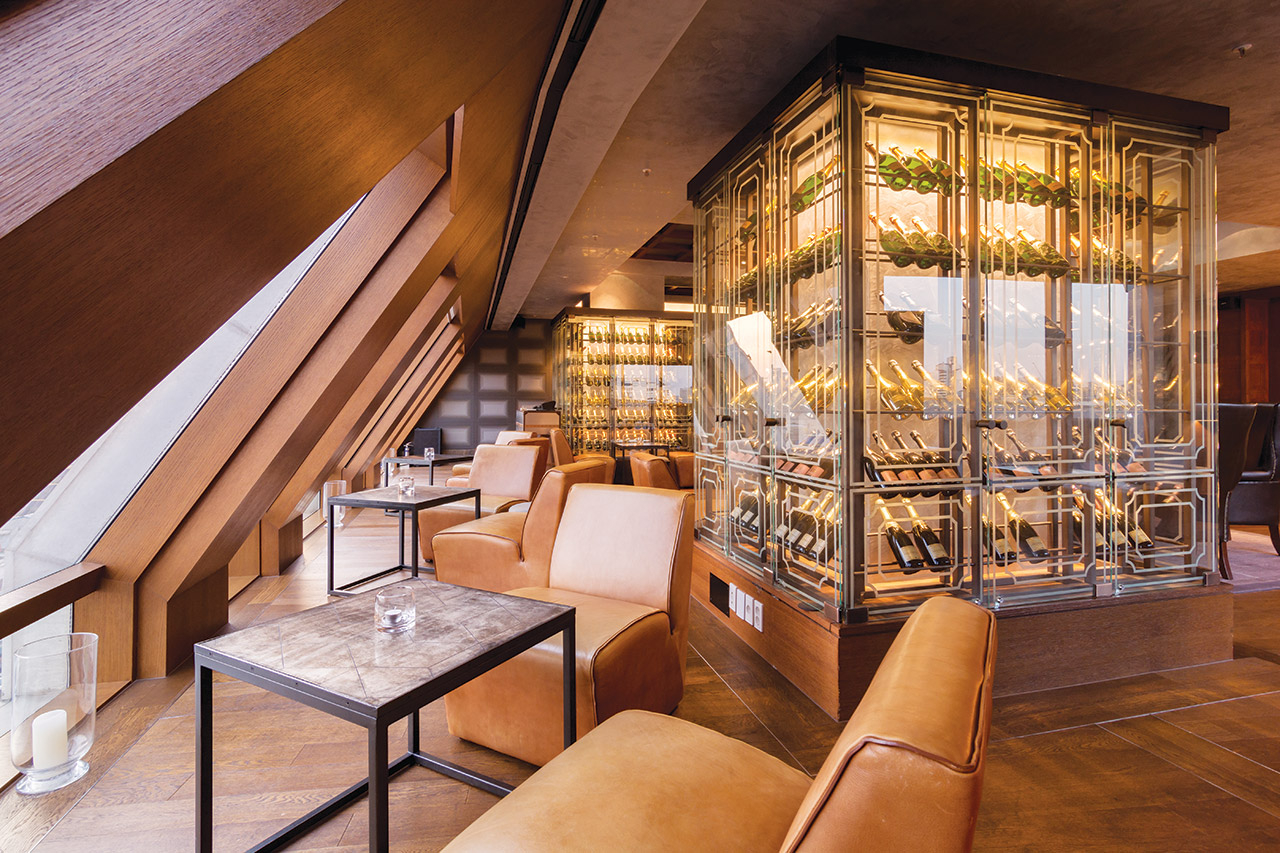 See the next generation of luxury at the city's five-star hotels
Good drinks are everywhere, but good drinks with great hospitality are harder to find. With atmosphere and personality to spare, the signature bars at Seoul's three newest five-star hotels are pushing the city's scene to a new level by turning the simple drink into a full-blown luxury experience.
37 Bar at Conrad Seoul Hotel (콘래드 서울 호텔)  
Yeouido 여의도     
One of the best views in Seoul, day or night, can be found in the financial district of Yeouido at the luxurious Conrad hotel. What makes it even better are the private booths at Conrad's 37 Bar–located on the 37th floor, they face straight out over Han River and let you soak in the skyline with zero interruptions.
To complement the romantic view, the bar's menu focuses on its heavily European wine list. One great steal is the seasonal "sommelier's wine flight", which offers six glasses for KRW 50,000. The dreamy "Point of View" cocktail series is also wine-based, and worth trying.
37 is further distinguished by its food, which is prepared by British chef David Mitford. His restaurant across the hallway, 37 Grill, specializes in grilled meats, so 37 Bar's dishes follow suit. The BBQ pork sliders, grilled Thai prawns, chicken skewers are all finger-licking good–but even the complimentary curry popcorn manages to show off the chef's creativity.
For ladies, you won't want to miss this part: every Wednesday, 37 offers all lady visitors one free drink from the "Glam Night" menu. No second drink, or any other purchase, required. View and alcohol, totally free. There are 11 cocktails and four types of wine to choose from, so it's definitely worth stopping by…maybe every week!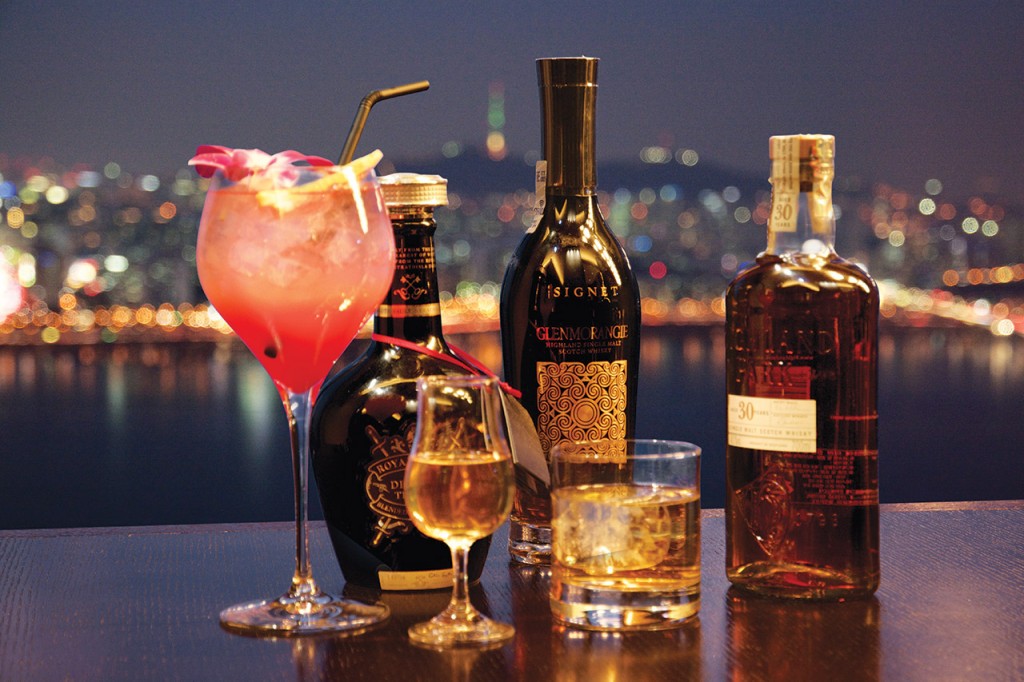 Griffin Bar at JW Marriott Dongdaemun Square Seoul (JW 메리어트 동대문)    
Dongdaemun 동대문       
A close runner-up for best view might be Griffin Bar of the JW Marriott Dongdaemun Square. This city-center hotel sits across from Seoul's historic fortress gate Dongdaemun. The view from the 11th floor bar juxtaposes the handsome landmark with the bright lights of the 24-hour Dongdaemun textile market around it.
The Griffin Bar is quietly graceful, with an ancient-meets-modern vibe that comes from both its view and its menu. The head bartender Ethan Kim is an a multiple award-winning mixologist. He blends high-quality Korean spirits with contemporary ingredients for elegant cocktails that are unique, without being flashy.
One of the most popular drinks, the Arirang, combines the savory traditional spirit Munbaeju with blue liqueur and garnishes that turn it into a blend of blue, red, white, yellow, and black – which happen to be obangsaek, the traditional Korean color spectrum. Another cocktail, the Dongdaemun Sling, uses the premium soju Hwayo as its base.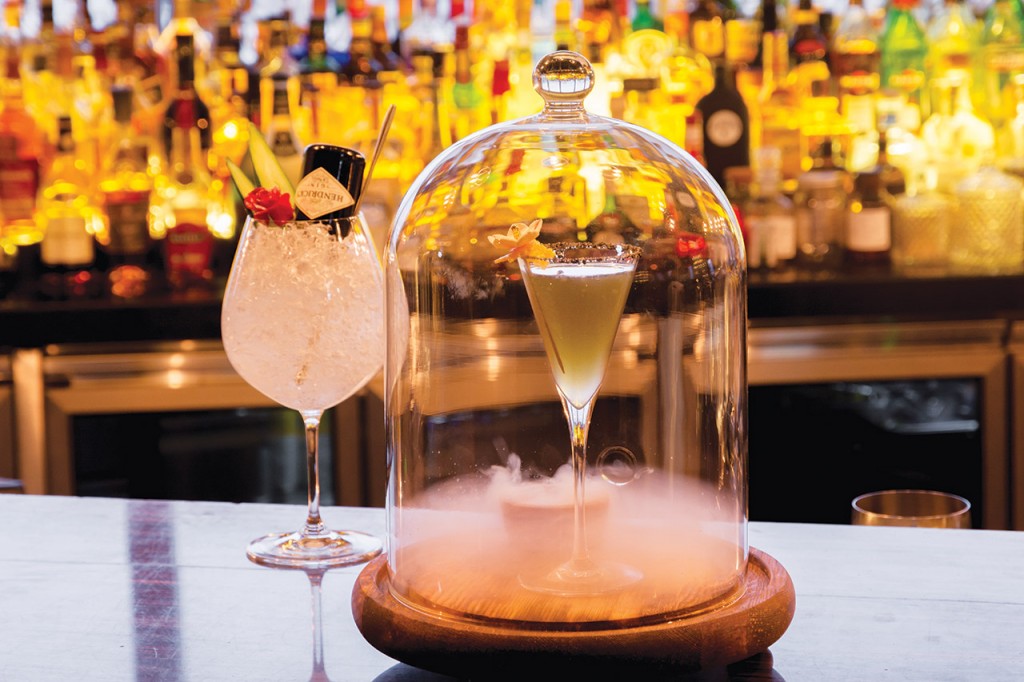 Charles H Bar at Four Seasons Hotel Seoul  (포시즌스 호텔 서울)  
Gwanghwamun 광화문           
While there's no view, cocktail connoisseurs and history buffs alike will probably have the most fun at Charles H Bar at the new Four Seasons Hotel Seoul. A visit to this speakeasy throwback plays out like a grand game of time-travel pretend–from staff to menu to service, everyone is in on it.
What really impresses is the menu, which is a detail-filled work of art. It begins by introducing the bar as "a love letter to history's greatest bon vivant expat Charles H. Baker, Jr." Each section that follows is an homage to Charles' travels, which took him from New York to Shanghai, Cairo, Havana and beyond. And each drink has its own origin story, many of which date back nearly a hundred years.
While Charles H. presumably never had a drink in Seoul, Korean ingredients have snuck their way into the cocktails–check out the heukcho pomegranate vinegar in "Sins of the Flesh", or the Kyoho grape molasses in "Bazaar Encounter". Questions about the drinks should be directed post-haste to the bartenders, who are all charming, witty, and knowledgeable. If you're lucky, head bartender Christopher Lowder – of New York's NoMad hotel fame – will be on hand to say hello.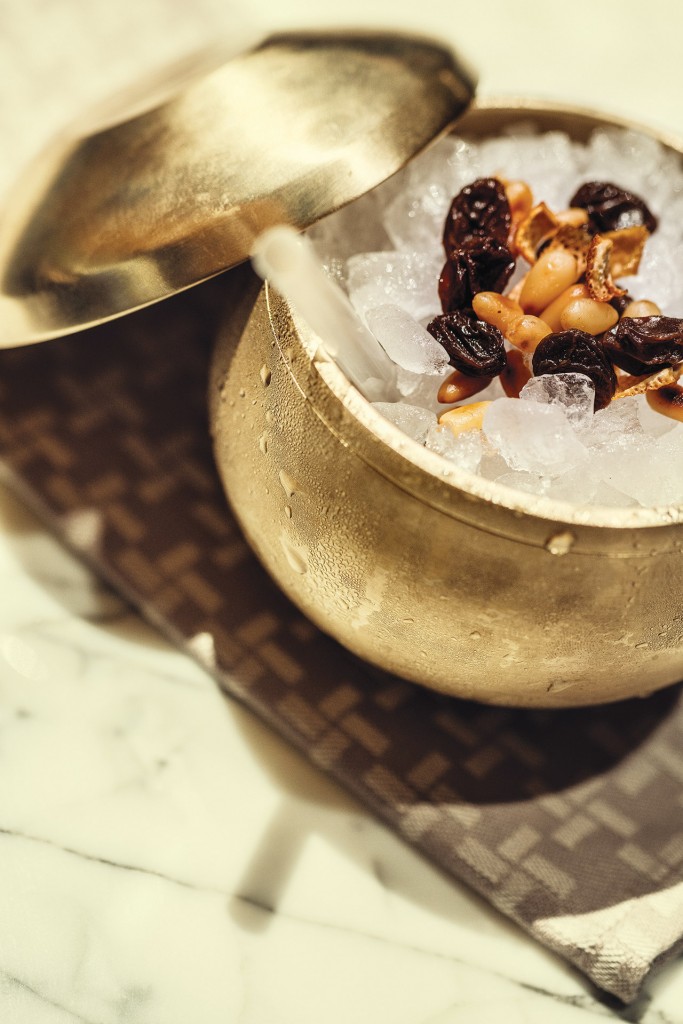 [separator type="thin"]
More Info
37 Bar at Conrad Seoul Hotel
23-1 Yeouido-dong, Yeongdeungpo-gu / T.02-6137-7000
Sun -Wed 11:30 AM-0:00 / Thu-Sat
11:30 AM-1:00 AM
www.conradseoul.co.kr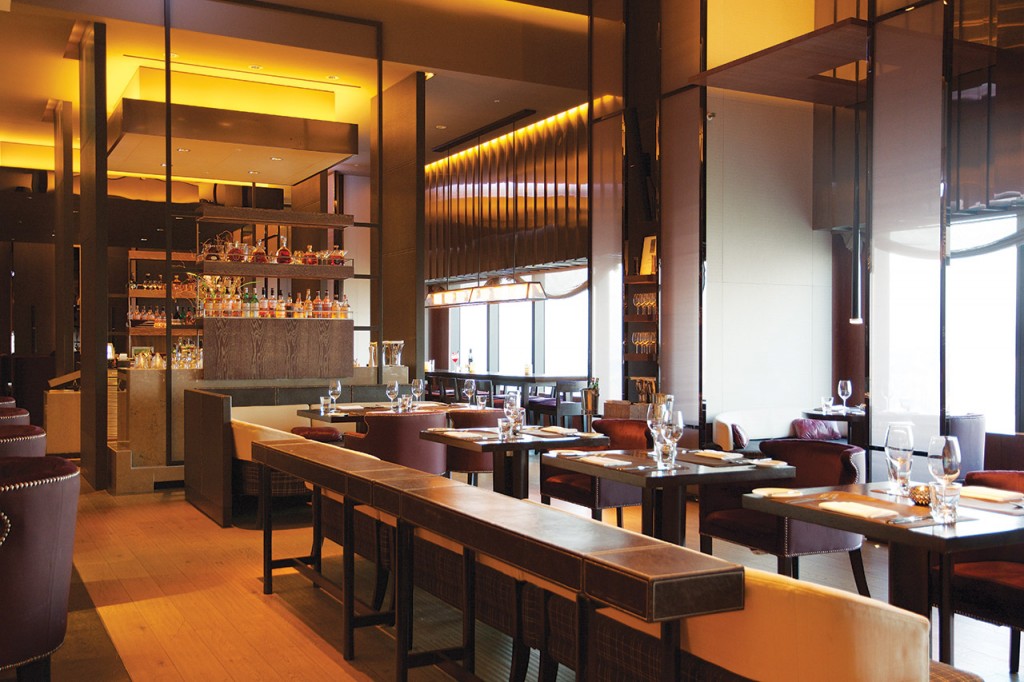 Griffin Bar at JW Marriott Dongdaemun Square Seoul 
279 Cheonggyecheon-ro, Jongno-gu / T.02-517-4650
Mon-Sat 6:00 PM-2:00 AM
www.facebook.com/jwmarriottdongdaemun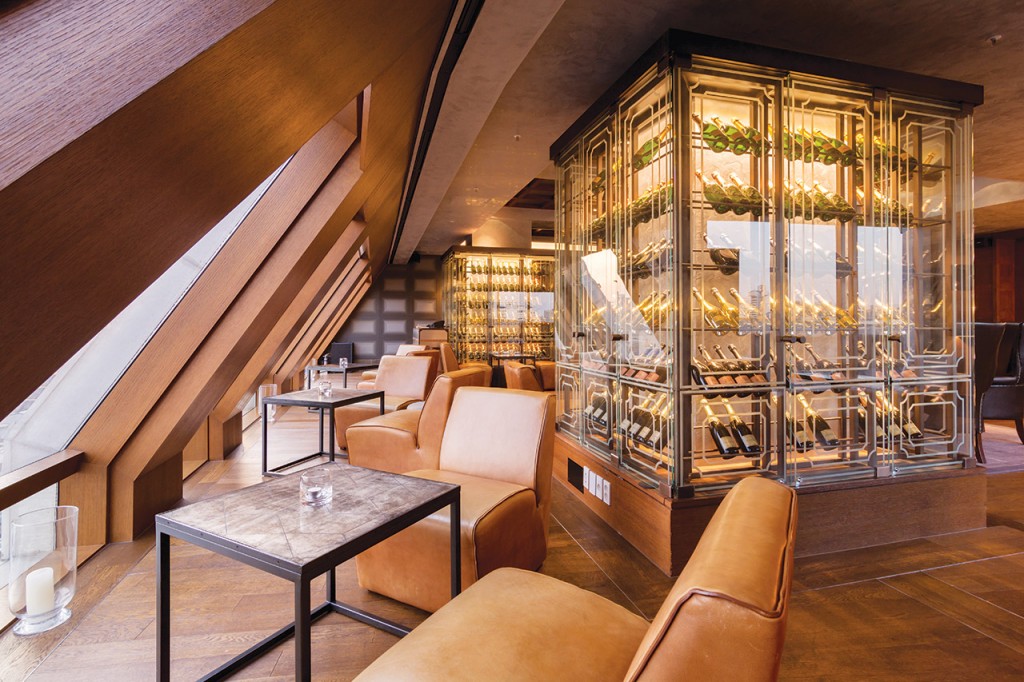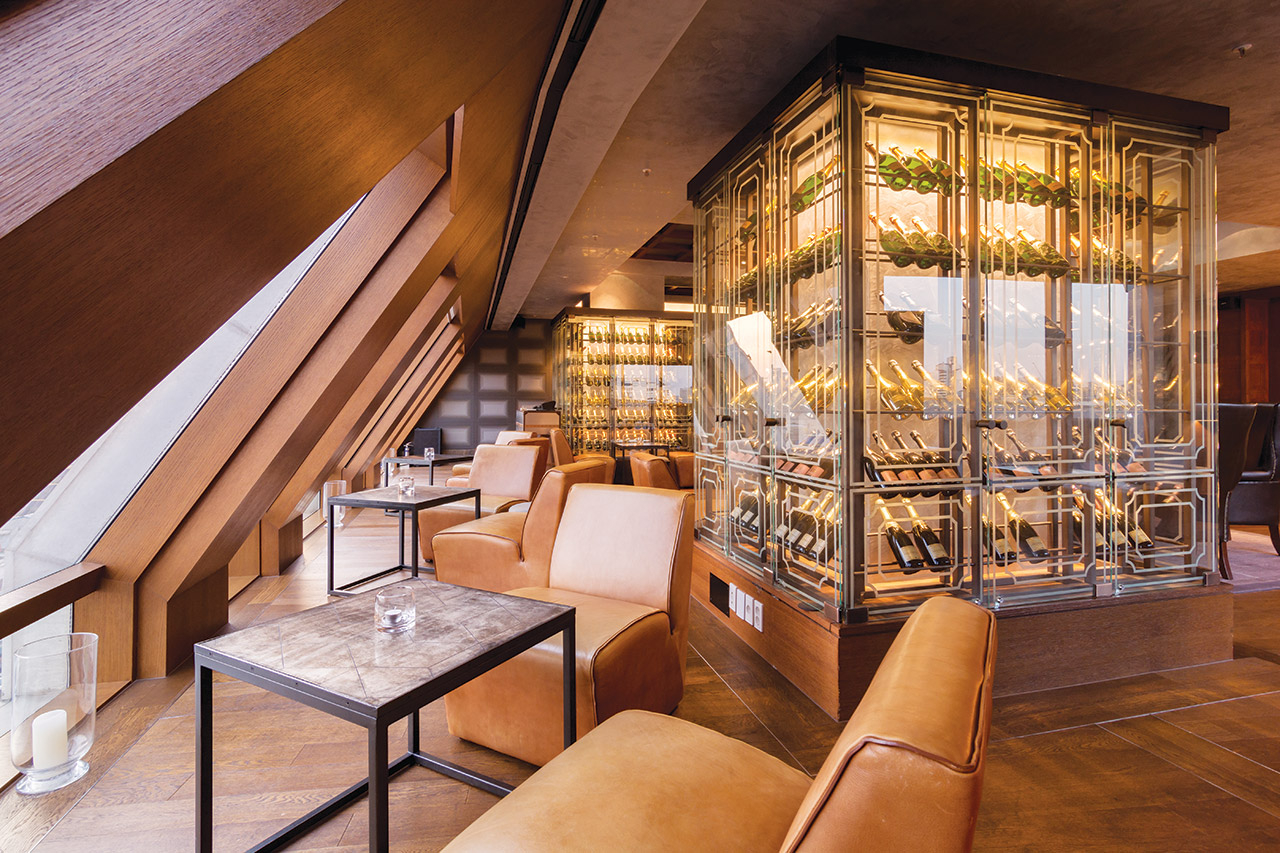 Charles H Bar at Four Seasons Hotel Seoul
97 Saemunan-ro, Jongno-gu / T. 02-6388-5000
Mon-Sun 6:00 PM-3:00 AM
www.facebook.com/FourSeasonsHotelSeoul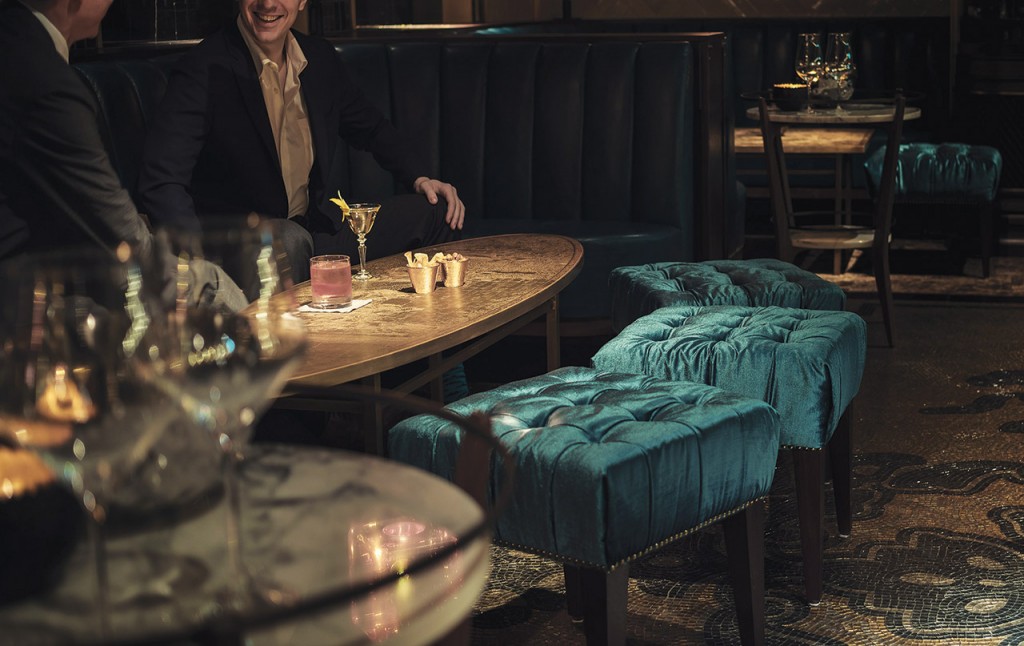 Written by SEOUL staff
Photographed by Romain John
https://magazine.seoulselection.com/wp-content/uploads/2016/03/RJP_2541.jpg
853
1280
cyn
https://magazine.seoulselection.com/wp-content/uploads/2018/01/Seoul-logo.png
cyn
2016-03-26 18:49:47
2016-03-26 18:49:47
The New Guard of Hotel Bars