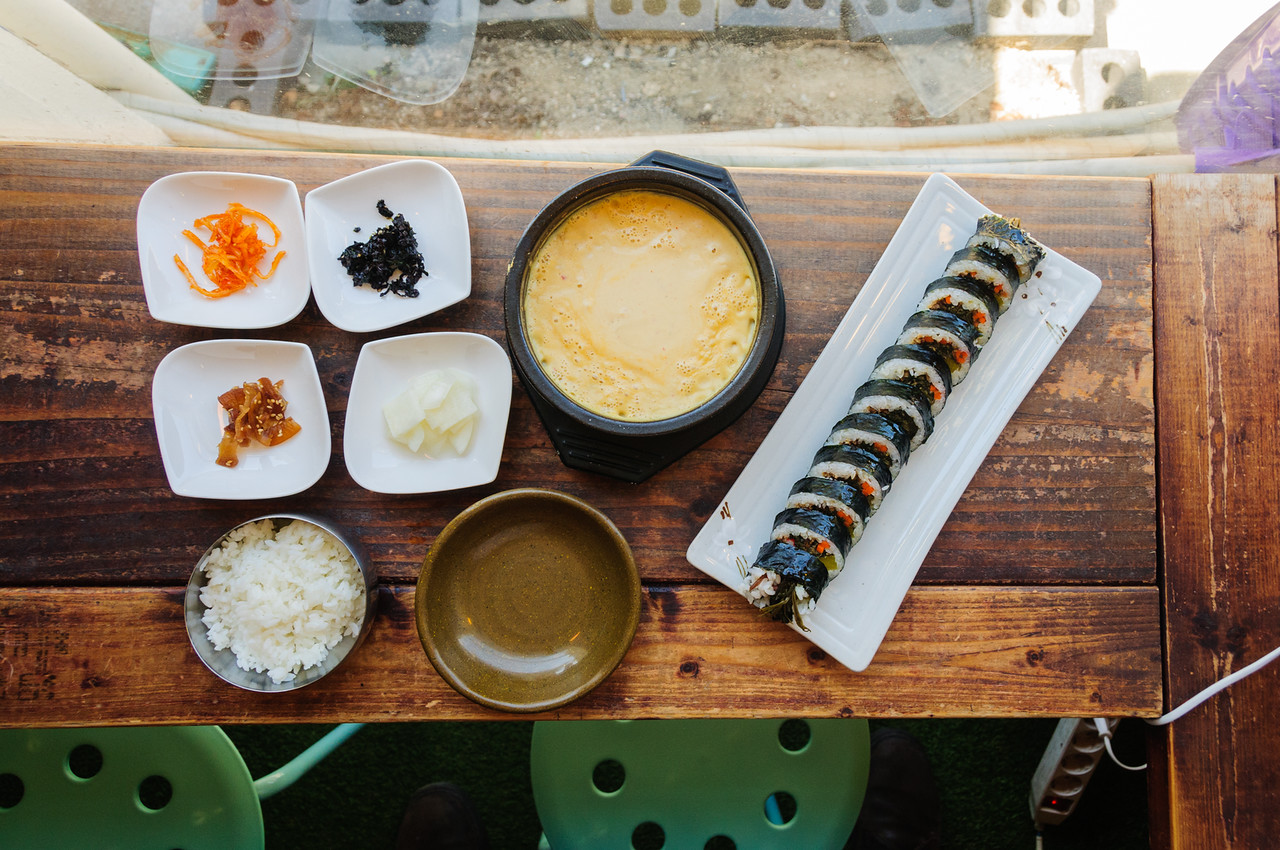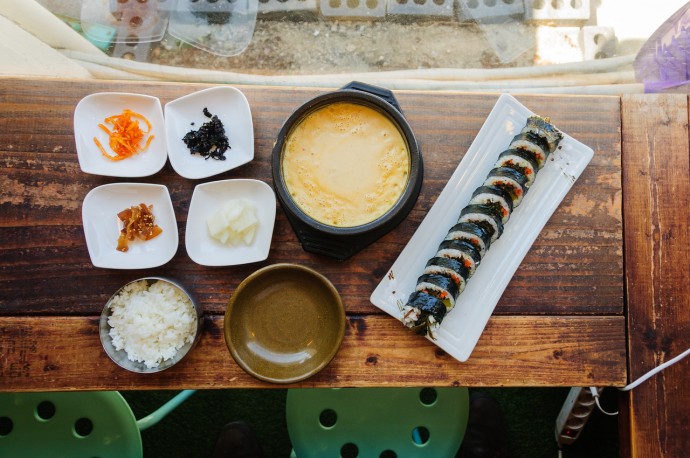 Damn fine gimbap, noodles and kongbiji stew at a Samcheong-dong hole-in-the-wall
Samcheong-dong is full of chic, stylish cafes and restaurants, but one of its best dining spots is also one of its most unassuming.
Hidden in the alley just behind the landmark Museum of Modern and Contemporary Art (MMCA), Joseon Gimbap used to be one of the neighborhood's hidden gems. Then it got discovered by local foodies, so now it's just a gem. A humble old home with barely enough space to fit 20 people, Joseon Gimbap does only three things, which you can read on the menu written on the T-shirt that hangs in front of the entrance – gimbap, kongbiji and old-fashioned guksi noodle soup. But what it does, it does exceptionally well, favoring basic, honest flavors over provocative spices.
The gimbap here is no joke – the rolls are heavy enough to double as police batons and stuffed with goodness. It comes in two varieties. The first, Joseon Gimbap, adds a handful of dried cabbage leaves, or ugeoji, to the base of ham, pork, pickled radish, sliced carrot, odeng and egg, resulting in a roll with a simple, honest-to-goodness flavor. The second, the Odeng Gimbap, has a four-ply of odeng, or Japanese-style fish cake, with a dash of wasabi – it's got a bit of a kick, but not too much. Each roll will set you back KRW 4,000 (KRW 3,500 for takeaway).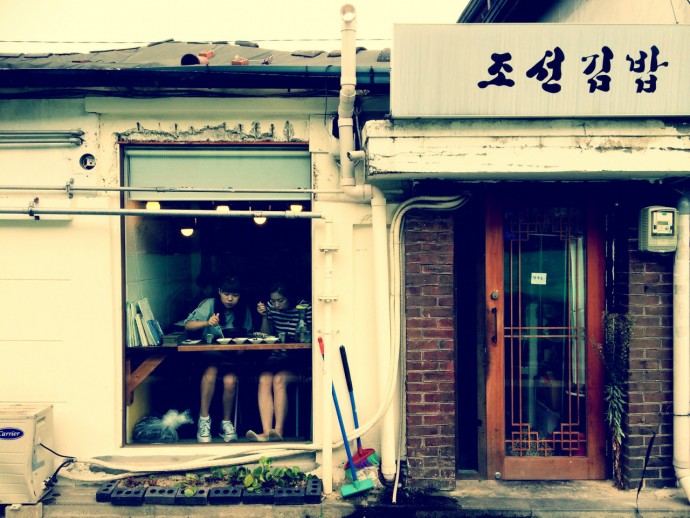 Although the gimbap is the star of the show, the kongbiji and guksi noodle soup are well worth ordering, too. Kongbiji is a creamy stew made from ground soy beans. Joseon Gimbap adds a bit of pork to its, adding richness to an already rich dish. It's got that stick-to-the-ribs quality that makes it a perfect warm-me-up in winter. The guksi noodle soup, meanwhile, is served in a soybean soup, or doenjangguk, and has a nice, subtle flavor.
The old house has been left pretty much as-is, hanok-style roof rafters and all. It gives the place a rustic charm, and watching people through the window can be a relaxing experience. That said, don't expect a lot of leg room, and you may have to wait a bit during peak hours. Also, be sure to get your order right the first time – they don't take additional orders once you've begun eating.
MORE INFO
HOURS: Lunch: 11:30-15:00, dinner: 16:30-19:30, closed Sunday
PRICE: KRW 4,000-7,000
TEL: T. 02-723-7496
GETTING THERE: A short walk from Exit 1 of Anguk Station (Line 3). See map below.
https://magazine.seoulselection.com/wp-content/uploads/2015/09/DSC_1617-X2.jpg
850
1280
rjkoehler
https://magazine.seoulselection.com/wp-content/uploads/2018/01/Seoul-logo.png
rjkoehler
2015-09-21 15:39:55
2015-09-21 15:42:19
Joseon Gimbap (Samcheong-dong)