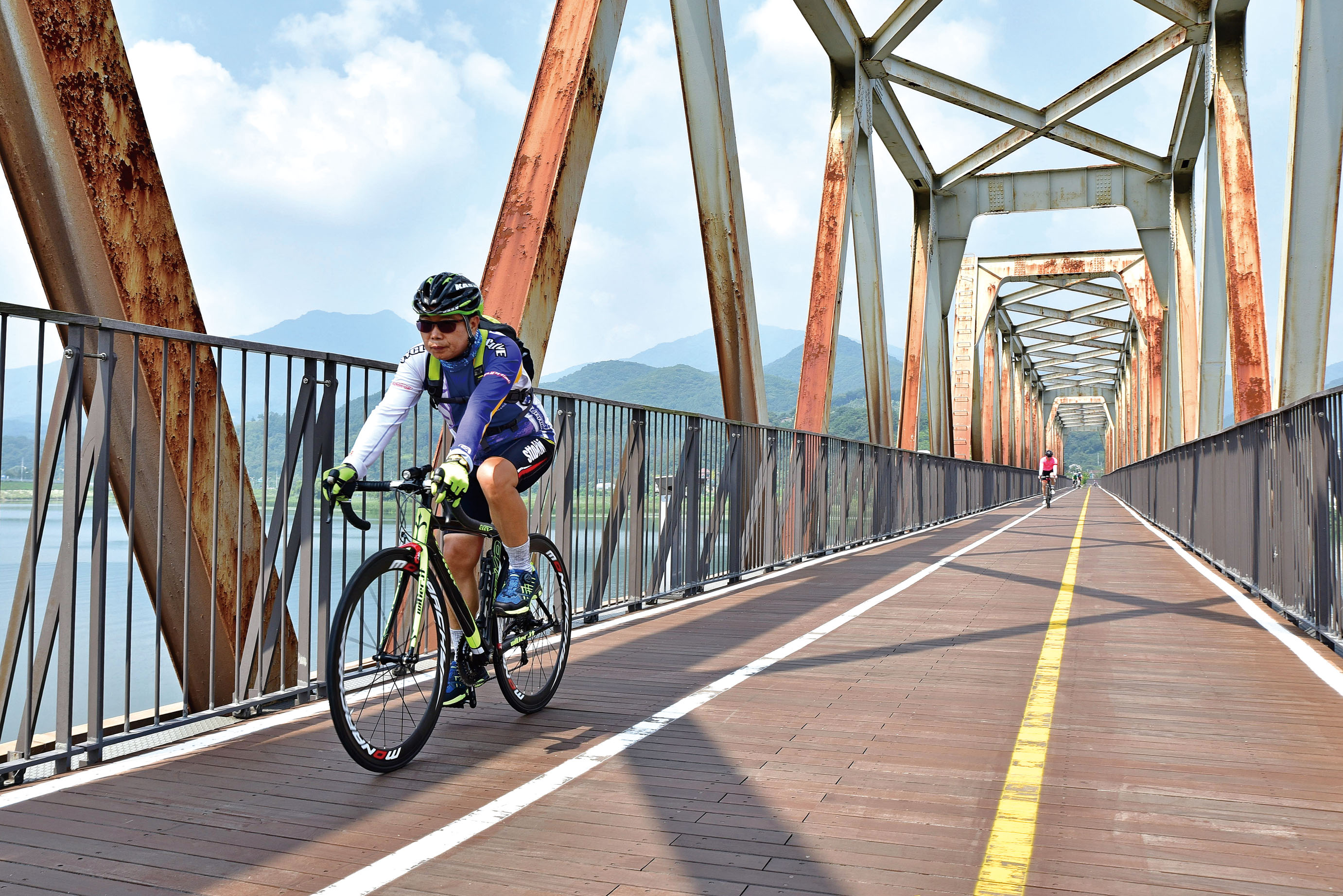 Exploring Seoul's scenic Hangang Valley on two wheels 자전거로 보는 서울
Swaggering Hongdae hipsters in skinny pants slowly glide past back alley bars on colorful, fixed-gear track bikes. Hardcore halmoni hammer haphazardly along. DJ harabeoji treats passersby to a sampling of old-school trot music blaring from his phone speaker. Weekend warrior ajeosshi parade between makgeolli breaks, showing off their highly individualized titanium mountain bikes. Gaggles of ajumma flock together during weekdays for neon spandex-clad processions with their cycling clubs. An occasional one-man parade drifts by with a continuous wave of his hand while bristling with political regalia – colorful helmet-mounted pinwheels and artificial flowers. Wayward waygookin of all shapes, colors and sizes roll solo between the groups, each with his or her own story and place to go.
It's just another day on Seoul's bike paths.
'Every time I see an adult on a bicycle I no longer despair for the future of the human race.'
H.G. Wells
Among those who opt to ride bicycles with any sort of regularity, most will say that there's nothing else quite like it. While the slow pace of walking gives you the opportunity to really drink in your surroundings and experience the sounds, smells and sights along the way, distance and range are limited by the slow pace. Driving by motorbike or car allows you to see and experience more sights and a larger swath of landscape over longer distances, but is less enriching without the sensory stimulation. Cycling, however, is just right. Riding a bike allows you to spontaneously slow down and listen to the sounds of a piano practice spilling out from a second-floor window, stop and smell the roadside wisteria on a warm spring day or choose to lower your head and try to beat your fastest time on a 100 km ride. The pastime offers the perfect balance between scope and focus, speed and sensory input, breadth and depth of experience. Not only is cycling fun, healthy and invigorating, it helps save the planet and makes cities and neighborhoods better places to live.
'Work to eat. Eat to live. Live to bike. Bike to work.'
Unknown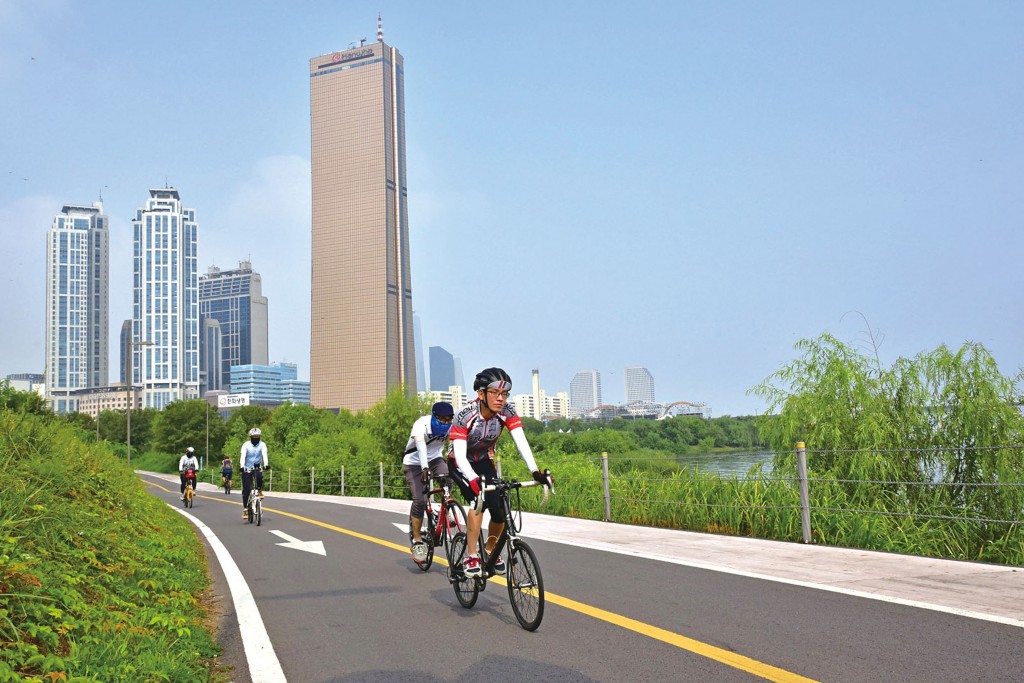 Get out and ride!
Seoul is nothing if not defined by its topography. Just as the entire country is hemmed in and ordered by jagged peaks, crenellated ridges and rolling foothills, the concrete and steel of this modern megalopolis spills out between and around the rugged terrain surrounding it. Like many countries in Asia, Korea's mountains put serious parameters on its staple food – rice – creating rivers that provide a perennial supply of water used to irrigate lowland rice fields. Flat, scenic and safe from traffic, these waterways also offer perfect places to ride bicycles. Whether you're exploring the city and its environs or need a fast, practical way to commute to where you are going, the network of paths along the area's rivers is a great resource.
Bike infrastructure in Seoul has come a long way over the last five years, with the government having invested trillions of won in bike paths and infrastructure in both Seoul and around the country. The most celebrated route is the Four Rivers Bike Path, an interconnected series of routes utilizing abandoned railway alignments and waterways around the country. In Seoul, the main attraction is the great Hangang River, a confluence of the Namhangang (South Han River) and the Bukhangang (North Han River). All branches of the Han offer great cycling routes and interesting places to visit along the way.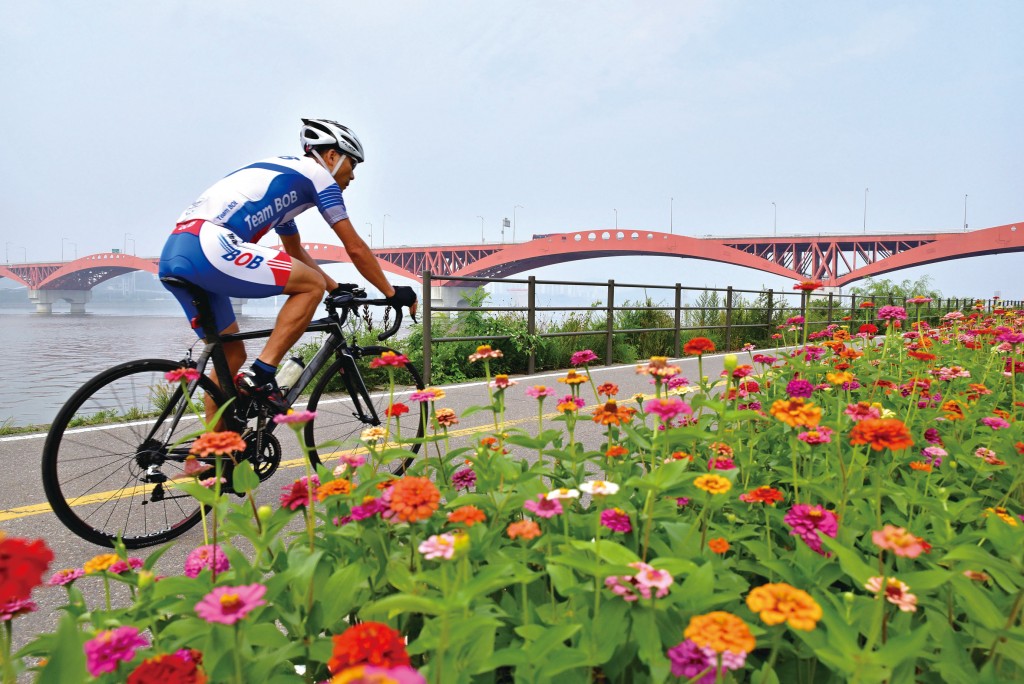 Pedaling practicalities
By combining the subway and bicycle, an infinite number of riding options begin to open up. Riders can access the outlying countryside where there are fewer cars and more beautiful roads, or do one-way rides with a return on the subway. Subways are always a good contingency to have if you get tired, run out of time or have a mechanical problem. Most subway lines designate the first and last car for bicycles, and though bikes are only allowed on the subway on weekends, it is possible to us some less crowded lines during off-peak hours.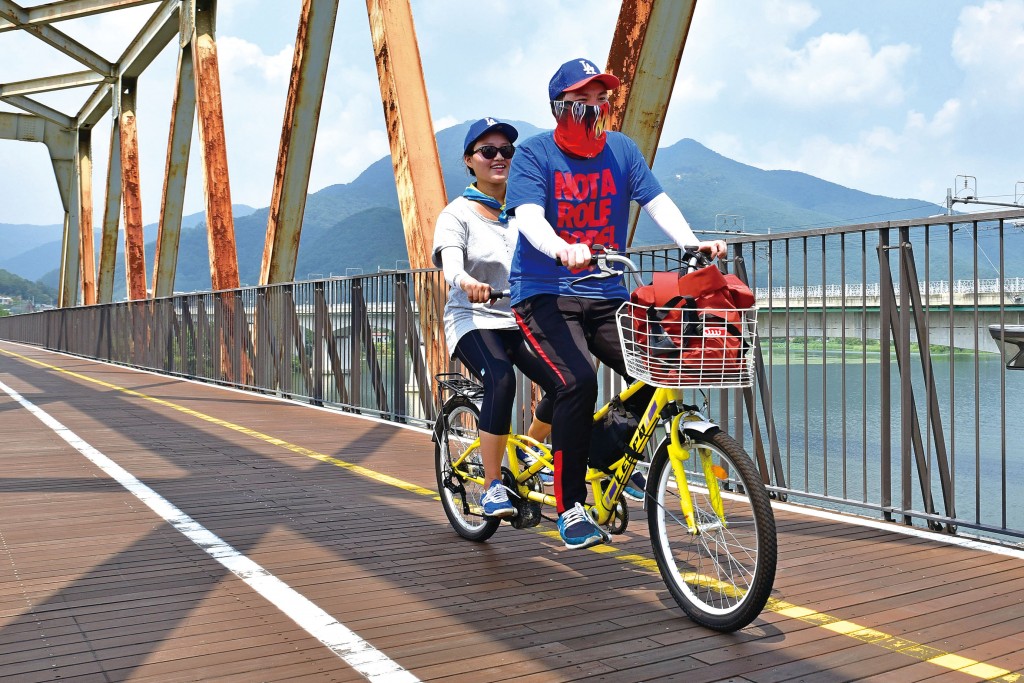 Rent a bike
Seoul offers free and paid bike rental centers around town, and the government plans to make even more locations available in the future. There are over 12 rental kiosks inside the Hangang River park area, and the city has opened several free, self-serve bike rental places outside designated subway stations. The city now has over 125 bike-sharing stations in total providing around 3,000 bicycles across the city. See the map and box on p. 9 for more information.
Buy a bike
As cycling gains popularity, state-of-the art bicycles are becoming less of a status symbol and more of an affordable commodity. Korea's local brand, Lespo, has several entry-level models at affordable prices, while Giant, a Taiwanese manufacturer, is easily the best value in Korea. The latter brand makes bikes at every price point, from budget to full-carbon professional race bikes. Buying a used bike also makes sense for beginners. Check out Craigslist (seoul.craigslist.co.kr), or join a local cycling Facebook group to see who's selling. For those who are serious about commuting, a decent folding bicycle with a rack is very useful, as they allow you to ride the subway anytime and you can bring them anywhere.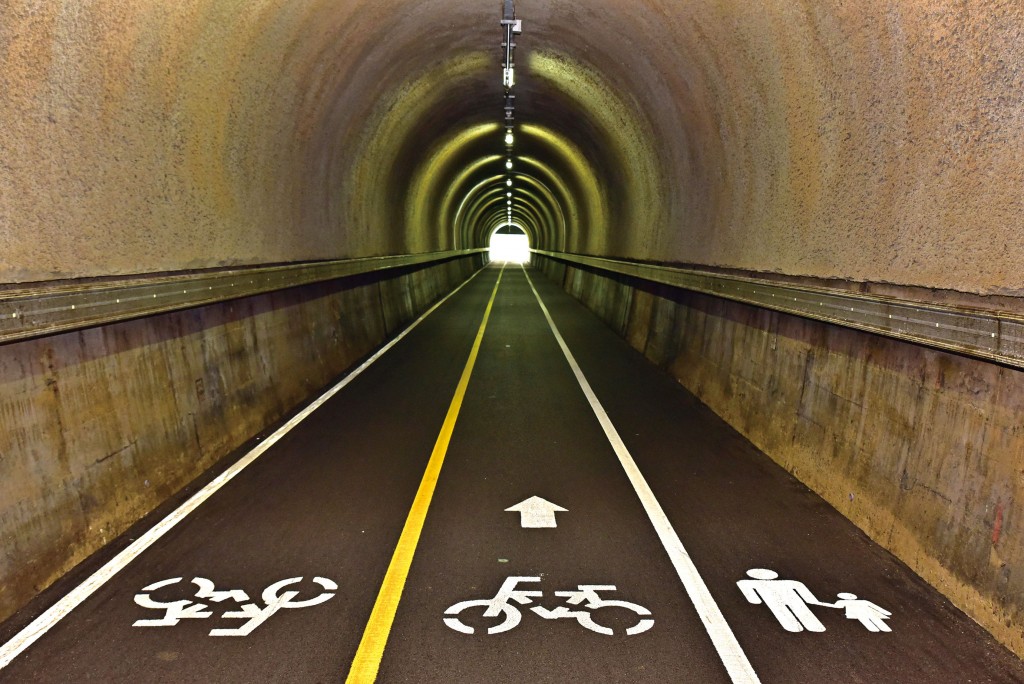 Stay safe
With over 10 million people in the Seoul metropolitan area, the bike routes can get busy, especially on weekends. Aside from a bike helmet, the most important piece of safety equipment is between your ears. Look ahead, anticipate dangerous situations and ride defensively. Although the routes are designated and marked as bikes only, there are many pedestrians crossing and walking along the side of the paths and children playing nearby. Buy a bell for your bike and use it often, and don't be afraid to use your voice to alert people that you are coming. Accidents on the paths do happen, but with a reasonable amount of caution, they can be prevented.
Get connected
Most bicycle shops organize weekly group rides and would be happy to give you information. There is a very active foreigner bike community in Seoul. Check out Facebook groups such as the Han River Riders or MTBK. One Saturday a month, there is a group ride known as Bike Party Seoul that involves an evening party on wheels that rolls through the city, replete with colorful LED lights, trailer-mounted sound systems and crazy costumes. Visit their Facebook page for more information.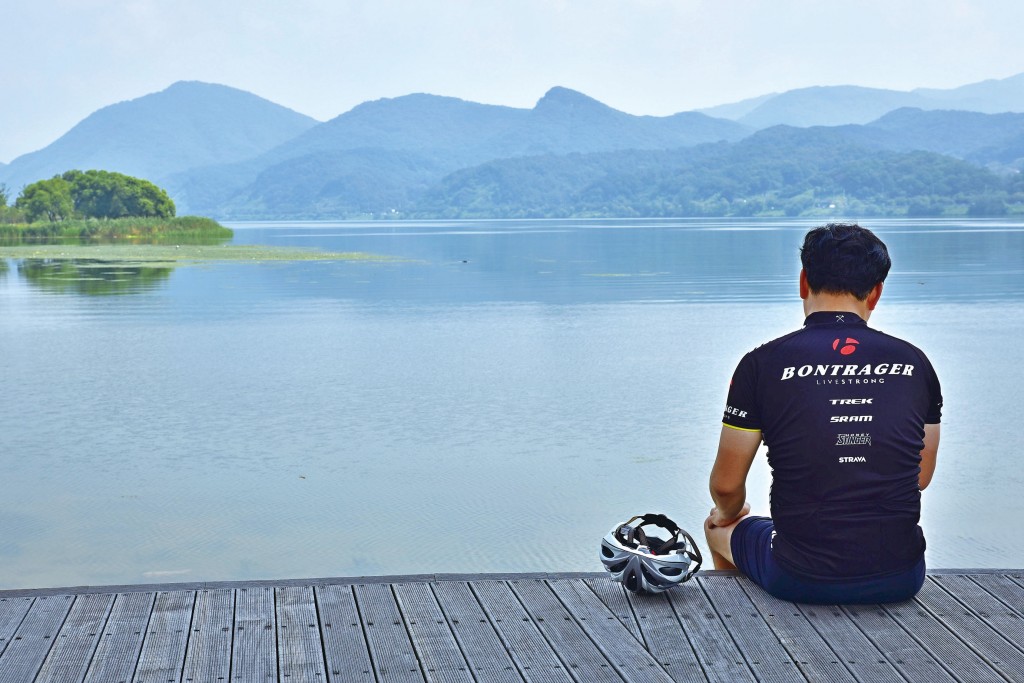 Riding forward
Seoul has big plans for the future of cycling. Seoul Mayor Park Won-soon has built a reputation for being a strong advocate for bikes, and the government is modeling its future plans on other bike-friendly cities such as Paris, London, Amsterdam and New York. To fully reap the true social and environmental benefits of bicycles, however, people should use them for transportation and commuting and not just for recreation. Bike commuting reduces traffic congestion and pollution, makes the city safer and more livable and helps people be healthier. Today, only 2 percent of the Seoul population commutes by bike, a statistic the government wants to raise to 10 percent by 2020. While there are many cultural and economic factors that will make this goal challenging, these won't stop people from riding their bikes for fun, freedom and fitness, and that's the most important thing.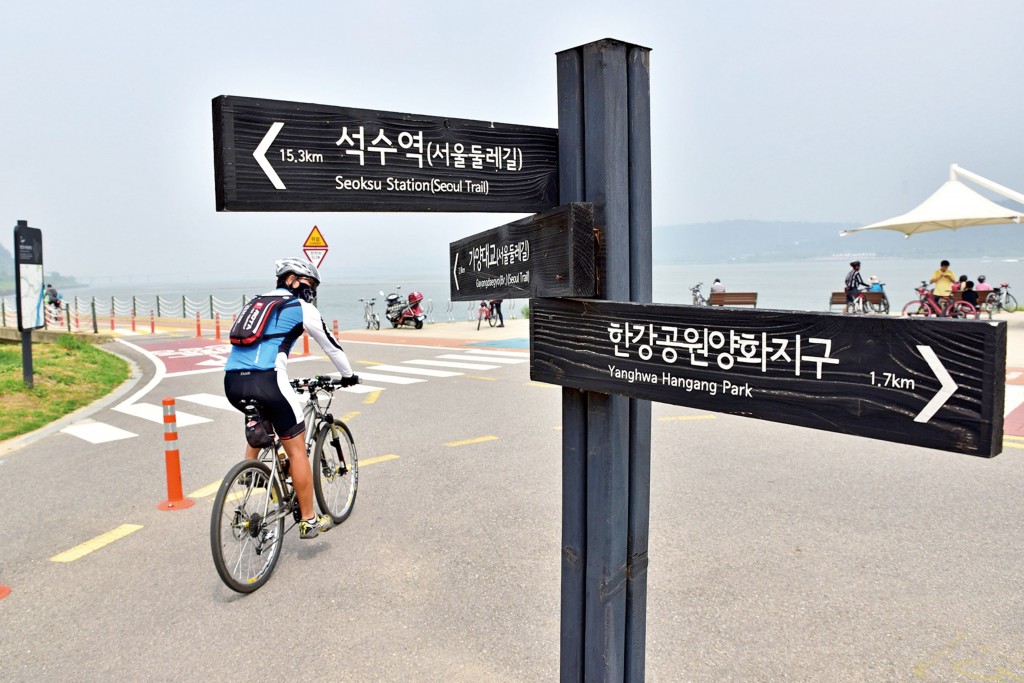 [separator type="thin"]
More info
Useful Links
Government cycling website:
Government tourism website- Han River Information
english.visitkorea.or.kr/enu/SI/SI_EN_3_6.jsp?cid=1898731
Government website for the Four Rivers Bike Path
www.riverguide.go.kr/eng/index.do
Bicycle laws in Korea
klawguru.com/2014/04/13/bicycle-law-in-korea
Free bicycle rental locations
www.korea4expats.com/article-free-bicyle-rentals-seoul.html
Ride mapping applications
Strava: www.strava.com
Map My Ride: www.mapmyride.com
Facebook groups
Han River Riders: www.facebook.com/groups/HanRiverRiders
Bike Party Seoul: www.facebook.com/groups/BikePartySeoul
International cycling advocacy links
Written by Michael S. Burkhardt
Photographed by Martin Watson
https://magazine.seoulselection.com/wp-content/uploads/2015/08/DSC_5443.jpg
1844
2763
cyn
https://magazine.seoulselection.com/wp-content/uploads/2018/01/Seoul-logo.png
cyn
2015-09-12 08:36:16
2015-09-12 08:36:16
Bicycles go where rivers flow