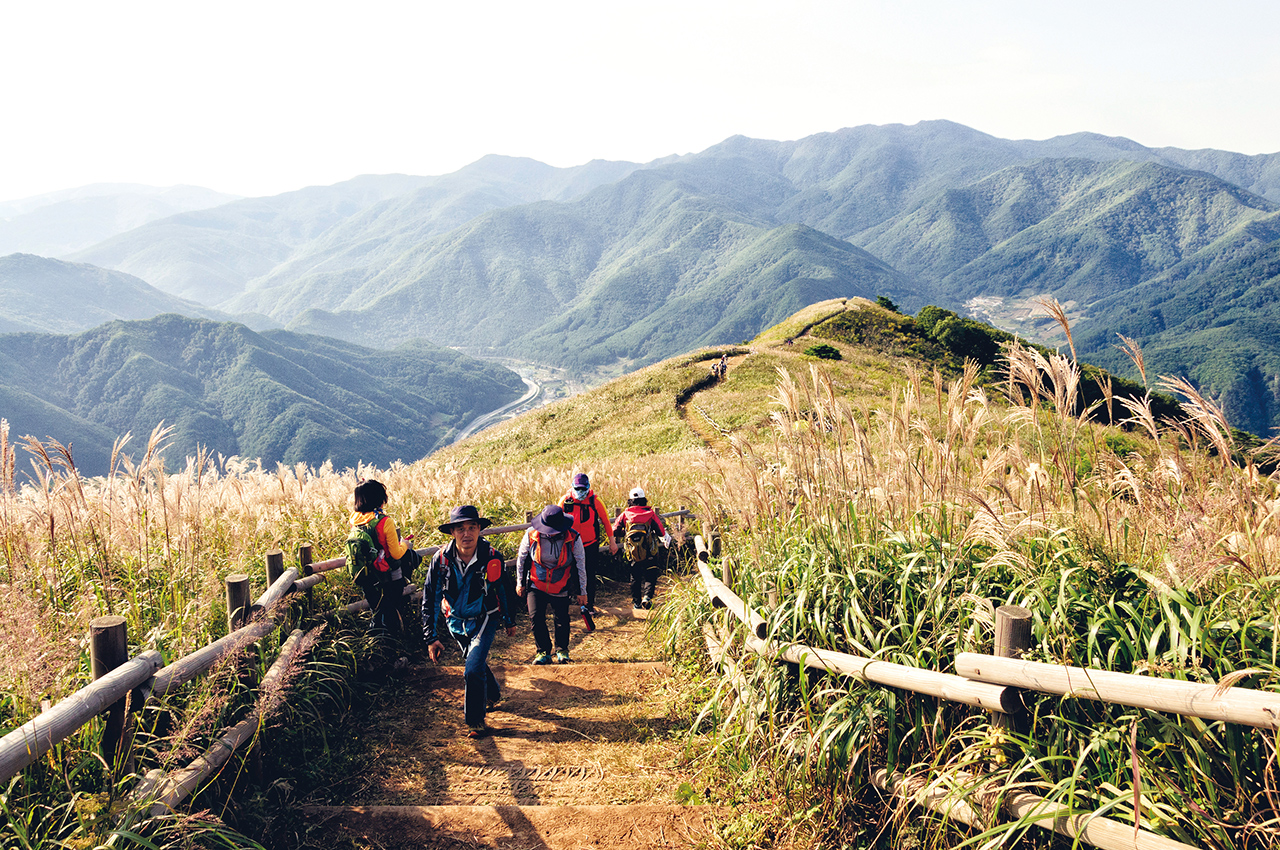 Jeongseon County is a rugged tapestry of towering peaks and winding rivers 정선
Ancient rivers cutting deep valleys as they meander between weathered bluffs. Railways snaking their way along narrow gorges between the soaring heights. Tranquil mountain towns full of friendly, rustic charm. The county of Jeongseon – built around the small town of the same name – is everything you'd expect from the highlands of eastern Korea, and then some. While admittedly not the easiest place to reach from Seoul, those willing to make the effort are rewarded with a rejuvenating weekend of rugged vistas, fascinating local culture and a few high-adrenaline thrills.
An old mining town embraces its past
For most of the 20th century, the economy of Jeongseon – and, indeed, many of the surrounding towns in this less polished region of eastern Korea – depended on the rich veins of coal that ran beneath the towering peaks. Coal was so important to Korea's national development, in fact, that the government, with great difficulty and at great expense, built a railway line through the mountains to connect the mines with Seoul and markets further afield. By the 1990s, however, demand for coal was flatlining, and the government "rationalized" the industry by closing many of the nation's mines.
With its chief industry all but dead, Jeongseon turned to tourism to make ends meet. Tourism authorities have focused their efforts of the region's natural splendor, but they've also put their historical legacy to good use. The old Samcheok Mine, whose black gold fueled the Miracle on the Hangang until its closing in 2001, has been transformed into the Samtan Art Mine, one of Korea's grittiest – and, at 832 m above sea level, most remote – art and culture spaces. The mine shafts, main hall, marshaling yard and other facilities have been renovated for use as exhibit spaces, performance venues and even a restaurant/wine bar.
One of Jeongseon's most popular attractions is the Jeongseon Auraji Rail Bike, a 7.2 km stretch of scenic rail bike track that runs through the narrow valley linking the village of Gujeol-ri with Auraji Station. Not so long ago, this was a functioning rail line used mostly by coal carriers, but declining traffic led to the line's closure in 2001. Rather than let the old line rot, however, national rail carrier KORAIL, inspired by similar cases in Europe, converted it into a rail bike line carrying two- and four-seat draisines (old-style bicycles outfitted to travel along railroad tracks), allowing passengers to pedal along a landscape of rivers, mountains and tunnels. At the final stop, Auraji Station, you can catch a special sightseeing train, the A-Train, back to Seoul if you wish.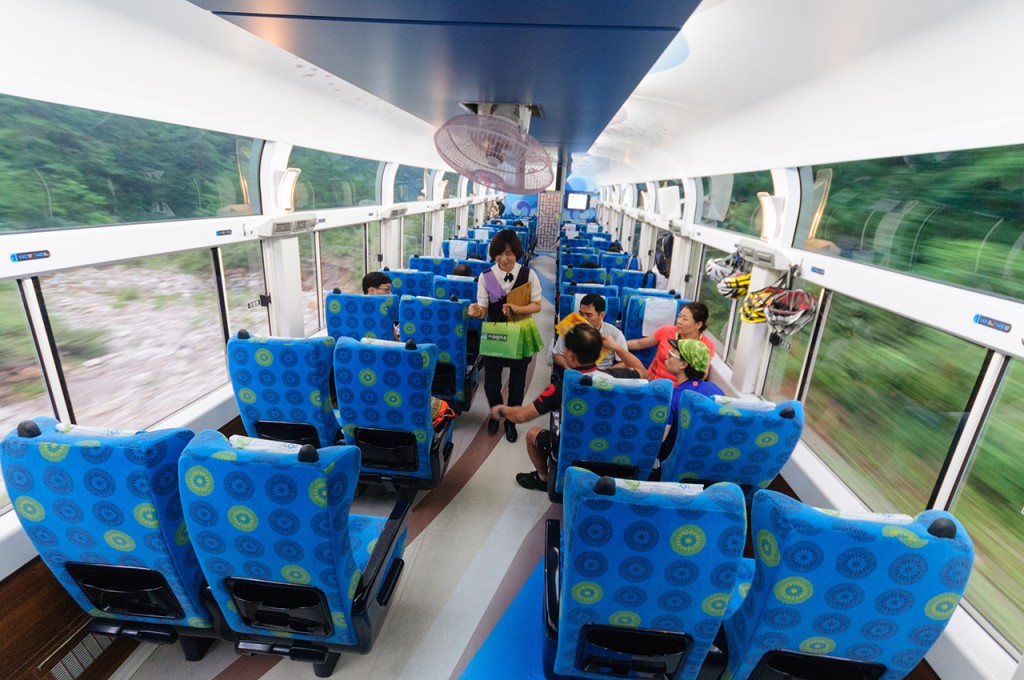 Zipping to Korea
Jeongseon's biggest draw is its highland scenery – 22 of its peaks reach over 1,000 meters in height, and the hilltops offer some jaw-dropping vistas of endless, alternating lines of blue-green ridges and deep valleys.
Behind Jeongseon-eup is Arii Hills, a scenic lookout at a U-shaped bend in the Samhaengcheon River. The bend produces a strip of land that closely resembles the Korean Peninsula. If you've got a head for heights, the best vantage point is the Sky Walk, an observation deck with a glass floor built on a sheer cliff overlooking the river. You may have to wait in line, but the views are well worth it.
True adrenaline junkies, however, will make their way to the Zipwire, a zip-line that carries you from the peak of the Arii Hills lookout point down to the river below. If hurdling 70-120 km an hour from the top of a mountain while hanging from a wire hundreds of meters above the valley floor is your idea of a fun time, then this is your place.
If you happened to be in downtown Jeongseon-eup on the 2nd, 7th, 12th, 17th, 22nd or 27th of the month, check out the town's historic five-day market (named for how frequently it occurs, not its duration). This is a good place to buy some medicinal herbs picked from the county's wild mountains. It's also a good place to try out some very chewy buckwheat noodles and a cup of corn makgeolli, a local favorite.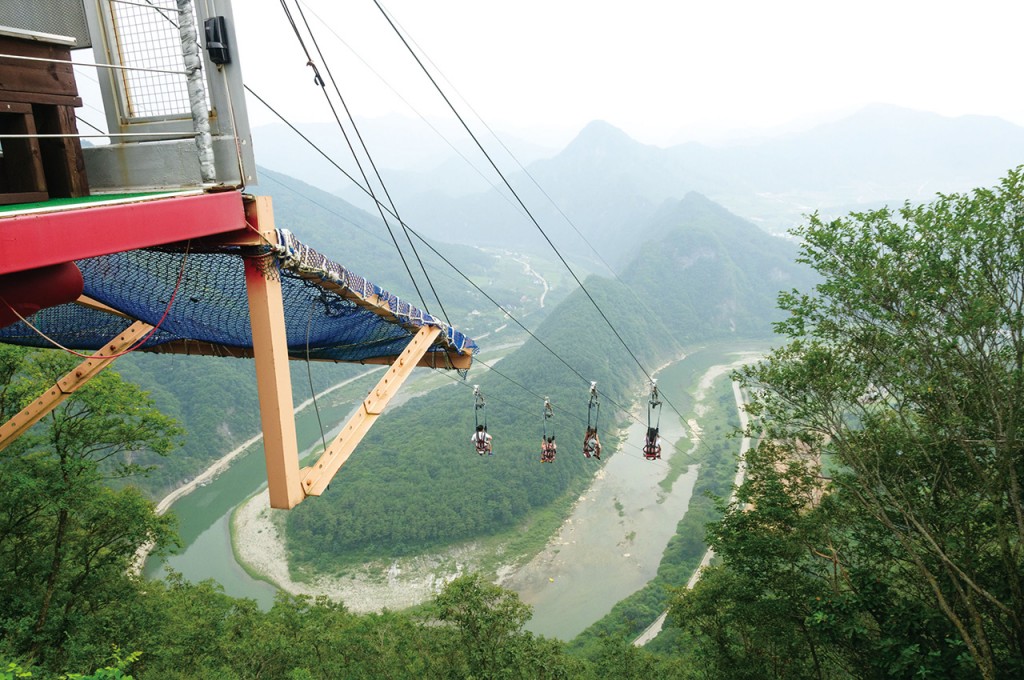 Hilltop seas of silver
Mt. Mindungsan – literally, "Bare Mountain" – is a big peak at 1,118.8 m, but its gentle slopes make it a relatively easy climb for hill walkers. As its name suggests, its peaks are oddly devoid of trees – in the old days, locals used to burn the vegetation to encourage the cultivation of wild herbs. Instead, the massif is crowned by large fields of silver grass. Starting in September, the fields of waist-high reeds begin to ripen, transforming the hilltops into shimmering seas of silver and gold.
The mountains reed fields are especially beautiful in the warm light of the early morning. You can camp at the peak, which comes with the added bonus of allowing you to see the star-filled nighttime skies, a rare treat for city slickers. The best time to visit is during the Mindungsan Silver Grass Festival (Sept. 19-Nov. 8), when you can finish off a day of hiking with good food and cultural activities.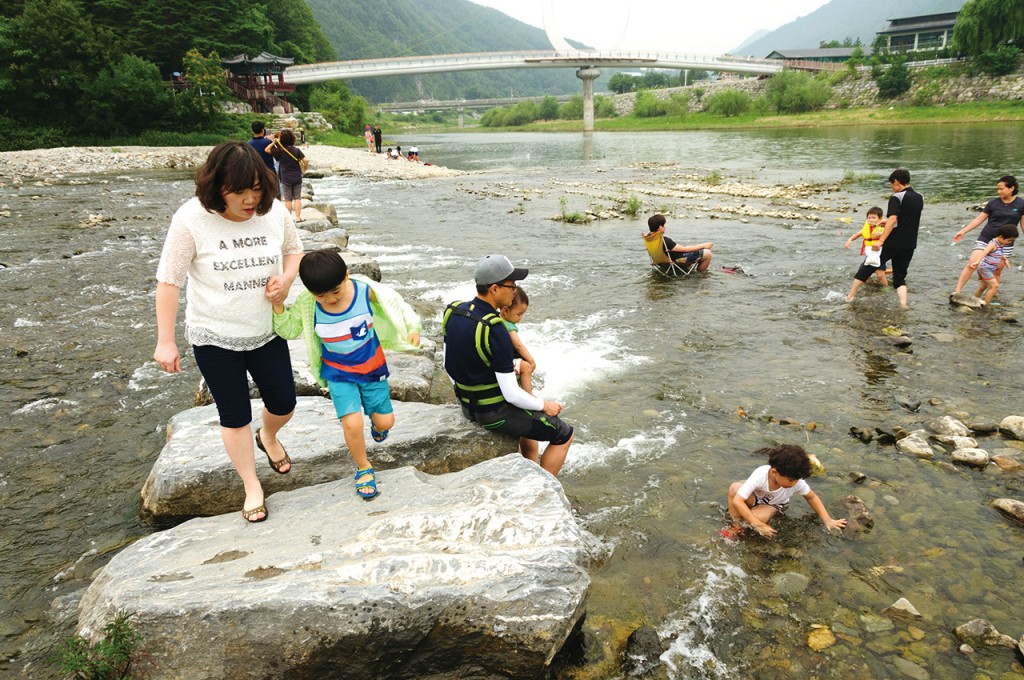 Birthplace of Arirang
Auraji "Lake" is not a lake at all, but rather the confluence of two cool, clean mountain streams. Nowadays it's a popular relaxation spot with a stone river crossing, some larger foot bridges, a viewing pavilion and small pedal-powered watercraft lazily plying the water. In the old days, however, this was the departure point for the raft people who transported Gangwon-do's prized timber to Hanyang, or present-day Seoul, where it was used to build the royal palaces and other landmarks in the capital. Timber rafting was dangerous work anywhere in the world – see Joan Baez's "The River in the Pines" – and Korea was no different.
This danger, combined with the tragedy it often brought, gave birth to Jeongseon's best-known contribution to Korea's musical heritage, the Jeongseon Arirang. This slow and mournful take on Korea's beloved folk song, designated Intangible Cultural Asset No. 1 by the government of Gangwon-do, tells of the heartbreak of a woman whose husband, a raftsman, departed down the river one day never to return. The woman is still there waiting, her bronze statue staring longingly over the river and into the mountains beyond.
For six centuries, raft people sang the Jeongseon Arirang as they navigated the sometimes treacherous river passage to Hanyang. While Seoul's version of Arirang is probably the best known, the Jeongseon version is the oldest and, hence, the "original." The Jeongseon Arirang Festival (Oct. 9-12) celebrates this heritage with musical performances and contests, reenactments of river rafting and other events.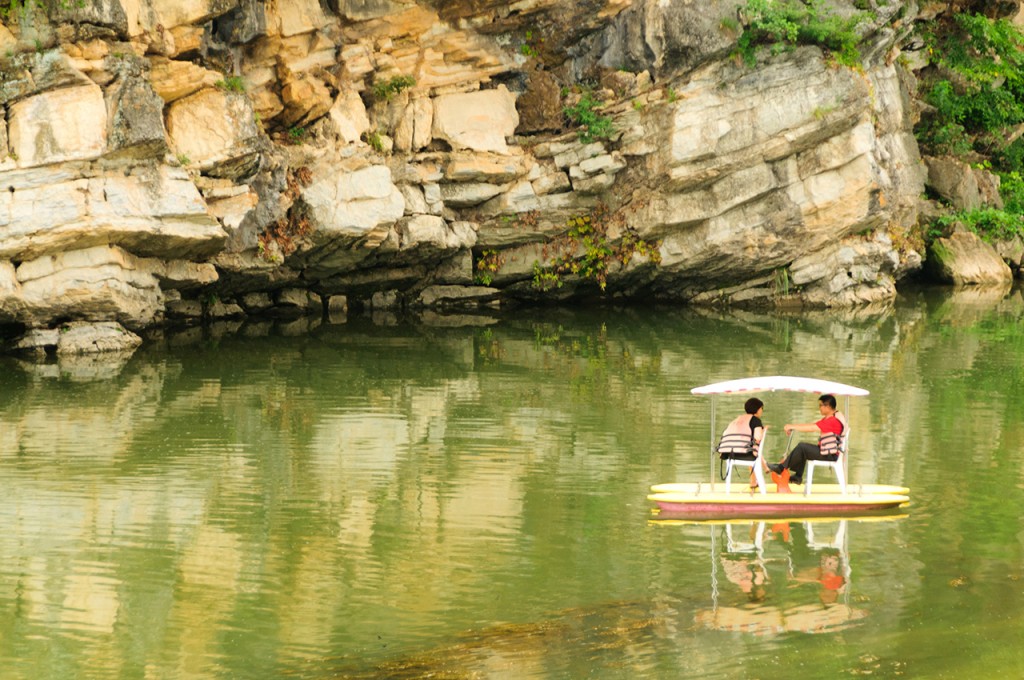 [separator type="thin"]
More info
STAY> The town of Jeongseon-eup has a few small motels and a good many pension houses. The top place to stay, however, is the High 1 Resort (www.high1.com), a ski-resort/casino complex in the mountains east of town. It's best known for being the only casino in the country that Koreans are legally allowed to enter, but it has also got some good accommodation options.
EAT> Like the rest of the province of Gangwon-do, Jeongseon produces high-quality buckwheat, potatoes and corn, the latter used to make milky rice wine, or makgeolli. Buckwheat noodles, or makguksu, are a local favorite. Another Jeongseon specialty is rice mixed with medicinal herbs, or gondeurebap. Ssarigol (T. 033-562-4554) in downtown Jeongseon-eup has been doing this dish longer than any other restaurant in the country.
GO> Buses to Jeongseon-eup depart from Seoul's Dongseoul Bus Terminal (travel time: about 3 hours). A more scenic, albeit longer, option is KORAIL's special A-Train, which departs from Cheongnyangni Station at 8:20 AM and arrives at Auraji Station at 12:30. The train back to Seoul departs from Auraji Station at 5:10 PM. The trip takes about four hours, but the train is fitted with large sightseeing windows through which passengers can take in the scenic wilds of Gangwon-do. It doesn't run every day, so check KORAIL's ticketing website (www.letskorail.com) before you go.
Written and photographed by Robert Koehler
https://magazine.seoulselection.com/wp-content/uploads/2015/08/DSC_2224.jpg
850
1280
cyn
https://magazine.seoulselection.com/wp-content/uploads/2018/01/Seoul-logo.png
cyn
2015-08-28 16:30:29
2015-08-28 16:30:29
Wild Beauty