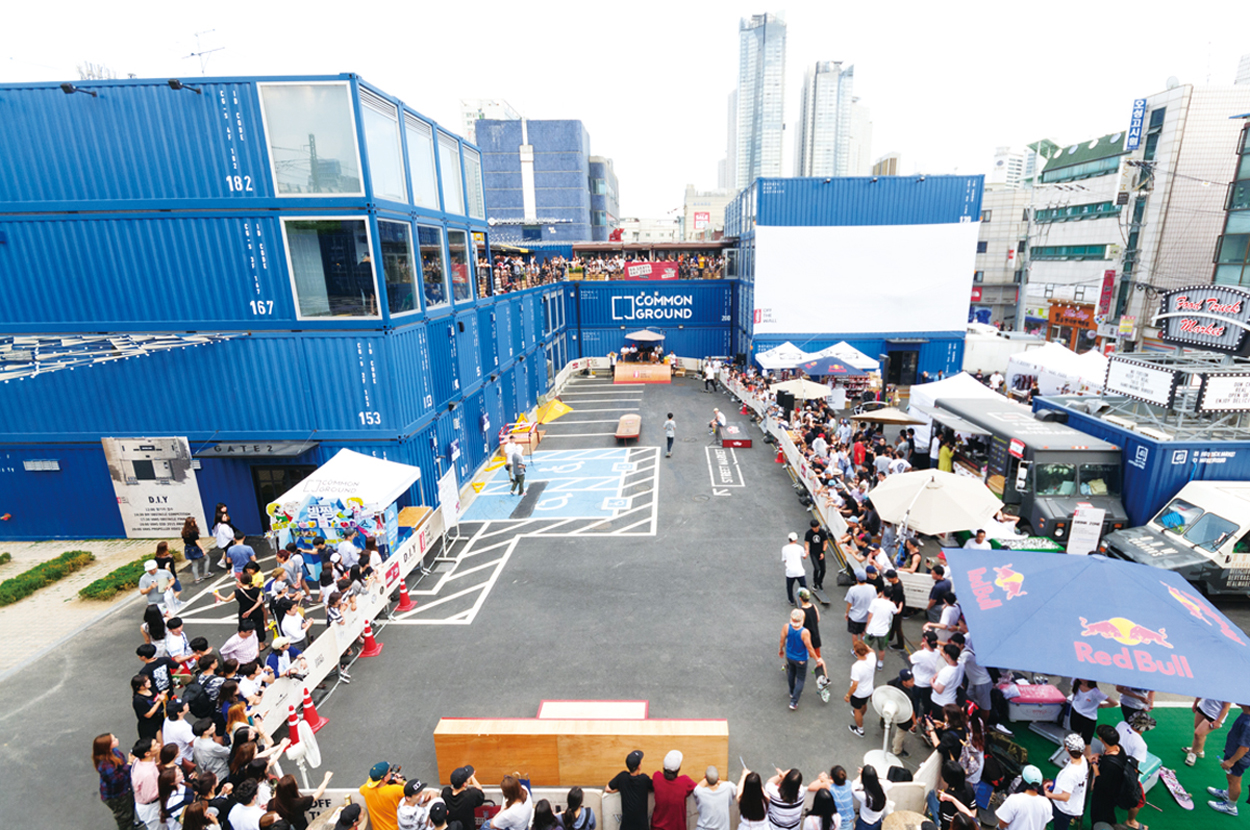 The Common Ground market brings youth and style to an increasingly vibrant neighborhood
Once forgotten and neglected, the Ttukseom-Seongsu-Konkuk University axis is now one of Seoul's hottest neighborhoods. Young, creative entrepreneurs and social enterprises have brought an edgy, dynamic vibe, turning empty, disused spaces into spaces of culture and commerce. Pop-up shopping complex Common Ground may be the most spectacular example of the transformation, but it's hardly the only engine of change.
Creative connections
Seoul's answer to London's Boxpark, Common Ground was founded earlier this year by Korean conglomerate Kolon in a bid to bring economic life to this gritty district of eastern Seoul. The concept is simple: some 200 shipping containers have been stacked, arranged and renovated for use as "pop-up" shops – short-term retail spaces whose low rents allow young and up-and-coming entrepreneurs a chance to market their wares. Pop-up shops have become all the rage overseas, especially in the fashion industry, where even major global fashion brands have gotten in on the act.
One of the largest container markets in the world, Common Ground seeks to build "creative connections" by fostering communication among people, brands and the local community. What you won't find here are the ubiquitous major franchise clothing, cosmetics and coffee shops. Instead, the mall is full of small but unique brands with significant representation by new designers and subculture players. Needless to say, it's a very youthful place.
Common Ground also serves as something of a neighborhood playground. On the weekend, it hosts the "CG Market" in its central plaza, a retail space that also features a variety of fun and interesting events with themes that change weekly. For instance, to celebrate International Go Skateboarding Day (June 21), the mall held its own contest, accompanied by shops selling boards, clothing and all your other skateboarding accessories. To improve the local living environment, Common Ground also hosts community events and programs, including "guerilla gardening" initiatives to turn disused land into urban gardens. Along with cultural content brand Toy Republic, it also hosts "sub-culture" exhibits and culture classes for the toiling masses.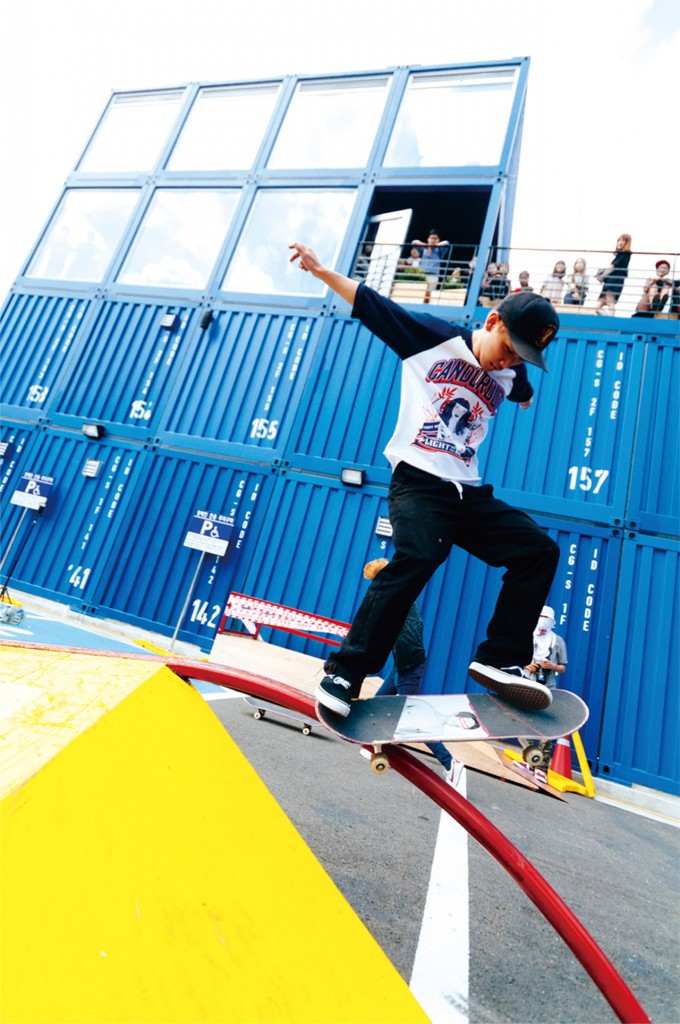 Food trucks and neighborhood eats
One of Common Ground's biggest draws is its collection of food trucks. Yes, like pop-up stores, the food truck phenomenon has also reached Korean shores. Unfortunately, local regulations forbid food trucks from actually moving around, which some say defeats the purpose of a food truck in the first place, but even from a stationary position, these joints offer (usually) simple yet (often) artfully prepared eats in an urban outdoor atmosphere – or something approximating an urban outdoor atmosphere.
There are several food trucks to choose from at Common Ground, including one serving classic American eats and another doing some rather bizarrely presented fruit beverages. One truck of particular note, however, is Kimchi Bus. Founded by three chefs in 2011 with the noble goal of spreading the joys of Korean cuisine abroad, Kimchi Bus has taken their show to 186 cities in 32 countries. They're in Seoul now, however, and dishing up delightful Korean-inspired Mexican dishes prepared from Korean ingredients. The Donam-dong Tacos, made with house-marinated pork galbi with seasoned Korean wild greens instead of cilantro, are especially popular, but really, everything here is good.
In addition to the food trucks, Common Ground also hosts branches of popular local eateries from some of Seoul's hottest neighborhoods including a brew pub from Gyeongnidan famous for its American-style pizza and craft beer and a dessert café from Garosu-gil where the specialty is picturesque rainbow cakes.
Shoe republic
A short walk from Common Ground will bring you to Seongsu Station, the heart of the up-and-coming Seongsu-dong district. This old, unpolished neighborhood has, in recent years, been getting a hipster makeover as young creative types move in and open studios, workshops and cafés. They've also engaged in an urban beautification efforts, based on the colorful graffiti and murals cropping up around the area.
Prior to becoming "Seoul's Brooklyn," as some of the local press has labeled it, Seongsu-dong was best known for its many small-scale shoemakers. In the 1980s, this was the place to go for handmade shoes, and at one point, around 1,200 shoemakers plied their trade here.
Cheap imports led to the near collapse of the industry in the early 2000s, however. Herculean efforts on the part of manufacturers to upgrade their products – and support from Seoul Metropolitan Government – has allowed the industry to survive and, in fact, experience something of a renewed boom. Once again, the neighborhood is the place to get high-quality but moderately priced handmade footwear.
One place to check out is From SS, a stylishly designed arcade directly underneath Seongsu Station. Opened by Seoul Metropolitan Government in 2013, the arcade has seven shops operated by local shoemakers where you can pick up as fine a pair of shoes as your credit limit will allow. Also nearby is Seongsu Handmade Shoe Town, a floorspace/workshop/training center operated by local shoemakers.
As noted earlier, the influx of young creatives into Seongsu-dong is gradually giving it a Williamsburg-like feel. And if hipsters take one thing seriously, it's their food, an area in which Seongsu-dong does not disappoint. Especially around Ttukseom Station, you'll find a wide range of chic eateries and cafés – often renovated residential or industrial facilities – frequented by the city's young, creative class. Keep your eye out for a handmade burger joint, a soup and pie café and a Korean eatery seemingly ripped from the pages of Kinfolk. One place, a four-story brick café/culture space hidden an alley near Exit 2 of Ttukseom Station, not only looks the part but serves the part with a menu of shaved ice desserts, or bingsu, served in mason jars seemingly pulled straight from Pinterest. The café hosts exhibits and provides support to local artists, too.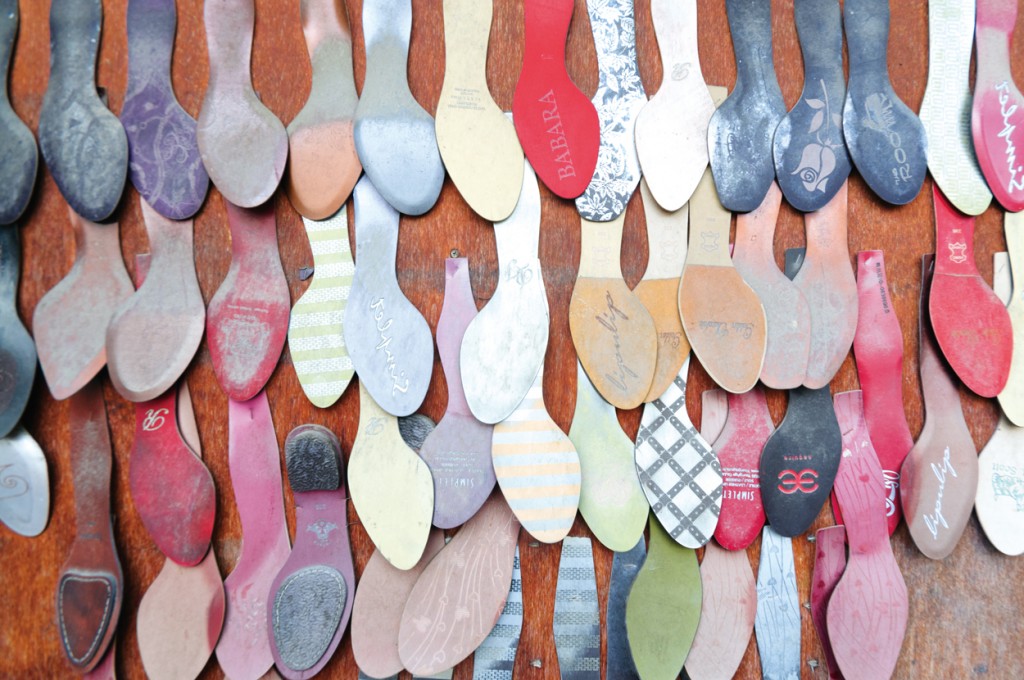 A walk in the forest
Another short distance from Ttukseom Station brings you to the entrance of Seoul Forest. One of the finest expanses of green space in the city, the collection of gardens, trees and walking trails was built on the former home of Seoul's horse racing track, completed in 2005. It bills itself as Seoul's answer to New York's Central Park, and there's certainly a large number of grass fields, pleasure ponds, playground and leisure facilities and, naturally, lots and lots of foliage on offer. There's also a small community of Formosan sika deer that you can toss food to. An architectural highlight is the scenic pedestrian bridge linking the park with the hiking and biking trails along the Hangang River.
While you're at the park, be sure to check out the Seoul Waterworks Museum. Founded in 1907 by two American businessmen who had been commissioned by the Korean government, Seoul Waterworks introduced Seoulites to the joys of clean, running water. The old pump house, a lovely Victorian brick building dating from the original founding of the facility, now houses displays of old machinery and historical photos. The old sand filters that used to purify the water – large, concrete caves with pillars and arched ceilings – are open to the public, too.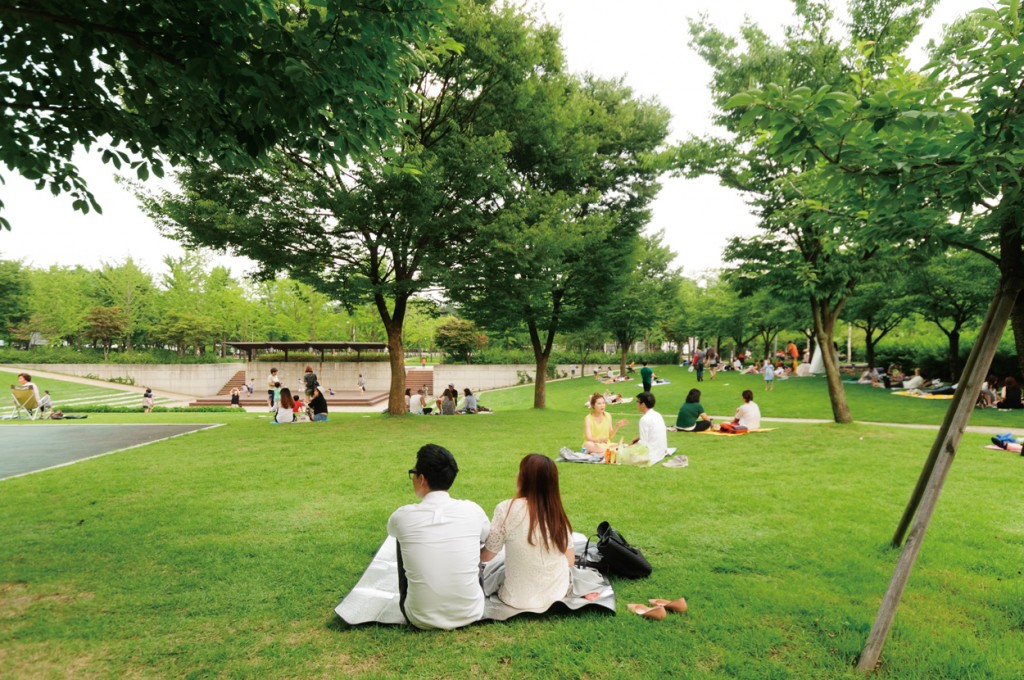 Written and photographed by Robert Koehler
https://magazine.seoulselection.com/wp-content/uploads/2015/07/DSC_9843.jpg
830
1250
cyn
https://magazine.seoulselection.com/wp-content/uploads/2018/01/Seoul-logo.png
cyn
2015-08-28 16:18:22
2015-08-28 16:19:04
Hipster Heaven