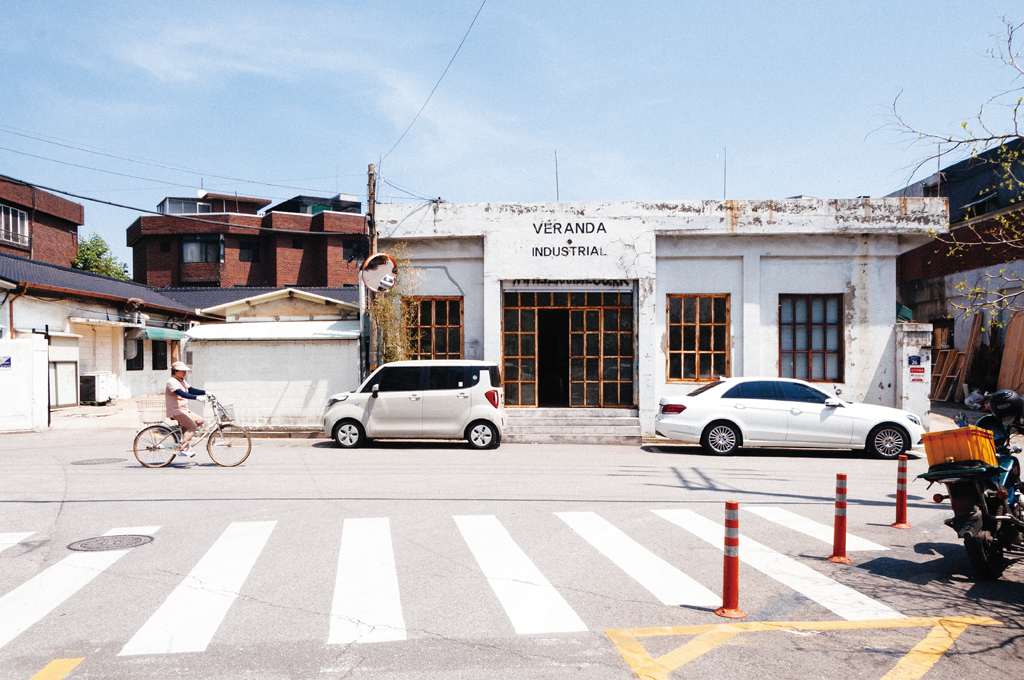 Art and culture turn a tough industrial district into hipster heaven
Take one part post-industrial grit, one part hipster chic, mix together well and what you've got is Seongsu-dong.
Labeled by the local press as "Seoul's Brooklyn" or "the second Hongdae," Seongsu-dong is an intriguing cultural ecosystem of trendy galleries and jazzy cafés hidden amid the redbrick and stained gray edifices of old warehouses and factories; the bustle of its streets and the drone of industrial machinery are punctuated at regular intervals by the rumble of the subway as it passes on the elevated railway above. As with any suddenly hot spot in Seoul, the specter of gentrification looms ever ominously like a tiger ready to pounce, but at least for now, the neighborhood remains one where the bohemian and blue-collar live and work side-by-side, feeding off one another's know-how, energy, creativity and spunk.
Williamsburg on the Hangang
Wedged into a triangle of land between the Hangang River and one of its tributaries, Jungnangcheon Stream, Seongsu-dong played a key role in Korea's 20th-century economic development. During the colonial era, the Japanese built large warehouses here to store agricultural goods and timber shipped to the capital via the Hangang River. Beginning in the 1960s, the district underwent considerable industrialization, with many small-scale ironworks, wig-makers, printers and, most notably, shoemakers, who moving here in en masse in the 1990s. Seongsu-dong's heyday as a center of Korea's footwear industry did not last long, however, and by the early 2000s, the district was experiencing considerable hollowing in the face of stiff international competition.
Then came the hipsters. Priced out of or otherwise turned off by saturated neighborhoods such as Hongdae and Sinsa-dong, young artists and designers began flocking to Seongsu-dong in 2011, drawn by the low rents, urban grit, proximity to downtown and access to public transportation. They've helped bring the declining community back to life, so much so that there is now real concern that continued popularity may drive rents up, forcing out artists and shutting down factories. "The neighborhood is quiet now," says snowborder-turned-restaurateur Lee Yong-ho of the delightfully gritty Alley Burger. "But if the big companies start setting up shop, the people who opened the small shops could get kicked out." He adds, "I want Seongsu-dong to develop in a cultural way, not a commercial way."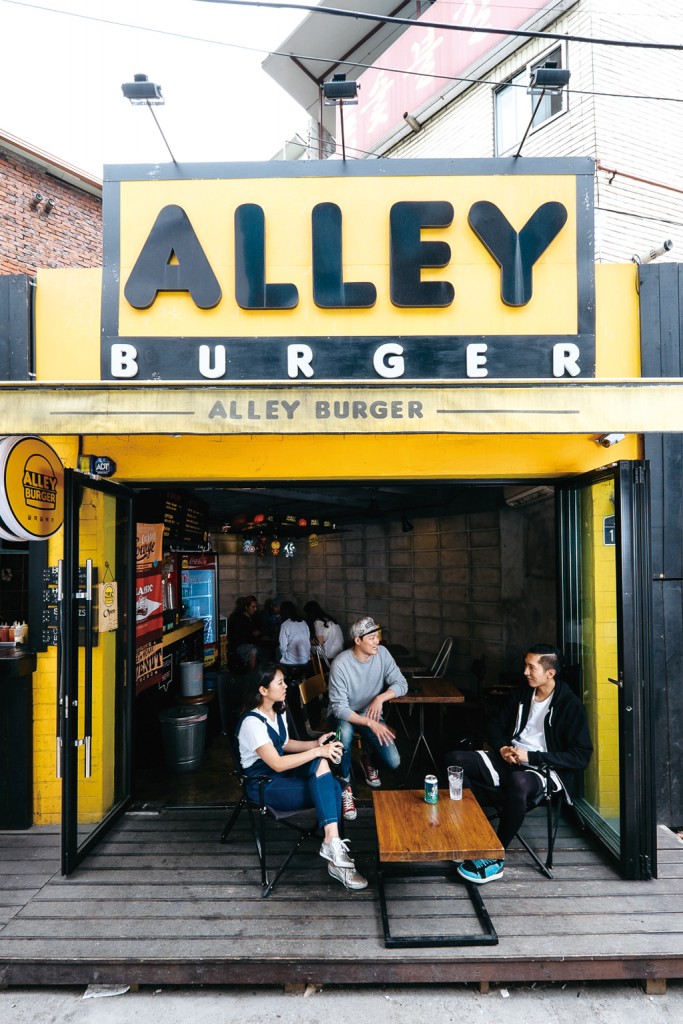 Independence and experimentation
Seongsu-dong is a veritable microcosm of modern Korea. "There are factories, residences and artists here," says Koh Sung Yong, director of popular local café Rusted Iron in DUMBO. "Nowhere in Seoul are they so well melded together."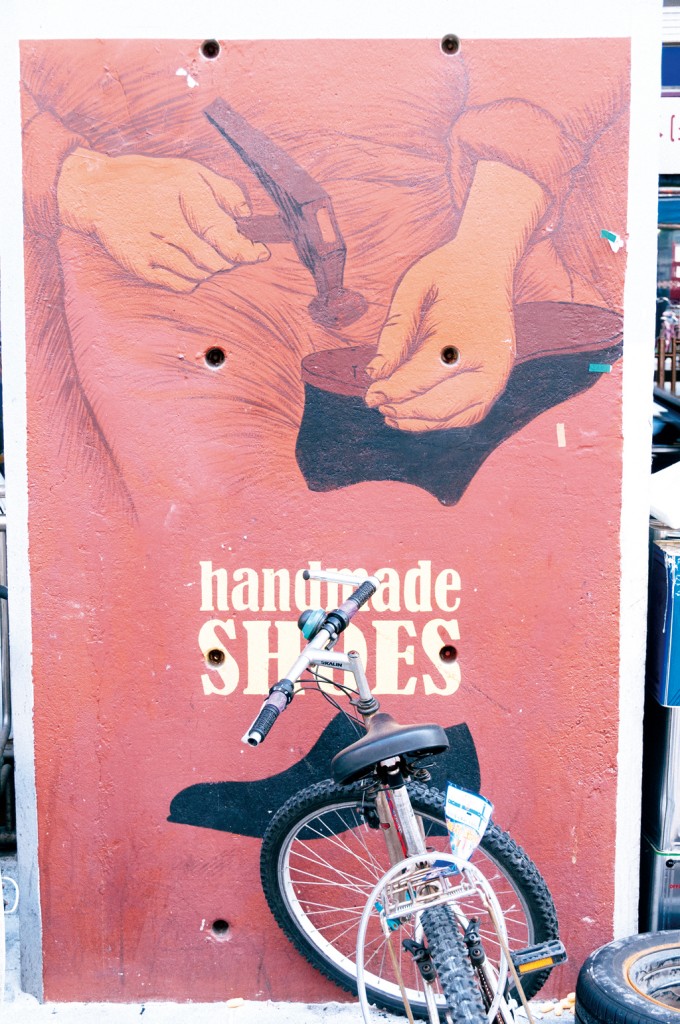 The spirit of independence is strong here, and local artists and designers have taken steps to keep it that way. A short walk from Exit 4 of Seongsu Station (Line 2) brings you to Boboostore Design Cooperative (boboostore.com), founded to help independent designers sell their work directly to the public, cutting out the middleman. The cooperative currently has about 50 members, with an office that serves as an offline store, exhibit space, workshop, café and rental space. Next to Boboostore Design Cooperative is local icon Veranda Industrial (veranda.co.kr), an old metalworking shop remodeled by a local interior design firm for use as an exhibit space, shop and rental studio.
On the way back to Seongsu Station, you'll come to Zagmachi (T. 070-4409-7700), where coffee meets industrial design and the visual arts. The café – housed in a former print shop – bills itself as a "digital lighting lab," and to be sure, its coarse concrete interior is softly lit by a variety of lighting brands. Like many of Seongsu-dong's establishments, it's a multiuse space that also functions as a shop, gallery and atelier. It also hosts regular seminars on art, architecture and other cultural themes as well.
These boots were made for walkin'
In the 1980s, Seongsu-dong was a go-to place for handmade shoes; at one time, about 1,200 shoemakers were gathered here. Cheap imports, however, nearly killed the industry. Due to heroic efforts on the part of these manufactures, paired with support from Seoul Metropolitan Government, some 500 businesses have managed to survive. In fact, the shoemaking district is experiencing something of a renewed boom thanks to a young generation of fashion-conscious shoppers who flock here in search of moderately priced, high-quality footwear.
Seongsu-dong's shoemakers are congregated around Seongsu Station, so much so that the station itself houses a small museum about the local shoe industry and the history of Western footwear in Korea. One business of note is From SS, a handmade shoe retailer with an arcade of seven shops built into the arches immediately underneath the station that was opened by Seoul Metropolitan Government in 2013. A good pair of handmade shoes here will run you between KRW 130,000 and KRW 200,000, although you can go a lot higher if your creditors permit. The sculpture of the cat wearing a red dress and shoes and sitting atop a giant boot has become a local icon.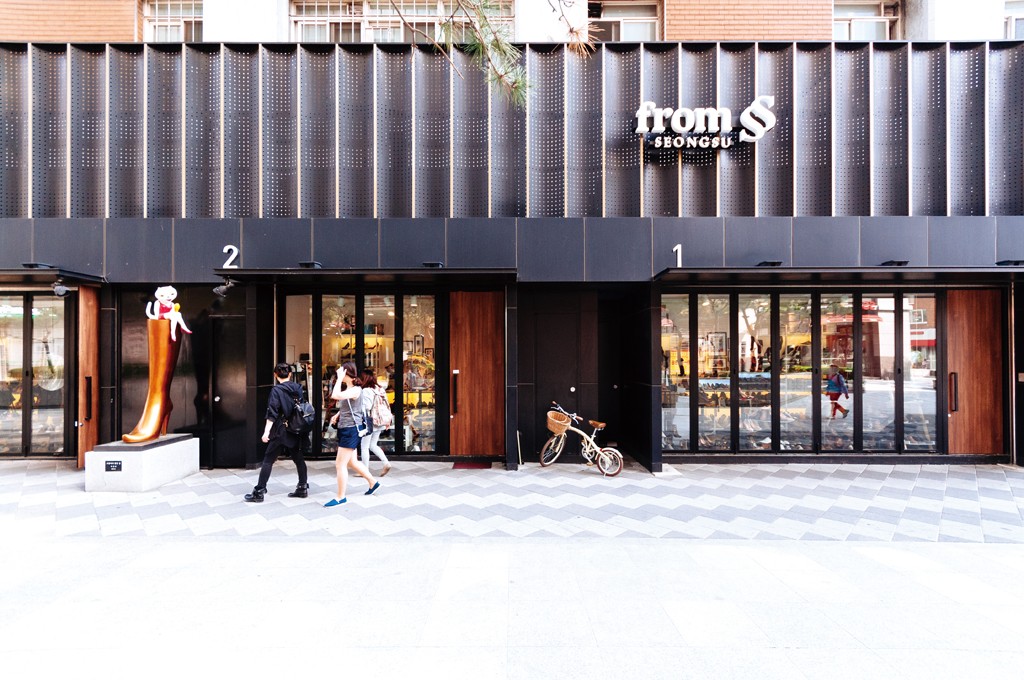 Across the street from From SS is Seongsu Handmade Shoe Town, a business founded in 2011 by local master shoemakers. Not only does the company provide floor space for artisans looking to sell their wares but it also hosts master classes, workshops and other support services.
Hipsters need to eat, too
While the comparisons to Williamsburg can be overstated, at least some of the local eateries are seeking inspiration in the Brooklyn-esque atmosphere.
One must-visit is Rusted Iron in DUMBO (T. 070-7529-9598), a café/culture studio not far from Ttukseom Station (Line 2). Taking its name from the DUMBO ("Down Under the Manhattan Bridge Overpass") neighborhood of Brooklyn, the four-story brick establishment serves hot sandwiches, pizzas, waffles and panna cotta, as well as a variety of espresso drinks, hand drip coffees and Dutch coffees. Bottles of Brooklyn Ale and Brooklyn Lager, brewed in a former matzo factory in Williamsburg, are also available. Rusted Iron's uniquely crafted variations of bingsu, or Korean shaved ice, served in mason jars for the full hipster experience, are unreservedly recommended.The café also provides exhibit space and support for local artists.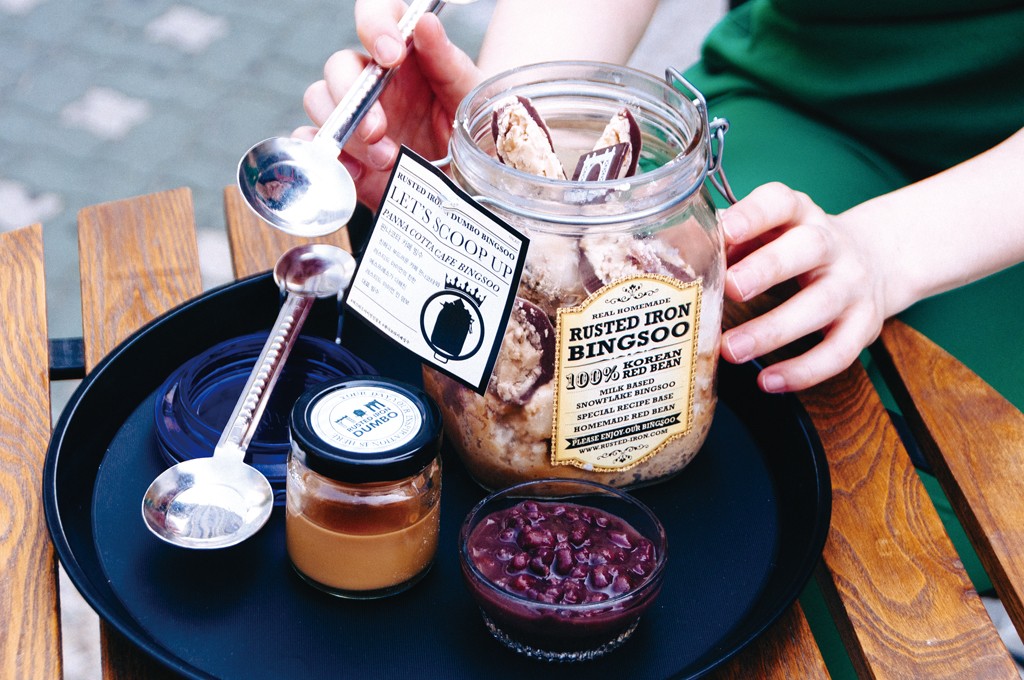 To get an idea of what happens when Korean cuisine meets "Kinfolk," sit down at the cozy Sonyeo Bangatgan (T. 02-6268-0778). They don't do much – the menu has only four items: rice mixed with freshly picked mountain vegetables, fried pork made with red pepper powder, country-style soybean paste stew and bibimbap served with tuna roe – but what they do, they do exceptionally well, using ingredients picked and sent daily by the owner's grandmother in far-off Cheongsong. It's the artisanal spirit at its best.
[separator type="thin"]
More info
EAT> Seongsu-dong has a ton of places to get a bite, and one suspects they'll be even more shortly. In addition to the places mentioned in this article, one very atmospheric option is Alley Burger (T. 070-7572-4345), a small hole-in-the-wall burger joint that is, true to name, hidden in an alley near Exit 8 of Ttukseom Station. Run by a former snowboarder, they do mean handmade burgers, hot dogs and French fries, washed down with a soft drink or beer. Supersize your burger with an extra patty and cheese, or with takeout and delivery available, you can even enjoy it from home.
For something a bit more healthy, try Seoul Soup Pie (T. 070-4409-0577), which trades in, surprisingly enough, soup and pies of the sweet and savory varieties, but they also do sugar-free beet and kale juice. Yummy. You'll find them near Exit 8 of Ttukseom Station.
GO> Either Ttukseom Station or Seongsu Station (Line 2)
Written and photographed by Robert Koehler
https://magazine.seoulselection.com/wp-content/uploads/2015/05/DSC_8463.jpg
680
1024
cyn
https://magazine.seoulselection.com/wp-content/uploads/2018/01/Seoul-logo.png
cyn
2015-06-03 11:54:01
2015-06-03 11:58:23
Seongsu-dong Style