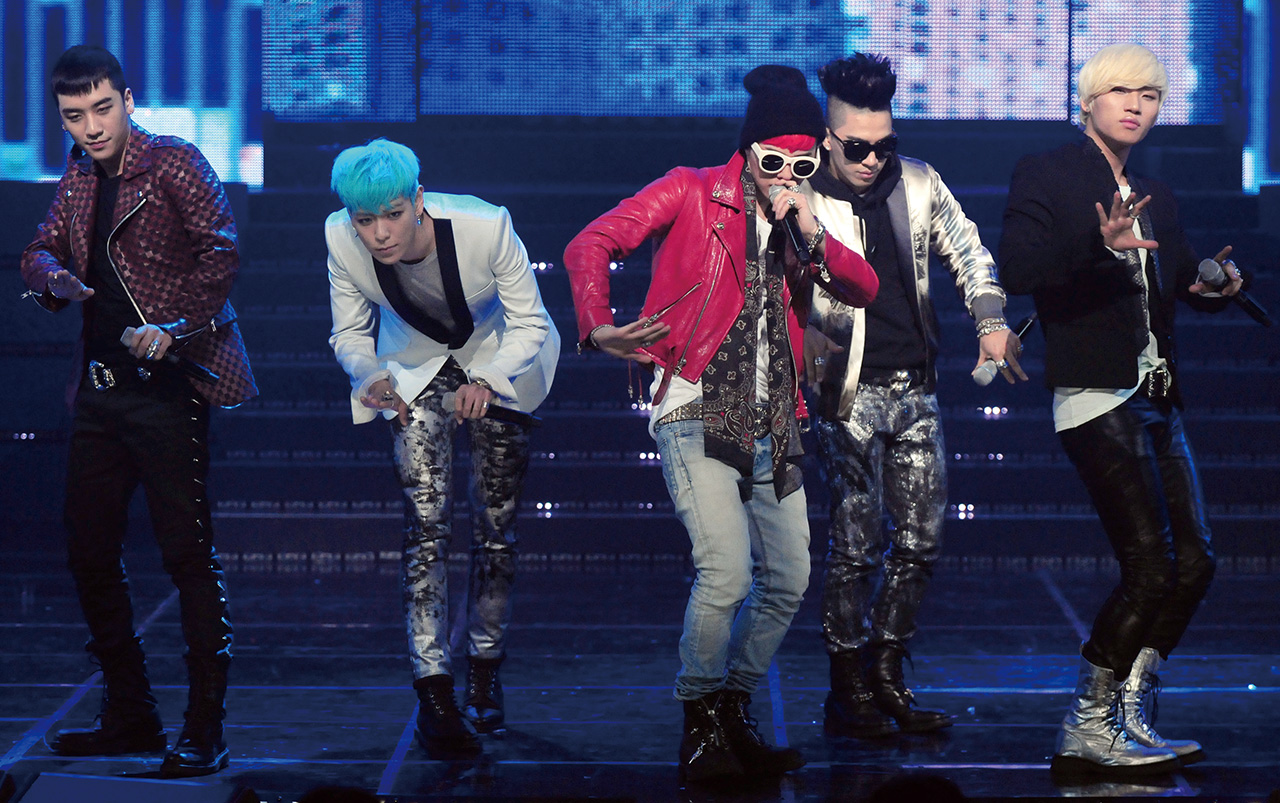 The heat is on for this season's most awaited group comebacks – BIGBANG and EXO
[dropcap letter="S"]pring marks the start of new beginnings, and while there's no single season for debuts and comebacks in the K-pop industry (is there a bad time, really?), a spring release sets the stage for having the hit track of the summer months.
When it comes to this year's highly anticipated returns, there are two names that immediately come to mind: BIGBANG and EXO. Both have been known to keep their fan groups on their toes – the VIPs and EXO-Ls, respectively, but after a hiatus, can each group live up to the expectations of their followers? Let's take a look at what's at stake as K-pop's two biggest players plot their comebacks in the continent's most competitive music scene.
BIGBANG
As one of Korea's top pop groups, it goes without saying that BIGBANG's return to the spotlight after a few years on the sidelines is expected to come with, well, a bit of a bang. Having earned their reputation as trendsetters that have always brought something new to the proverbial K-pop table, BIGBANG's comeback is three years in the making. Their last full-length album "Alive" was released in 2012, which was the first Korean record to chart on Billboard 200.
By breaking through the stereotypical boy band mold and experimenting with pioneering concepts, the group has established itself as a viable brand and has developed a musicality that they can proudly call their own. From the electronic dance music-infused "Always," which launched the trend of K-pop-electronica fusion, to the hyper-catchy "Lies," a song that catapulted the group's popularity to a entirely new level, BIGBANG has maintained a high profile not only among their followers but K-pop aficionados the world over.
"I'm looking forward to their music. It's been so long since their last album. I'm quite curious as to how much the past couple of years have affected and will affect the new music they'll be releasing," says Mish Umali, a loyal fan of the group since their debut.
As it stands, there are two main reasons for the heightened anticipation surrounding the band's return to the Korean music scene. The first is obvious, rooted in the fact that fans are longing for another album of BIGBANG's signature style of music. The second, however, is a common issue facing many young male musicians in the industry: As able-bodied Korean men, the members will inevitably be called upon for their two years of military service, at which point it will nearly impossible to make public appearances. (For those keeping track, TOP will likely be first among the members to enlist.)
Additionally, music fans speculate that, given the time each member has invested into their solo careers during their time away from the group, a new album will reflect each member's musical growth and the evolution of BIGBANG's sound. But despite earlier reports that surfaced regarding group's comeback this April – we have YG Entertainment's main man Yang Hyun Suk to blame for that – another high-ranking executive at the label refuted this claim more recently, dashing fans' hopes.
EXO
The Chinese-Korean boy band EXO made a big impact with their debut studio album "XOXO" in 2013, making their pending comeback one to watch for among the younger generation of K-pop groups. The album garnered monster hits including "Wolf" and "Growl," with the latter earning a No. 1 spot on the Billboard World Albums Chart. Recently, the band has also been given top status in the "2015 Korea Power Celebrity 40" ranking of Forbes Korea, edging out the likes of superstars Kim Soo Hyun and Jun Ji Hyun, as well as "Queen of Ice" Olympic figure skater Kim Yuna. Having snagged Album of the Year at the 15th annual Mnet Asian Music Awards in 2013 – the youngest boy group to do so – and becoming the highest-ranking Korean male group on the Billboard 200 Chart, expectations are high for this group.
Unfortunately, as the adage goes, "The faster they rise, the harder they fall." It wasn't a smooth ride for EXO, despite them seeming to have the formula for success all figured out. In 2014, two members from the band's Mandarin-speaking contingent, Lu Han and Wu Yi Fan, left the group and filed for contract nullification from their label, SM Entertainment, meaning that EXO is now performing as a 10-member ensemble (down from the original 12). As such, there is much talk of how the group will make their comeback, especially surrounding whether changes in the member lineup will affect the band's sound.
"They are starting a new chapter in their career as a 10-member group. More than their charismatic stage performances, catchy songs and execution of well-choreographed dances, I am looking forward to how much their dynamics have changed as a group and how much closer they will be not just as teammates but as brothers," comments Victoria Puyat, who has been following the group since their debut.
Opting for a less conventional path back to the spotlight (EXO pre-released eight songs from their upcoming album at their recently held sold-out concert, "EXO PLANET # 2 – EXO'luXion"), EXO is expected to surprise their fans with a fresh concept that will mark a new beginning for the group.
Written by Paola Belle Ebora
https://magazine.seoulselection.com/wp-content/uploads/2015/03/PPE20120316027701034.jpg
803
1280
cyn
https://magazine.seoulselection.com/wp-content/uploads/2018/01/Seoul-logo.png
cyn
2015-04-01 01:28:35
2015-04-01 18:13:31
Comeback kings