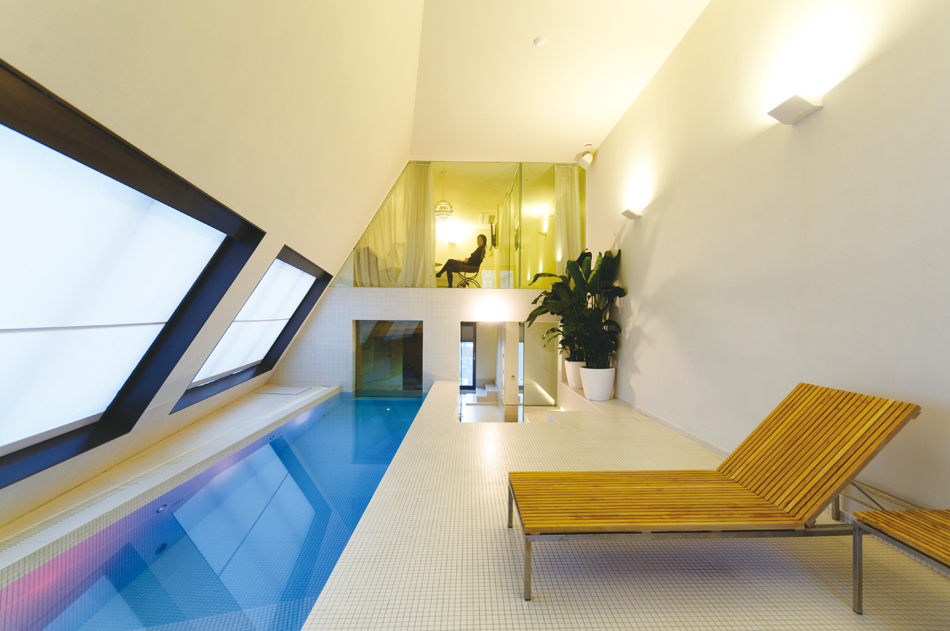 Boutique hotels bring a splash of style to Seoul's hospitality scene
[dropcap letter="I"]t would be fair to say that not so long ago, Seoul had an accommodations problem. True, the city had major international luxury hotels and plenty of cheap motels and inns, the latter of which continue to be a godsend to budget travelers. What it did not have, however, were hotels that were attractions in and of themselves, places you'd stay at just for the pure joy of staying there.
This characteristic is something that's beginning to change. Boutique hotels, a fixture of the international hospitality scene for decades, are taking off in Seoul and cater to an increasingly sophisticated, style-conscious market. Intimate, design-focused and exuding charm and personality, these hotels are perfect for not only romantic retreats but also parties and family getaways, too.
Fashion and style
First appearing in London, New York and San Francisco in the 1980s and in Seoul over the last decade, boutique hotels are usually smaller establishments of 100 rooms or less that offer all the creature comforts of major luxury hotels but with much more intimate, personalized service. Independently operated for the most part, boutique hotels have unique personalities, which they show off with one-of-a-kind designs and a huge helping of style. By and large, they often attract guests looking for something more than just gold-plated amenities.
Located just south of the Hangang River in the chic Sinsa-dong district, Hotel La Casa, operated by leading Korean décor studio Casamia, exemplifies this focus on personality and style. Its intimate, stylishly appointed rooms – featuring Casamia furnishings, naturally enough – feel more like a home than hotel. "Better than home," explains the hotel's marketing director, Cho Hyun-jung. "It is an effort to create a concept comfortable enough to create an atmosphere just like home, but at the same time create a stimulating space that is far away from daily life." The lobby alone, featuring work by Casamia designers and up-and-coming artists, is worth the visit. The hotel also has an excellent kitchen serving mouth-watering Italian dishes and a Casamia showroom, just in case you wanted to take some of your experience home with you.
FYI> T. 02-507-0505, www.hotellacasa.kr
KRW 147,000-356,000 a night
GO> Walk about 300 meters from Exit 5 of Apgujeong Station (Line 3).
Re-purposing history
Many boutique hotels overseas are, in fact, re-purposed historical properties, including disused industrial facilities. This is part of their charm – like people, buildings have stories to tell, stories that grows richer with age.
One place in Seoul that relishes in its past is RakKoJae, a renovated century-old Korean traditional home in the historic Bukchon district. Its name translates as "a place where one can enjoy the traditions of times past and rest one's soul," and the title is an appropriate one: The residence's four rooms are beautifully decorated in completely Korean fashion – rooms are adorned with floor mats for sleeping, and there are no TVs to distract you from the traditional experience – and all rooms look out on to a beautiful courtyard garden. The patio suite, with its elevated gazebo that overlooks this lush center enclosure, is particularly popular among Western visitors.
FYI> T. 02-742-3410, www.rkj.co.kr
KRW 275,000-495,000 a night
GO> From Exit 2 of Anguk Station (Line 3), walk 300 meters until you see Jae-dong Hagwon. Turn right in front of the school and continue 100 meters until you see the entrance of RakKoJae.
Conveniently located in the downtown Jongno district, Hotel the Designers Jongno is a remodeled motel reborn into as a creative space. Its 18 individually crafted suites were curated by 19 young designers, painters, stylists and even graffiti artists, and the result is a boutique hotel that is bold, brash and decidedly youthful. Its "Camp Ruka" suite, often sought-after by families, has its own tent, folding chairs and an acoustic guitar. Card sharks will want to check out graffiti artist Bum Min a.k.a. BJMin's "Hidden Card of BFMIN," with its spray-painted playing card motifs. To really go "down the rabbit hole," spend a night in the "Alice in Wonderland" room, a surreal, orientation-bending design based on the eponymous novel.
FYI> T. 02-2267-7474, www.hotelthedesigners.com
KRW 123,000-281,000 a night
GO> From Exit 15 of Jongno 3-ga Station (Line 1), walk about 160 meters until you get to Isaac Toast. In front of Isaac Toast, swing a left and walk about 100 meters until you get to Samtong Chicken. Swing right and walk 40 meters until you reach the hotel.
Party time
As Korean party culture grows more sophisticated, boutique hotels are becoming increasingly popular choices as event venues.
Hidden in the trendy Gangnam district, Hotel Sohsul, the work of Korean interior design studio 1990 Urban Architecture Office, is a showcase of design with suites furnished according to 12 themes – wood, stone and Escher-esque mosaic patterns feature prominently. The Spa & Pool Penthouse, with a pool room beautifully lit by large, slanted windows that overlook the city and distant mountains, works equally well as both a romantic getaway and a party room. The hotel's Triple Cinema Penthouse, meanwhile, makes an especially stylish party location with its dramatic contrasts and mesmerizing geometric décor in which the floor and ceiling mirror one another to eye-catching effect. Those looking for an even bigger place to hold a function can make use of Five Point Five, an "urban project space" in the hotel's basement that is a bar, restaurant, music club and gallery all in way.
FYI> T. 02-507-0505, www.snowhotel.co.kr
KRW 163,000-1.5 million a night
GO> From Exit 6 of Nambu Bus Terminal Station (Line 3), walk about 200 meters until you get to KB Bank. Take a left at the bank and walk 120 meter until you see the hotel.
On the way to Gimpo Airport is Mate Hotel, another popular party venue. Its so-called Chai Room is an exotically designed event space with a stylish pool and hot tub, Bohemian-style karaoke area (complete with sofa-bed) and a second-floor bedroom. There's also a home theater, four refrigerators and two locker rooms for changing. The main space is beautifully illuminated by large skylights above. Be sure to make a reservation early, though – assistant manager Um Jong-Su warns that it's almost always booked. The stylish layout has made it a popular shooting location for magazines, commercials and TV dramas, too.
FYI> T. 02-2605-1700, www.matehotel.net
KRW 128,000-540,000 a night
GO> From Exit 3 of Kkachisan Station (Line 2 or 5), turn right at the Hwagok Intersection and walk 500 meters.
Written and photographed by Robert Koehler.
https://magazine.seoulselection.com/wp-content/uploads/2015/01/dsc_5410.jpg
631
950
cyn
https://magazine.seoulselection.com/wp-content/uploads/2018/01/Seoul-logo.png
cyn
2015-02-06 11:08:28
2015-04-02 23:31:45
Intimate spaces