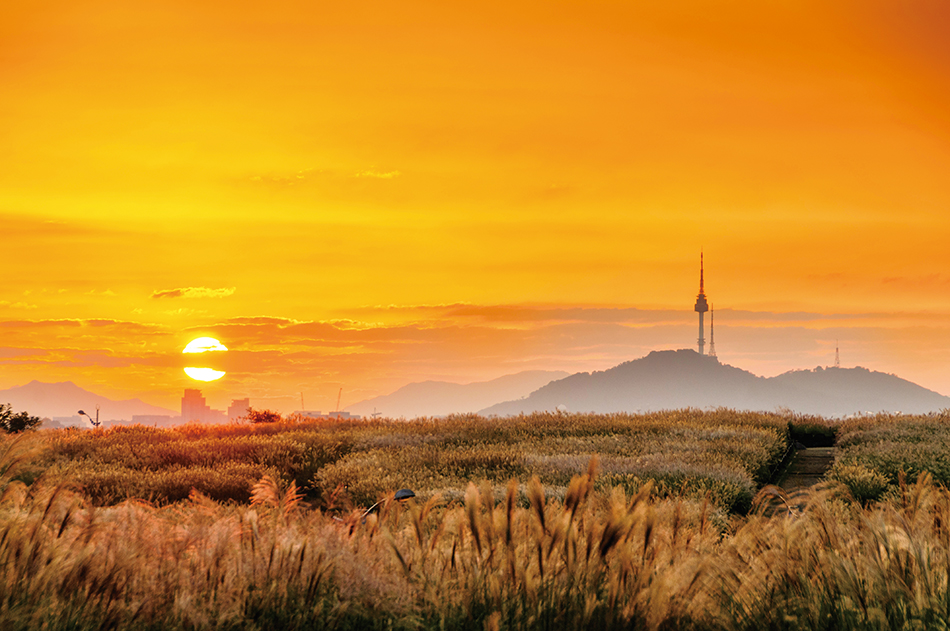 [box_light]Winter fun
Enjoy the start of winter and the New Year holiday the SEOUL way[/box_light]
Written by Melissa Watkins and Robert Koehler
Photographed by Robert Koehler
Bosingak bell ringing
At midnight at the start of the New Year, the Bosingak bell rings in the celebration – 33 times! Located in the busy downtown Jongno area of Seoul, the bell and its surrounding pavilion are iconic to the area and worth a visit at other times of the year if you want to see the decorative work on the bell up close. On New Year's Eve, you may not get close to the bell, but you will get close to the people of Seoul, who turn out in massive crowds to see live performances from pop stars in the pavilion, share a little holiday cheer and be stunned into solemnity by the first few chimes of the bell itself. Get there before 10 PM to find a place to stand and watch the festivities.
Take subway Line 1 (blue) to Jongno-3(sam)-ga station or City Hall station and follow the crowds. It's about a 10-minute walk to the pavilion. Jonggak Station (located on the same subway line) is closer, but due to the number of people, it's closed on New Year's Eve.
You'll find a few street vendors with snacks and not much else near the actual pavilion, but the advantage of being in such a busy commercial district is that walking towards the nearby station in either direction offers lots of late-night dining options. Try some traditional haejangguk (hangover soup) nearby at Cheongjinak (24 Jongno-gu, Jongno-1-ga), which is older than the current Bosingak bell and open 24 hours a day. You could also head toward City Hall Station after the bell ringing is over to find a variety of late-night Korean barbecue restaurants available.
Getting your skate on
Seoul does not lack for places to ice skate.
One of the city's more professional rinks is Mokdong Ice Rink (Omokgyo Station, Line 5, Exit 3). Although not as well-known as the one in front of city hall, this rink offers not only a spacious place to to skate but also hosts lessons in figure and speed skating as well as ice hockey. The venue also hosts local hockey games for all age groups, making it a neighborhood landmark. Admission is just KRW 4,000 (5,200 on weekends) and rentals are KRW 3,000 for two hours, quite reasonable considering the rink's nicely maintained facilities. (T. 02-2643-3057).
If you're looking for something a bit more exclusive, the ice rink of the Grand Hyatt Seoul on Mt. Namsan serves up awesome views, though the admission price of KRW 26,000 for two hours (KRW 30,000 on weekends) may be restrictive to some. This is a great date option, and an even better venue to propose – the hotel offers a "Propose on Ice Package" where you can pop the question in style. The rink opens on Dec. 6 and operates from 10 AM to 9 PM (T. 02-799-8113).
If you prefer to do your skating indoors, Lotte World's Ice Rink (Jamsil Station, Seoul Subway Line 2 or 8, Exit 4.) is Korea's largest and most popular indoor rink, capable of accommodating up to 1,000 skaters at once. For those keeping score at home, it's actually larger than the rink at Korea's Olympic training camp at Taereung. It's a beautiful space, too, below an old-timey glass dome that lets in plenty of natural light. An obvious bonus is that the rink is in the middle of the world's biggest indoor amusement park, so it's perfect if you've got kids. Admssion is KRW 10,000 for three hours.
First sunrise of the year
Seoul has lots of mountains, so there are plenty of good places to watch the first sunrise of the year, weather permitting. The easiest to reach is Mt. Namsan, naturally. N Seoul Tower (T. 02-3455-9277) opens its observatory early on Jan. 1, though the earliest sunrise in Seoul can be seen on top of Mt. Achasan in the eastern part of the city. The local government always hosts a festival atop the peak in the early-morning hours of Jan. 1 with hot drinks and other comforts.
One of the most popular places to take in the first sunrise is Haneul Park in Mapo-gu. Atop the former landfill turned eco-park, you and somebody you love can watch the sun rise over a sea of golden reeds. It's really quite moving, if a bit crowded that morning. Another option is the 63 Building, which opens its observatory deck early on Jan. 1.
You can also take in the sunrise from the Hangang River. There are early morning cruises on Jan. 1 that depart from Yeouido Dock. If those are sold out, you can opt to share water taxis with other sun gazers. Personally, this writer enjoys taking the sunrise in from the bridges over the Hangang River. The Yanghwa Bridge, for instance, allows you to watch the sun as it rises over Yeouido.
https://magazine.seoulselection.com/wp-content/uploads/2014/11/dsc_3874.jpg
631
950
cyn
https://magazine.seoulselection.com/wp-content/uploads/2018/01/Seoul-logo.png
cyn
2014-12-19 17:53:48
2014-12-19 17:53:48
Winter fun