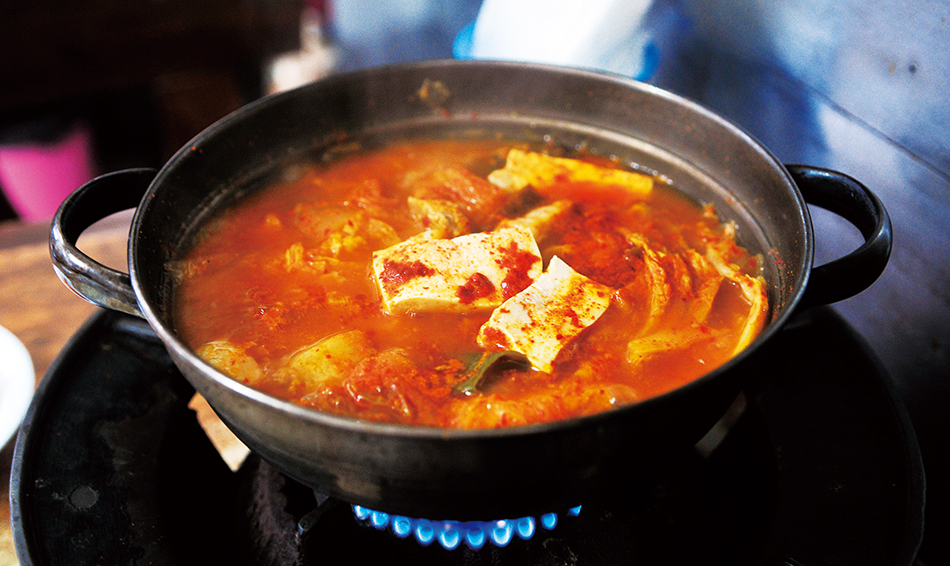 [box_light]Secret Finds
The city's hidden eateries[/box_light]
Written by Joe McPherson
Photographed by Ryu Seunghoo
When visiting Seoul, visitors will of course feel a pull toward the more touristy areas, and there is nothing wrong with making your way down well-trodden paths. Yet when visiting these areas, the eats can be a bit of a gamble. There are some amazing edibles to be found, no doubt, but it takes a little wandering through the side streets to find them. When one only has a short time in Seoul, or even a long time, who wants to waste a meal on something blah?
There are older eateries that have been around for decades and some fairly new ones only familiar to those in the know; it's the latter that require a little maze wandering, and sometimes a bit of added travel away from the tourist areas. But the one or two extra subway stops are well worth it, as these places will leave you with culinary memories to share with the peeps back home.
[divider]
Gwanghwamun Jip
Housing the iconic statues of Admiral Yi Sung-shin and King Sejong the Great, Gwanghwamun is easily the visual focal point of Seoul. Though the two figures loom high over the majestically restored gates to Gyeongbokgung Palace, once your photo op is over, take a look around: where are all the restaurants?
There is a classic hole-in-the-wall off the main drag that specializes in only three menu items: kimchi jjigae (kimchi stew), gyeran mari (rolled egg omelette) and jeyuk bokkeum (spicy stir-fried pork). The kimchi jjigae is presented in a large pot to share, and as it boils at the table, the tart ripe kimchi seasons the stew while fatty chunks of sweet pork bob around, waiting to be snagged. The omelette is a sight to see on its own: huge and full of finely diced vegetables, it makes a smooth contrast to the fiery kimchi jjigae. The jeyuk bokkeum is fine and spicy as well, but the jjigae is what the restaurant is known for.
GO> Emerge from Gwanghwamun Station, Exit 8. Cross the street to the south and take the first alleyway to the left. Gwanghwamun Jip is on the right with a sign painted baby blue (T. 02-739-7797).
[divider]
 Ogawa
A good sushi restaurant is hard to find. The best sushi, whether in Tokyo or Seoul, is usually tucked away in a mundane building, often completely undetectable without walking through the front doors. An example of such a spot is once again located near Gwanghwamun in an edifice known as the Royal Building. In its first basement sits a quiet shrine to sushi, Ogawa, that's also one of the best sushi deals in town.
But before I continue, you have been warned: seating is limited to slightly over ten seats, and reservations are a must. There are two seatings for lunch and two for dinner. Diners wait outside the locked door and, once they've been let in and seated, the door is locked again. As the omakase (chef-selected meal) starts, the sushi masters begin their dance, quietly making each piece of sushi and placing it on diners' plates, one by one. The temperature of each serving—body temperature—is perfect, allowing the flavors to subtly explode. This isn't a meal to talk over; it's a meal to meditate and focus on. This is food that's best eaten with eyes closed.
GO> Head out Gwanghwamun Station, Exit 1. The Royal Building is directly across the street. Go down to the basement and veer to the right. Watch for the sign that looks like a lantern and a door with wooden lattice work (T. 02-735-1001).
[divider]
Samhae Jip
With the chilly weather comes great oysters. And with great oysters comes great pork. Even with an entrance that's hidden in an alley, it's not unusual to see lines forming outside the front door of Samhae Jip. Their specialty is gul bossam, or pork belly with fresh oysters that you can then wrap in lettuce leaves. The former arrives boiled with special roots and seasonings, giving it a soft, moist texture while packing it full of flavor. It's served with a mound of fresh raw oysters and a pile of fruity young kimchi. Wrap all this in the supplied lettuce leaves and head off into the land of gluttony.
GO> Exit Jongno 3-ga Station, Exit 14, and head behind the buildings.
There's an alley—walk down until you see their sign. (T. 02-2273-0266)
[divider]
Cheoga Jip
A few subway stops east of Itaewon, at Yaksu Station, Choega Jib is a little house run by a North Korean woman. She serves a handful of North Korean dishes, such as jjimdak (steamed chicken), mandu (steamed dumplings) and naengmyeon (chilled noodles). The jjimdak is literally just a steamed, whole chicken, though what makes it shine are the green onions and other condiments that go with it. The dumplings, by contrast, are delicate and papery, while the naengmyeon is highly different from the bowls served in Seoul: this variation on the dish is light, subtle and refreshing. It's not every day one gets to try authentic, everyday North Korean dishes cooked by a North Korean woman. Quite memorable.
GO> Yaksu Station, Exit 10. Turn right and walk a good ways down the road. Turn right again at the Family Mart and take another left. Look for the door with the blue menu signboard out front (T. 02-2235-4589).
https://magazine.seoulselection.com/wp-content/uploads/2014/10/RYU9934.jpg
566
950
cyn
https://magazine.seoulselection.com/wp-content/uploads/2018/01/Seoul-logo.png
cyn
2014-12-19 17:57:54
2018-02-13 16:26:25
Secret Finds