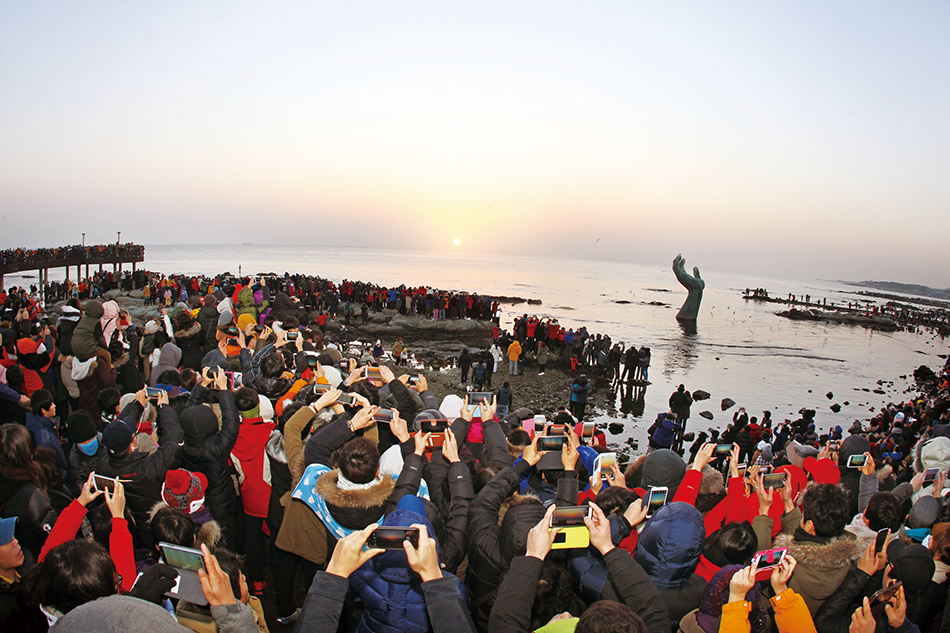 The tail of the tiger
Pohang's Homigot Cape 호미곶
If the Korean Peninsula is a tiger clawing at the Asian mainland, Homigot Cape is its tail. The mainland's eastern-most point, the cape is the place to come to see the earliest sunrises – on New Year's Day, it's flooded by tourists who come to do just that. Homigot Sunrise Square is dominated by the "Hands of Coexistence," two giant iron hands, one rising from the land, the other rising dramatically from the waves just off the beach. The hand rising from the sea provides a rather nice resting spot for local seagulls – one can usually be found sitting on the tip of each digit.
 If you're a lighthouse lover, you'll definitely want to check out the National Lighthouse Museum, where you'll find everything you've ever wanted to know about lighthouses but were afraid to ask.
EAT> Plenty of places to eat around Homigot Sunrise Plaza — expect at least some of these places to be open on New Year's Day. A local specialty is mulhoe, or sliced raw fish mixed with pear slices, spices and cold water.
STAY> Around Homigot you'll find the Haesu Motel (T. 054-284-8044) and Haesong Motel (T. 054-284-8245). There's also a number of minbakjip (homestays) you can use.
DO> Celebrate the start of 2015, which, not coincidentally, is also the time of the Homigot Sunrise Festival. There will be concerts, cultural performances and plenty of tteokguk (Korean rice cake soup, a New Year's Day specialty).
SEE> Check out Homigot Lighthouse, one of Korea's oldest, largest and most beautiful lighthouses. Designed by a French architect, the graceful lighthouse was completed in 1908 – note the intricate details on the doors and windows.
GO> Assuming the sunrise is what you're after, the best way to get to Pohang is by taking the night bus from Seoul Express Bus Terminal – there are buses at 10:40 PM, 11:30 PM and 12:30 PM (travel time: 4 hours, 40 minutes). From Pohang Express Bus Terminal, however, you'll need to take a taxi to Homigot Sunrise Plaza. Expect to pay about KRW 25,000 or more. Of course, if you arrive in Pohang during the day, you could just take a bus.
 [divider]
Dreaming of a white winter
Taebaeksan Provincial Park 태백산도립공원
The park's mountain is big but not a particularly difficult one to climb; no cliffs need to be negotiated and the path is blissfully smooth. From the upper reaches, the views of the surrounding Taebaeksan range are breathtaking. Bring a flashlight and get to the peak early (a two-hour climb via the shortest route) to see a spectacular sunrise. It's an especially popular place to take in the first sunrise of the year.
In winter, the mountain receives heavy snow, which makes the climb even more scenic and beautiful, with "snow flowers" – windswept trees and bushes encrusted in snow – producing a fantastic and almost otherworldly landscape.
In addition to the scenic splendor, Mt. Taebaeksan is worth climbing for its high spiritual and cultural importance. Thanks to its shamanist and Buddhist heritage, Korea has many mountains and peaks of spiritual importance, with this mountain being one of the most sacred. According to legend, Mt. Taebaeksan was where Hwanung, the son of the king of heaven, came down from heaven to found his own sacred city and teach people how to live.
EAT> In downtown Taebaek, one restaurant worth checking out is Neowajip (T. 033-553-4669), which serves fantastic sanchae bibimbap (rice mixed with mountain vegetables, KRW 7,000) and jeongsik (Korean banquet cuisine of rice, soup and a table full of side dishes starting at KRW 20,000). It's also worth trying the memil jeonbyeong (buckwheat crepes wrapped around a filling of seasoned vegetables and tofu).
STAY> The nicest place to stay is High 1 Ski Resort (T. 033-590-7700), which also happens to be the home of the country's lone casino that Korean nationals can legally enter (naturally, this makes it the busiest casino in the country).
DO> View the sunrise from the peak of Mt. Taebaeksan.
SEE> Near the peak are ancient yew trees that cut a surreal silhouette against the morning sky.
FYI> tour.taebaek.go.kr
GO> Buses to Taebaek depart from Dong Seoul Terminal (travel time: 3 hours, 30 minutes).
[divider]
Oido   오이도
[divider]
The last sunset  
Want to take in the final sunset of the year but don't have the time or energy for a major road trip? Why not hop on the subway and head to Oido, an "island" that has long since been incorporated into the mainland. It's also the site of a lovely little seaside resort with a pier from which you can take in the sunset, best enjoyed with someone you love.
EAT> Being next to the sea, you'll find plenty of seafood joints along the waterfront. Oido Market is a good place to score fresh seafood, but if raw fish isn't your thing, try Bajirak Kalguksu (T. 031-433-1138) for some good noodles with saltwater clams.
STAY> This is a day trip from Seoul
DO> Explore the extensive mudflats along the coast.
SEE> Oido is home to scattered mounds of seashells, historical evidence of Korea's Neolithic Age people.
GO> Exit 1 or 2 of Oido Station, Line 4. Take Bus No. 30-2 to Oido Ocean Complex.
[divider]
Ttangkkeut Village   해남 땅끝마을
At land's end 
Once a small backwater fishing village, Haenam's Ttangkkeut Maeul (Land's End Village) has in recent years become a major tourist destination owing to its location, which marks the southwestern-most point of the Korean Peninsula. Here, you'll find a number of motels, seafood restaurants and shops selling the village's famous seaweed, as well as the ferry to Bogildo, a noted island not far off shore. The village is also a great place to take in the final sunset of the year.
 The best views can be had from the observation platform atop a hill overlooking the harbor. There's a monorail that goes to the top, but be sure to arrive in time for the sunset.
EAT> Haenam is in the heart of Namdo, the southwestern region famous for having the best cuisine in Korea. To get an idea of what we're talking about, stop by Cheonil Sikdang (T. 061-535-1001) in downtown Haenam and order the tteokgalbi jeongsik (a full-course meal with grilled meat patties) – you'll be presented with a table topped with dozens of tasty vegetable and seafood dishes.
STAY> Hidden just in front of Daeheungsa Temple, the historic hanok inn Yuseon Yeogwan (T. 061-534-3692) is Korea's oldest inn, founded in 1915 and built by the same woodcutter who built the main hall of nearby Baegyangsa Temple. Seated just next to a mountain stream, it's a beautiful place in and of itself and offers an unrivaled old-school experience  – no TVs to distract you!
SEE> Mihwangsa Temple enjoys a dramatic setting at the foot of craggy Mt. Dalmasan.
DO> Do a Templestay at Mihwangsa Temple.
GO> Buses to Haenam depart from Seoul's Central City Bus Terminal (travel time: 5 hours). You could also take the KTX to Mokpo (travel time: 3 hours) and from Mokpo take a bus to Haenam (travel time: 1 hour).
[divider]
Herb Island 허브아일랜드
Herbs and holidays
A botanical garden might not seem like an intuitive choice for a wintertime destination, but Pocheon's Herb Island puts on a great winter light show (though April). Everything on the premises is lit up with thousands of LEDs that illuminate the night sky. This year, the garden has been decorated like Finland's Santa Village, complete with a 300-meter tunnel filled with Christmas trees and holiday wishes and over 300 figures of Santa, Mrs. Claus and Santa's elves. The light show draws photographers from all over Korea.
Herb Island was founded in 1998 as a place to grow Mediterranean herbs. Its garden produces over 180 varieties of herbs, to be sure, but the place has also become one of Korea's best-loved botanical gardens. The museum/botanical garden contains over 250 different species of plants and is the biggest privately owned botanical garden in the country.
EAT> There are a couple of herb-themed eateries, including one specializing in Korean-style herb ribs. There's a bakery and coffee shop, too.
STAY> This is a day trip from Seoul, but if you'd like to stay, Herb Island has some pension houses (some more outlandishly decorated than others) for visitors to spend the night.
SEE> The LED show, naturally. If you're photographing it, be sure to bring a tripod and set your ISO low.
DO> Recover from the stresses of modern life at the Herb Healing Center spa.
GO> Take bus No. 57 to Soyosan Station 소요산역 (Line 1) and get off at Samjeong-ri. You can walk to Herb Island from there.
https://magazine.seoulselection.com/wp-content/uploads/2014/11/AE1T3225-1.jpg
633
950
cyn
https://magazine.seoulselection.com/wp-content/uploads/2018/01/Seoul-logo.png
cyn
2014-12-19 17:52:25
2014-12-19 17:52:25
Korea Travel Bits : December Getaways