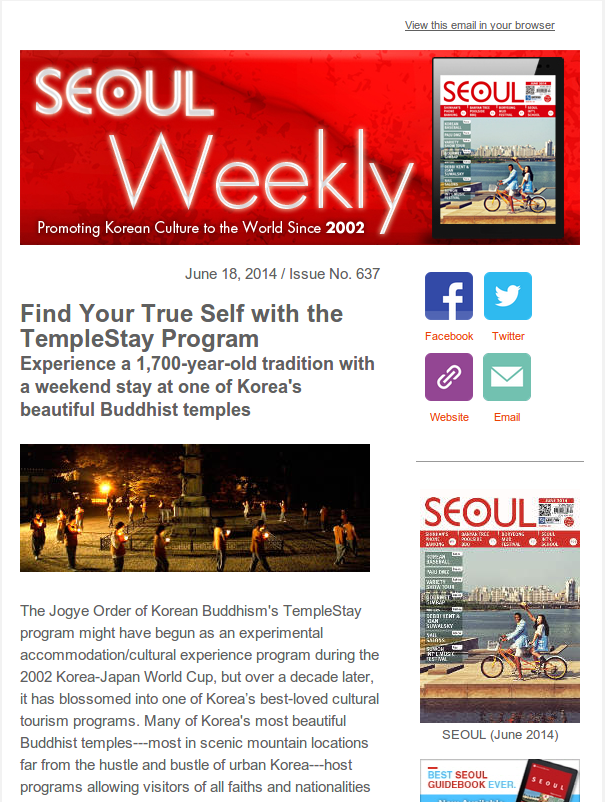 June 18, 2014 / Issue No. 637

Find Your True Self with the TempleStay Program
Experience a 1,700-year-old tradition with a weekend stay at one of Korea's beautiful Buddhist temples

The Jogye Order of Korean Buddhism's TempleStay program might have begun as an experimental accommodation/cultural experience program during the 2002 Korea-Japan World Cup, but over a decade later, it has blossomed into one of Korea's best-loved cultural tourism programs. Many of Korea's most beautiful Buddhist temples—most in scenic mountain locations far from the hustle and bustle of urban Korea—host programs allowing visitors of all faiths and nationalities a chance to get in touch with nature—and themselves—and experience a 1,700-year-old tradition.

The TempleStay program operates a helpful English-language website that not only provides information and news about the program, but also shares insights into Korea's Buddhist traditions, lets you book reservations online, and even helps you chose the right temple for you. A wide range of programs are available, so you'll easily find something that fits your needs and schedule. You can also get detailed information from the Templestay Information Center, centrally located just across from Jogyesa Temple. Here you can get consultations, take part in hands-on activities, and even have a cup of tea with a monk. On the fifth floor you'll find Balwoo Gongyang, a restaurant where you experience Korean Buddhist cuisine in all its splendor.

Seoul International Book Fair 2014
Pop by and say hello. And get a good deal on a book.

First launched in 1995, the Seoul International Book Fair (June 18–22) is held annually by the Korea Publishers Association to promote the Korean publishing industry and introduce the reading public to literature from around the world. Under the theme "See the World through Books, Envision the Future with Books," the fair will feature displays by hundreds of publishers, e-publishers, book art companies, magazine publishers, copyright agencies, book stores, libraries, publishing-related organization and book distributors. This year's Guest of Honor is the Sultanate of Oman, while the Country Focus is Italy (Italian authors Walter Siti and Giancarlo de Cataldo will be in attendance). Be sure to check out the special exhibits, including one on Korean modern and contemporary book cover design.

Seoul Selection will, of course, be in attendance. Pay us a visit at booth J16. As added encouragement, we'll be giving away around 2,500 books away for free, including:

We'll also be selling our publications and post cards at a special discount of up to 30%.

VENUE: Hall A, COEX
PERIOD: Thru June 22
ADMISSION: KRW 3,000
MORE INFO: See this link.
GETTING THERE: Samseong Station, Line 2


---

AROUND THE WEB

A miscellany of high-quality hyperlinks from the week, courtesy of SEOUL editor-in-chief Robert Koehler.

---

EVENTS

Encounter with Amitayus in Sukhavati, Buddhist Hanging Scroll at Heungguksa Temple

Originally reserved for the Heungguksa Temple in Goyang, the National Museum of Korea has managed to attain a very precious Buddhist scroll for its special exhibition, part of the museum's ongoing regular series of Buddhist paintings. The scroll was originally used for special Buddhist rituals that were held outside. The exhibition is intended to be an opportunity for the public to better understand Buddhist rituals and traditions through artwork and visual craft. Visitors will also be able to enlighten themselves on the history of modern Buddhist art in Korea, something that not many people get to see on a normal basis. Although Buddhism is often perceived as only an ancient tradition, this exhibition proves that it's an ongoing—and very relevant—culture that continues to thrive with full vitality. Buddhist paintings have evolved just as other art forms have, adapting to perceive the troubles and peculiarities of our time, struggling to express them through its unique perspective.

VENUE: National Museum of Korea
PERIOD: Thru Oct. 26
MORE INFO: T. 02-2077-9493, www.museum.go.kr
ADMISSION: Free
GETTING THERE: Take the underpass at Ichon Station 이촌역 (Jungang Line or Line 4) and follow the signs.

Capture the Moment: Pulitzer Prize Photographs

Photography buffs, don't miss out on this extremely rare opportunity to witness some of the world's most influential and emotionally-charged photographs all in one exhibition. Staged at the Hangaram Design Museum, this exhibition is one of the most comprehensive collections of prize-winning snaps, including images that go all the way back to the first prize-winning shot, awarded in 1942, and stretching over the decades to 2014's winners. Witness why photography is one of those beautiful mediums of expression that surpasses linguistic, geographical and cultural barriers.
Witness images taken during key historical events, such as the Korean War, the US invasion of Iraq and the 9/11 tragedy at the World Trade Center, as well as countless more. See people despairing from the depths of grief and pain, kissing in blissful moments of precious romance and triumphing over the sufferings inflicted by human history. The Pulitzer Prize was established in 1917 according to the will of American (Hungarian-born) publisher Joseph Pulitzer. Prizes are administered annually in Columbia University in New York City, with awards being divided into twenty-one categories.

VENUE: Hangaram Design Museum (at the Seoul Arts Center)
PERIOD: Thru Sep. 14
MORE INFO: T. 02-1644-6013, www.pulitzerprize.co.kr
ADMISSION: KRW 8,000–12,000
GETTING THERE: Nambu Bus Terminal Station 남부터미널역 (Line 3), Exit 5. Transfer to shuttle bus, or green bus No. 4429.

National Seal of the Korean Empire

If you're ever wondered why seals are still commonly used in Korea, consider that official seals were of extremely high importance in governmental affairs during the Joseon era, especially in matters that directly involved the king, who had his own set of royal seals that are now partially on display at the National Palace Museum of Korea, located on the grounds of Gyeongbokgung Palace. Although seals today can be made in a flash, royal seals went through an arduous and elaborate process before they were approved for official use. Like most things touched by the king, royal seals were in itself works of highly intricate art crafted by highly skilled artisans whose sole duty was to the excellence of their work. Anyone who takes a look at these highly prized seals will immediately get an idea of how much work went into making them. Unfortunately, after being colonized by Japanese imperialists and being torn apart by civil war, Korea found many of its cultural artifacts stripped away from their rightful place, including the nine national and royal seals that are now on display. Illegally transported to the United States during the war, they have recently been returned to by President Obama after being away from their home for over 60 years. Visitors will be granted the opportunity to see seals used during both the Joseon Period and the years of the Korean Empire.

VENUE: National Palace Museum of Korea
PERIOD: Thru Aug. 3
MORE INFO: T. 02-3701-7500, www.gogung.go.kr
ADMISSION: Free
GETTING THERE: Gyeongbokgung Station 경복궁역 (Line 3), Exit 5

RASKB Excursion: Exploring the Seoul City Wall 3: the Northern Sections

This excursion is the last of three walks along the Seoul City Wall. Participants will begin the excursion at the checkpoint for walking the wall near Changuimun (Jahamun). Visitors to this part of the wall are required to present identification (certificate of alien registration or a passport) at the checkpoint because this part of the wall passes behind the Blue House. Before going through the checkpoint, participants will look at Changuimun, which has the oldest gatehouse (1740) of all of the gates in Seoul.

VENUE: Seoul
DATE: June 22, 1PM to 4:30PM
COST: KRW 20,000 (members), KRW 25,000 (non-members)
MORE INFO: Click here.

SIWA Event: Itaewon's Back Alleys: Exploring the Heart of the Expatriate Community

You many know the main streets of Itaewon, but have you seen the huge thread spool in the street, or a car or an army vehicle on a rooftop? How about a large fork on a street corner? Participants will see these sites along with a military coin shop, interesting pottery, hidden stairways and unexpected views. Participants will also stroll down Antique Street and visit the Islamic Seoul Central Mosque.

VENUE: Itaewon, Seoul
DATE: June 30, 9:30AM to 11:45AM
MORE INFO: See this link.
ADMISSION: SIWA members: KRW 5,000. Non-members: KRW 15,000.
GETTING THERE: See link above.


---

EVERYDAY KOREANS

Tight-rope walker at Baekje Culture Land, Buyeo. Photo by Robert Koehler.

NOTIFICATIONS

Translators Needed (not only English) – Seoul Selection is looking for part-time translators to translate material from Korean into several languages, including French, German, Dutch, Hindi and Japanese. If you're interested, please send a resume and cover letter to atoz@seoulselection.com.

Seoul Selection Offline Bookshop Sale – One of the greatest repositories of Korea-related English-language books anywhere, Seoul Selection is offering a 10% sale on any and all books published by Seoul Selection purchased from our OFFLINE bookshop next to Gyeongbokgung Palace.

Looking for Translators – Seoul Selection is looking for a few good translators (Korean to English) for general translation work. Those interested should send a resume and cover letter to Kyehyun at trans@seoulselection.com. Experienced translators only.

Seoul Selection eBooks – You can purchase some Seoul Selection titles in ebook format via Amazon.com (for Kindle) and Apple's iBookstore. Titles include Ask a Korean Dude, Moon Tides, Doing Business in Korea, Once Around the Sun, and seven volumes of our Korean Film Directors series: BONG Joon-ho, IM Kwon-taek, KIM Jee-woon, LEE Chang-dong, LEE Man-hee, PARK Chan-wook, and SHIN Sang-ok.

Send Your Event Info – If you would like to advertise any upcoming events you are organizing, please send us the press release material at book@seoulselection.com by the preceding Friday in order for it to appear in the following Tuesday's issue.

Freelance Contributors Wanted – SEOUL Magazine needs writers who are fluent in both Korean and English. Writers should have a strong interest in Korean culture and be able to interview Koreans. Send your resume and writing samples to book@seoulselection.com.

We Buy & Sell Used Books – Seoul Selection buys and sells used books in English. Unlike our regular selection of publications that specialize in Korea-related topics, our Used Book section carries books on all subjects. It's all part of our effort to make life easier for the English-speaking community.

SEOUL (June 2014)


Buy Books at Seoul Selection's ONLINE Bookshop!




---

---

RECOMMENDED


Bridging the Technology Gap: Historical Perspectives on Modern Asia

---

NEW BOOKS


Sasang Constitutional Typology: A Beginner's Guide to Sasang Constitutional Medicine


STORYTELLING ASIA : Bangkok


Master KOREAN 2-1 (Basic)


Folk Tales from Korea


Korean Grammar as a Foreign Language


---

NEW DVDs


Bel Ami


Steal My Heart


Marriage Blue


The Plan Man


Marry Him If You Dare
Copyright © , All rights reserved.
Our mailing address is:
https://magazine.seoulselection.com/wp-content/uploads/2014/06/스크린샷-2014-06-19-160922.png
802
605
rjkoehler
https://magazine.seoulselection.com/wp-content/uploads/2018/01/Seoul-logo.png
rjkoehler
2014-06-19 07:11:00
2014-06-19 16:12:10
SEOUL Weekly: Find Your True Self with the TempleStay Program