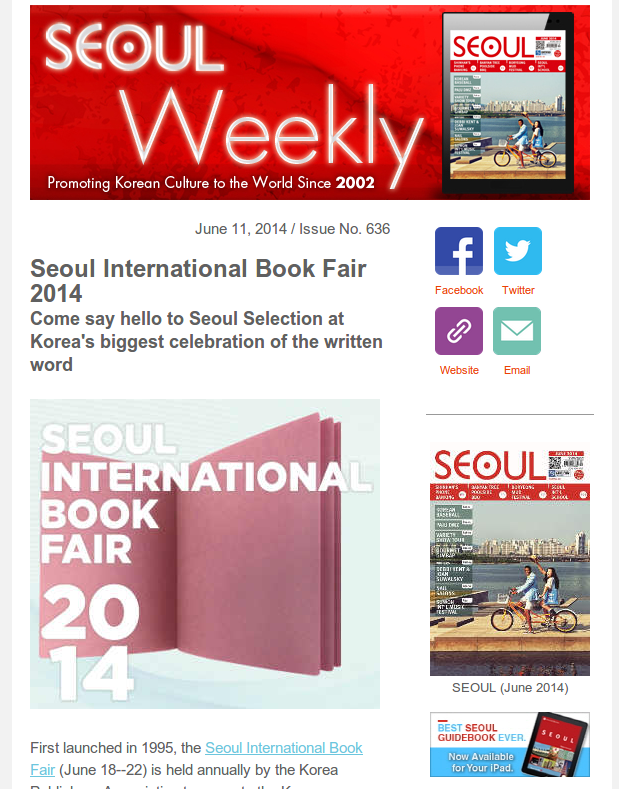 June 11, 2014 / Issue No. 636

Seoul International Book Fair 2014
Come say hello to Seoul Selection at Korea's biggest celebration of the written word

First launched in 1995, the Seoul International Book Fair (June 18–22) is held annually by the Korea Publishers Association to promote the Korean publishing industry and introduce the reading public to literature from around the world. Under the theme "See the World through Books, Envision the Future with Books," the fair will feature displays by hundreds of publishers, e-publishers, book art companies, magazine publishers, copyright agencies, book stores, libraries, publishing-related organization and book distributors. This year's Guest of Honor is the Sultanate of Oman, while the Country Focus is Italy (Italian authors Walter Siti and Giancarlo de Cataldo will be in attendance). Be sure to check out the special exhibits, including one on Korean modern and contemporary book cover design.

Seoul Selection will, of course, be in attendance. Pay us a visit at booth J16. As added encouragement, we'll be giving away around 2,500 books away for free, including:

We'll also be selling our publications and post cards at a special discount of up to 30%.

VENUE: Hall A, COEX
PERIOD: June 18–22
ADMISSION: KRW 3,000
MORE INFO: See this link.
GETTING THERE: Samseong Station, Line 2


---

AROUND THE WEB

A miscellany of high-quality hyperlinks from the week, courtesy of SEOUL editor-in-chief Robert Koehler.

---

EVENTS

Somerset Palace Seoul

The Somerset Palace Seoul is a leading serviced apartment in the very heart of Seoul. Experience the highest level of service of Ascott Limited, which runs serviced residences in over 70 cities in 20 nations worldwide.

MORE INFO: T. 02-6730-8000 or visit here.

Teeth Whitening Special Offer

A Plus Dental Clinic is offering a teeth whitening special this spring. Treat yourself to a brighter and new smile at a great price!

* Teeth Whitening Special
In-office Whitening (1 time) + Doctor's Check-Up
: KRW 190,000 -> NOW KRW 150,000

In-office Whitening (2 times) + Doctor's Check-Up
: KRW 350,000 -> NOW KRW 280,000

* Promotion Period : May 1st 2014 – July 5th 2014
* Contact : Joyce, Eng Coordinator

Suwon Hwaseong Fortress International Music Festival 2014

Legendary conductor Kim Dae-jin heads the Suwon Philharmonic in this biennial festival hosted in order to boost the cultural and musical quality of the city. The opening performance will be headed by soprano Shin Youngok and legendary violist and violinist Sergey Malov, who will be performing in Korea for the first time. But the festival doesn't just stop at classical music; on the lineup is one of Korea's most legendary singers, often attributed to expressing the true Korean spirit through his soulful voice, Jang Sa-ik. For piano enthusiasts, Kun-woo Paik is sure to satisfy even the pickiest listener's palate.

VENUE: Suwon SK Artrium Grand Hall
PERIOD: June 14–21
MORE INFO: T. 031-279-3562, www.swcf.or.kr
ADMISSION: KRW 8,000–30,000
GETTING THERE: Suwon Station 수원역 (Line 1), Exit 6. Across from AK plaza is a bus station. From there, take bus 400-1, 990 or 999-1 and get off at Suwon SK Atrium station.

Cats: Original Production in Korea

You've probably heard of Andrew Lloyd Webber's musical, "Cats," but did you know that he wrote it based on "Old Possum's Book of Practical Cats" by T.S. Eliot? It's surprising that a mainstream musical could come from such poetic origins. First produced in 1981 before its 1982 Broadway debut, the production has been translated into more than 20 languages and is the second longest-running show in Broadway history. The original production is finally making its triumphant return to the Peninsula, its first time in six years. Over a million people have gone to see "Cats" in Korea over the years, a testament to its popularity and international appeal. In addition to the unconventional storyline—a decision must be made regarding which cat can ascend to heaven and attain a new mode of existence—the costumes and set design are known to be crowd pleasers.

VENUE: Samsung Electronics Hall, BLUE SQUARE
PERIOD: Jun 13–Jul 13
MORE INFO: T. 02-544-1591, www.bluesquare.kr
ADMISSION: KRW 50,000-140,000
GETTING THERE: Hangangjin Station 한강진역 (Line 6), Exit 3

Ultra Korea 2014

Have you heard enough about classical music and operas? If you like outdoor music festivals and loud, electronic music played at maximum volume, then ULTRA KOREA might be for you. ULTRA is an outdoor electronica concert that was first started in Miami in 1999. It has since expanded all across the globe, with Korea being the only Asian city on the tour. A concert's lineup will make or break its success, and this year's offering includes the following acts: Above & Beyond, Afrojack, Alesso, Armin Van Buuren, Avicii, Carl Cox, Cirez D, David Guetta, Diplo, Hardwell, Kaskade, Krewalla, Loco Dice, Luciano, Marco Carola, New World Punx, Nicky Romero, Solomun, Steve Angello, Tiesto and Zedd.

VENUE: Jamsil Sports Complex Main Stadium
DATES: Jun. 13–14
MORE INFO: T. 1566-6668, www.umfkorea.com
ADMISSION: KRW 150,000
GETTING THERE: Sports Complex Station 종합운동장역 (Line 2), Exit 6 or 7

Jankura Art Space: Conte Basics

Come get your fingers dirty exploring this wonderful medium.

You'll have a chance to learn the tricks to producing bright, vivid images using soft, dry pastels. This is a great medium as results are instantaneous and full of depth!

You'll practice on white, colored and then finally black paper to explore how versatile dry pastels can be. Come enjoy an afternoon of image-making at Jankura Artspace!

VENUE: Jankura Artspace
DATE: June 14, 2PM to 5PM
COST: KRW 25,000 (includes materials)
MORE INFO and GETTING THERE: See this link.

RASKB Excursion: Exploring the Seoul City Wall 3: the Northern Sections

This excursion is the last of three walks along the Seoul City Wall. Participants will begin the excursion at the checkpoint for walking the wall near Changuimun (Jahamun). Visitors to this part of the wall are required to present identification (certificate of alien registration or a passport) at the checkpoint because this part of the wall passes behind the Blue House. Before going through the checkpoint, participants will look at Changuimun, which has the oldest gatehouse (1740) of all of the gates in Seoul.

VENUE: Seoul
DATE: June 22, 1PM to 4:30PM
COST: KRW 20,000 (members), KRW 25,000 (non-members)
MORE INFO: Click here.

SIWA Event: Itaewon's Back Alleys: Exploring the Heart of the Expatriate Community

You many know the main streets of Itaewon, but have you seen the huge thread spool in the street, or a car or an army vehicle on a rooftop? How about a large fork on a street corner? Participants will see these sites along with a military coin shop, interesting pottery, hidden stairways and unexpected views. Participants will also stroll down Antique Street and visit the Islamic Seoul Central Mosque.

VENUE: Itaewon, Seoul
DATE: June 30, 9:30AM to 11:45AM
MORE INFO: See this link.
ADMISSION: SIWA members: KRW 5,000. Non-members: KRW 15,000.
GETTING THERE: See link above.


---

EVERYDAY KOREANS

A beautiful sunset at Incheon's Bukseong Pier on Friday evening. Photo by Robert Koehler.

NOTIFICATIONS

Translators Needed (not only English) – Seoul Selection is looking for part-time translators to translate material from Korean into several languages, including French, German, Dutch, Hindi and Japanese. If you're interested, please send a resume and cover letter to atoz@seoulselection.com.

Seoul Selection Offline Bookshop Sale – One of the greatest repositories of Korea-related English-language books anywhere, Seoul Selection is offering a 10% sale on any and all books published by Seoul Selection purchased from our OFFLINE bookshop next to Gyeongbokgung Palace.

Looking for Translators – Seoul Selection is looking for a few good translators (Korean to English) for general translation work. Those interested should send a resume and cover letter to Kyehyun at trans@seoulselection.com. Experienced translators only.

Seoul Selection eBooks – You can purchase some Seoul Selection titles in ebook format via Amazon.com (for Kindle) and Apple's iBookstore. Titles include Ask a Korean Dude, Moon Tides, Doing Business in Korea, Once Around the Sun, and seven volumes of our Korean Film Directors series: BONG Joon-ho, IM Kwon-taek, KIM Jee-woon, LEE Chang-dong, LEE Man-hee, PARK Chan-wook, and SHIN Sang-ok.

Send Your Event Info – If you would like to advertise any upcoming events you are organizing, please send us the press release material at book@seoulselection.com by the preceding Friday in order for it to appear in the following Tuesday's issue.

Freelance Contributors Wanted – SEOUL Magazine needs writers who are fluent in both Korean and English. Writers should have a strong interest in Korean culture and be able to interview Koreans. Send your resume and writing samples to book@seoulselection.com.

We Buy & Sell Used Books – Seoul Selection buys and sells used books in English. Unlike our regular selection of publications that specialize in Korea-related topics, our Used Book section carries books on all subjects. It's all part of our effort to make life easier for the English-speaking community.

SEOUL (June 2014)


Buy Books at Seoul Selection's ONLINE Bookshop!




---

---

RECOMMENDED


Sasang Constitutional Typology: A Beginner's Guide to Sasang Constitutional Medicine

---

NEW BOOKS


Talk To Me In Korean Workbook Level 3


Folk Tales from Korea


Easy Talk in Korean


한국어 수업 어떻게 하는가?


Korean Grammar as a Foreign Language


---

NEW DVDs


Steal My Heart


Marriage Blue


The Plan Man


Marry Him If You Dare
Copyright © , All rights reserved.
Our mailing address is:
https://magazine.seoulselection.com/wp-content/uploads/2014/06/Screenshot-from-2014-06-11-182957.png
789
619
rjkoehler
https://magazine.seoulselection.com/wp-content/uploads/2018/01/Seoul-logo.png
rjkoehler
2014-06-11 09:35:04
2014-06-11 18:36:15
SEOUL Weekly: Seoul International Book Fair 2014