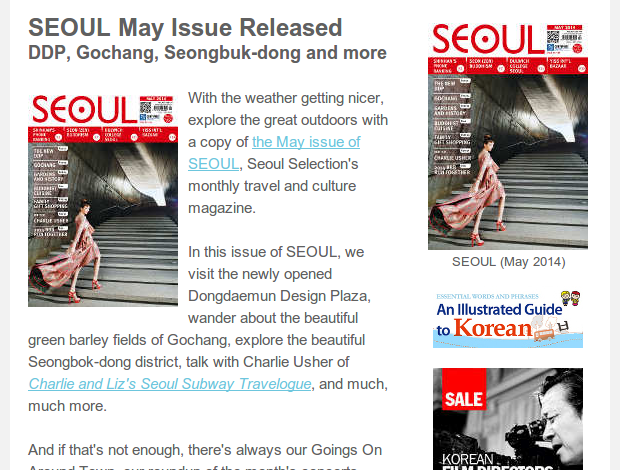 April 23, 2014 / Issue No. 629

Our Condolences

Seoul Selection expresses profound sadness in wake of the Sewol sinking and offers our deepest condolences to all those who lost loved ones in the tragedy.

SEOUL May Issue Released
DDP, Gochang, Seongbuk-dong and more

With the weather getting nicer, explore the great outdoors with a copy of the May issue of SEOUL, Seoul Selection's monthly travel and culture magazine.

In this issue of SEOUL, we visit the newly opened Dongdaemun Design Plaza, wander about the beautiful green barley fields of Gochang, explore the beautiful Seongbok-dong district, talk with Charlie Usher of Charlie and Liz's Seoul Subway Travelogue, and much, much more.

And if that's not enough, there's always our Goings On Around Town, our roundup of the month's concerts, festivals, exhibitions and other fun goings on.

Run out and get your copy today.


---

EXPAT LIVING

Purchasing Protein Powder

Written by Deanne Nguyen

If you're like the rest of my gym rat friends, the means to muscle in a nation of skinny jeans and stars are a dietary challenge. Protein (단백질 or 프로틴), conveniently available on the shelves and in specialty stores abroad, is often a hit or miss; sometimes you see it, sometimes you don't.

Enter the online market. The grocery giants (Emart, Lotte, and Homeplus) all carry some kind of protein powder, oftentimes marketing it is a "Dietary" supplement versus a weight gain. Gmarket and expat favorite iherb.com have a superior selection, as they do more importing. The products often come in larger sizes, 2 kg for around KRW 50,000-70,000, depending on the brand. Iherb's however does offer small portions-1.2 kg for $25 USD.

Luckily, all of these come in at least a few flavors to offset the pungent aftertaste (Gmarket carries Syntha-6 in Cookies n' Cream and over ten others). Payment is also convenient: with the Korean sites, you can opt for a bank transfer; with iherb, it's a simple credit card transaction. What size you choose however, depends on your consistency of intact. Well, go big to get big as they say.


---

AROUND THE WEB

A miscellany of high-quality hyperlinks from the week, courtesy of SEOUL editor-in-chief Robert Koehler.

---

EVENTS

The Lotus Lantern Festival

In connection with Buddha's Birthday, the Lotus Lantern Festival originated during the Silla Kingdom and was officiated as a national ceremony in the Goryeo Dynasty. The lanterns are a tribute to Siddhartha Gautama and his spiritual achievements, their lights representing the dispersal of darkness, hate and ignorance. Although officially discontinued during the Joseon era, the practice of lighting lanterns in honor of Buddha's Birthday continued to be practiced amongst commoners. The festival survived the Japanese colonial period and the Korean War, and was made a public holiday in 1975. Today, Seoul's version of the festival is held in Jongno-gu, including the Lantern Parade, an enormous procession of more than 100,000 lanterns and illuminated floats.
In addition to the lanterns, the Buddhist Street Festival allows participants to get hands-on experience in Buddhist culture. Attendees can make lotus lanterns, get their faces painted, create Buddhist art, taste temple food, play folk games and even learn some Buddhist traditional dance. While you're at it, why not bang on some drums! The festival also expands beyond Korean traditions and includes those from Thailand, Taiwan, Myanmar, Tibet and Mongolia.

VENUE: Area around Jogyesa Temple, Bongeunsa Temple
PERIOD: April 25 to May 11.
MORE INFO: T. 02-2011-1744, www.llf.or.kr/eng

Tribute to Fallen Expat

Seoul's expatriate community will meet at Divine in Itaewon to pay tribute to long-time Korea resident Alexander "Lex" Rene Boutilier, who died in a motorcycle accident earlier this month. Friends of his have organized "Lexicon" to celebrate his life and raise funds for his family.
Lexicon will feature a range of events, including raffles, a trivia quiz, bric-a-brac auction, bake sale, live music, film screening and more. The event is free, but donations are highly encouraged.
All are welcome, not just friends of Lex. See www.lexiconseoul.com for more information.

The Living Legend Jeff Beck, Life in Seoul

Ranked 5th on Rolling Stone's list of 100 Greatest Guitarists of All Time, English guitarist and legend Jeff Beck will be performing in Seoul for the first time in four years. Formerly a guitarist for The Yardbirds, Jeff Beck has gone on to doing some of the world's most revered instrumental guitar work, spanning across all genres. He has won 6 Grammy Awards for Best Rock Instrumental Performance and has been inducted into the Rock 'n Roll Hall of Fame twice, once as a member of The Yardbirds and once as a solo artist. He has worked with artists such as Rod Stewart and ZZ Top, and his 2010 performance in Seoul sold out in minutes. And to think that his mother almost made him play the piano instead of the guitar!

VENUE: Olympic Hall, Olympic Park
DATE: Apr. 27, 18:00
ADMISSION: KRW 88,000–154,000
MORE INFO: T. 02-563-0595
GETTING THERE: Olympic Park Station (Line 5), Exit 3

A Midsummer Night's Dream

A new twist on a Shakespeare's comedy from the War Horse team, this new collaboration between Bristol Old Vic artistic director Tom Morris and Cape Town's Handspring Puppet Company plays out on a starkly beautiful set, deeply faithful to the heart of this wondrous work of imagination. Shakespeare's intertwined love story portrays the happenings on the Duke's Wedding day. Hermia and Lysander are lovers. But Hermia's father wants Demetrius for a son-in-law. Hermia and Lysander plan to flee from the city and to step into a forest, the realm of Fairyland. Demetrius and Helena, whose unreturned love for Demetrius, run after the lovers. In the forest, Oberon and Titania (King and Queen of the faeries) live on the unpleasant terms. Obron and his servant boy Puck cause mayhem among the lovers with a magic potion.

Performed in English with Korean subtitles.

VENUE: National Theater of Korea
PERIOD: Apr. 25–27
ADMISSION: KRW 40,000–50,000
MORE INFO: T. 02-2280-4114
GETTING THERE: Dongguk Univ. Station 동대입구 (Line 3), Exit 2.

Ahn-core

The Ahn TRIO returns to Seoul for the first time since their Christmas concert of 2008. The three sisters—Seoul-born and NYC-raised—are especially known for their performances of new classical music and arrangments of pop music.

VENUE: Seoul Arts Center
DATE: May 18, 2PM
ADMISSION: KRW 30,000–100,000
MORE INFO: www.sac.or.kr
GETTING THERE: Nambu Bus Terminal Station 남부터미널역 (Line 3), Exit 5. Transfer to shuttle bus, or green bus No. 4429.

YISS International Bazaar

You are invited to come and enjoy a wide variety of traditional foods and cultural performances at the YISS International Bazaar on Saturday, May 10. Shop for new or used items or participate in the silent auction or prize raffle. There is something for everyone, so mark your calendar and don't miss this major community event. To learn more about the International Bazaar and other YISS PTO-organized events, go to www.yisspto.org.

VENUE: Yongsan International School of Seoul
DATE: May 10, 11AM to 4PM
MORE INFO: www.yisseoul.org, T: (02) 797-5104
GETTING THERE: Hangangjin Station (Line 6), Exit 1

RASKB Excursion: Color and Pageantry in Seoul's Temples on Buddha's Birthday

This afternoon and evening will be especially memorable. As well as helping to commemorate this special day, you will witness all the color and pageantry which the Koreans lavish on the celebration of the birth of Buddha. The lanterns, costumes, and celebratory dances are colorful and joyful. Don't forget your camera!

VENUE: Several temples in Seoul
DATE: May 6, 1PM to 9PM
COST: KRW 33,000–39,000
MORE INFO: See this link.
GETTING THERE: See link above.


---

EVERYDAY KOREANS

Dongdaemun Design Plaza, seen from the cafe of Dongdaemun's KLIVE K-pop experience hall. Photo by Robert Koehler.

NOTIFICATIONS

Translators Needed (not only English) – Seoul Selection is looking for part-time translators to translate material from Korean into several languages, including French, German, Dutch, Hindi and Japanese. If you're interested, please send a resume and cover letter to atoz@seoulselection.com.

Seoul Selection Offline Bookshop Sale – One of the greatest repositories of Korea-related English-language books anywhere, Seoul Selection is offering a 10% sale on any and all books published by Seoul Selection purchased from our OFFLINE bookshop next to Gyeongbokgung Palace.

Looking for Translators – Seoul Selection is looking for a few good translators (Korean to English) for general translation work. Those interested should send a resume and cover letter to Kyehyun at trans@seoulselection.com. Experienced translators only.

Seoul Selection eBooks – You can purchase some Seoul Selection titles in ebook format via Amazon.com (for Kindle) and Apple's iBookstore. Titles include Ask a Korean Dude, Moon Tides, Doing Business in Korea, Once Around the Sun, and seven volumes of our Korean Film Directors series: BONG Joon-ho, IM Kwon-taek, KIM Jee-woon, LEE Chang-dong, LEE Man-hee, PARK Chan-wook, and SHIN Sang-ok.

Send Your Event Info – If you would like to advertise any upcoming events you are organizing, please send us the press release material at book@seoulselection.com by the preceding Friday in order for it to appear in the following Tuesday's issue.

Freelance Contributors Wanted – SEOUL Magazine needs writers who are fluent in both Korean and English. Writers should have a strong interest in Korean culture and be able to interview Koreans. Send your resume and writing samples to book@seoulselection.com.

We Buy & Sell Used Books – Seoul Selection buys and sells used books in English. Unlike our regular selection of publications that specialize in Korea-related topics, our Used Book section carries books on all subjects. It's all part of our effort to make life easier for the English-speaking community.

SEOUL (May 2014)


Buy Books at Seoul Selection's ONLINE Bookshop!




---

---

RECOMMENDED


Trade Winds of Change: Korea in World Trade

---


500 Basic Korean Verbs


Taekwondo Grappling Techniques: Hone Your Competitive Edge for Mixed Martial Arts (DVD Included)


Botanical Art of Korean Rare Plants


Sogang Korean Reading 6 (Student's Book 6)


---


Miss Korea


Novel Meets Movie (Short! Short! Short!)


Jeju Prayer
Copyright © , All rights reserved.
Our mailing address is:
https://magazine.seoulselection.com/wp-content/uploads/2014/04/스크린샷-2014-04-24-145755.png
470
620
rjkoehler
https://magazine.seoulselection.com/wp-content/uploads/2018/01/Seoul-logo.png
rjkoehler
2014-04-24 00:28:04
2014-04-24 15:04:55
SEOUL Weekly: SEOUL May Issue