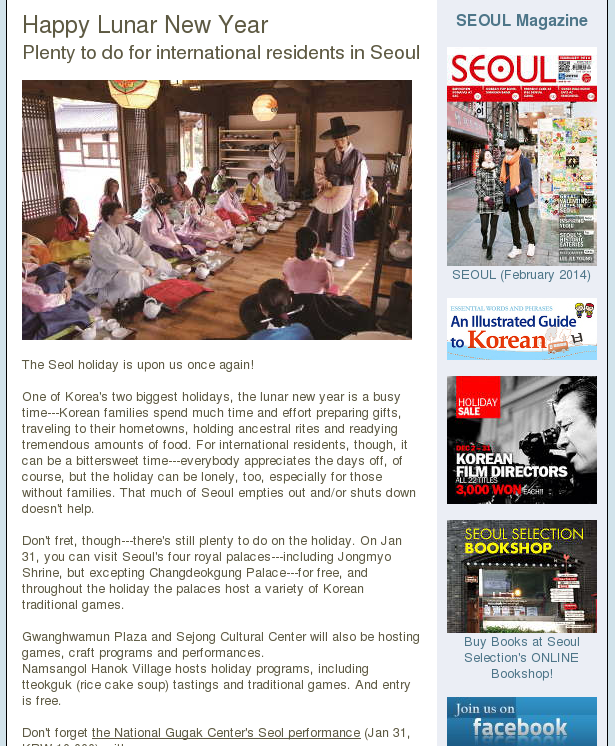 Jan 29, 2014 / Issue No. 617
Translator and Copy Editor Needed
Seoul Selection is looking for a part-time Korean-to-English translator, preferably one who majored in economics. If you're interested, please send a resume and cover letter to atoz@seoulselection.com.
Plenty to do for international residents in Seoul
The Seol holiday is upon us once again!
One of Korea's two biggest holidays, the lunar new year is a busy time—Korean families spend much time and effort preparing gifts, traveling to their hometowns, holding ancestral rites and readying tremendous amounts of food. For international residents, though, it can be a bittersweet time—everybody appreciates the days off, of course, but the holiday can be lonely, too, especially for those without families. That much of Seoul empties out and/or shuts down doesn't help.
Don't fret, though—there's still plenty to do on the holiday. On Jan. 31, you can visit Seoul's four royal palaces—including Jongmyo Shrine, but excepting Changdeokgung Palace—for free, and throughout the holiday the palaces host a variety of Korean traditional games.
Gwanghwamun Plaza and Sejong Cultural Center will also be hosting games, craft programs and performances.
Namsangol Hanok Village hosts holiday programs, including tteokguk (rice cake soup) tastings and traditional games. And entry is free.
Getting out of Seoul can be a bit of a nightmare on the first day of the holiday, but exploring some of the destinations on the edges of the city's extensive commuter train system—like Chuncheon and Suwon—can be quite fun.
For a fuller rundown on the holiday's events, see
this link
at the KTO.
The New York Philharmonic Orchestra is returning to the Seoul stage after its historic inter-Korean performances in 2008 and 2009. Under the masterful baton of music director Alan Gilbert, the orchestra will collaborate with Korean pianist Kim Da-sol on Feb. 6 for a program charged with Beethoven's "Piano Concerto in C minor Op. 37" and his opera "Fidelio." Celebrated Japanese jazz pianist Makoto Ozone will collaborate with the orchestra the following day. The concert tour is organized by the Kumho Asiana Cultural Foundation.
VENUE: Seoul Arts Center, Concert Hall
DATES: Feb. 6–7
ADMISSION: KRW 50,000–320,000
MORE INFO: T. 02-6303-1977, www.sac.or.kr
GETTING THERE: Nambu Bus Terminal Station 남부터미널역 (Line 3), Exit 5. Transfer to shuttle bus, or green bus No. 4429.
Park Soo-keun's Centennial
The Insa Art Center is holding an exhibition with 120 pieces of Park Soo-keun's oil paintings, drawings and watercolors to commemorate the centennial of his birth. Park is one of the most representative artists of Western-style painting in Korea. He depicted typical Korean lives from a perspective which is humane in its view of family and neighbors. He also established his own unique artistic mode, using deep local colors. Park passed away in 1965.
VENUE: Insa Art Center
PERIOD: Thru Mar. 16
ADMISSION: Free
MORE INFO: T. 02-736-1020, www.insaartcenter.com
[Map2, B2]
International Speed Dating
Join Koreans and internationals to make new friends (or potential partners) in a modern way. Side dishes and all-you-can-drink wine available.
VENUE: Bar Naked, Itaewon
DATE: Feb. 2, 6:30pm–9pm
ADMISSION: KRW: Women, 28,000; men, 30,000
MORE INFO: http://friendsinkorea.com
RASKB Excursion: Lunar New Year Excursion to Seoraksan
Nothing is more beautiful than the winter snowscapes of Seoraksan! The RAS is once again offering its very popular New Year excursion to the magnificent Mt. Seoraksan in Gangwon-do. In addition to the usual magnificent beauty of this scenic area, participants will have the possibility of enjoying the Cheoksan hot springs on the first night, and to extend the pleasure on the second day at the Seorak Waterpia, a large-scale hot-spring resort.
DESTINATION: Mt. Seoraksan National Park
DATE: Jan. 31–Feb. 1
ADMISSION: KRW 248,000 for members and KRW 297,000 for non-members.
GETTING THERE: See link above.
Looking for Teachers: Cheongna Dalton School
"Be the Change you wish to be" at CDS
Cheongna Dalton School is the only International School fully accredited by both the Korean Government and Western Association of Schools and Colleges.
The great vision is looking for great people in the following subjects:
English Literature
Mathematics
Social Studies (History, Economics, Psychology)
Science (Biology, Chemistry, Physics)
Chinese
Spanish
Physical Education
Dance
Librarian
To apply for the position, please contact Ms. Claudia Hong at chong@daltonschool.kr
Kindergarten – Grade 12
344, Cheomdandong-ro, Seo-gu, Incheon, Korea 404-170
Phone: +82-32-563-0523 Fax: +82-32-563-0524 www.daltonschool.kr
Samcheong-dong Hotteok
The popular Samcheong-dong Hotteok shop in Bukchon Hanok Village. Photo by Robert Koehler.
*Click the photo to see a full-size version at our website.
NOTE: If you have a photo you would like to see in our Everyday Koreans section, please sent it to story@seoulselection.com. Photos should be AT LEAST 950px wide. Send a one-line bio, too.

Seoul Selection Offline Bookshop Sale
:
One of the greatest repositories of Korea-related English-language books anywhere, Seoul Selection is offering a 10% discount on any and all books published by Seoul Selection purchased from our OFFLINE bookshop next to Gyeongbokgung Palace.
Tell Us About 'Your Korea': If you're a longtime resident of Korea and would like to share your story in KOCIS's KOREA Magazine, shoot an email with your story idea to book@seoulselection.com.
Looking for Translators – Seoul Selection is looking for a few good translators (Korean to English) for general translation work. Those interested should send a resume and cover letter to Kyehyun at trans@seoulselection.com. Experienced translators only.
Seoul Selection eBooks
– You can purchase some Seoul Selection titles in ebook format via
Amazon.com
(for Kindle) and Apple's
iBookstore
. Titles include
Ask a Korean Dude
,
Moon Tides
,
Doing Business in Korea
,
Once Around the Sun
, and seven volumes of our Korean Film Directors series:
BONG Joon-ho
,
IM Kwon-taek
,
KIM Jee-woon
,
LEE Chang-dong
,
LEE Man-hee
,
PARK Chan-wook
, and
SHIN Sang-ok
.
Send Your Event Info
– If you would like to advertise any upcoming events you are organizing, please send us the press release material at
book@seoulselection.com
by the preceding Friday in order for it to appear in the following Tuesday's issue.
Freelance Contributors Wanted – SEOUL Magazine needs writers who are fluent in both Korean and English. Writers should have a strong interest in Korean culture and be able to interview Koreans. Send your resume and writing samples to book@seoulselection.com.
We Buy & Sell Used Books – Seoul Selection buys and sells used books in English. Unlike our regular selection of publications that specialize in Korea-related topics, our Used Book section carries books on all subjects. It's all part of our effort to make life easier for the English-speaking community.
Buy Books at Seoul Selection's ONLINE Bookshop!
The History and Structure of Korean Shamanism
Our Sunhi
Korean made Easy: Vocabulary
The Fragrant Well
Korean for foreigners Workbook 2
Everyday Korean Idiomatic Expressions
Korean Grammar in Use – Advanced
Master's Sun
Our Sunhi
Cold Eyes
Goddess of Fire
Scandal: A Shocking and Wrongful Incident
Publisher: Hank Kim / Editor: Robert Koehler
Seoul Selection reserves all intellectual property rights on information provided in this newsletter. Some event information has been provided by the Korea Foundation. The IPRs are protected by pertinent laws
https://magazine.seoulselection.com/wp-content/uploads/2014/01/export4.png
746
615
rjkoehler
https://magazine.seoulselection.com/wp-content/uploads/2018/01/Seoul-logo.png
rjkoehler
2014-01-29 16:25:59
2014-02-05 09:55:59
SEOUL Weekly: Happy Lunar New Year