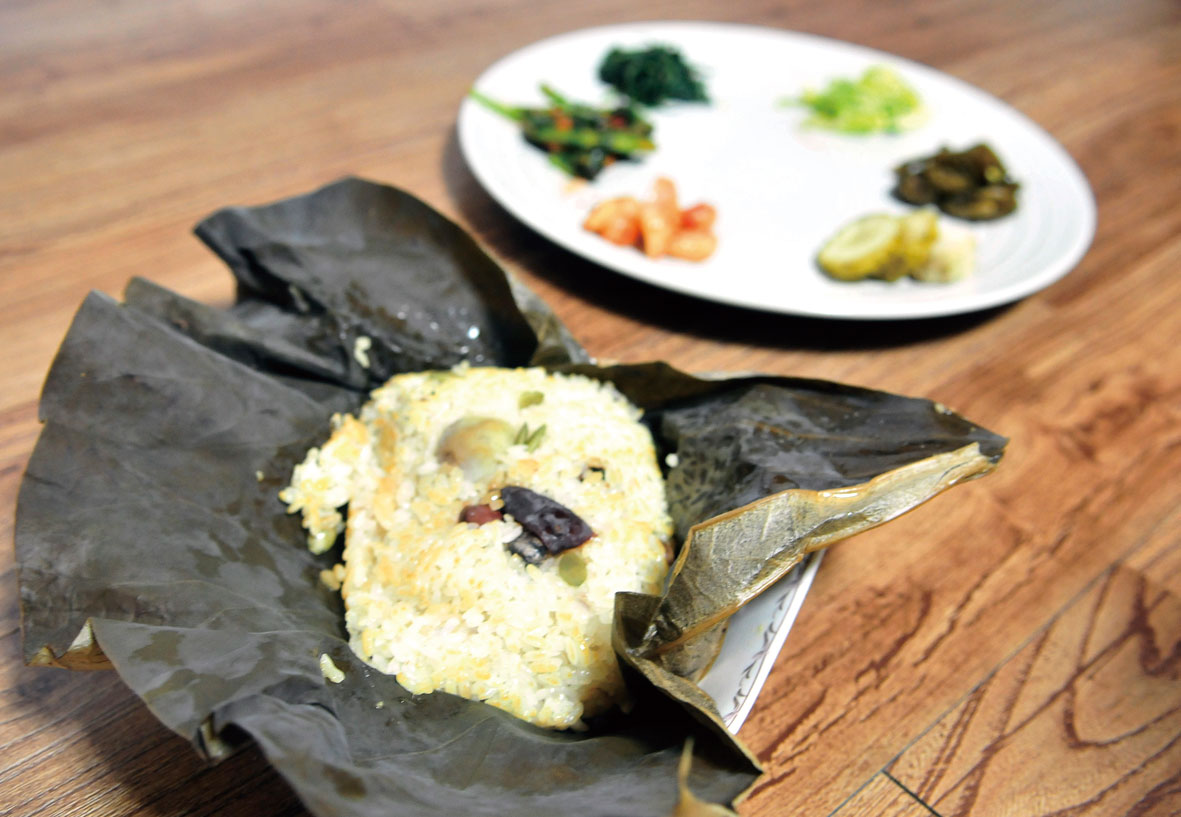 Quick Bites
Handmade Pickles at Bapjitgo 밥짓고 티우림
A local favorite, this restaurant is known for their various pickled vegetables (jangajji). Here they make soy-sauce pickled cucumbers, chili pickles, turnip pickles, pickled mountain herbs and roots, and even pickles made from squid. They specialize in home-style Korean food with a twist. You can get smoked duck with citrus-yuja dressing or a spicy winter-dried pollack with wild sesame. They also do classics like soybean paste stew and a lotus-leafwrapped rice meal. The atmosphere is rustic and homey, for it is a Korean house that has been converted into a restaurant. In the inner garden, you might see the kimchi pots they use to make their pickles or the owner's children making chalk drawings on the wall. This is a great place for an afternoon meal.
Seongbuk-dong> Bapjitgo 밥짓고 티우림
FYI>
Open: 11am–8pm
T. 02-6349-4999
Price: KRW 7,000-25,000
Go>
Hansung Univ. Station 한성대입구역 (Line 4),
Exit 6. Turn right at the first alley.
Duck Fat Fries at Hopscotch Gastropub 합스카치 게스트로펍
The shatteringly crisp fries at Hopscotch Gastropub will make you question the definition of the word "crispy." The fries are delicious, but so are the pork cracklings and their bacon-topped mac 'n' cheese. They served one of the best salads I have had in the city. It was a salad with a citrus dressing that was topped with cranberry, avocado, mandarin oranges, sugared pecans, cucumbers, and tomatoes. It made me feel like I was in San Francisco. The interior has an industrial, MC Escher-feel, and the whole joint feels like a speakeasy from old movies. If you are looking for a place to have a beer, cocktail, or whisky with some inventive pub fare, then head to Hopscotch. Also make note that the pub doesn't have a sign. The entrance is a large metal, sliding door with a red hopscotchesque neon sign.
Gangnam> Hopscotch Gastropub 합스카치 게스트로펍
FYI>
T. 02-511-0145
Open: 5pm–late
Price: around KRW 10,000–17,000
Go>
Not far from Gangnam-gu Office 강남구청역 (line 7). If you take a cab, they will drop you off near Hopscotch, but you'll  have to walk down the side street next to the Kia dealership and make the first left. You'll see the metal doors up ahead.
https://magazine.seoulselection.com/wp-content/uploads/2013/07/RYU5570i.jpg
817
1181
cyn
https://magazine.seoulselection.com/wp-content/uploads/2018/01/Seoul-logo.png
cyn
2013-11-06 17:14:55
2013-11-06 18:33:48
Quick Bites