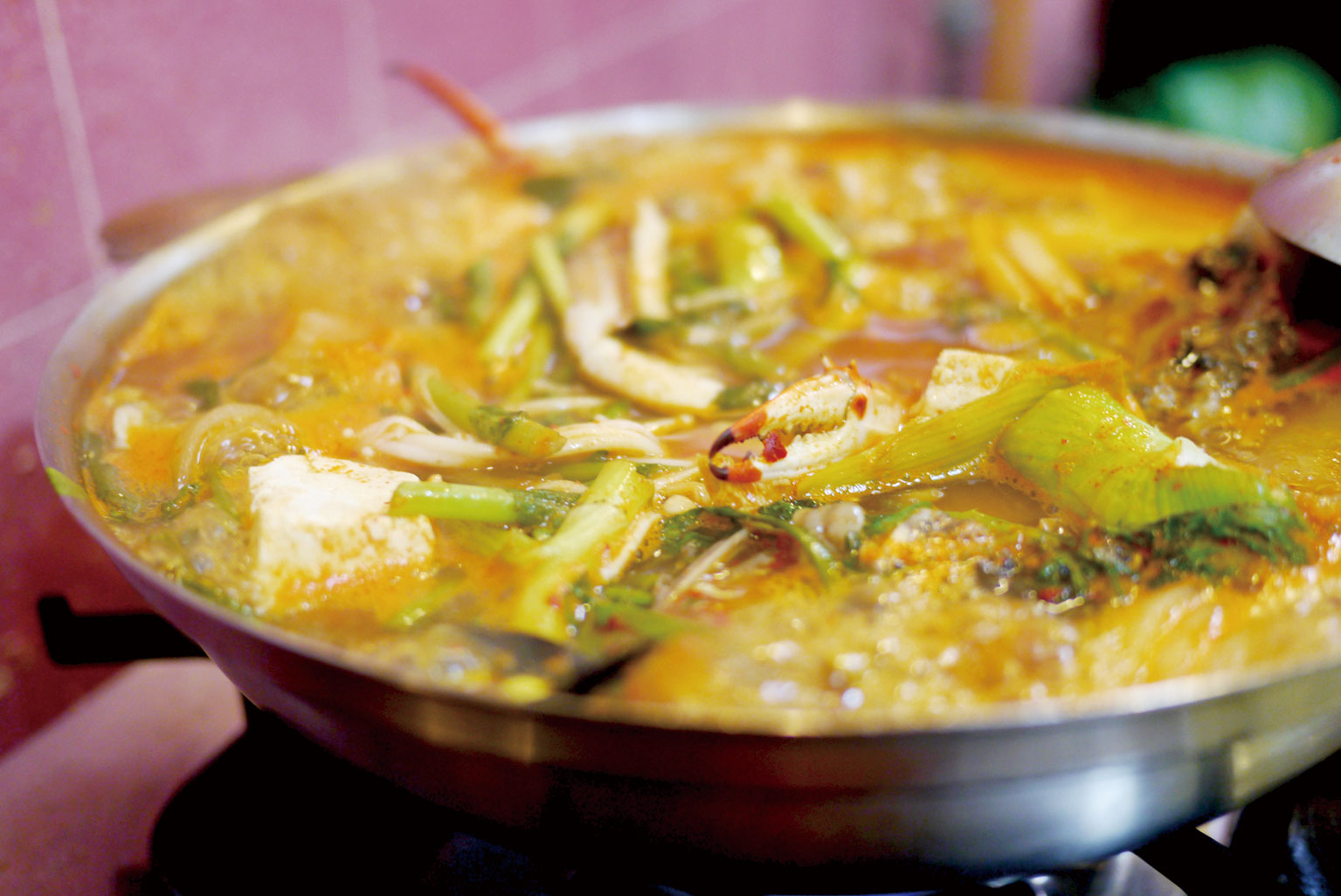 Busan Sikdang 부산식당
Busan is famous for their seafood, and if you are looking to get a taste of it while in Seoul, head over to Busan Sikdang. This little brick building near Insadong has been at the same location doing the same food for over 30 years, so they must be doing something right. Service is prickly and a tad slow, and they act like they really don't care if you are there. Believe it or not, but this is a good sign for a Korean restaurant. The thing to get is the sangtae chiggae, spicy fish pollock soup. The soup is cooked in a big pot and it is overflowing with mushrooms, tofu, watercress and more. They bring it to the table in a big metal pot, and it finishes cooking at the table. Once it is finished cooking, the broth is spicy, fishy, and flavorful. It is fun to pick out the vegetables, fish, and more from the broth and enjoy this all with rice. Sometimes, you might even get a special side dish like soy marinated crab if you get lucky. Sure, the service might not be all that special, but the food surely is.
FYI>
Busan Sikdang 부산식당
T. 02-733-5761
Hours: 11am–12pm
Price: KRW 7,000–15,000 a person
D'Industry Real Furniture Café 55 디인더스트리 카페 디55
D'Industry Real Furniture Café 55 was built by artists and designers who are famous for building some of the most fetching stores in Korea, such as Style by Shez in Apgujeong, the Abbey House Studio in Namyang, Photo Café Kuma.C, and more. This group knows how to transform a space, and they did the same with their own café. The interior has a postindustrial feel and is loaded with designer furniture, lights, and fixtures from all over the world. My favorite is the dentist light over the register. The coffee here is quite good, and so are the desserts and cakes. I had a carrot cake that was sweetly spiced and topped with plenty of sweet and light cream cheese, and a decadent chocolate brownie filled my boundless craving for chocolate. Their locally roasted coffee and frothy cappuccinos don't disappoint, either.
FYI>
D'Industry Real Furniture Café 55
디인더스트리 카페 디55
T. 02-720-5014
Hours: 11am–10pm
Price: KRW 5,000–10,000 a person
https://magazine.seoulselection.com/wp-content/uploads/2013/06/P1080773i.jpg
1026
1535
cyn
https://magazine.seoulselection.com/wp-content/uploads/2018/01/Seoul-logo.png
cyn
2013-11-06 17:14:55
2013-11-06 18:34:17
Quick Bites