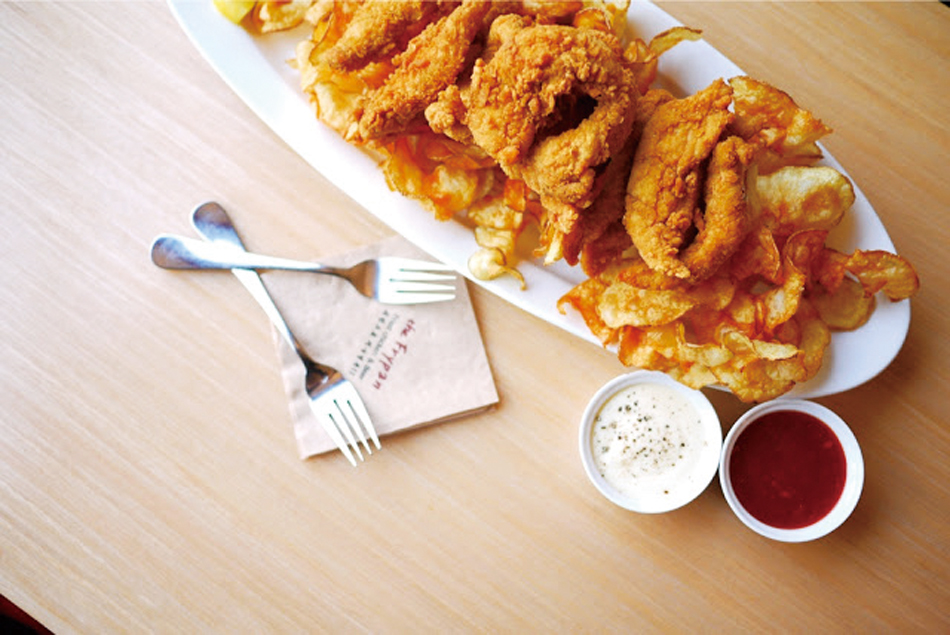 [box_light]Quick Bites[/box_light]
Scotch Eggs? Try Reilly's 라일리탭하우스
Itaewon area
Reilly's Taphouse in Itaewon is serving up an awesome selection of ales and beers (both foreign and domestic) and a dizzying array of gastropub fare. Plus they have dishes made from the chicken and the egg. On their brunch menu there are steak and eggs as well as cereal-crusted french toast. They also have blackened chicken sandwiches and beerbraised chicken wings. But the thing that gets me really excited are the Scotch eggs. They are encrusted in ground pork and bread crumbs, fried, and served with a tangy tomato sauce. These go pretty well with a beer (or three).
FYI>                                                                                                                                                                                                                                                             T. 02-792-6570
Price: KRW 10,000
The Frypan: University Project Turned Franchise 프라이팬
Hongdae area
Hongdae University is known as the school for aspiring artists. The scene is eclectic and energetic, and many of the restaurants and eateries in the surrounding area reflect this. The Frypan was started as a school project by a group of university students. Their signature dish is boneless
chicken breast that is breaded and fried and served over a bed of freshly fried potato chips. It is like a battleship of chicken strips and chips. It comes with their "original" mayonnaise/garlic sauce or a spicy chicken sauce. Oh, and their turnip pickles have a curry accent. I give these art students an A+ for their restaurant.
FYI>                                                                                                                                                                                                                                                             Locations throughout Korea
www.thefrypan.co.kr
https://magazine.seoulselection.com/wp-content/uploads/2013/10/P1120339-786150.jpg
635
950
cyn
https://magazine.seoulselection.com/wp-content/uploads/2018/01/Seoul-logo.png
cyn
2013-11-06 17:12:41
2013-11-06 17:38:15
Quick Bites