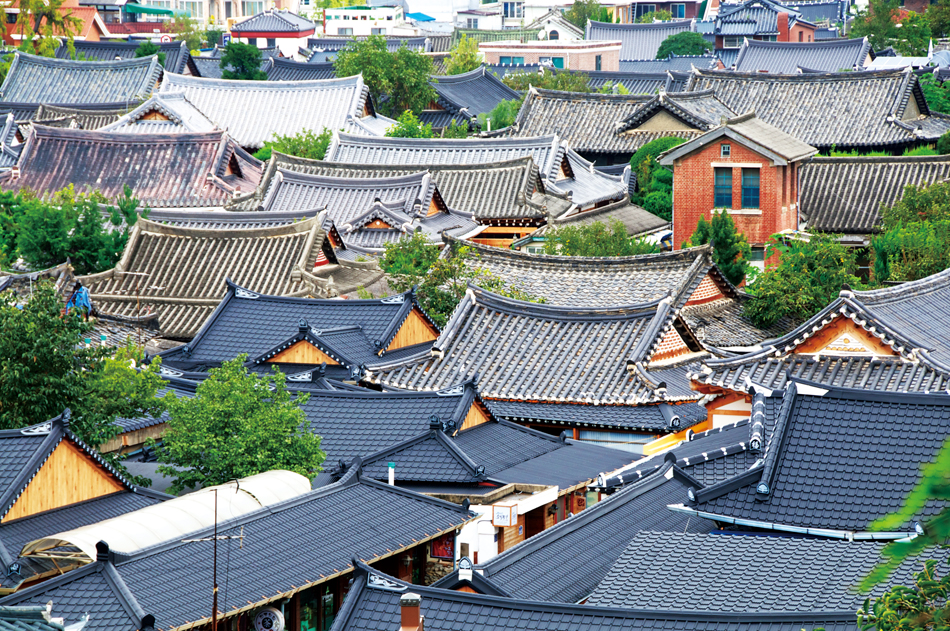 [box_dark]
Jeonju
전주[/box_dark]
A maze of picturesque alleyways lined by handsome old Korean homes, Jeonju Hanok Village is a piece of an older, simpler, and infinitely slower Korea. Every corner, every backstreet yields
a new discovery. Hidden away amidst the tile roofs and greenery are charming guesthouses, quiet teahouses, historic Confucian shrines, artisan workshops, and stately old trees that have stood their ground for centuries. If there's something in particular you'd like to see, by all means, bring a map. Otherwise, experience the town as it was meant to be—very, very slowly.
EAT>                                                                                                                                                                                                                                                                                                                                                                     Tons of great places to eat in Jeonju, including many places in Jeonju Hanok Village itself. Its best known dish is the Jeonju bibimbap—rice mixed with fresh vegetables and a tangy pepper sauce and served with a spread of side dishes. Jeonju's most well-known bibimbap house is Gogung (T. 063-251-3683), a taxi ride from Jeonju Hanok Village. Closer to the hanok village is Gajok Hoegwan (T. 063-284-0982), which is also highly recommended. This writer recommends Seongmidang (T. 063-273-0029), a smaller place hidden in an alley near Gajok Hoegwan. It's friendly, held in high esteem by locals, and above all, does great food. A Jeonju bibimbap will run you KRW 10,000, or KRW 12,000 for one topped with raw beef (yukhoe bibimbap).
SEE>
Jeonju Hyanggyo, the town's old Confucian school, is a wonderful spot, full of charmingly rustic old halls amidst gnarled trees several hundreds of years old. It's also a bit off the "tourist track," making it perfect for pensive autumn strolls.
DO>
Experience the Korean paper-making process at Jeonju Traditional Korean Paper Center (T. 063-232-6591).
STAY>
There are many good hanok guesthouses in the village. One of the better ones is Hakindang (T. 063-284-9929), a palatial estate built in 1905 by high-ranking royal official Baek Nak-jung. Another great place is Dongnagwon (T. 063-287-2040), a spectacular hanok estate in an alleyway off Eunhaeng-ro. In addition to being a place to stay, it also serves as a memorial to American missionary William McCleery Junkin, who conducted many religious and educational activities in Jeonju after coming to Korea in 1892.
GO>
The KTX express train service connects Jeonju with Seoul's Yongsan Station (travel time: about 2 hrs, 10 min).
You can also take express buses to Jeonju from Seoul's Central City Bus Terminal (travel time: 2 hrs, 45 min).
https://magazine.seoulselection.com/wp-content/uploads/2013/10/2012-09-09-at-11-38-34.jpg
631
950
cyn
https://magazine.seoulselection.com/wp-content/uploads/2018/01/Seoul-logo.png
cyn
2013-11-06 17:12:41
2013-11-06 17:39:45
Jeonju