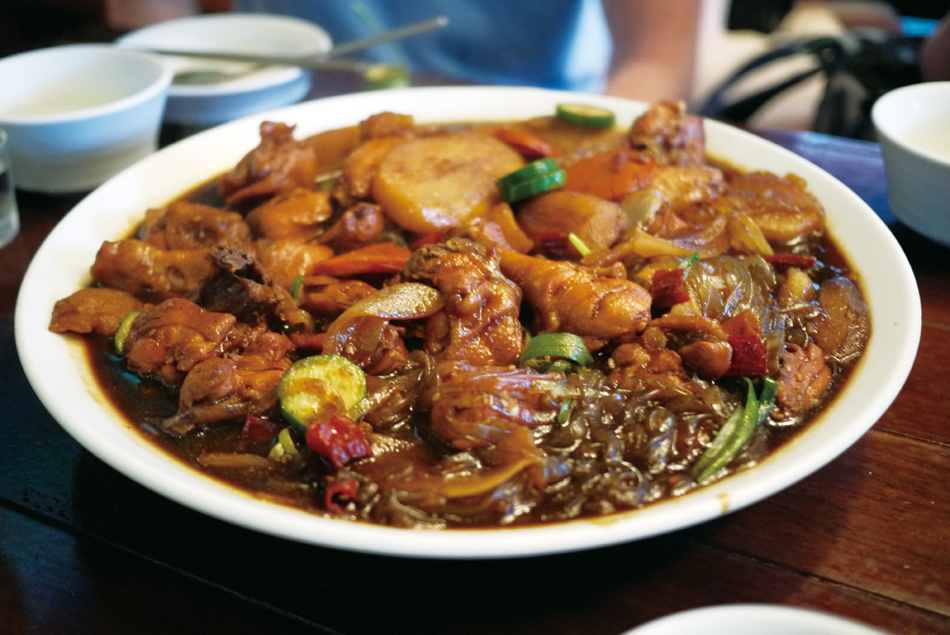 Daily Delights                                                                                                                                                                                                                                                           Here are my suggestions for a great food day in Seoul.
[box_light]Breakfast[/box_light]
Chicken and Ginseng Rice Porridge at Yeonjuk 연죽
Jongno area
Getting breakfast in Korea can be incredibly difficult if you don't want to go to a hangover soup restaurant or a fast food joint. However at Yeonjuk at Jongno 3-ga, their business is centered around breakfast. They open at 7am to serve a Korean rice porridge called juk to hungry
guests. They have a delicious chicken and ginseng one called samgyejuk that is served with spicy fermented squid and fish roe and kimchi. The
subtle chicken and creamy rice are accented with the Asian flavor of ginseng. What I really like about this place is that the rice is not too mushy (you can still see the individual grains). Trust me, a bowl of chicken and ginseng porridge will get you more revved up than just lumpy oatmeal.
FYI>                                                                                                                                                                                                                                                             T. 02-741-8004
Price: About KRW 8,000
[box_light]Lunch[/box_light]
Bongchu Jjimdak with Toasted Rice 봉추찜닭
Bongchu's black jjimdak sauce is savory, sweet, and spicy and has lots of garlic and ginger. The sauce has many chunks of chicken, tender potatoes, carrots, and thick sweet potato noodles. As you eat it, you'll feel your forehead start to burn up, but it is so good that you can't help but eat everything the sauce touches. My favorite vehicle for the sauce is the toasted rice. You should get it near the end of the meal and let the crispy bits soak up some of the remaining sauce—but be sure to not let it get too soggy. The juxtaposing textures of soft and savory makes it an epic end-of-the-meal treat.
FYI>                                                                                                                                                                                                                                                             T. 02-318-6981
Price: KRW 10,000/person
[box_light]Dinner[/box_light]
Various Chicken Bits at Samgeori Pocha 삼거리포차
Hongdae area
It's back! Finally, after many years, this famous Hongdae drinking tent restaurant has reopened, and it hasn't missed a beat. There are still
droves of people waiting outside to get their beer and soju, which they enjoy with various sides such as spicy octopus, assorted tempura, grilled fish, and more. The interior has gotten a facelift (and sadly, so have the prices). Fortunately, the food is still tasty. Plus, they don't skimp on the chicken. Here you can get spicy chicken feet, fried chicken, and cheesy egg omelets. The atmosphere is kinetic, and it'll become clear very quickly why Hongdae is the place to party in Korea.
FYI>                                                                                                                                                                                                                                                             T. 02-3144-6748
Price: KRW 15,000/person
[box_light] Late Night[/box_light]
Itaewon area
If you are looking for some Western-style hot wings, then head over to 3 Alley Pub. Here you'll get plump wings dipped in a classic hot sauce and butter sauce and served with celery and blue cheese dressing. They also have many other flavors such as BBQ, honey mustard, and teriyaki.
FYI>                                                                                                                                                                                                                                                             T. 02-749-3336
Price: KRW 7,000
https://magazine.seoulselection.com/wp-content/uploads/2013/10/bongchujjim.jpg
635
950
cyn
https://magazine.seoulselection.com/wp-content/uploads/2018/01/Seoul-logo.png
cyn
2013-11-06 17:12:41
2013-11-06 17:37:38
Daily Delights-October