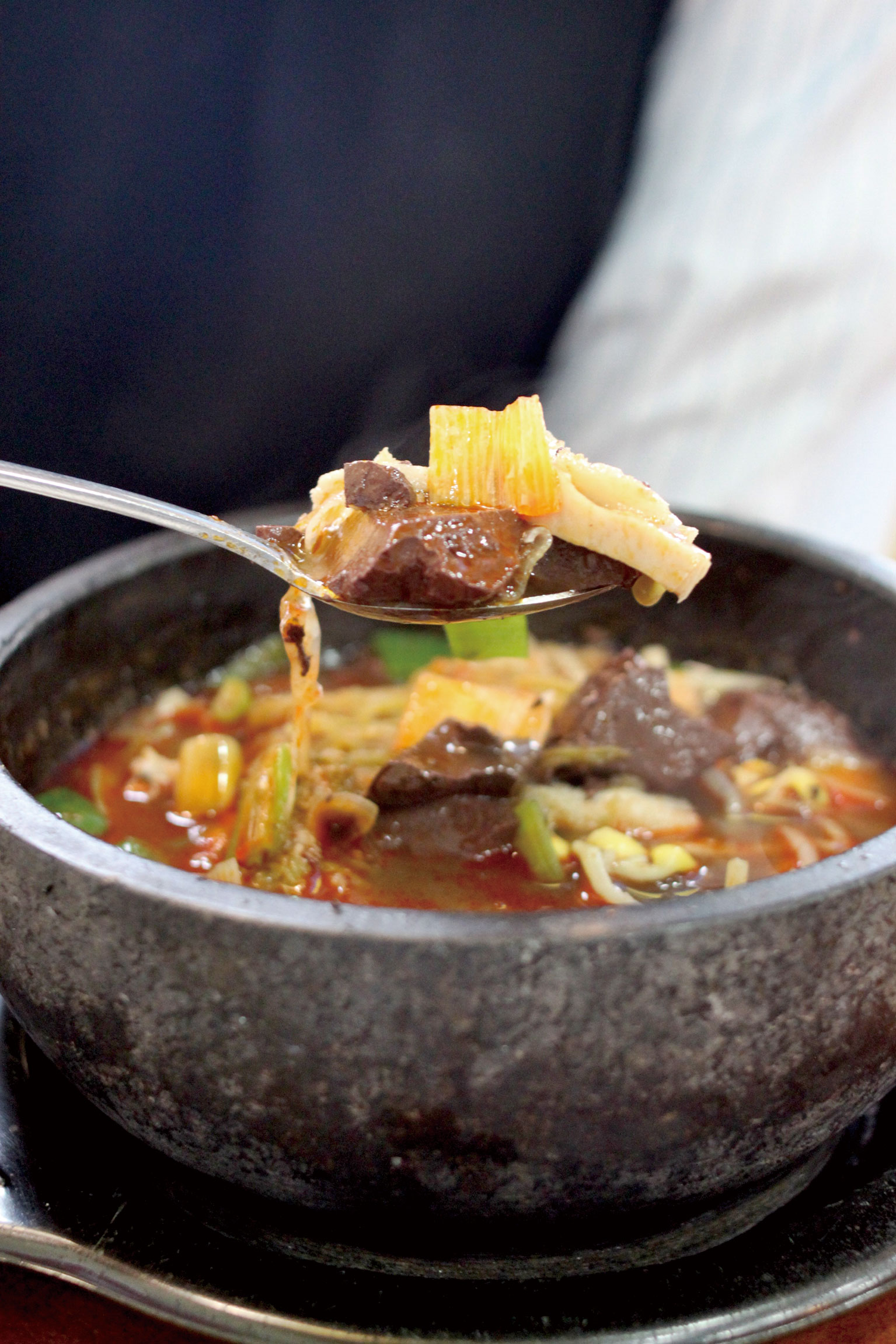 Daily Delights
Here are my suggestions for a great food day in Seoul.
[box_light]BREAKFAST[/box_light]
Blood Pudding Hangover Stew at Haejangguk Saramdeul 해장국 사람들
If you are looking for blood pudding stew for breakfast, then head here—this place is famous for serving this interesting dish to many ex-presidents and celebrities. The pig's blood here comes to the table in a large round disk that is like a mini pie and comes in a bubbling broth full of bean sprouts. Apparently, this will get rid of your hangover. I can't say much about the taste except that it tastes metallic and like blood; the texture is very velvety.
Seocho> Haejangguk Saramdeul 해장국 사람들
FYI>                                                                                                                                                                                                                                                       T. 02-736-6088
Hours: 24 hours a day
Price: KRW 9,000
[box_light]LUNCH[/box_light]
The Gut Buster Burger at Jacoby's 자코비버거
If you are so famished that you think you can handle two giant beef patties (one garlic, one rosemary) smothered in Swiss and American Cheese and topped with bacon, pineapple, bacon, chili, and a fried egg, then head to Jacoby's. This is one extreme burger that will fill anyone up. This joint is known for their greasy-spoon style of food and their rather lackluster service. However, the beers here are cold and the burgers exciting.
Haebangchon> Jacoby's 자코비버거
FYI>                                                                                                                                                                                                                                          T. 02-3785-0433
Open: 11:30am–midnight
Price: The Gutbuster is KRW 18,000
GO>                                                                                                                                                                                                                                                Noksapyeong Station 녹사평역 (Line 6),
Exit 2. Walk straight for about 200 meters and take the first left walking straight along the road with all the kimchi pots. Keep going along that street and you'll see Jacoby's on your right.
[box_light]DINNER[/box_light]
Marinated Pig's Feet at Pyeongangdo-jip 평안도집
Pyeongando-jip is famous for their marinated pig's feet, and during the dinner rush you'll often see a line out the door, even in winter. The owner, Lee Gyeong-soon, marinates the ankles and feet of the pig for 24 hours in a secret concoction (that is closely guarded from robbers). The meat falls off the bone, and the normally chewy pig feet is tender and buttery. It is absolutely delicious. Wrapping the meat with some garlic in lettuce even makes it feel healthy.
Dongdaemun area> Pyeongangdo-jip 평안도집
FYI>                                                                                                                                                                                                                                            T. 02-2279-9759
Hours: 11:30am–12pm
Price: KRW 15,000 a person
GO>                                                                                                                                                                                                                                             Dongguk Univ. Station
동대입구역 (Line 3), Exit 3
[box_light]COCKTAIL[/box_light]
Bizarre Alcohol at Seoul Folk Flea Market 서울풍물시장
If it is believed to be healthy, Koreans will figure out a way to eat it or drink it. If you walk through the stalls of Seoul Folk Flea Market (on weekends only), you'll find a large array of antiques, knicknacks, and maybe even large bottles with gruesome snakes floating in them. This alcohol, snake alcohol, is believed to give strength and energy, so Koreans only drink it on special occasions. You might also fi nd alcohol steeped with millipedes.
Dongdaemun area Dongdaemun area> Seoul Folk Flea Market 서울풍물시장
FYI>                                                                                                                                                                                                                                            T. 02-2232-3367
http://pungmul.seoul.go.kr

GO> 
Sinseol-dong Station
신설동역 (Line 1, 2), Exit 9
https://magazine.seoulselection.com/wp-content/uploads/2013/08/IMG_7754.jpg
2302
1535
cyn
https://magazine.seoulselection.com/wp-content/uploads/2018/01/Seoul-logo.png
cyn
2013-11-06 17:14:55
2013-11-06 18:25:43
Daily Delights