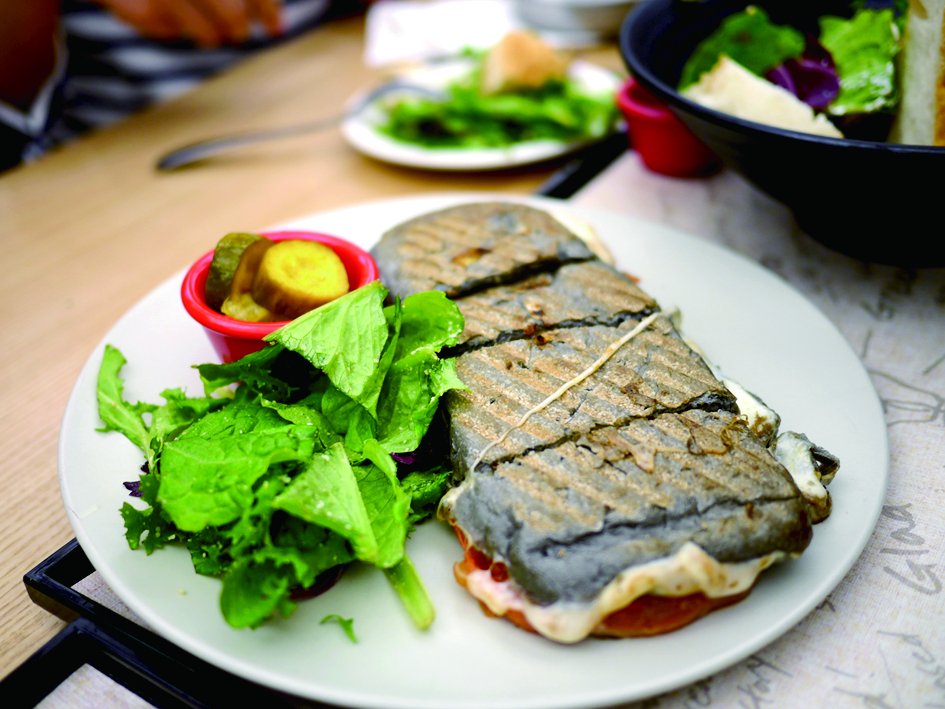 Daily Delights
Here are my suggestions for a great food day in Seoul.
Day 1
Gourmet 494 is a gourmet cafeteria in the basement of the Galleria Department Store, which you can easily get to via the new Apgujeong Rodeo Station 압구정로데오역 (Bundang Line). It's got an array of shopping and restaurants. You can spend the day shopping and head back to this center for every meal.
Breakfast
Get your bread and coffee from a variety of cafés and bakeries. At Eric Kayser you can get freshbaked breads and pastries. Hotel Douce offers colorful eclairs and macaroons and Cafe Mamas offers delicious fruit drinks and sandwiches.
Lunch
For lunch, I would recommend the cheddar burger from Brooklyn: The Burger Joint with the kimchi fries from Vatos. If you are looking for something more Korean, the homemade tofu from Kamchon Sundubu is also very good. If you are looking for something light, I would recommend the steamed dumplings from Cheonjin Poja.
Dinner
Dinner should be a bit more substantial, so I would recommend the steaks at Bistecca, which are grilled on-site; you can also get it with some grilled giant shrimp. If you want Italian, there are also the amazing pizzas from Pizzeria D'Buzza. For those looking for great sushi, then the renowned Masumoto Mizuho has his restaurant, Mizusho by Sushi Matsumoto.
Dessert
They do dessert justice here. You can get a strawberry rhubarb pie from Tartine or a gastronomic ice cream from Fell + Cole. With such fun and intriguing names as Rum Drunken Raisins, Irish Guilt, and Orange Blossom Cardamom, choosing an ice cream at Fell + Cole will be a tough decision.
Gourmet 494 고메이494
FYI> Apgujeong Galleria Department Store B1
T. 02-410-7114, www.gourmet494.com
Open from 11am–9pm
GO> [ Map 9 C1]
Day 2
Breakfast
Homemade Croissants and Bread from Le Alaska 
This is one of the finest bakeries in Seoul, and it stays true to Parisian roots. The croissants are light, buttery, and flaky and have all the right points. I recommend getting a nice selection of breads and rolls with some jam and butter; indulge over a cup of coffee.
Le Alaska 르알래스카
FYI> T. 02-516-5871
Open: 9am–11pm
Price: Under KRW 7,000
GO> [ Map 9 C1]
Lunch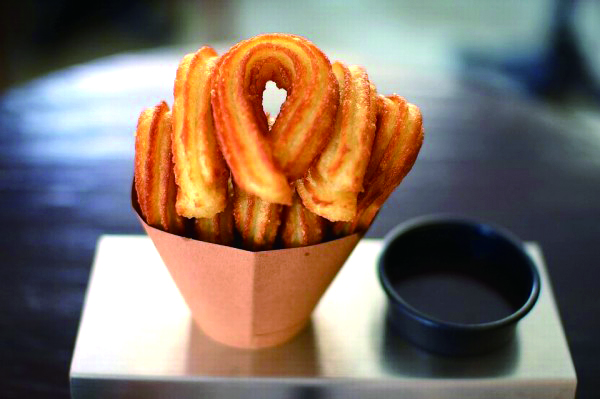 Churros with Chocolate at One Chu
This is a joint that specializes in homemade churros with chocolate sauce. The churros are deliciously crispy. The restaurant has some new twists on the churro, such as the ham and churro plate and even an eggs benedict churro. Oh, they also have a full bar and many different coffees.
One Chu 원츄
FYI> T. 02-516-3202
Open: Tuesday–Sunday 1pm–11pm
Closed Mondays
Price: Under KRW 10,000
GO> [ Map 9 B1]
Dinner
A Full Course Dinner at Chez Simon
The crème brûlée is worth getting to, but you have to go through course after course of freshly made, hot dishes to get to them. The menu at Chez Simon changes regularly depending on the season, but rest assured it will be made <em
id="__mceDel">with precision.
Chez Simon 쉐시몽
FYI> T. 02-730-1045.
Reservations recommended.
Open: 11am–3pm, 5–10pm
Price: KRW 40,000 per person
GO> [ Map 3 B2]
Dessert
Beer and Wine at La Taverna
After a day of so many sweets, it would probably be best to just have a glass of wine or beer with friends. I would recommend visiting the comfortable and nice La Taverna. They have a nice collection of Italian wines and finger foods; there is also their famous tiramisu.
La Taverna 라 타베르나
FYI> T. 02-792-9936
Open: 4pm–12pm
Price: KRW 10,000–20,000 per person
GO> Near Soon Chun Hyang Univ. Hospital:
Hannam Station 한남역 (Jungang Line),
Exit 1 or Hangangjin Station 한강진역
(Line 6), Exit 2 or 3
Quick Bites
I'm Camper 아임캠퍼
(Sangsu-dong)
This is a camping-themed restaurant, except you are not outside with the bugs, smokey campfire, lions, or bears. The interior of the pub restaurant is decorated with camping equipment. Sitting areas are under canopies and in tents. Guests sit on park benches, and food gets served on aluminum camping utensils and bowls. The food comes on large family-style platters with salad and an assortment of barbecued vegetables, meat, and sausages. I especially liked the steamed corn on the platter. They have plenty of cold beer available to drink with your meal.
★★★☆
FYI> T. 02-334-0770
Hours: 4pm–10pm
GO> [ Map 7 F1]
Yomenya Goemon 요멘야 고에몬
(Gangnam U-Street)
If you are looking for a great noodle experience I recommend Yomenya Goemon, which has Italian pastas made with a Japaneselike attention to detail. Their pastas are made with precision and are not overly saucy, sweet, or oily. Interestingly, they use Japanese bamboo strainers to drain the pastas, which I think makes the texture of their pasta silkier. Their carbonara is good, but be adventurous and get their fish egg and seaweed pasta or their natto pasta. Their tomato bolognese is good as well. They give cup after cup of jasmine tea with your meal, and you get to finish it off with either crème brûlée or mango ice cream. The crème brûlée is good; the mango ice cream had chunks of real mango, but the pudding on the bottom wasn't so great. The price is reasonable. Sets are KRW 15,000 a person and you get two small pastas and dessert.
★★★☆
FYI> Seocho-gu Seocho Daero 77-gil 7
T. 02-534-8036, www.yomenya-goemon.co.kr
Hours: 11:30am–10pm
GO> [ Map 9 B3]
Saint Augustin 생어거스틴
(Cheonggye Plaza)
Saint Augustin
If you are looking for a classy restaurant that oozes Asian flair then head to Saint Augustin. The restaurant specializes in Thaiish food served up in a refined atmosphere. Recommended dishes here are the Poo Phad Phong Kari, fried soft-shelled crab in yellow curry (KRW 28,000). The egg in the sauce was great and the crabs were soft. I would have preferred it a tad crispier, but it was good. The Som Tam papaya salad (KRW 16,000) is also <em
id="__mceDel">very good. Mind you, it is a tad spicy, but the sauce is refreshing. The Neua Phad Nammanhoy (KRW 29,000), is also very good, with its tender chunks of marinated beef and crisp asparagus. To round out your meal, I recommend the Goongyai Pad Thai (KRW 18,000), one of the better pad thais I have had in Seoul. Sadly, they don't have a dessert menu, so I went with the Vietnamese coffee. Not bad—but I would have loved a mango and sticky rice.
★★ ☆
FYI> T. 02-778-7718, www.augustin.co.kr
Hours: 11:30am–10pm (1pm–3pm break)
GO> [ Map 1 B3]
https://magazine.seoulselection.com/wp-content/uploads/2013/04/P1010903.jpg
709
945
rjkoehler
https://magazine.seoulselection.com/wp-content/uploads/2018/01/Seoul-logo.png
rjkoehler
2013-11-06 17:14:55
2013-11-06 18:33:16
Daily Delights