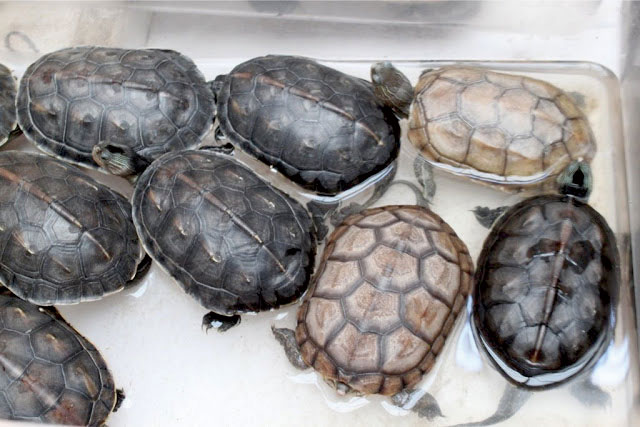 [box_dark]Adventurous Quick Bites[/box_dark]
A Taste of the Phoenix and Dragon at Bomungol Hanok-jip 보문골 한옥집
The turtle is a symbol of longevity and strength in Korea. They are also supposedly descendants of dragons and phoenixes. The fact that turtles were only allowed to be eaten by the king makes the idea of eating turtle soup appealing to adventurous Korean diners. Bomungol offers a variety of boyangsik (stamina foods) such as black duck, dog, black goat, and abalone stews. If you order the turtle soup here, expect the whole turtle to come out, shell and all, in a cloudy broth full of vegetables. Turtle has a fi shy sort of taste to it but is very bony, so watch out.
Korea Univ. area > Bomungol Hanok-jip 보문골 한옥집
FYI>                                                                                                                                                                                                                                              T. 02-922-1538
Hours: 11am–10pm
Price: KRW 120,000 a turtle
GO>                                                                                                                                                                                                                                                      Bomun Station 보문역 (Line 6), Exit 6. Turn left around Brown Hotel and walk one block.
Thanks Nature Café 땡스네이쳐카페
This café is famous for their fl uffy white sheep that wander around the café. Don't worry, they don't cook them or anything. They just wander, stare, and play. Besides the sheep, the desserts and coffee here are top-notch. The waffl es, topped with ice cream, whipped cream, fruit, caramel, and more, are crispy and warm. Their shaved ice desserts are just as various, ranging from the classic red bean to watermelon and strawberry. They also have a large range of coffees, lattes, and fruit drinks. The tranquil setting is perfect for studying, chatting with friends, or just taking a nap while counting sheep.
Hongdae> Thanks Nature Café 땡스네이쳐카페
FYI>
T. 02-335-7470
Hours: 11am–11pm
Price: KRW 5,000 for a coffee
GO>
[ Map 7 C2]
https://magazine.seoulselection.com/wp-content/uploads/2013/08/IMG_2404-780578.jpg
427
640
cyn
https://magazine.seoulselection.com/wp-content/uploads/2018/01/Seoul-logo.png
cyn
2013-11-06 17:14:55
2013-11-06 18:26:14
Adventurous Quick Bites