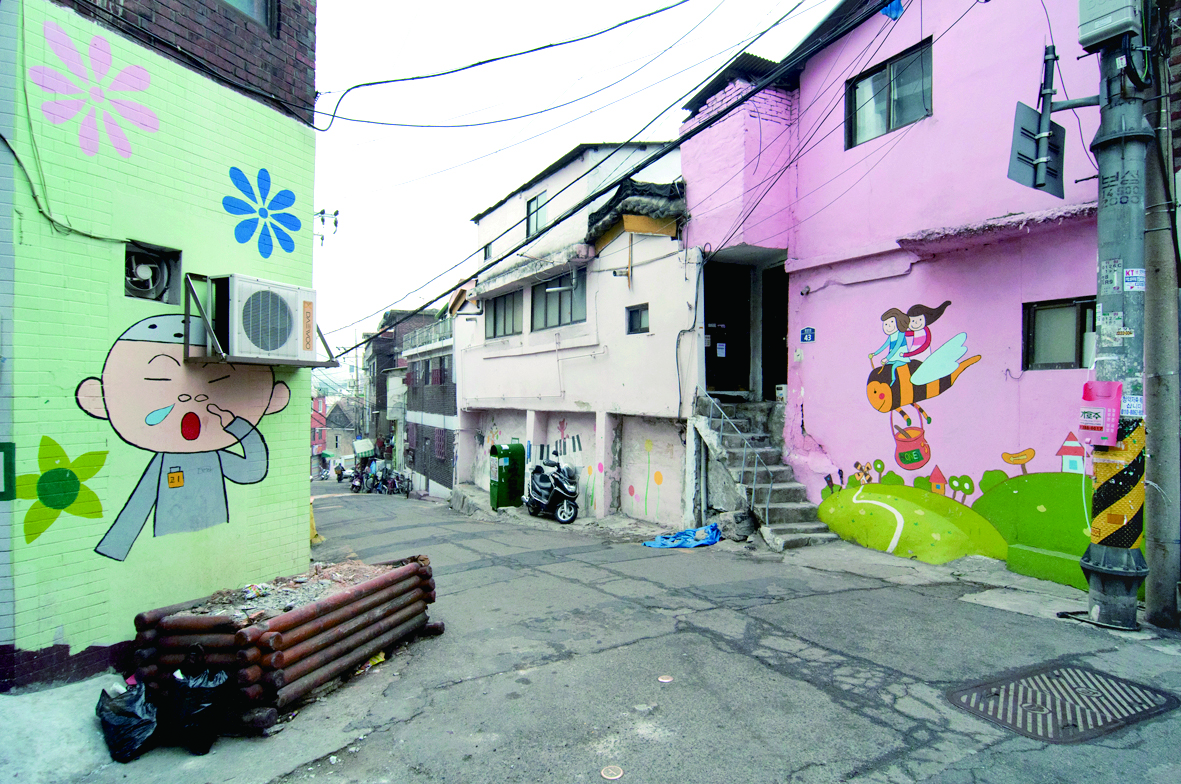 Let the spirit move you, be it Chinese, Buddhist, or just the pull of a good bargain, and follow it to Dongmyo.
Dongmyo Station 동묘앞역 takes its name from the nearby shrine, built to honor the Chinese general and deity Guan Yu (162–219). Near-ubiquitous on the other side of the Yellow Sea, shrines like these are rare in Korea, where, despite its long, complex relationship with China, the strong Confucian tradition prevented worship of Guan Yu from ever really taking root. So it was probably rather reluctantly that Dongmyo was built, from 1599 to 1601, at the behest of the Ming Dynasty of China. A decade earlier, Ming forces had helped Joseon soldiers repel Toyotomi Hideyoshi's invading Japanese during the Imjin War, a success that the Chinese attributed to the guiding influence of Guan Yu's spirit. Accordingly, acknowledgement was expected. Today the shrine is recognized as Designated Treasure No. 142.
Surrounding Dongmyo is Hwanghak-dong Flea Market 황학동 벼룩시장, where spillover from the larger market area near Sindang Station 신당역 is on offer: cleaning supplies, power cords, remote controls, artwork, comic books, portable cassette players, bass guitars, and just about whatever else you could throw on a pile, which, in some cases, is exactly how things are organized. Not everything here is junk; some wares are in decent shape, and if you keep your eyes peeled you can pick up some decent vintage clothing.
Buddhist Sanctuaries
Also in the Dongmyo area is a pair of notable Buddhist sites. The first, down Jibong-ro-5-gil from Exit 9, is Anyang Hermitage 안양암. This unassuming little site is home to a rock-carved Seated Guanyin, Seoul Tangible Cultural Property No. 122. Carved into the bald stone face that forms the hermitage's southwestern boundary, it was created in 1909, making it the last rock-carved Buddhist statue from the Joseon period. Housed in the wood and brick Gwaneumjeon Hall, the figure looks distinctly more Korean than the typical Buddhist statue, with narrow eyes, rounded cheeks, and even a small mustache and goatee.
Northeast of the station, nestled on the slopes of Mt. Naksan, is Myogak Temple 묘각사, which dates to 1930. Well-preserved and featuring a beautifully painted prayer hall, it's part of the Koreawide Templestay program, wherein visitors can sign up for a one- or two-day retreat to learn about and participate in daily life at a Buddhist temple. It's an ideal opportunity to do a bit of spiritual spring cleaning, and the best part is that you don't even need to leave the city to do so.
GO>
Dongmyo 동묘 and Hwanghak-dong Flea Market 황학동 벼룩시장
Exit 3
Anyang Hermitage 안양암
Exit 9
Left on Jibong-ro-5-gil 지봉로5길
Myogak Temple 묘각사
Exit 2
Left on Jongno-63-gil, right on Jongno-63-ga-gil 종로63가길
FYI> T. 02-763-3345, 02-763-3109, www.myogaksa.net

크게 보기
Written by Charles Usher
Photographed by Meagan Mastriani
https://magazine.seoulselection.com/wp-content/uploads/2013/03/MiscDongmyo2.jpg
784
1181
rjkoehler
https://magazine.seoulselection.com/wp-content/uploads/2018/01/Seoul-logo.png
rjkoehler
2013-03-05 17:13:51
2015-04-03 14:53:18
Dongmyo Station