Templestay Week offers you a chance to discover a 1,700-year-old tradition for even less
It's early morning and the pre-dawn air has the refreshing crispness of autumn, with mist hanging in the trees. As the dharma drum rumbles, a procession of monks makes its way to the main hall, where they take their places in front of the golden Buddha statue. You, too, make your way to the main hall and take a seat. The scent of incense fills the room and, outside, the drum gives way to the clang of the gong and the deep reverberation of the temple bell, which, according to Buddhist tradition, calls out to sentient beings suffering in hell to guide them to the dharma. This, too, soon fades and the chanting begins. As the voices in the hall come together in surreal harmony, you feel yourself transported to a higher plane of understanding.
Not a bad way to start your morning, really.
One of Korea's most popular cultural experience programs, Templestay offers international visitors and locals alike a chance to experience life in one of Korea's many beautiful Buddhist monasteries firsthand and, hopefully, gather a better understanding of an age-old component of Korea's heritage. While the program operates all year long, Templestay Week (Oct. 19-Nov. 1) offers would-be participants a chance to take part in the experience at a reduced cost. Four temples and meditation centers in Seoul will be participating, as will dozens of other temples across the country.
Culture and healing
Run by the Jogye Order of Korean Buddhism, Korea's largest Buddhist denomination, the Templestay program is Korea's most successful initiative in cultural tourism. The program was founded during the historic Korea-Japan FIFA World Cup in 2002 as a means of offering international visitors an opportunity to experience Korean traditional culture on a deeper level. Over time, it has become a hit with not only tourists from overseas, who are able to get and up-close-and-personal look at 1,700 years of Korean Buddhist tradition, but also with Koreans themselves. In 2014 alone, nearly 200,000 people took part in the program; of these, approximately 170,000 people were Korean.
Among other things, Templestay is an exercise in "healing." Today's hyper-competitive, kinetically frenetic society can be a brutal on the psyche. Korea's Buddhist temples, often hidden away on densely forested mountainsides, provide the perfect sanctuary for one to forget one's mundane pressures and worries, reconnect with nature and, just as importantly, get back in touch with one's true self.
"The Templestay program goes beyond a simple experience, having evolved into a trip of happiness that presents a new direction for your life," said the Ven. Jinhwa of the Cultural Corps of Korean Buddhism. "We hope that that during this autumn vacation week, everyone can rediscover the meaning of happiness amidst pristine nature."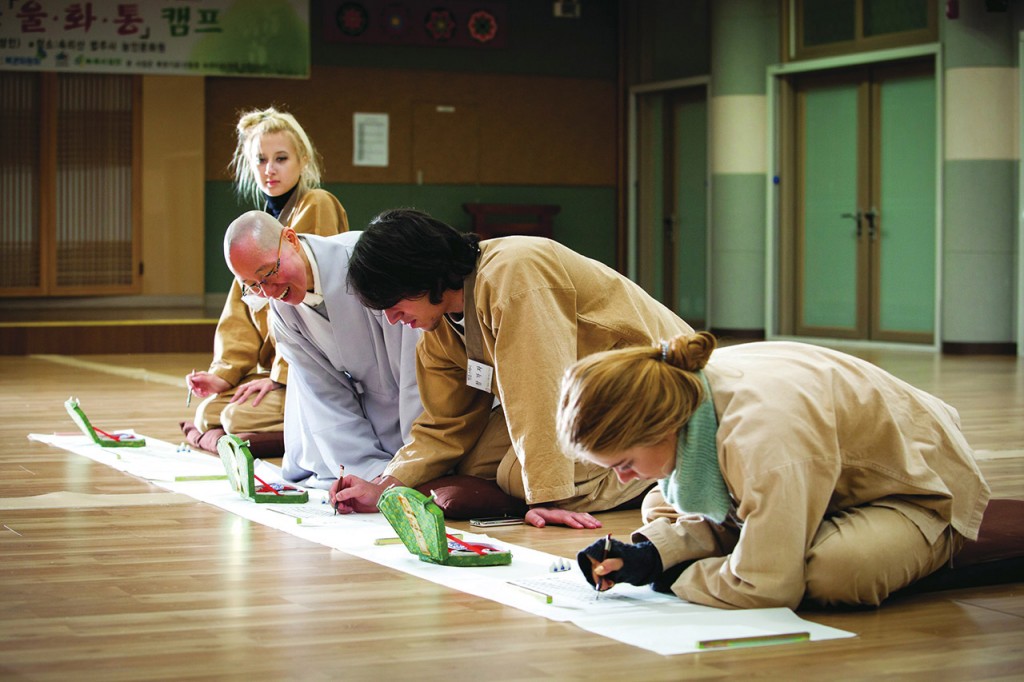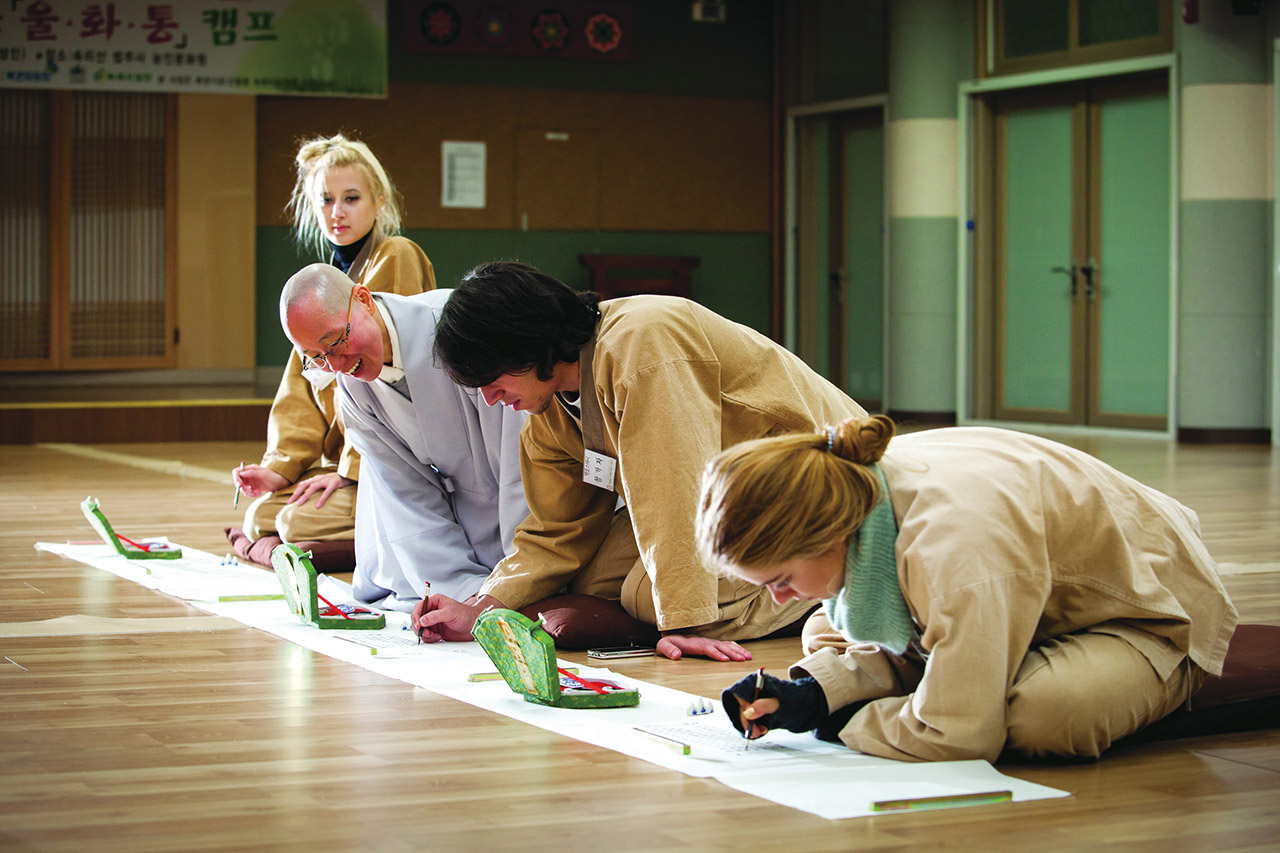 The basics of monastic life
Templestay would never presume to be able to give participants an expert understanding of nearly two millennia of Korean Buddhist tradition over the course of a weekend, but it will give you a pretty good taste of both the beauty and challenges of monastic life. Regular programs are held at over 100 participating temples across Korea. Monasteries are usually located in places of great natural and scenic beauty, often in deep valleys below sacred mountain peaks. Many temples boast of over 1,000 years of history, too.

Each temple has its own unique program tailored to the site's particular strengths. Temples in especially scenic locations may feature extended "walking meditations" in the forest, while others with artistic traditions or practices unique to the monastery may offer hands-on programs. Still, certain programs are universal. Practices you can look forward to experiencing include the following:

Yebul: Formal rites carried out to honor the Buddha, the yebul are held twice a day  once before sunrise and once before dinner. Yebul are announced by the playing of the samul, or the four musical instruments  the dharma drum, temple bell, wooden fish and cloud-shaped gong  found at every Buddhist temple. Once everyone gathers in the temple's main hall, participants take part in chanting and bowing with the monks.

Seon: Better known in the West by its Japanese name of zen, seon is the practice of meditation. We often imagine meditation as silently sitting in the lotus position, and to be sure, there will be plenty of that, too. But meditation is much more than sitting  it involves being "in the moment" in everything that you do, from strolling in the forest to washing your dishes after a meal. For many, the meditation program is the highlight of the Templestay.

Baru gongyang: Monastic meals, or baru gongyang, are a temple tradition and important spiritual practice. Meals are taken communally, usually in the temple canteen. In accordance with Buddhist precepts, meals are strictly vegetarian. Waste is frowned upon  every grain of rice and a drop of water you take should be consumed. After you are done eating, you should wash out your bowls and eating utensils yourself.

Dado: The Korean tea ceremony, or dado, is not only a good way to relax over a refreshing cup of tea but also an opportunity to chat with monks and gain deeper insight into Korean Buddhism . . . and into yourself.

Lotus Lantern-making: A thing of great beauty growing up from the muck, the lotus blossom symbolizes Buddhist enlightenment. The lotus lantern, likewise, symbolizes wisdom shining eternally. Templestay participants can make their own lotus lanterns by gluing rice paper to a frame, and in so doing not only experience the joy of Korean handicrafts but also express one's determination to cultivate wisdom so that it grows big and beautiful like the lotus blossom.

[separator type="thin"]
More info
http://fall.templestay.com
Reservations begin from Oct. 5
Written by SEOUL staff