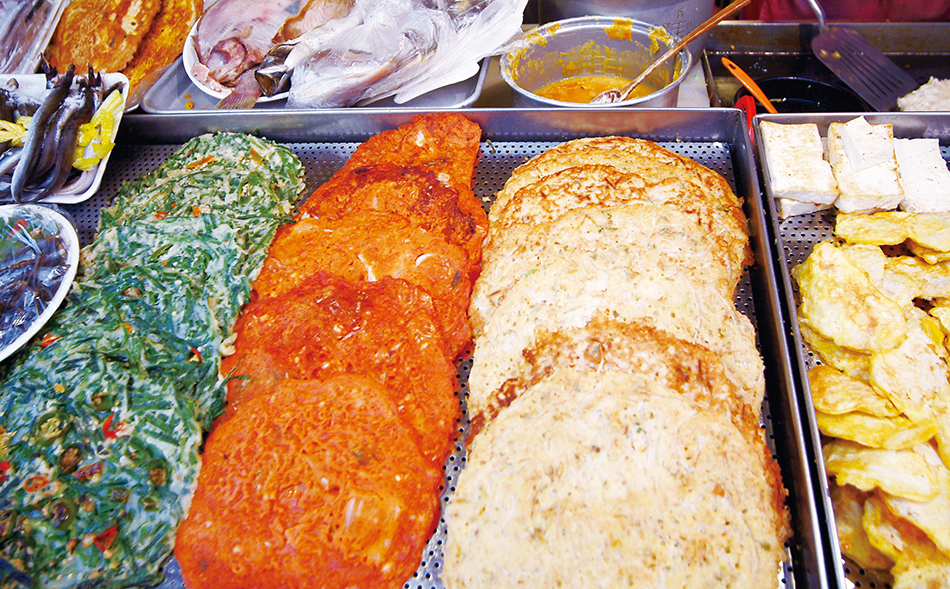 When the Sun Goes Down
Seoul's markets at night[/box_light]
Written by SEOUL staff
Photographed by Ryu Seunghoo
After sundown, Seoul's famous markets really come alive. From shopping and people watching to eating and drinking, everything is more fun in the city's markets after dark.
[divider]
Dongdaemun
Dongdaemun is famous for its thousands and thousands of stores, but what many do not realize is that the neighborhood also makes for an excellent nightlife experience. The neighborhood really comes alive in the evening, when well-known markets, such as Pyeonghwa Fashion Town, and multi-level shopping malls, like Migliore, are swarmed with people of all ages. Along the streets around the markets, snack food stands open, and the restaurants of the famous food alley Meokja-golmok are bustling with customers in search of delicious meals. For a fun night out, head to Dongdaemun for a delicious Korean dinner and drinks at one of the Meokja-golmok restaurants, and then head over to the shops and spend the night wandering and snacking. It is easy to spend hours looking at everything the shops have to offer.
GO> Dongdaemun History and Culture Park 동대문역사문화공원 (Line 2, 4 or 5)
[divider]
 Gwangjang Market
Nestled between a block of buildings in the old Jongno 5-ga area of Seoul, Gwangjang Market has long been famous with Korean shoppers, but is a bit lesser-known to many foreign residents in the city. The market is the oldest in Seoul, and is known for selling hanbok, or Korean traditional clothing, as well as fabrics, linens and vintage clothing. One of the biggest draws to Gwangjang Market, though, is the vast array of street food available to shoppers. Lining the entire first floor of the market are vendors whose stalls offer some of the best food in the city at incredibly low prices. Bindaetteok, or Korean mung bean pancakes, are market's specialty, and with good reason: it is hard to find better bindaetteok anywhere else in the city. Visitors can also try tteokbokki, sundae, fresh sashimi and many other kinds of food. It's best to visit after dark to first explore the stores and then sit down at one of the many stalls and enjoy some snack food and makkeoli, or Korean traditional rice wine. Many of the stalls are open well past midnight, so it's a great place for a relaxing night out in traditional Seoul.
GO> Jongno 5-ga Station 종로5가역 (Line 1), Exit 6 or 7
[divider]
Noryangjin Fisheries Wholesale Market
Noryangjing Wholesale Fisheries Market is well known in Korea as one of the largest seafood markets in the country. The market is lined with rows and rows of seafood, much of which is packed and distributed to various supermarkets, restaurants and stores around the city. The best part of the market, however, is the innermost row in the building, which extends along the back wall of the warehouse. Here, visitors can find almost any kind of seafood, either live or freshly killed, available for purchase. The selection changes with the season, as the fish offered are caught in waters surrounding Korea and East Asia. For example, early spring is the best time to go and find a plethora of reasonably priced lobster, king crab and snow crab. The abundant selection contains many sea creatures most visitors have likely never seen. By far the best time to visit the market is after dark, because the stalls allow visitors to buy fish, then take their purchases to one of the many restaurants lining the market. The restaurants charge a small fee per visitor to prepare the seafood however they like. Visitors are given side dishes, and can order beer, soju or makgeolli to enjoy with their dinner. The market is open all night, so Noryangjin provides both a great shopping opportunity and an excellent space for a fun night in Seoul with excellent food and drink.

GO> Noryangjin Station 노량진역 (Line 1 or 9)

[box_light]
http://magazine.seoulselection.com/wp-content/uploads/2014/10/DSCF0141.jpg
589
950
cyn
http://magazine.seoulselection.com/wp-content/uploads/2018/01/Seoul-logo.png
cyn
2014-12-19 17:57:16
2015-06-03 09:53:52
When the Sun Goes Down