The natural side of an industrial town draws a younger, hipper crowd
The southeastern city of Gumi is best known for its many electronics factories and as the birthplace of late President Park Chung-hee. Less known is that the city — or at least the part of it between Gumi Station and Geomosan Provincial Park, home to one of the most scenic peaks of the southeast — has begun transforming into a destination in its own right. Attracted by low rents and the proximity of the park, young entrepreneurs are moving into the area, setting up trendy, individualist cafés, restaurants and shops catering to a younger, hipper crowd. As many of these establishment can be found on or around Geomosan-gil Road, some have taken to calling the area "Geumnidan-gil," a play on Seoul's famously hip Gyeongnidan-gil district.
The easy way around
High and wide, Geumosan Mountain looms over Gumi and the Nakdonggang River valley like a slumbering giant. Unlike many of Korea's great mountains, which are so integrated into larger ranges that it's often hard to tell where one mountain ends and the next begins, Geomosan is its own entity, rising steeply from the valley floor to reach a height of 976 meters. The poetically minded have lauded its rugged cliffs and thick forests for ages, listing the mountain among the eight greatest scenic spots of southeast Korea. In 1970, it became Korea's first provincial park, earning it a special place in the nation's environmental protection movement.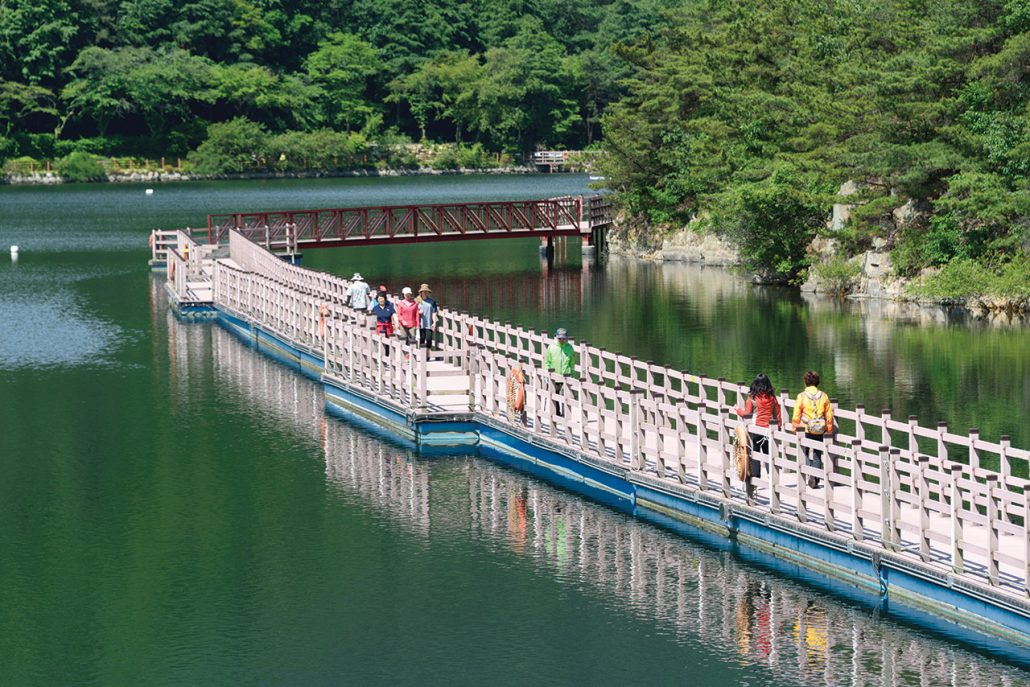 Steep, rocky and high, Geomosan may not be easy to climb (more on that later) but the mountain itself is surprisingly accessible, the park being just a 30 minute walk from Gumi Station. This helps make it a popular leisure destination. Some 3 million people visit a year, including many hikers and picnickers from Daegu, Busan and farther afield.
To give visitors a less strenuous opportunity to enjoy the mountain's beauty, park authorities created the so-called "Geumosan Ollegil," an easy walking trail that circumnavigates the scenic reservoir at the foot of the massif. Some 2.7 kilometers long, the trail takes just 40 minutes to complete. Though lakeside wooden decks account for most of the trail, one section climbs a steep hill to a scenic overlook where you can enjoy panoramic views of the mountain and reservoir.
If you're going to tackle Geumosan itself, set aside at least three or four hours. While not technically challenging, the hike involves long climbs up stairs and slogs up rocky trails you would't want to descend in the dark or after the rain. It's not K2, or even Bukhansan National Park, for that matter, but it's not Namsan Mountain, either.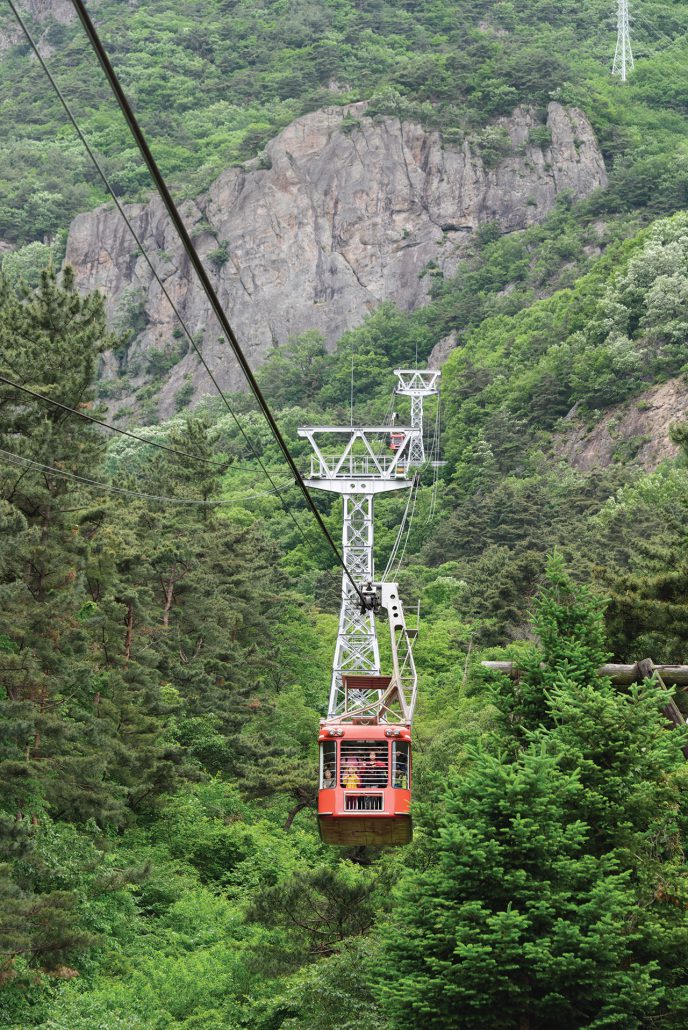 To make life easier, a cable car takes you roughly halfway up the mountain to a Buddhist temple called Haeunsa and the 28-meter-high Dehye Waterfall, the latter one of the mountain's most popular attractions, especially in the hot summer. The red cable cars, several decades old, are a pleasantly vintage experience in themselves. Adrenaline junkies may wish to walk the short but treacherous cliffside trail from Haeunsa to Doseongul Cave. The narrow pathway,  carved into the cliffs in 1937, brings to mind similarly nausea-inducing walks in China, Spain and elsewhere.
Sheltering just below Geomosan's peak is Yaksaam, a small Buddhist hermitage with a history that stretches back to the ancient Silla Kingdom. The hermitage's most striking element is its bell pavilion, perched atop a narrow granite spire and reached by a narrow footbridge suspended over the chasm. Near the hermitage you'll find some lovely Buddhist reliefs hewn into the cliffs as well.
Gumi goes a bit hipster
Not so long ago, what is now Geumnidan-gil was something of a slum, a neglected neighborhood literally on the other side of the tracks. The creation of the Geumosan Ollegil, however, led to an influx of people, an influx that in turn drew entrepreneurs, especially young ones. "The area behind the station had a lot of fortune tellers, and compared to the downtown commercial area, it was largely run-down and residential, like how Gyeongju's Hwangnidan-gil was," says Kim Ga-wi, who for the last three years has run Sopung (190-4, Geumisan-ro), a shop selling ceramics and vintage clothing and goods. "But restaurants and cafés have popped up like mushrooms after the rain, rents have climbed and the neighborhood itself has got some life, it seems."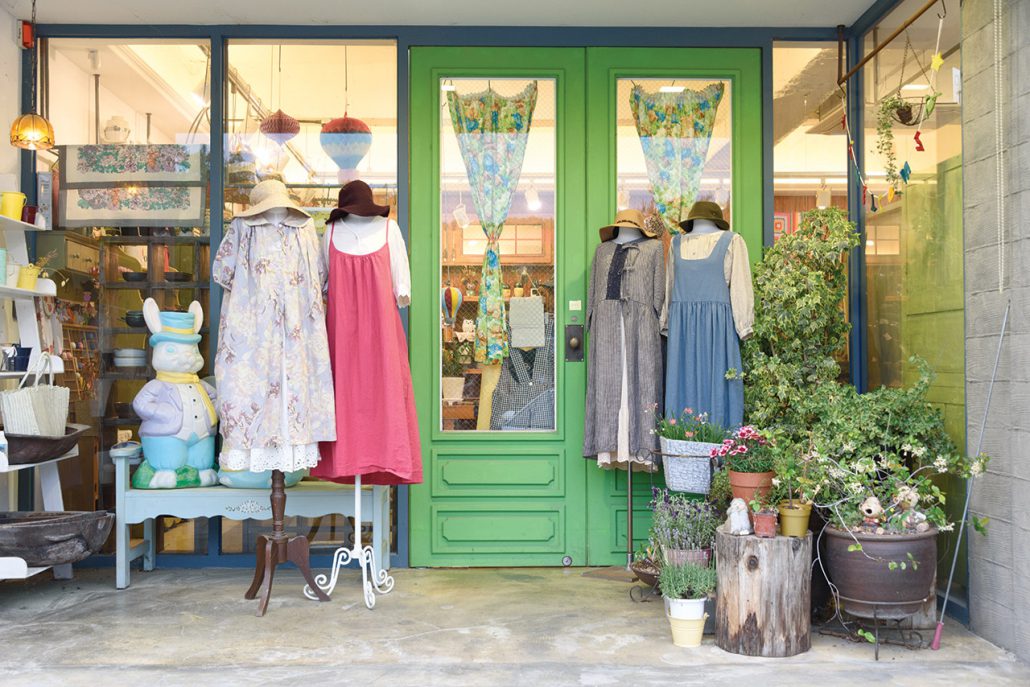 Compared to similar neighborhoods such as Seoul's Gyeongnidan-gil or Gyeongju's Hwangnidan-gil, Gumi's little slice of hipster heaven is very much a work in progress. This is part of its charm, actually — Geumnidan-gil is still a living neighborhood, where the old and new coexist, where the young couples waiting to get into a fabulously Instaready restaurant stand in front of the weather-beaten fishing boat tied to the wall of a neighbor's home. It's also very warm and friendly, with plenty of opportunities to strike up a conversation.
The restaurants tend toward younger tastes, with several good Japanese homestyle establishments. One of the best is Asoko (T. 054-443-2112), a beautifully minimalist space with white walls and wood furniture where the signature dish is the Hawaiian Roll Katsu, a Japanese pork cutlet and grilled sausage served with rosé sauce, rice, a slice of pineapple and a lovely violet flower blossom. Also Instagrammable is Baeki Udong (T. 010-3397-5362), a branch of the famous Yeonnam-dong eatery, where you can enjoy a masterfully prepared bowl of Japanese noodles in a space that looks as if it were just teleported from Kyoto.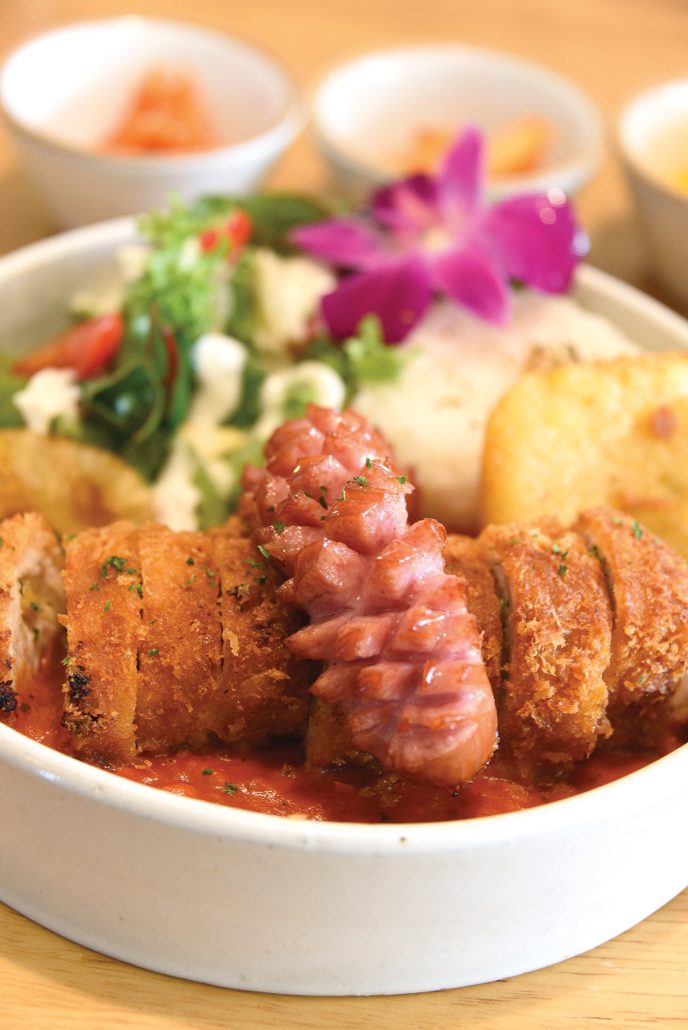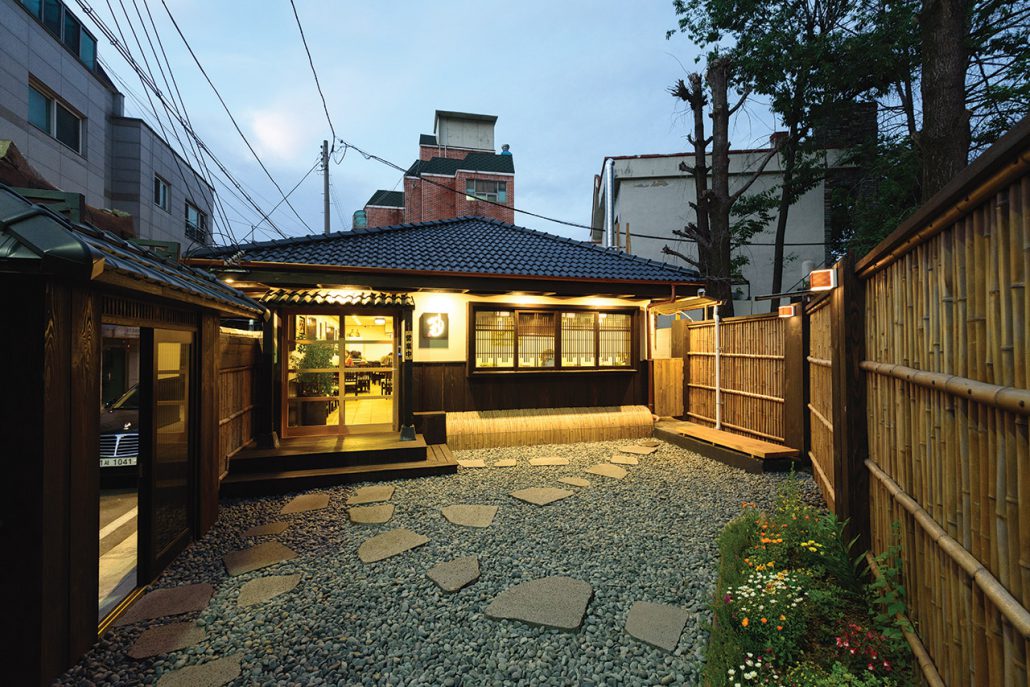 Other options include — but are not limited to — Corea Refreshment Stand (T. 054-456-8526), or Corea Gyeongyangsik, which serves tonkatsu, avocado salad, bulgogi spaghetti and other dishes in picturesque surroundings; brunch café Deux Ran (T. 054-455-5193); Western-Japanese-Korean restaurant Noir Sikdang (T. 010-7478-8791); and Blossom (T. 054-457-3330), an American homestyle joint serving chicken fried steaks, San Francisco-style cioppino and Maryland crab cakes.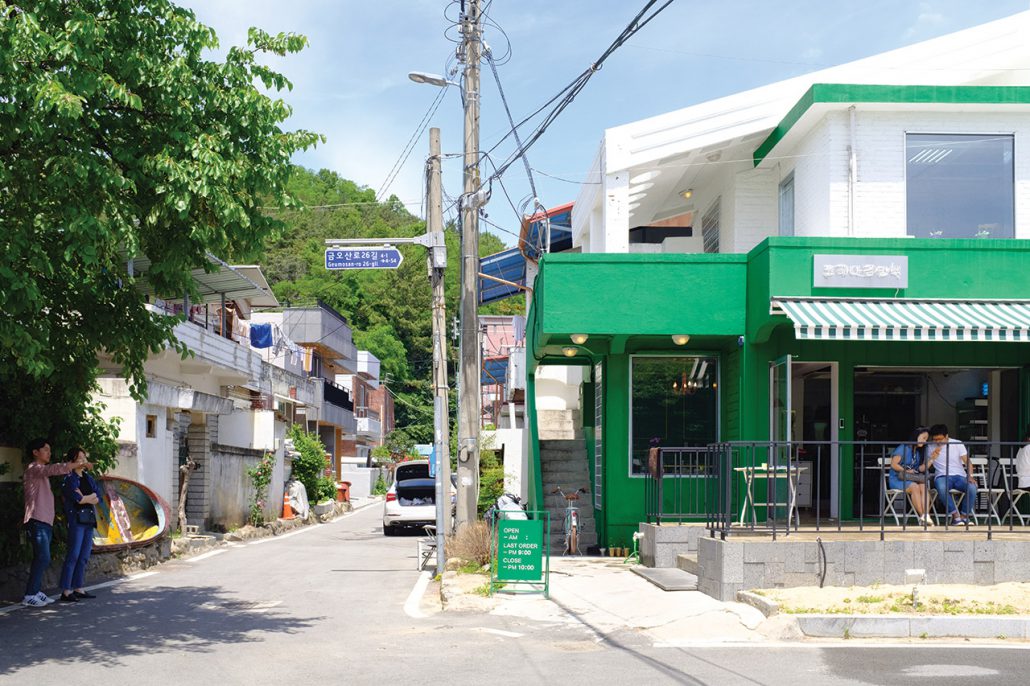 As you might expect, Geumnidan-gil has a thriving café scene, too. A local institution is Coffee Salon (T. 010-2014-4658), a roastery that also hosts art exhibits and musical performances, conducts flea markets and even publishes an independent magazine. "People who love coffee and people who love culture become my regular customers," says owner Park Ho-yeong. "I'm working to turn this place into a cultural complex for Gumi, with specialty coffees at its heart."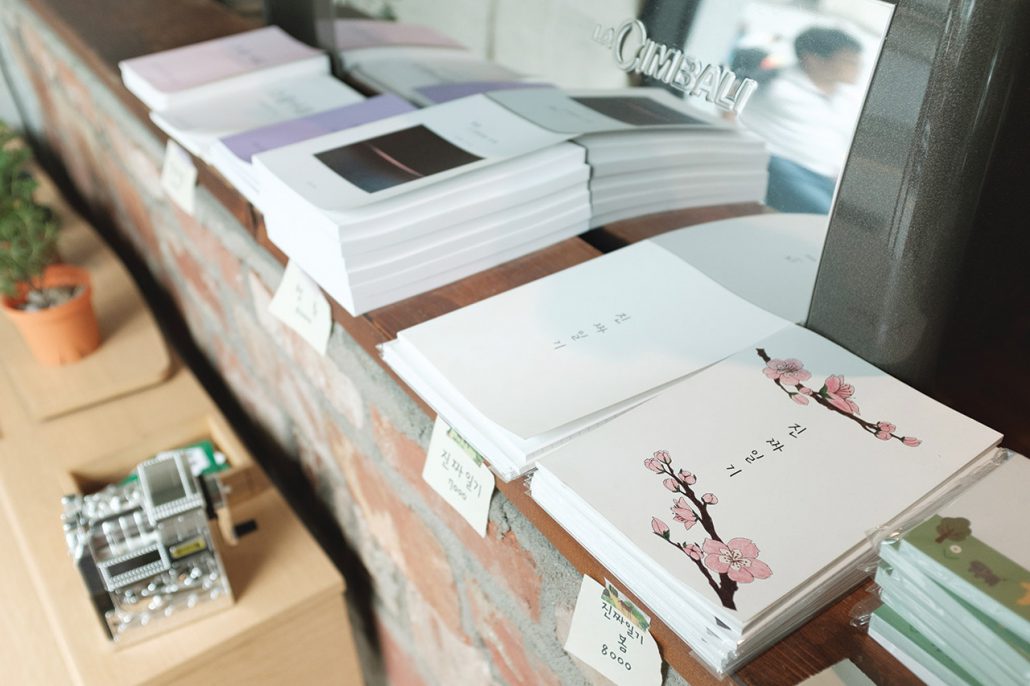 Another fine café is Coffee Lounge (T. 054-458-4081), just across the street from Coffee Salon. Try the Dutch Sunrise, a cup of cold brewed coffee atop fresh orange and lemon, served with a giant ball of ice.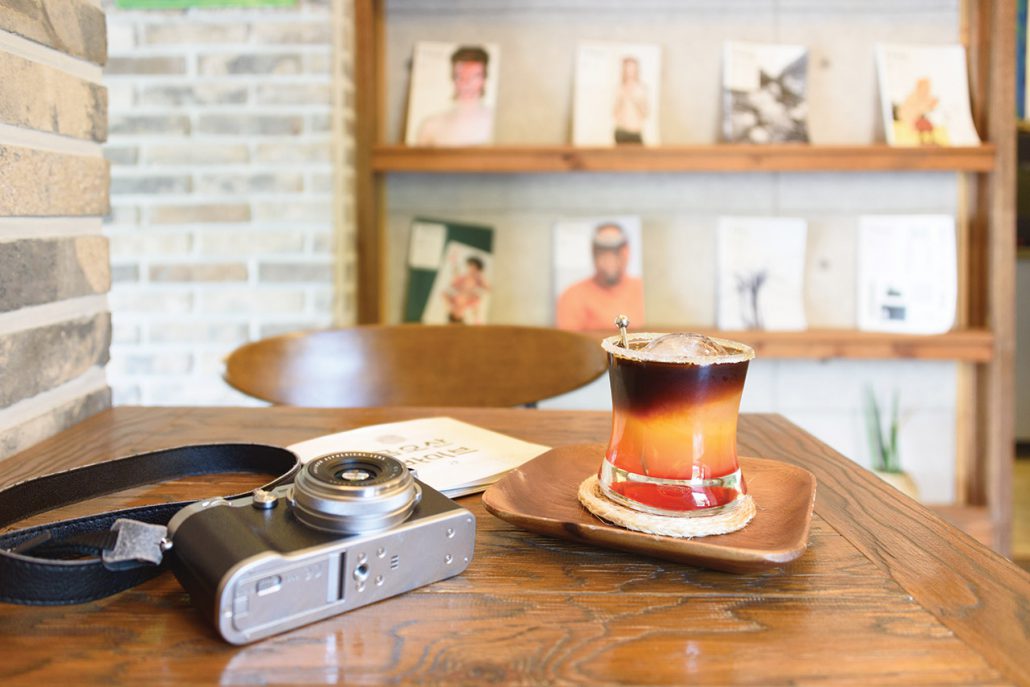 More Info
STAY> Gumi has its share of moderately priced hotels and motels. If you'd like to stay in Geomosan Provincial Park itself, try the Hotel Geumosan (T. 054-450-4000).
GO> KTX trains to Gumi depart Seoul Station (travel time: 1 hour, 17 minutes). Be aware, however, that the KTX stops at Gimcheon-Gumi Station. You'll need to take a 40-minute connecting bus to Gumi Station.
You could take a direct train from Seoul Station to Gumi Station, but this is a three-hour trip.
Written and photographed by Robert Koehler
https://magazine.seoulselection.com/wp-content/uploads/2018/05/20180520-DSC_2913.jpg
854
1280
cyn
https://magazine.seoulselection.com/wp-content/uploads/2018/01/Seoul-logo.png
cyn
2018-06-04 15:56:36
2019-11-04 15:09:06
Cool Gumi 구미