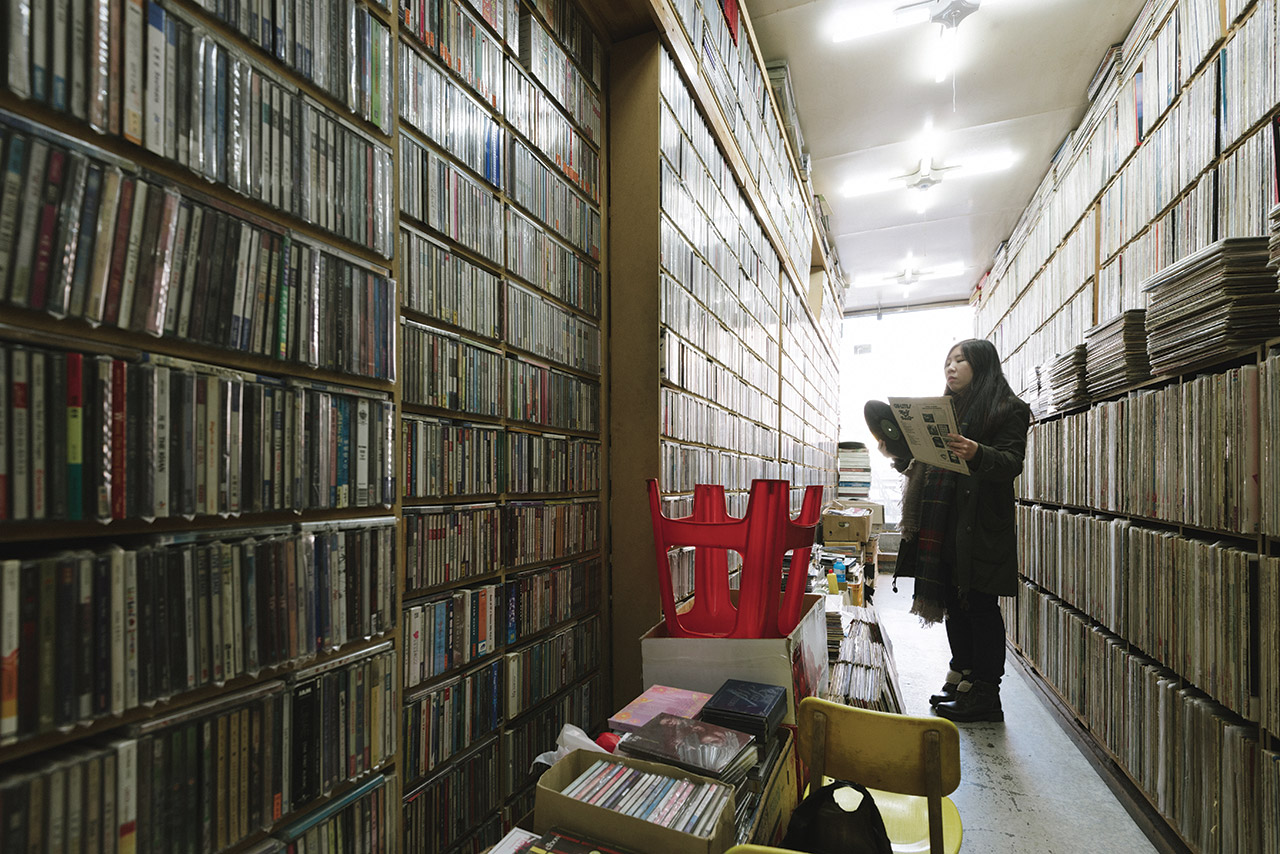 Old stores keep history alive in a frantically transforming city
In the highly competitive commercial environment that is Seoul, shops come and go at a dizzying pace. Some stores, however, have managed to stand the test of not only time, but also of Korea's dramatic recent past of colonialism, war and breakneck industrialization. These old stores exude passion and charm, but they are more than that. They are important pieces of Seoul's heritage that testify to the sometimes arduous path the city and its people have traveled. In this issue of SEOUL, we'll introduce just a handful of them.
Dol Record
Dol Record is a bit like a labyrinth.
A labyrinth whose walls are lined by LP records.
Hidden in an aging arcade in Hwanghak-dong's wonderfully chaotic flea market, Dol Record at first seems to be little more than a narrow corridor lined by old vinyl records and CDs, the smell of dust and cigarette smoke in the air. Owner Kim Seong-jong, whose mother founded the shop in 1975, sits behind a computer monitor at the far end of the corridor, the appearance of customers rousing him from his game of online baduk. "Hey, get a picture of the inside, too," he says, opening the small door next to a water filter surrounded by records, old newspapers and other artifacts. Through the door is yet another musty storage space lined by row upon row of vintage LPs. On the far side of the room, doors lead to yet more spaces full of music and dust.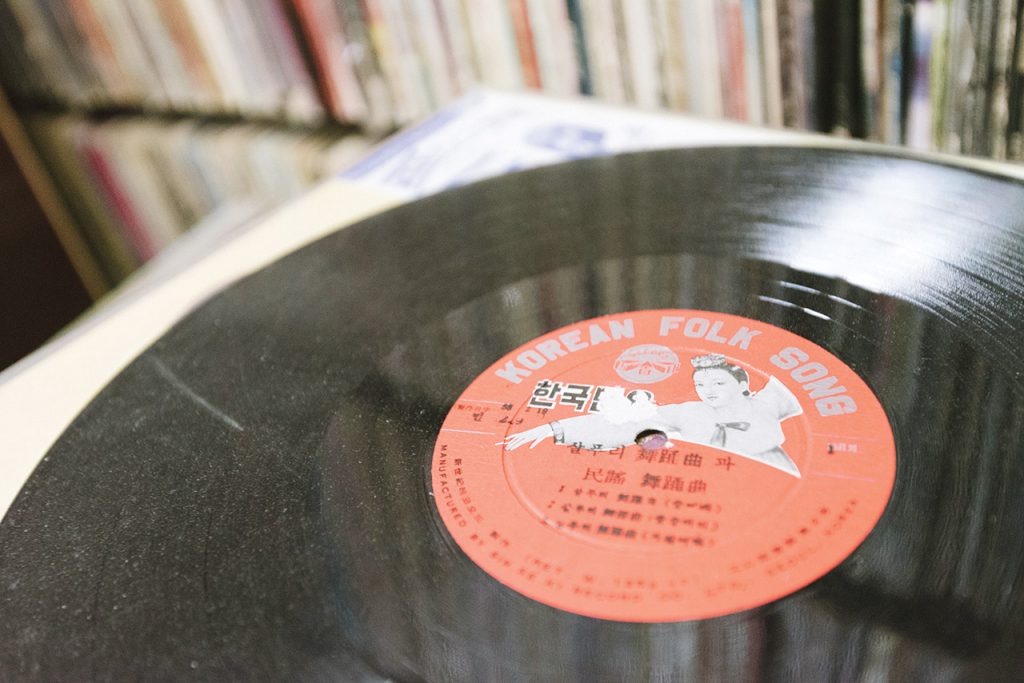 Several decades past the golden age of vinyl, Kim is one of only a handful of merchants left in the city selling phonograph records, the medium prized by aficionados the world over for its warmth and personality. His eclectic collection of somewhere around 200,000 albums – nobody's quite sure of the exact number – includes everything from Von Karajan's recordings of Beethoven to Seo Taiji and Boys. He's especially proud of his collection of early recordings of Korean folk music and early Korean pop and rock. With their flamboyant colors and bad hair, the album jackets alone justify a visit to this museum of Korean pop music.
Most of Dol Record's customers are middle aged or older, not surprising given its location – Hwanghak-dong attracts a senior crowd – and its merchandise. Young people stop by, too, especially nowadays with vinyl enjoying a renaissance, as do foreign collectors with an interest in early Korean rock and rare LPs.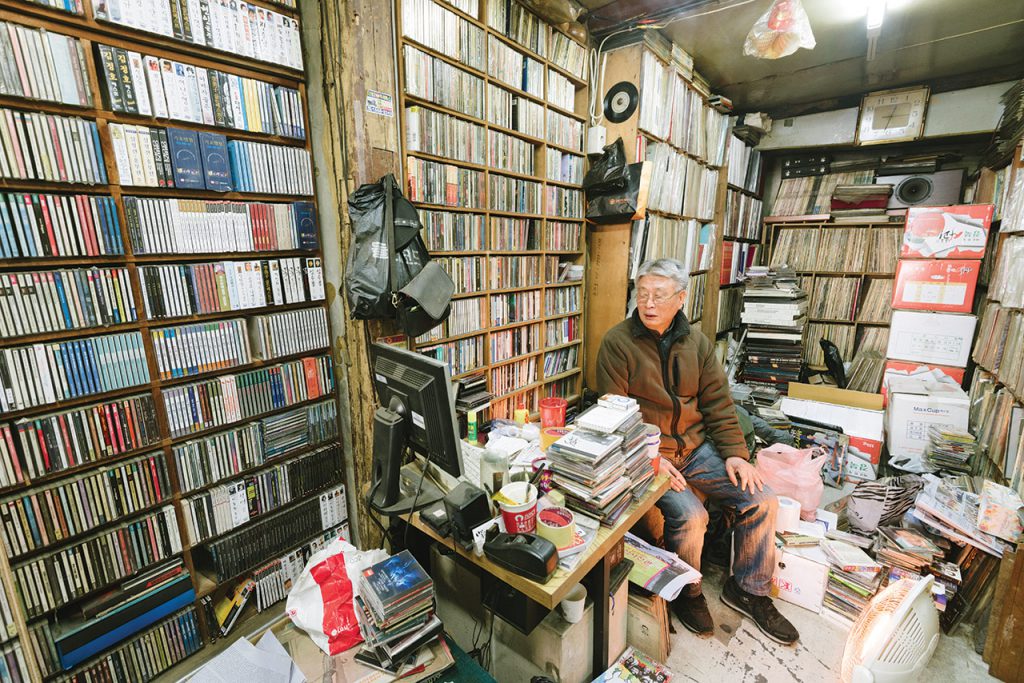 GO> Dongmyo Station (Line 6), Exit 5. Walk straight, cross Cheonggyecheon Stream and swing a left at Seongdong Industrial High School. Just past the school, take a right and then a left – the shop is on that alley.
FYI> T. 02-2235-7130
Itaewon Foreign Bookstore
This Itaewon institution is what is claims to be – a bookstore selling foreign books. A lot of them.
Itaewon Foreign Bookstore's owner, Choi Ki-woong, got into the used book business in 1967, a time when foreign books and magazines were a rare and precious commodity. He scoured U.S. military dumps around the country for discarded books, which he sold to bookshops in Myeong-dong and Jongno. The leftovers, he sold himself. As it turned out, there was a thirsty market for used English books, and before long, droves of university students were seeking him out. Jewelry makers, clothes designers and other artisans came, too, searching for U.S. magazines and department store catalogues to research.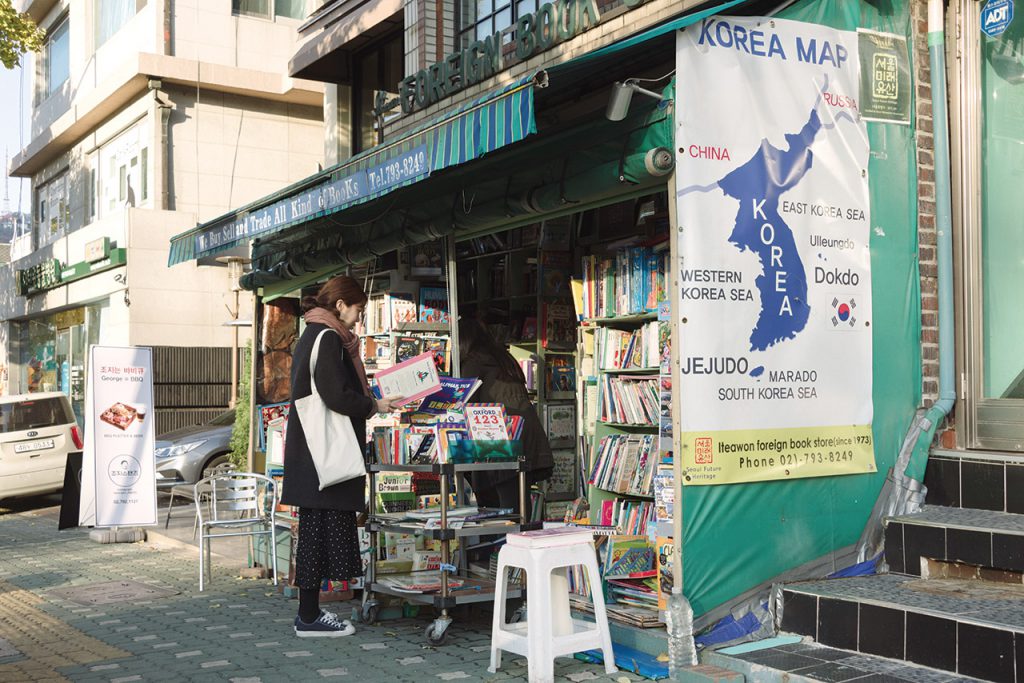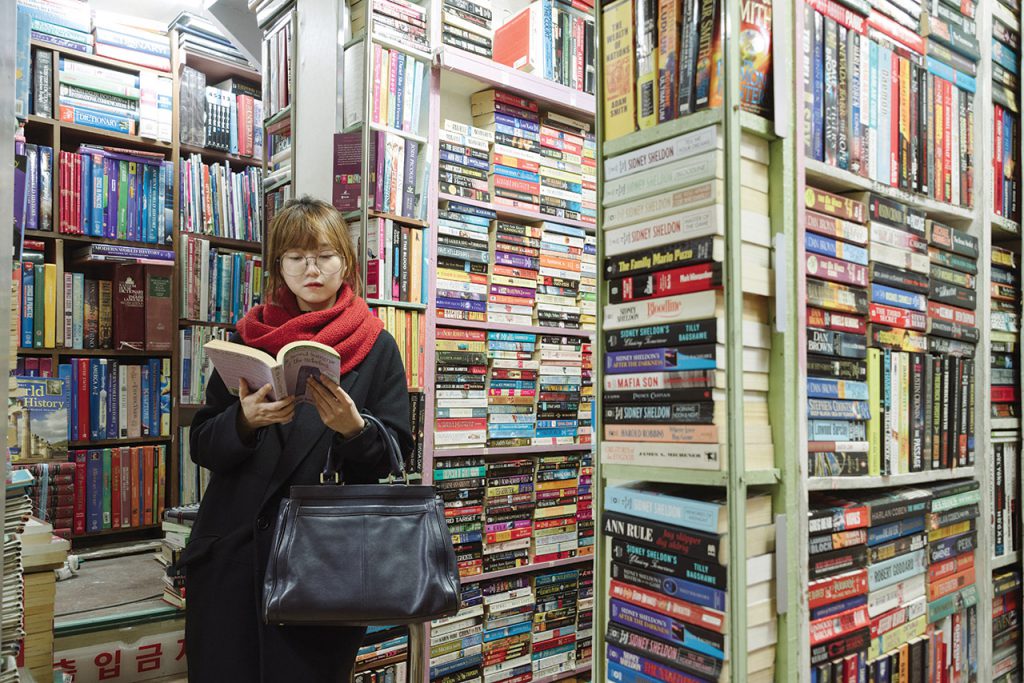 Choi set up shop in his current spot near Noksapyeong Station in the 1970s. The humble two-story home with a veranda and two arched windows on the second floor has changed little, at least in the 20 years that this writer has lived in the country. The place is bursting with books, almost literally so, its collection so extensive that it now pours outside. Inside, narrow aisles in between crowded bookshelves several layers deep guide you through what could be called a museum of 20th century publishing. Book lovers will have found heaven. The place even smells like paper.
Being a used book store that gets its merchandise from wherever it can, Itaewon Foreign Bookstore boasts an inventory that is mind-boggling in its eclecticism, from old guidebooks to a U.S. Army manual for non-commissioned officers. Though the shelves are broadly divided according to genre, don't expect the books to be arranged according to author or title. You're going to have to explore, which is a lot of the charm. Connoisseurs of popular literature will be especially pleased with the large selection of Stephen King and Dean Koontz. On a recent excursion, this writer picked up a copy Frank Herbert's "Dune" and an anthology of short stories by Philip K. Dick.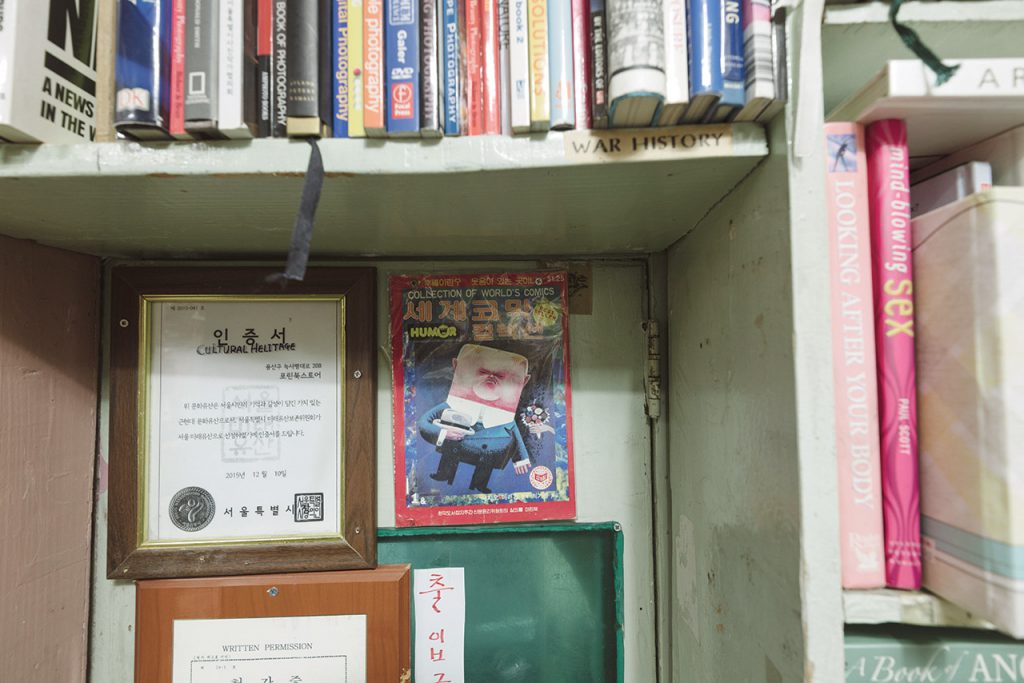 GO> Noksapyeong Station (Line 6), Exit 2. Just cross the street and start walking in the direction of the Third Namsan Tunnel. You can't miss it.
FYI> T. 02-793-8249
Taegeukdang
Old bakeries are hot, the result of the nostalgia-fueled retro fad sweeping the country. And in Seoul, you don't get much older than Taegeukdang, the city's longest operating bakery. Founded in 1946 in Myeong-dong but in its present location in Jangchung-dong since 1973, Taegeukdang has been serving some of Seoul's best baked goods and ice cream for over seven decades.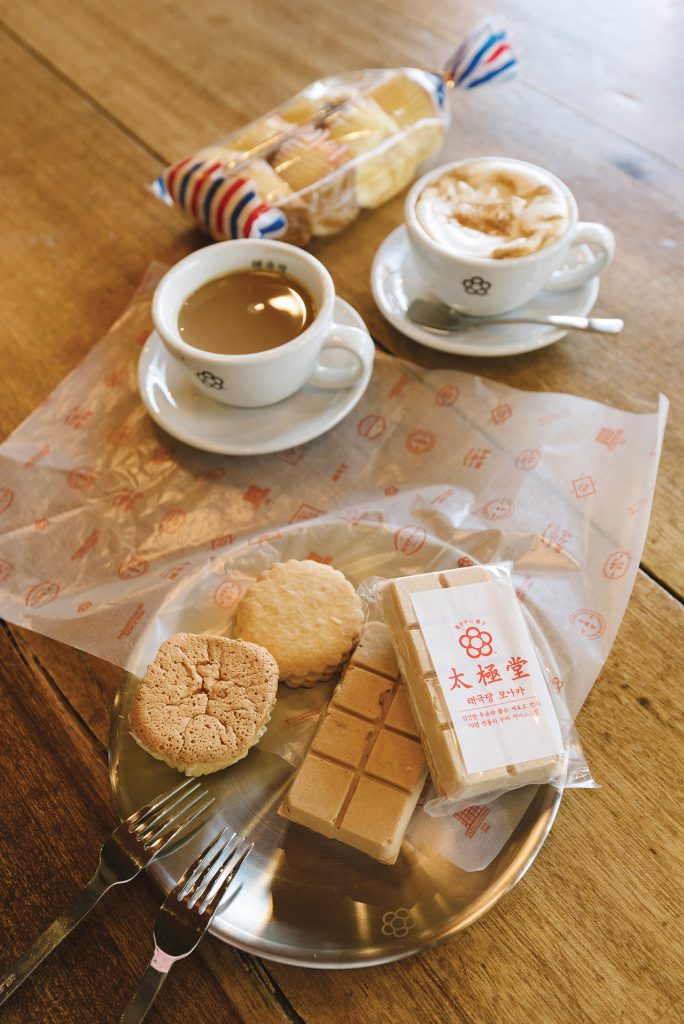 From the outside, the white concrete building, a tribute to the ugly chic of the 1970s, isn't much to look at. Step inside, though, and it's a different story. A 2016 renovation produced a space that tastefully pays tribute to the bakery's heritage, preserving pieces of history such as the period chandeliers, old signs and slogans and even a cash register from 1973, Korea's first. Other pieces of nostalgia have been retrofitted in, including a tile-walled café space in what used to be a kitchen. The retro fonts by design house Sandoll Communication are works of art. This is how you do branding, folks.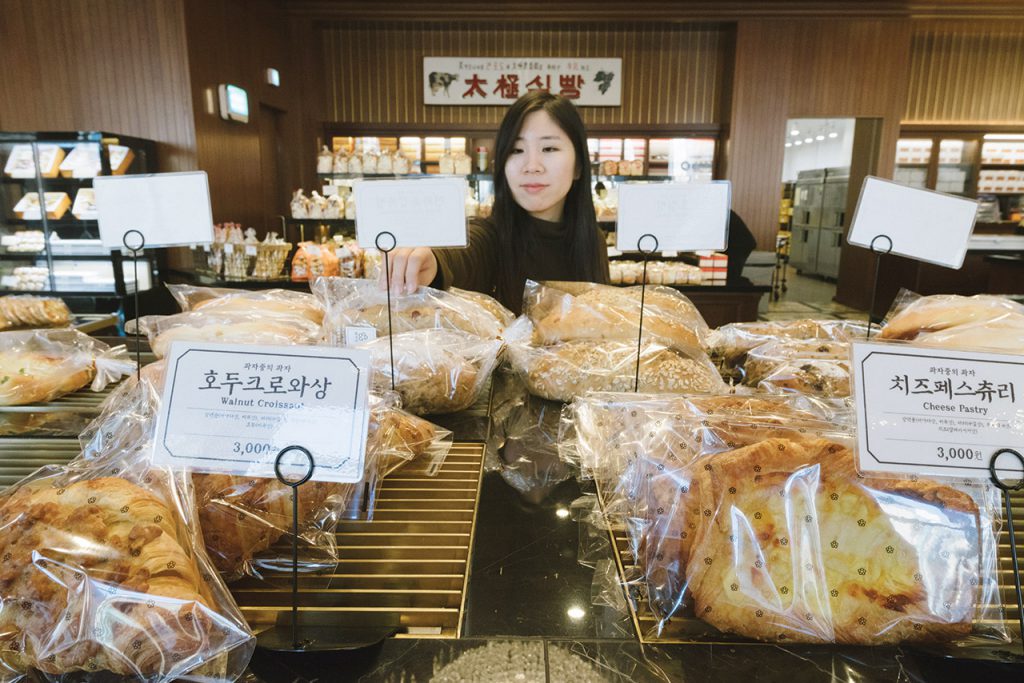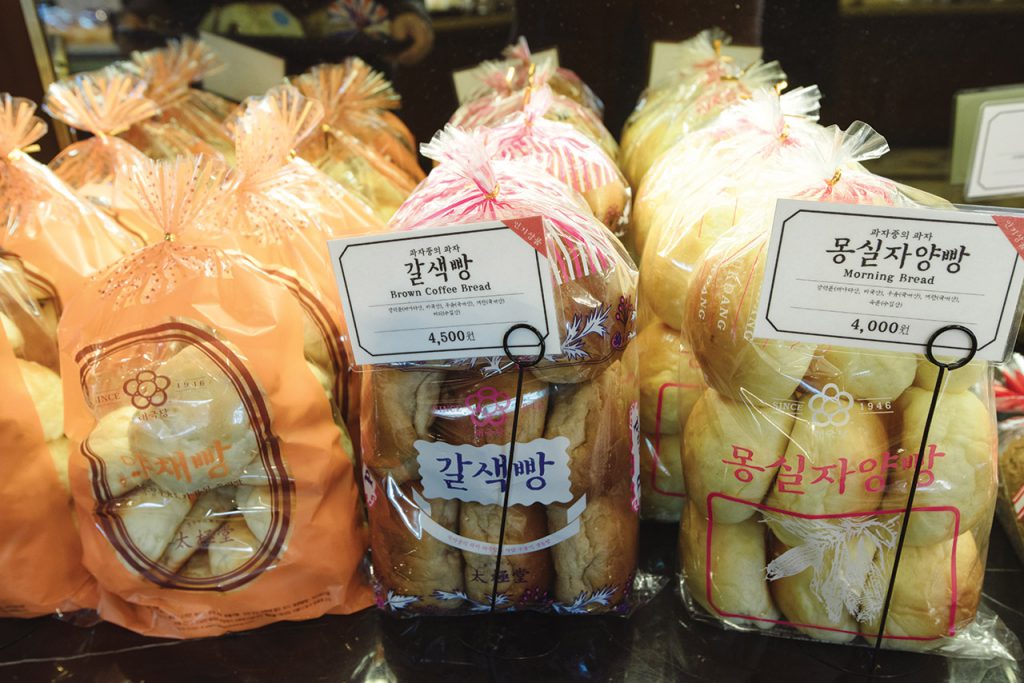 Like many of Korea's historical bakeries, Taegeukdang's offerings reflect the culinary tastes of the mid-20th century, when Koreans favored Japanese or Japanese-inspired breads and cakes. Accordingly, its big sellers include buns filled with sweetened red bean, or danpatppang; rolls filled with salad, or yachae saradappang; rice and flour crackers, or jeonbyeong; and castella rolls filled with apple jam, or rorukeik. What the place is best known for, however, is its ice cream sandwiches made with rice wafers, or monaka. These come in two varieties, one plain and the other made with glutinous rice cake.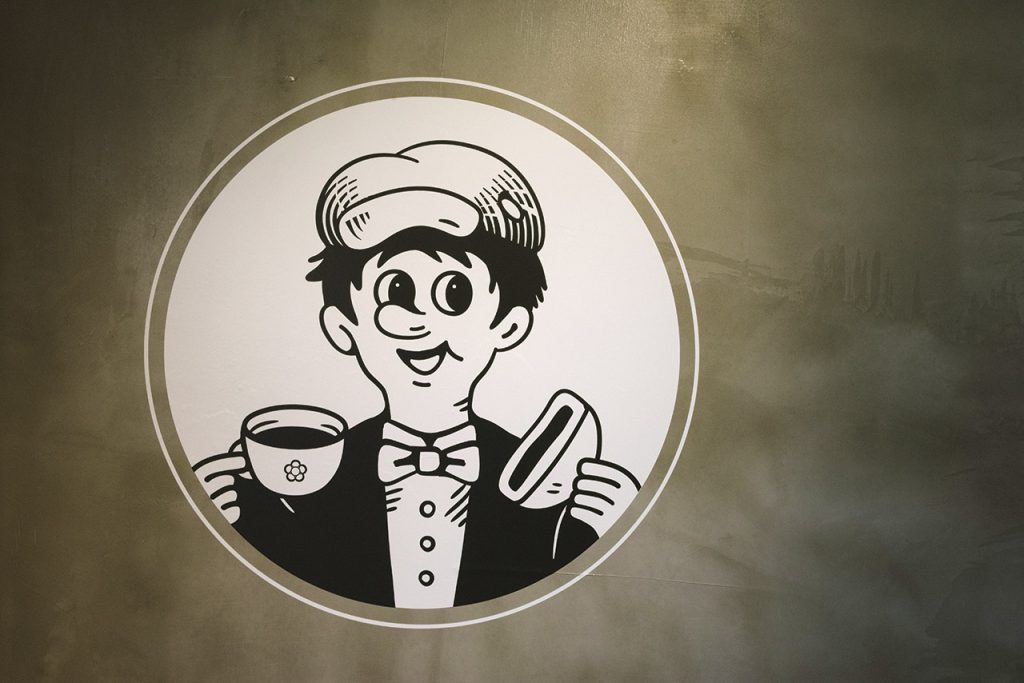 GO> Dongguk University Station (Line 3), Exit 2
FYI> T. 02-2279-3152
Eulji Dabang and Eulji Myeonok
Nowadays, you can't walk 500 meters in any direction without passing a café offering a full range of brewed coffees and espressos.
In the days before Starbucks and trendy espresso bars, however, there was the dabang. These small coffee houses, which first appeared during the colonial era but flowered in the decades after the Korean War, served not only as cafés, but also as social clubs, spaces where friends, colleagues and lovers could gather to converse, listen to music or simply enjoy a cup of coffee, albeit not a very good one.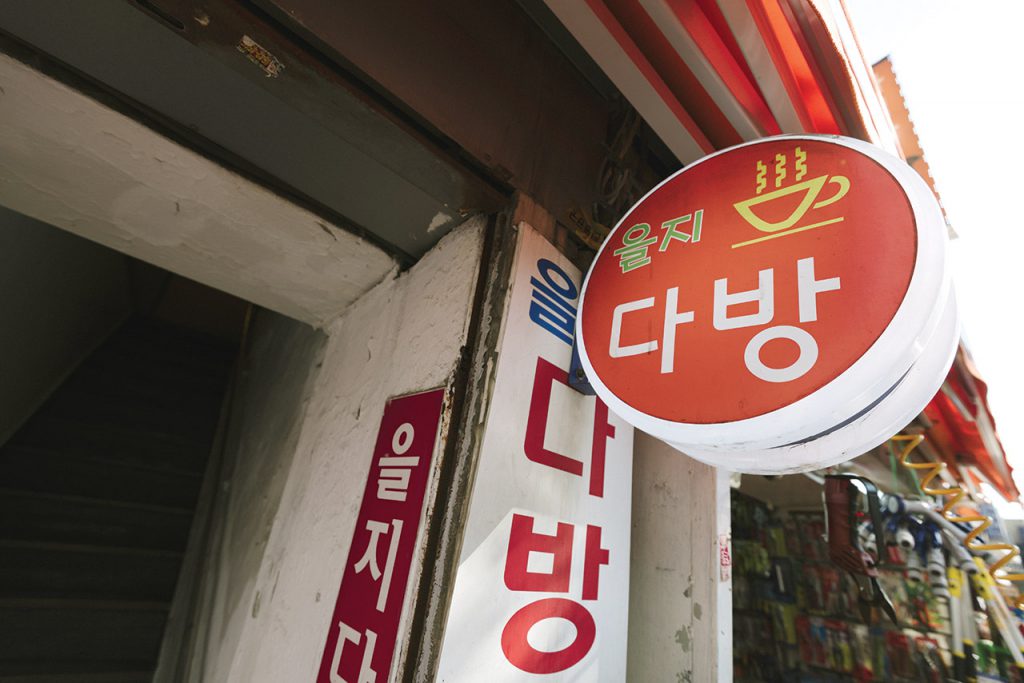 Since the 1990s, dabang have largely given way to coffee shop chains and independent cafés serving high quality coffee. In some older parts of Seoul, however, you can still find the odd dabang or two hidden amid the narrow alleys and gritty facades.
One such holdoout is Eulji Dabang in the industrial Eulji-ro neighborhood. With its dark interior, fake leather sofas, linoleum tables and older male clientèle in fedoras and flat caps, the place looks like a 1970s film set. Its been around for 50 years, and one imagines most of its regular customers have been coming here for as long. Faux retro it's not. This is the real deal.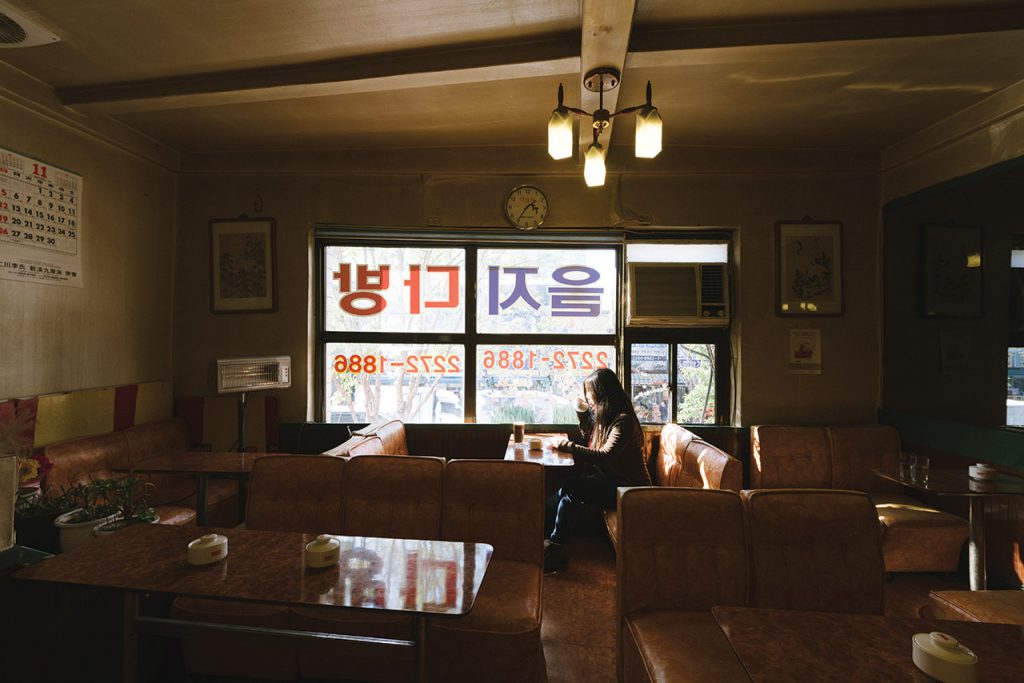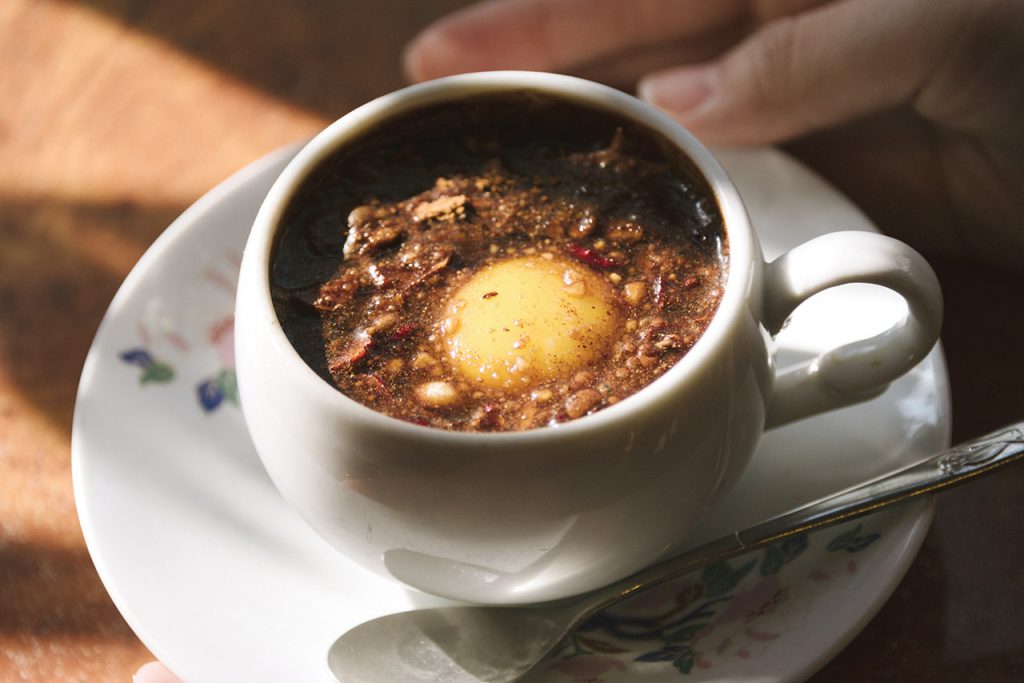 For an immersive experience, order the ssanghwacha, a medicine tea served dabang style with an unbroken egg yoke floating in it. You could also order the dabang coffee, a cup of instant coffee served with scoops of cream and sugar.
If you're hungry before or after your visit, try Eulji Myeonok, the entrance to which is at the far end of a passageway that runs right below Eulji Dabang. This foodie favorite has been serving North Korean-style chilled noodles, or naengmyeon, since 1985, when it was opened by the daughter of the proprietor of another renowned naengmyeon joint. The environment is very old school – white walls and tile, and the passageway to the entrance is lined by old photos of North Korea. If you order the naengmyeon in broth, or mul naengmyeon, be sure to add a dash of powdered red pepper.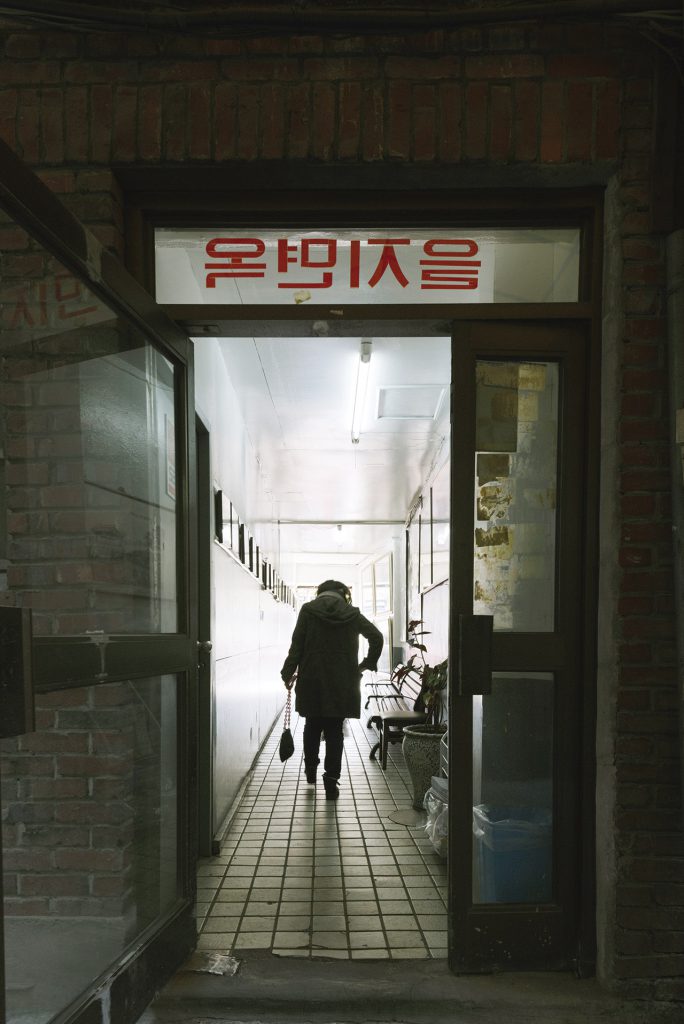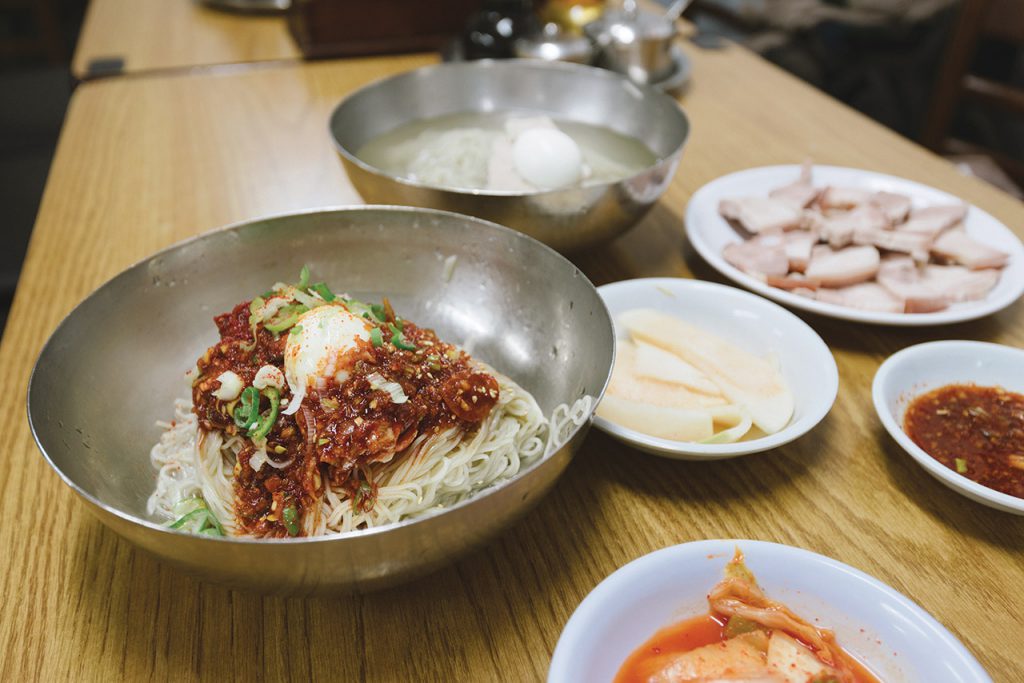 GO> Euljiro 3-ga Station (Line 3), Exit 5
FYI> T. 02-2272-1886
Yeonnam Seo Sikdang
Smoke fills the room, the air heavy with the scent of cooked meat. In groups of threes and fours, customers stand around old oil drums, chatting and drinking as they cook their meat on metal grills atop briquette fires. A handwritten sign on the wall reveals a menu beautiful in its brevity: "Beef galbi: KRW 15,000 for 150 grams."
Located in a hilltop alley near Sinchon Rotary, Yeonnam Seo Sikdang is seemingly ripped from the pages of a 1980s guide to Korean culture. In the hardscrabble years of Korea's post-war industrialization, restaurant-cum-pubs such as this, where diners stood grilling meat atop oil drums converted into barbecue pits, were a favorite haunt of laborers who wanted food and libation after a hard day's work but had little time to sit down and enjoy them.  In the nostalgia drenched present, these places having been making a comeback.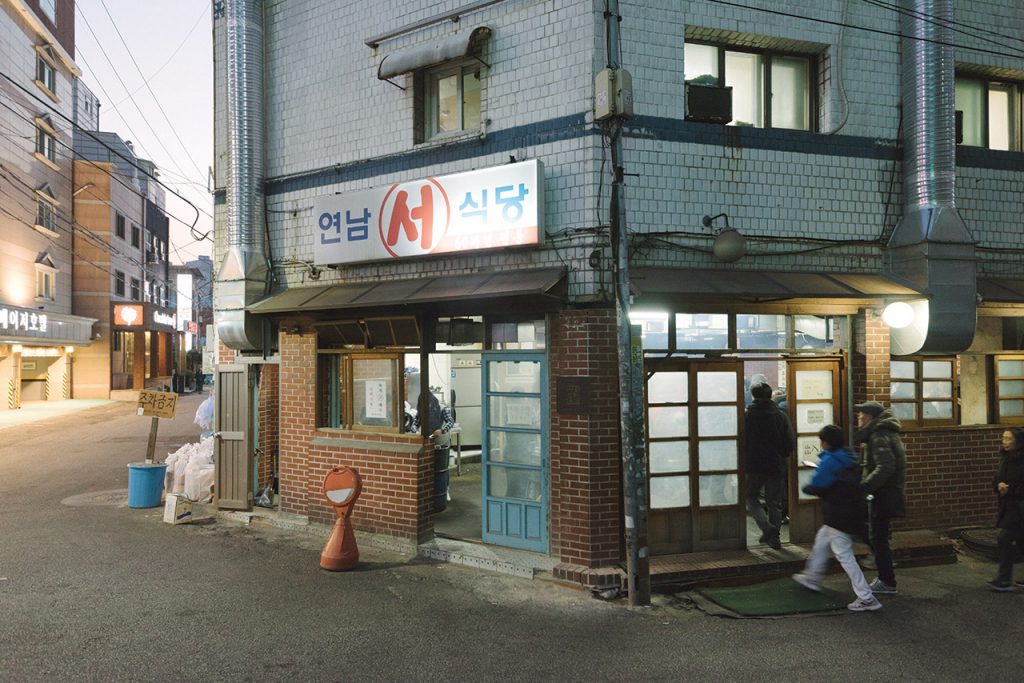 Yeonnam Seo Sikdang, however, is the genuine article. The father of Lee Dae-hyeon, the current owner, opened the place in 1953, just after the Korean War. Seoul was a mess – the city had changed hands no less than four times during three years of fighting – and getting your hands on a table was nigh impossible. Instead, the family purchased some disused U.S. Army oil drums and placed them in the courtyard of the family home. The setup proved popular, especially with the thirsty but time-pressed woodworkers, metalworkers and other laborers who lived and worked in Sinchon back then. Initially more of a pub, with the galbi more of an afterthought, the restaurant began to focus more on meat from the 1970s, when Koreans began earning more and growing car ownership inspired more conservative drinking habits.
Yeonnam Seo Sikdang serves Korean ribs with U.S. hanging tender, all seasoned the morning of sale. The hot briquette fire cooks your meat quickly, keeping the juices locked in. The meat comes with green peppers, garlic and dipping sauce. That's it. Don't bother asking for kimchi or rice – you've got to bring your own.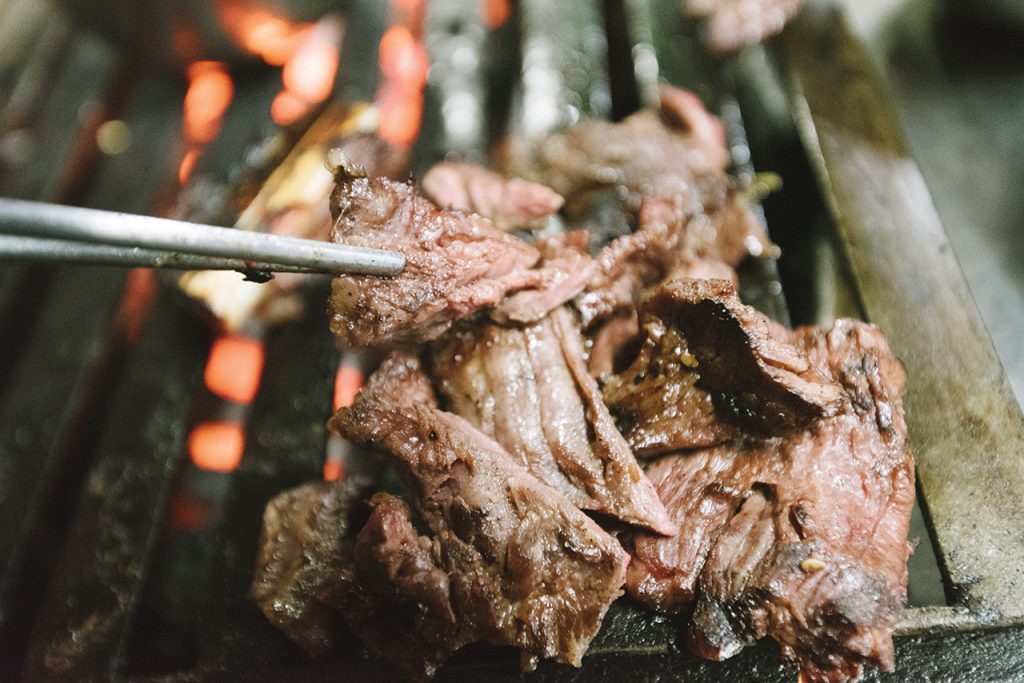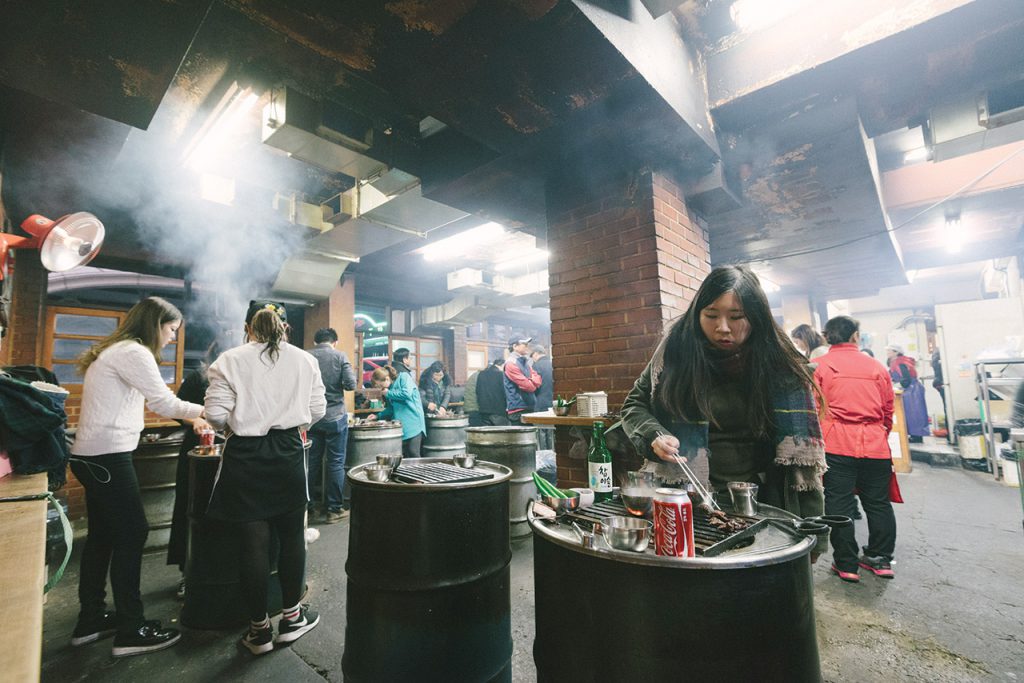 GO> Sinchon Station (Line 2), Exit 7. Cross the street at the crosswalk just in front of Nogosan Children's Park and walk up the hill. The restaurant is on your right.
FYI> T. 02-716-2520
Written and photographed by Robert Koehler
https://magazine.seoulselection.com/wp-content/uploads/2017/11/20171121-DSC_2768.jpg
854
1280
cyn
https://magazine.seoulselection.com/wp-content/uploads/2018/01/Seoul-logo.png
cyn
2017-12-12 11:26:05
2018-01-24 11:34:49
Oldies But Goodies 서울의 오래된 가게들