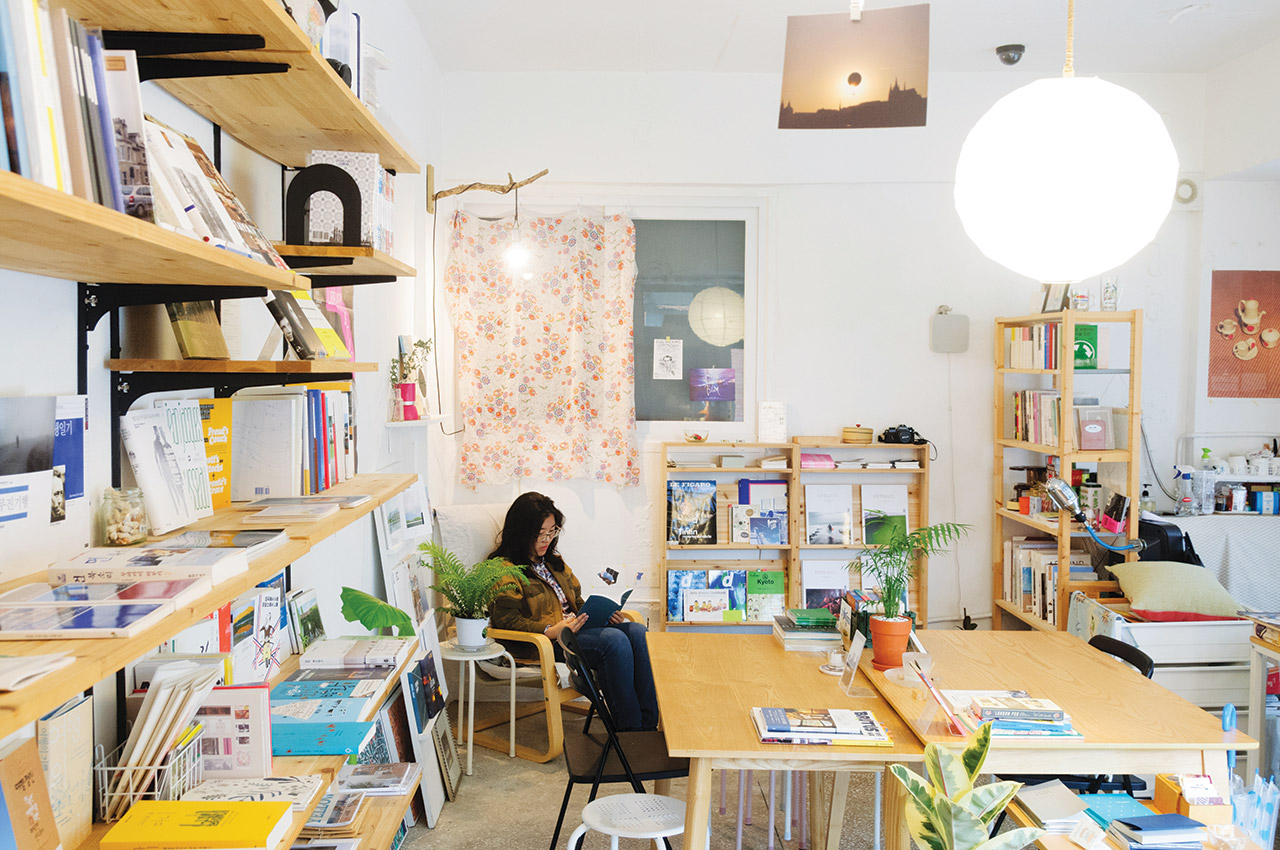 A quiet urban oasis gets a dash of the youthfully hip
Exploring Yeomni-dong is sort of like traveling back in time. The dense, hillside maze of claustrophobic alleyways near Ewha Womans University Station is typical of residential neighborhoods of the 1970s, its streets lined by modest multifamily homes of red brick and humble shops with weathered signboards. In a city that constantly transforms itself, few such neighborhoods exist in such a well-preserved state.
Even here, however, change is in the air. An influx of young creatives is giving the neighborhood, much of which faces imminent redevelopment, a youthful shot in the arm. The old homes are now joined by independent bookstores, cafés and even the odd gallery or two. Unlike some other nearby hot spots, however, it's still a quiet residential area with a restful vibe all its own.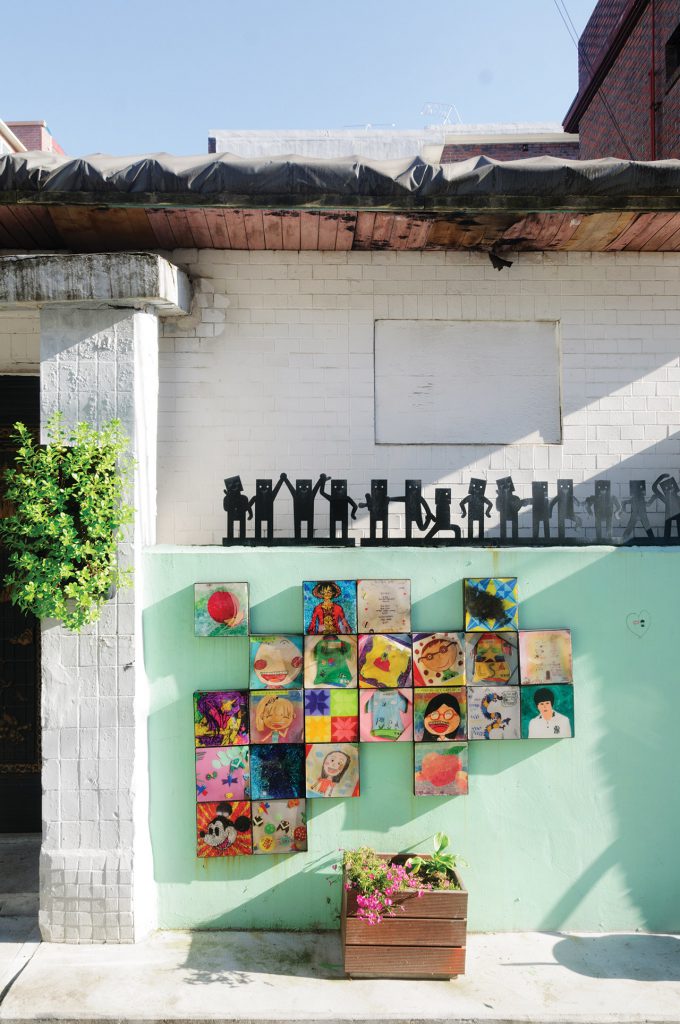 The Salt Road
Not so long ago, Yeomni-dong had an unsavory reputation as a high crime district. Its many empty homes, the result of delays in an anticipated redevelopment project, and dark, narrow alleyways created an undesirable and potentially dangerous residential environment. To rectify this, local authorities employed a strategy called "crime prevention through environmental design," or CPTED. In 2013, Seoul Metropolitan Government began to install streetlights and CCTV cameras in the neighborhood's dark corners and to cover its alleyways in bright, colorful murals. As a result, the number of reported crimes dropped, and just as importantly, local residents felt more at ease.
In addition to preventing crime, the beautification effort had the bonus effect of drawing visitors. Tourists, including photography clubs, found the quaint streets, colorful alleys, hilltop views and old-school charm irresistible. Authorities established a network of walking paths, marked by a yellow line on the road, to link the neighborhood's scenic spots and other places of interest.

The walking paths are called the Salt Road, a name that pays tribute to Yeomni-dong's distant past, when the area was home to many merchants who bought and sold the salt carried to Seoul by boats that landed at nearby Mapo Ferry. Bright yellow lampposts, each one with a number, tell you where you are. Along the way, you'll find cheerful murals, brightly colored flights of concrete steps and other forms of public art. You can pick up a Korean-language map at several local bookshops or cafés.
While the neighborhood has survived as a time capsule, change is fast approaching. Redevelopment is set to begin, possibly from June. Many of the alleyways higher on the hill will be demolished and replaced by large apartments.
A good book and a glass of wine
Not all of old Yeomni-dong is slated for destruction, however. The alleyways on the lower slopes will not only survive, but may also prosper. Drawn by the low rents, tranquility, authenticity and proximity to the popular Hongik University area, young creative types are moving in, lending a touch of the hip to the neighborhood's folksy charm.
Aficionados of independent bookstores will especially like the place. In an era when many neighborhood bookstores are closing down, Yeomni-dong is home to no fewer than three recently opened bookstores. These delightfully intimate places reflect the personal interests and tastes of their owners and offer not only books to buy but spaces in which to recharge and heal.
The appropriately named Book & Pub (T. 010-9454-7964) was opened by travel writer and self-described former unemployed individual Kim Jong-hyun. A renovated ventilation repair shop, the small, simple space is easy to miss – there's no signboard, but the row of empty wine bottles in front of the store lets you know you're in the right place. "I didn't have the money for a signboard, and didn't really have the desire for one," explains Kim. "And since this is an indie culture establishment, passersby don't just drop in after seeing a sign. This isn't Starbucks or some chain convenience store."
On the shelves, you'll find a range of books and magazines by both commercial and independent publishers. True to its name, the shop also sells wine, beer and other beverages. Additionally, it also hosts regular performances by indie bands, book discussions and other cultural events.
A short walk up the hill from Book & Pub brings you to Stop for Now (T. 010-2686-2906), another independent bookshop. The bright, relaxing space with a light blue door is stacked with travelogues, guidebooks, travel magazines and other travel-related publications, many of them independently produced. Founder Song Eun-jeong, a seasoned traveler herself, says, "I personally like travel, and it's a genre that is universally liked regardless of sex or age."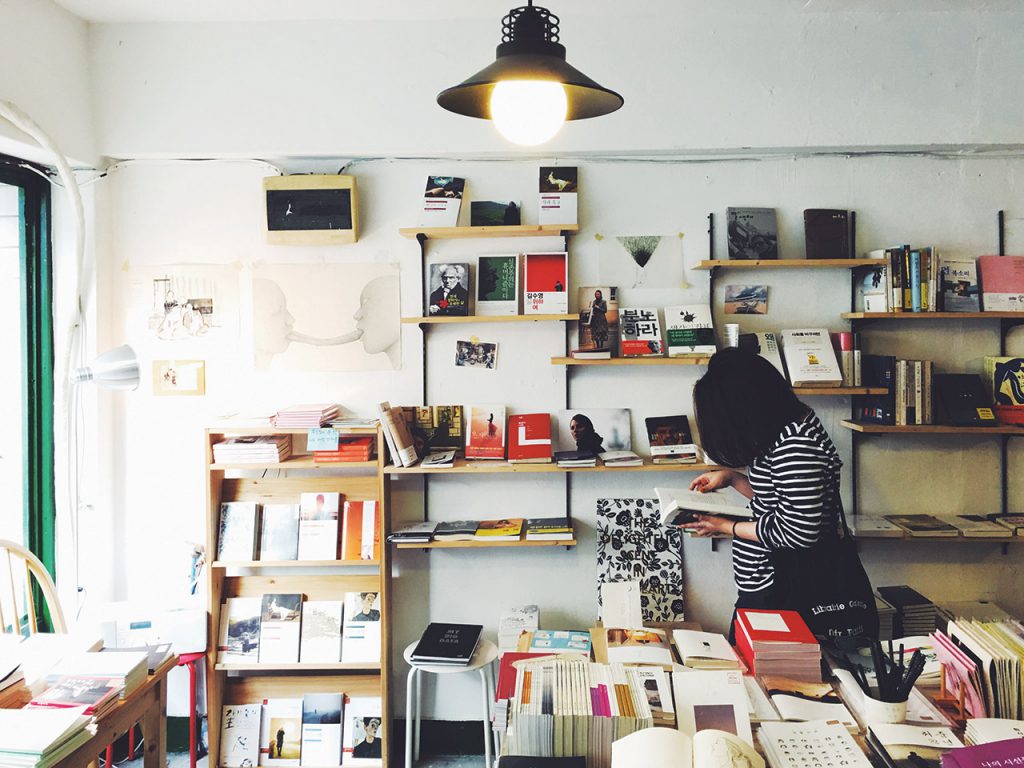 There isn't much in the way of English-language offerings, but the beautiful, photo-intensive books and magazines transcend language barriers. Song says, "Many people who come here tell me they take comfort in reading about travel or taking in the atmosphere of travel."
A bit further up the hill is the Chowon Bookstore (T. 02-702-5001), an unassuming hole-in-the-wall shop selling music-related publications. The narrow space has a distinctly vintage vibe. Owner Jang Hye-jeen says, "I like old things, so I wanted it to look like an old store that was already here."
For Jang, the shop is a labor of love. "I've believed that making a space is making your own world," she says. "For a long time, I thought about what I could do that would be fun. I liked music and I liked books. So I thought it would be fun to run a bookstore with music books." Her collection covers a broad range of musical genres and artists, from Gustav Mahler to Patti Smith.
Drawn to the neighborhood for its quiet, she hopes the peaceful, laid-back atmosphere lasts. Having many customers is not a concern. "A lot of visitors isn't necessary good," she says. "Instead, it's better to have a few people come to buy the book they are looking for."
Writer Gang Min-gyeong is exploring the neighborhood's bookstores on a warm spring Sunday afternoon. "Yeomni-dong is a quiet place, and we can clearly see all the things we take for granted," she says. "I like that in the bookstores we can find many books that share the little things in life."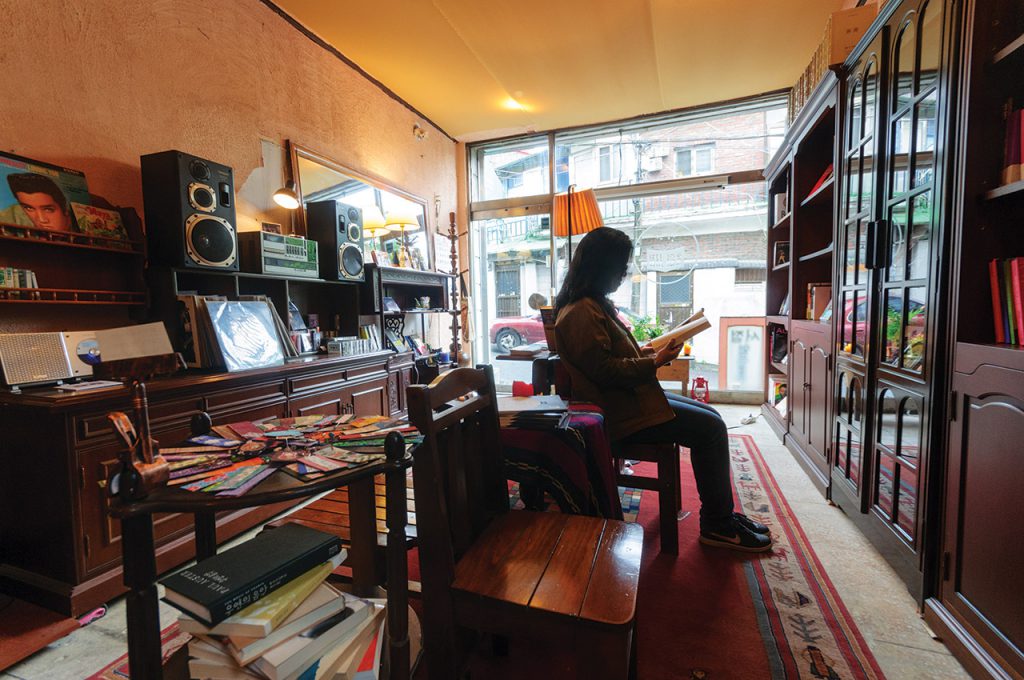 Youthful vibes
While not quite on par with the nearby Yeonnam-dong district as a dining and shopping destination – yet – you can enjoy your coffee in peace, and probably without even waiting in a line. New cafés such as Studiobarista (T. 02-704-1374, and yes, it really is a photo studio that doubles as a coffeehouse) and Café Mussttard (T. 02-719-2323) offer good cups of coffee in pleasant surroundings.
One local institution is Store Unttu (010-2443-6341), a renovated rice shop that is equal parts café, diner, workshop and community center. "We started with a communal dining group at home," says Cheon Myeong-jae, who founded the space with his brother. "We were originally going to use the shop as a workroom, but we needed to do something to run it, so we tried using it as a café and serving food."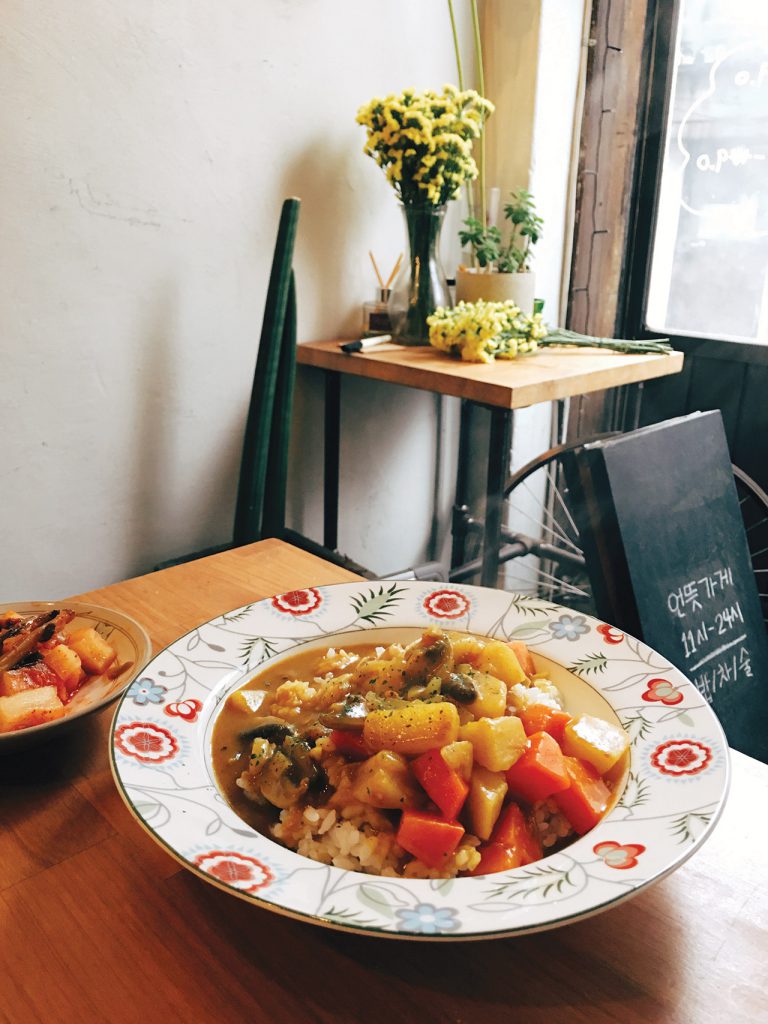 If you're hungry, the menu boasts some really good homemade dishes, including a mean Japanese-style curry. Several reasonably priced beers are available, and daytime drinking is welcomed. On Sunday, it serves up a brunch special of open sandwiches. Sadly, this charming place, which first opened its doors in 2014, is in the middle of the scheduled redevelopment zone. Enjoy it while it's still there.
A more recent addition to Yeomni-dong's cultural scene is Space Sikmulseong (T. 010-8903-0728), a flower shop/gallery opened by young artist Jeong Su-jin. The house specialty is succulent plants, including its signature "A Cup of Cactus" line of small cacti in cups. The storeroom doubles as a space for art exhibitions, drawing classes, readings and other events. Jeong says, "Fundamentally, we sell succulent plants and cacti, but we are planning a variety of events to draw diverse kinds of people."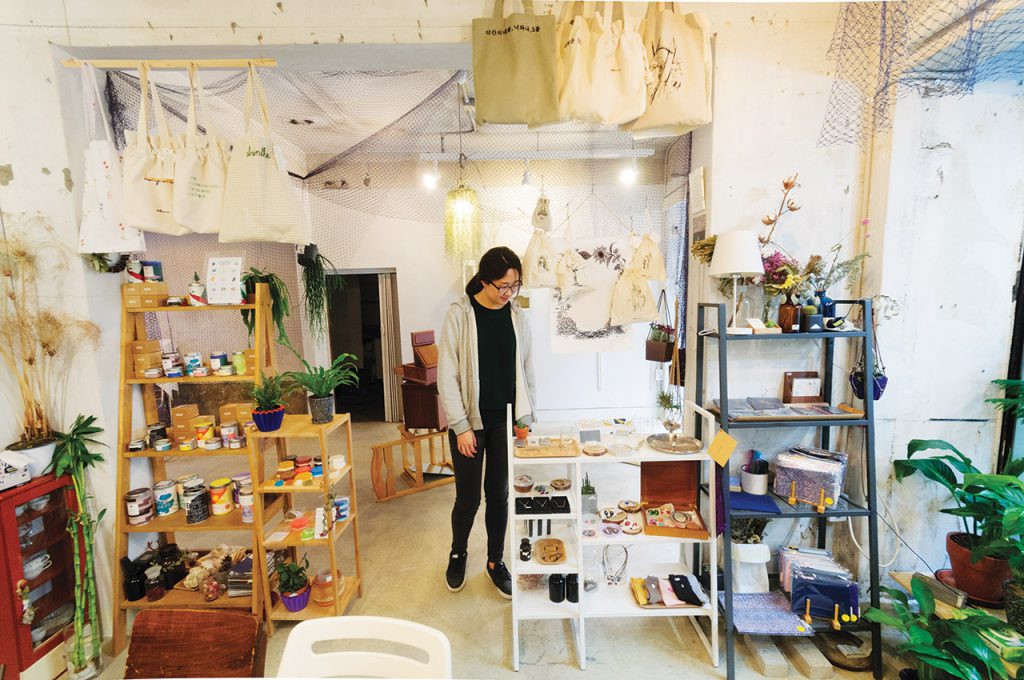 A true hidden gem is Mealan's (T. 010-2553-3419), a dessert café run by baker Ranna Choi. "The café's name is based on my original Korean name," she explains. "This means everything is made by myself. From the maroons to the desserts to the canned fruits, everything is from me." Many of her customers are students from the nearby universities, but word of mouth draws visitors from other parts of the city as well.
Choi is best known for her delightful handmade macaroons. "My macaroons are bigger than other places, and I don't use butter for the cream," she boasts. "I only use cream cheese." Some of the other desserts on hand are well worth trying, too, including a sinfully rich brownie tiramisu. English is spoken, too.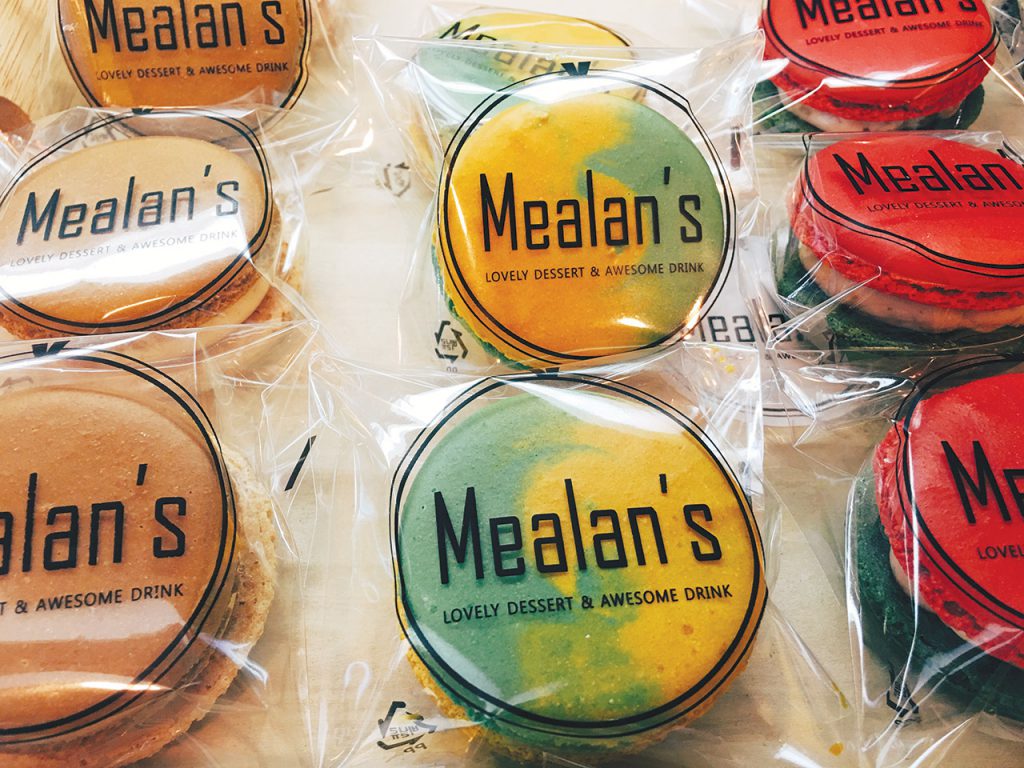 Another culinary landmark is Smile Bap (T. 02-02-713-5453), a small shop producing handmade rice balls. Founded on a shoestring by three college buddies from Cheongju, Smile Bap now makes about KRW 400 million a year providing its artisanally crafted rice balls to some of Korea's biggest companies. Made from freshly polished rice, its delicacies are densely packed orbs of flavor. The brick-and-mortar shop is mostly a production center – if you'd like to try one of its creations, call ahead.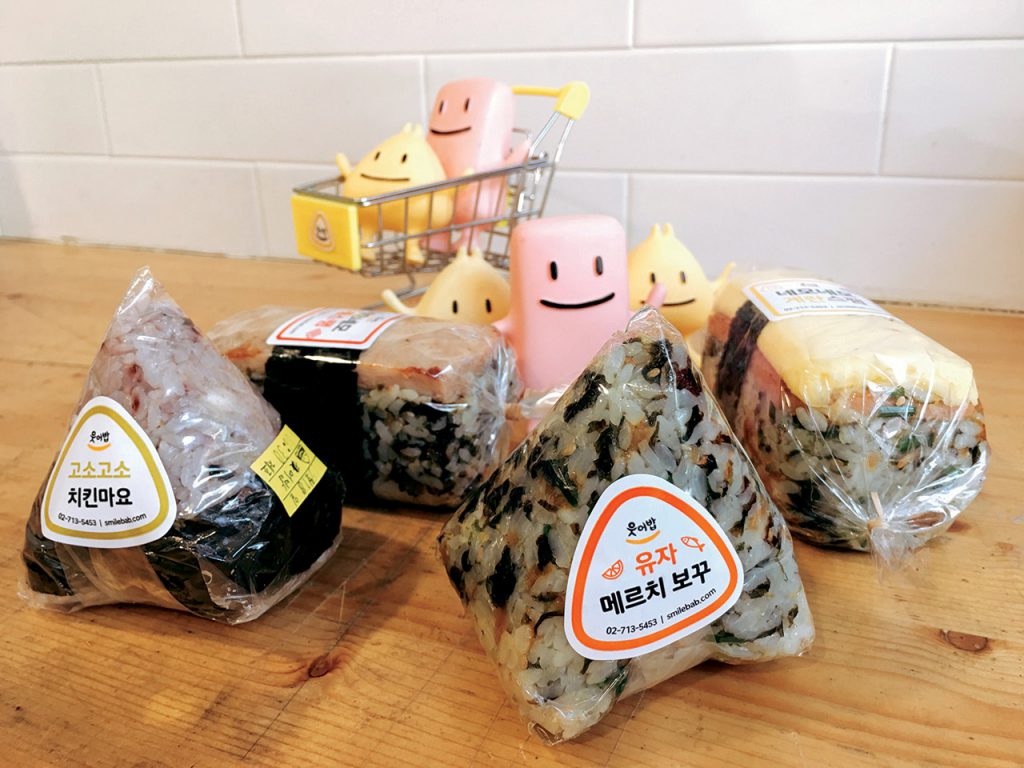 [separator type="thin"]
More Info
GO> Ewha Womans University Station (Line 2), Exit 5.
Written and photographed by Robert Koehler
https://magazine.seoulselection.com/wp-content/uploads/2016/06/DSC_5250.jpg
850
1280
cyn
https://magazine.seoulselection.com/wp-content/uploads/2018/01/Seoul-logo.png
cyn
2016-06-17 09:11:23
2016-06-17 09:11:23
Yeomni-dong 염리동