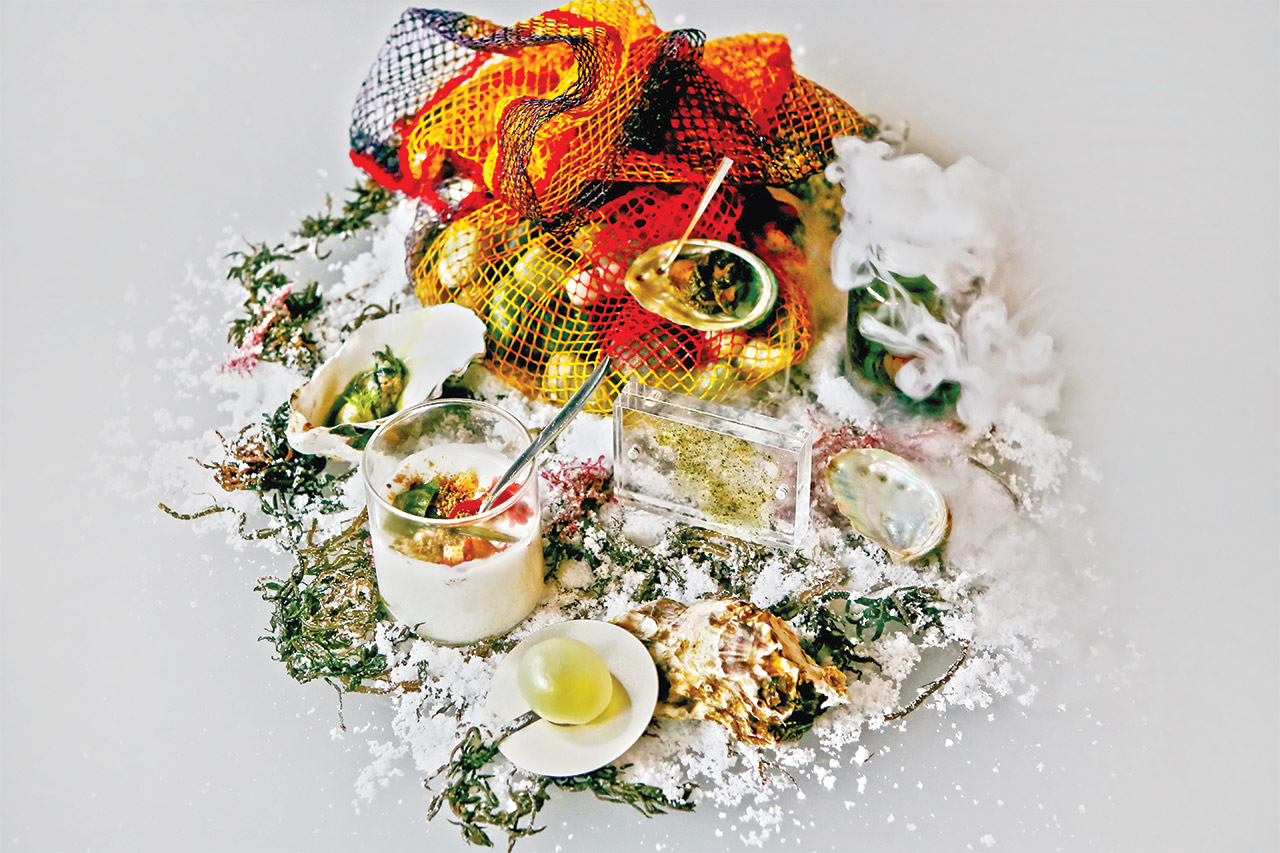 Korean fine dining blends the traditional and modern into culinary art
"Fusion" can come off as a dirty word in a city where cream sauce tteokbokki and sweet potato pizza are divisive subjects. However the melding and erasing of boundaries in the culinary world is not a trend that shows signs of slowing down. In the hands of serious chefs, this type of modern fusion can yield creative, jaw-dropping cuisine. These are not restaurants giving Korean cuisine a modern reboot, but hotbeds of creativity and innovation propelling modern dining in a fresh direction.
Jungsik (정식당)
Sinsa-dong 신사동      
Jungsik, headed by Chef Im Jung-sik, is considered one of the preeminent pioneers in Korean haute cuisine, and made headlines in 2013 when it opened a branch in Manhattan. The global branch eventually earned two Michelin stars and is thought to have turned international attention to "new" Korean dining.
The lunch tasting menu (KRW 80,000) starts off with a "welcome dish" of a salmon foam cornichon, creamy chowder, and a trio of amuse bouche, among them a bulgogi croquette. The food echoes the atmosphere: light, fine and contemporary.
Another soup arrives, maitake mushroom, and it's a relief to find the soup isn't a mushroom-flecked cream bisque. Instead the server pours a deep brown liquid over a small square of soft tofu wrapped in mushroom leaves. Salty. Addictive.
In its octopus course, Jungsik accomplishes what few others do: a full tentacle cooked to perfection with hardly a hint of chewiness. Theirs is poached and then fried, served with aioli and dusted with "octopus powder."
Seafood is a Jungsik forte. The "Ok Dom" fillet of snapper sits in a tangy pool of ginger vinegar sauce. Jungsik's bibimbap lacks the familiar red and yellow colors but is even more beautiful as a DIY white and green collage of torched yellowtail, fried quinoa, white kimchi and Korean spring onions.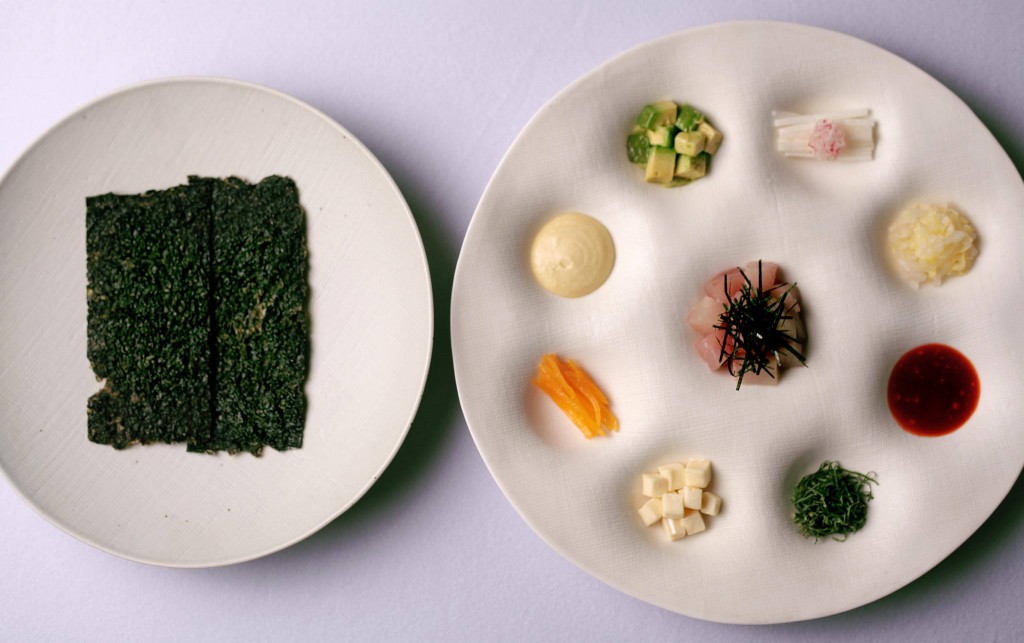 Ryunique  (류니끄)
Sinsa-dong 신사동   
Those winding down the path of Chef Ryu Tae Hwan's exquisite tasting menu will steep in smoky countryside "Nostalgia," sink into a shellfish wonderland "Under the Sea" and end up in an enchanting "Winter Forest." Not every dish is titled as an art piece but every aspect of the dining experience at Ryunique is imbued with meticulous detail and impeccable taste. Ryunique offers dining meant to be an enjoyment of art, pleasure filled with equal parts meaning and beauty.
The evening tasting menu (KRW 180,000 for 10 courses) begins with a steady parade of amuse bouche, which stir enthusiasm for the cascade of courses ahead. The Konbuzime red snapper sashimi and cucumber foam arrives first and it's the delicate presentation of protein and colorful ribbons that's hallmark to haute cuisine. The fish, intended to be consumed with tweezers provided, lives up to the pretty tableau.
A Korean berry and beetroot tea infused with smoke introduces the pinnacle course in Chef Ryu's menu. "The Nostalgia (2012)" comes with a note card explaining the memories that inspired the dish and features seared quail breast, beet puree, and a beet-stained quail egg. A glass case filled with smoke and containing a bacon-wrapped quail leg lends even more of a wow factor.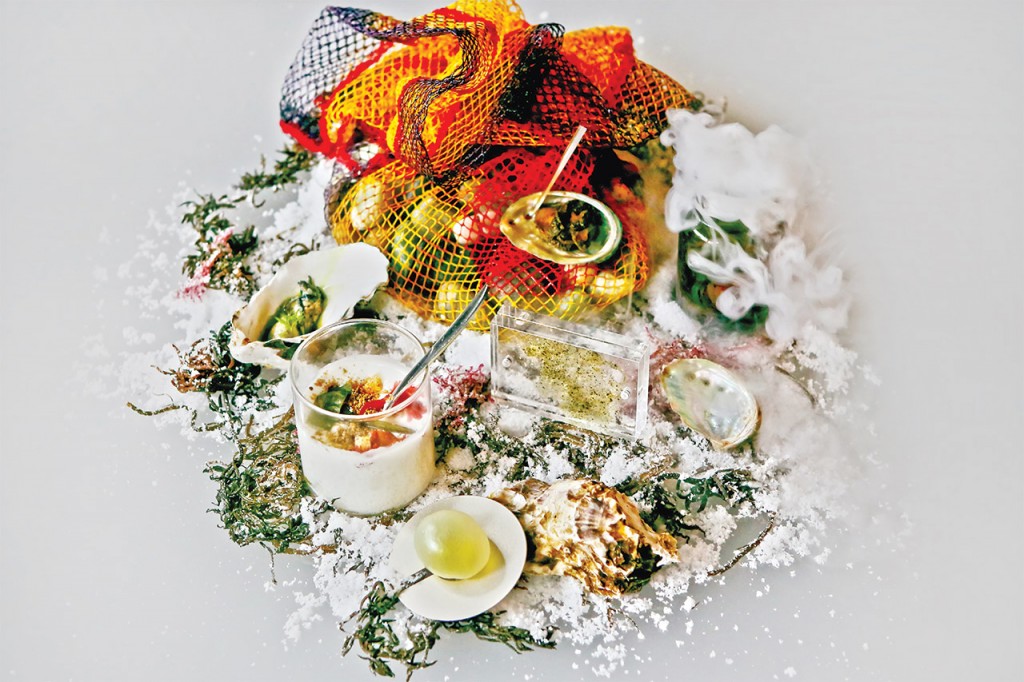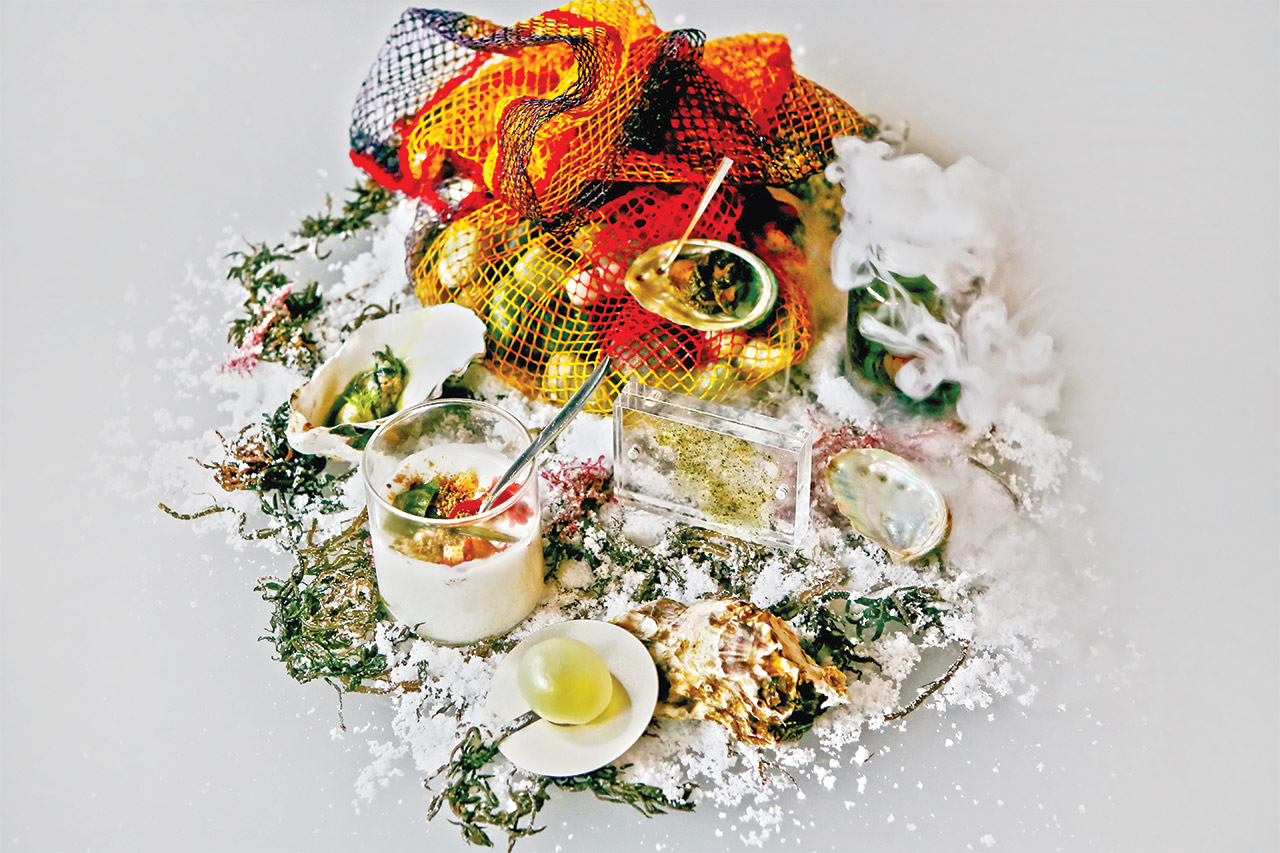 Congdu (콩두)
Jeong-dong 정동      
Congdu's neo-Korean cuisine waxes philosophical on harmonizing traditional ingredients with modern flair and presentation, all to be enjoyed in an authentic hanok building beside Deoksugung Palace.
Congdu's color themed menus of "Green," "Orange" and "White," which escalate in price (KRW 60,000-115,000), are conducive to course or set-style dining, but items may also be selected a la carte.
Yellow corvina fish is grilled and served whole, as traditional as ever, accompanied by white rice steeped in cool green tea. The fish requires more chopstick finagling than the raw blue crab marinated in soy sauce, a Korean dish usually considered Next Level for neophytes. The latter arrives in a row of ceramic spoons filled with bright orange puree beside the crab's empty exoskeleton. The server provides rice and gim to precede the shooter of strong and delicious raw crab.
It almost goes without saying when discussing Korean food, but here's a strong suggestion: don't skip the pork. Congdu's shoulder of Jeju pork, slow roasted for 48 hours, is the buttery pork high that bossam lovers never stop chasing. The soft, fragrant and generous portion of meat is skirted by another burst of bright orange. It looks like a red pepper sauce, but it's pure gochujang. The aged kimchi on the plate can be embraced or ignored in conjunction with the already superb meat and sauce.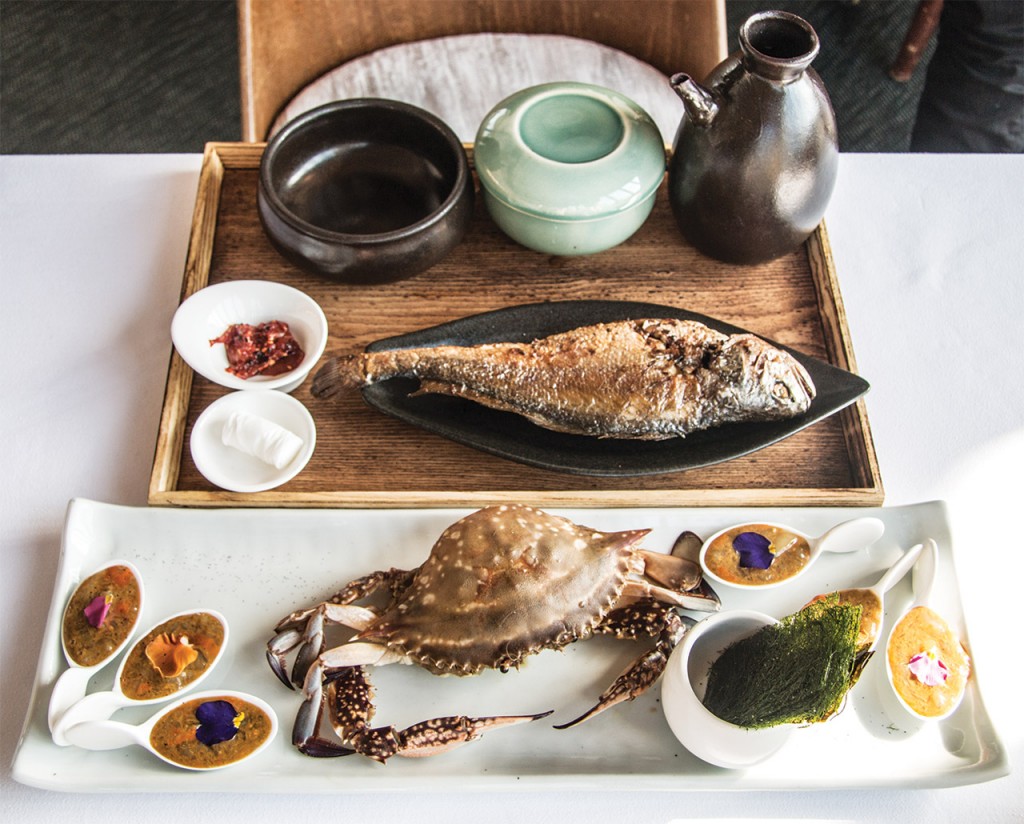 [separator type="thin"]
More info
Ryunique
520-1 Sinsa-dong, Gangnam-gu
Ryunique.co.kr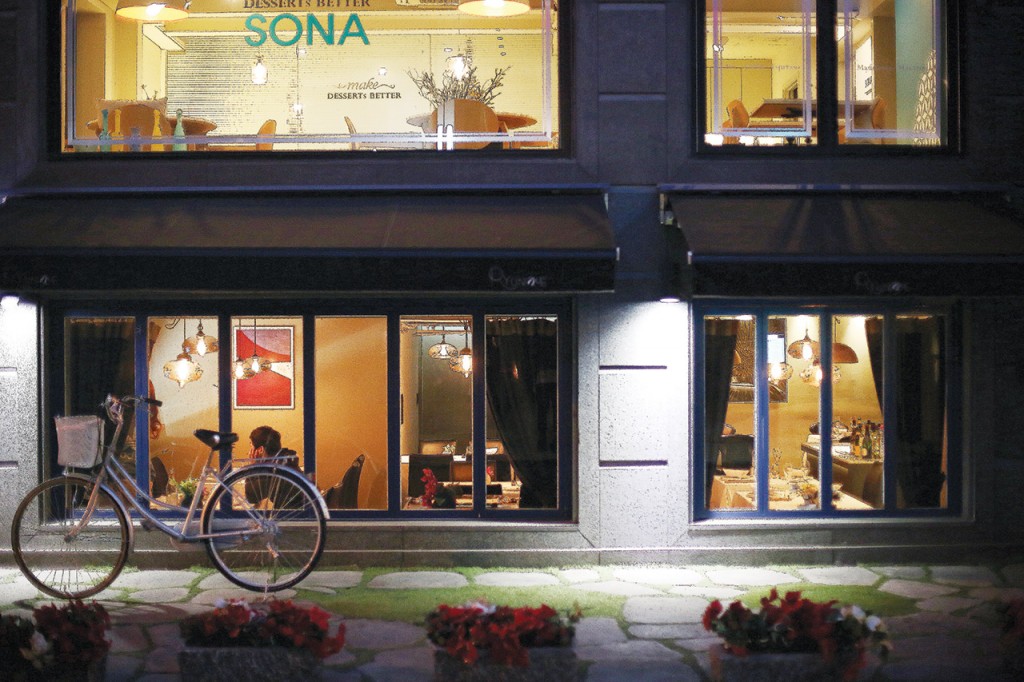 Jungsik
83-24, Cheongdam-dong, Gangnam-gu
T. 02-517-4654
jungsik.kr/seoul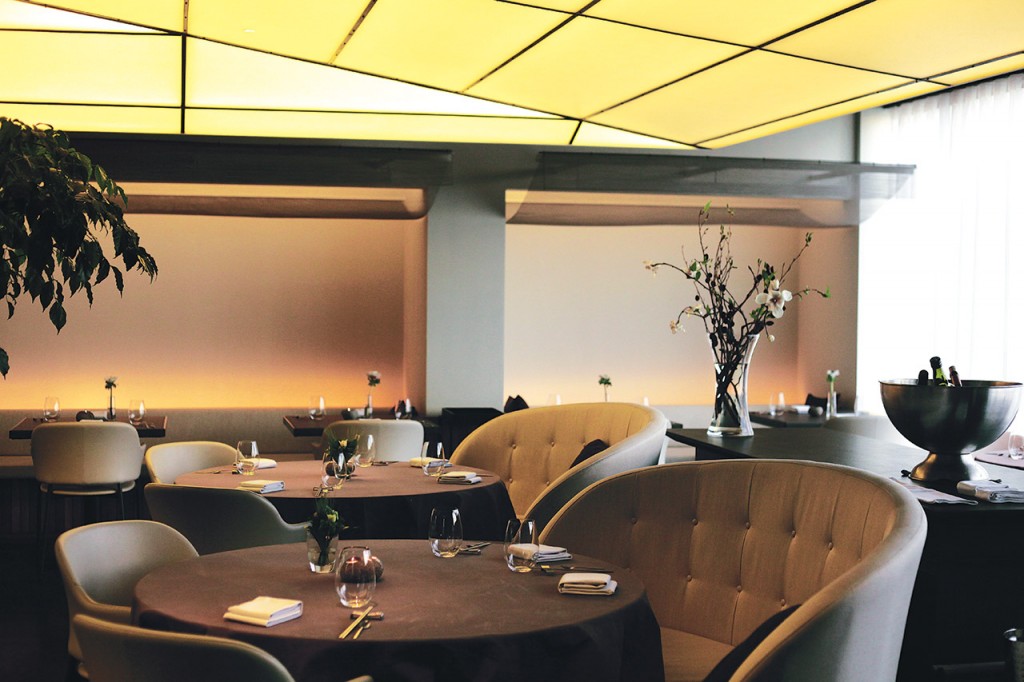 Congdu
1-54 Jeongdong, Jung-gu
T. 02-722-7002
Congdu.com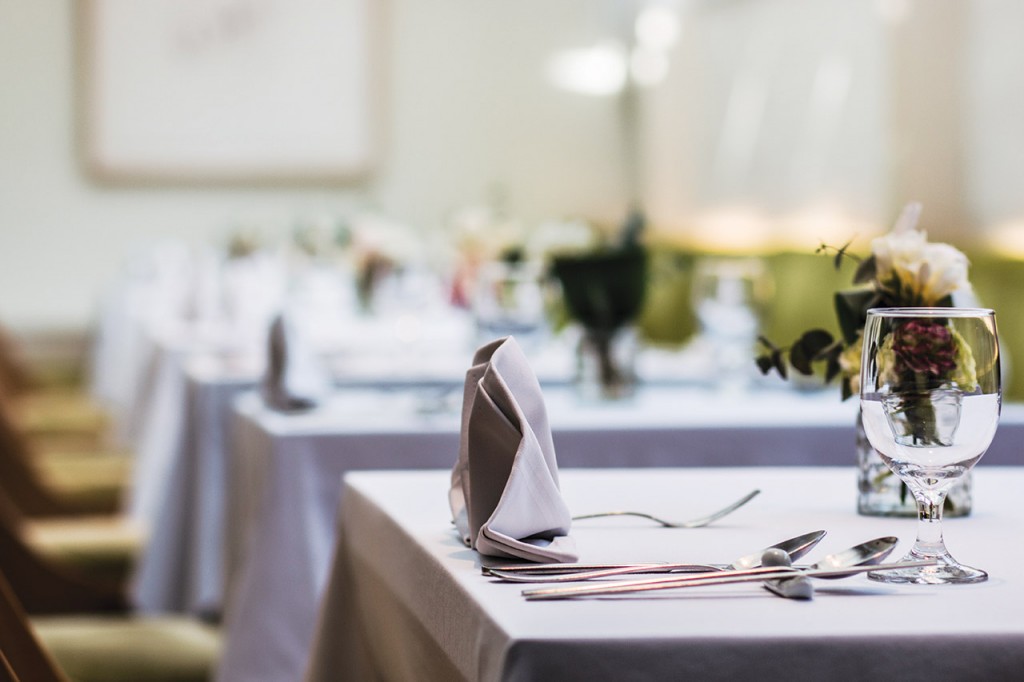 Written by Charlotte Hammond
https://magazine.seoulselection.com/wp-content/uploads/2016/03/B17A0713-1.jpg
853
1280
rjkoehler
https://magazine.seoulselection.com/wp-content/uploads/2018/01/Seoul-logo.png
rjkoehler
2016-04-09 17:17:15
2016-04-12 15:19:18
Showstopping Hansik 고급 퓨전한식